You know what happens when you go to Costco, you buy, and not just a little bit, a lot!  So, this is what happened with these New York strip steaks, I'd bought them, froze four of them, and several months later found them stuffed in the back of the freezer.  Even though they were in freezer bags, they had some frost burn on them, so I figured I'd have to use them in another way because I wasn't sure they'd be really good grilled.
That's how this recipe came about, and I must say, it's fabulous!  It's almost like a Hungarian goulash with the spicy hot smoked paprika.  Then it could masquerade  as a really meaty bolognese!  The meat just shreds apart because it's been cooked slow and on low for several hours.  It's full of flavor.  I served it with mashed potatoes, total comfort food!  Not sure it's really a 'stew' but for now we'll just call it  'New York Strip Hot Smoked Paprika Red Wine Stew.'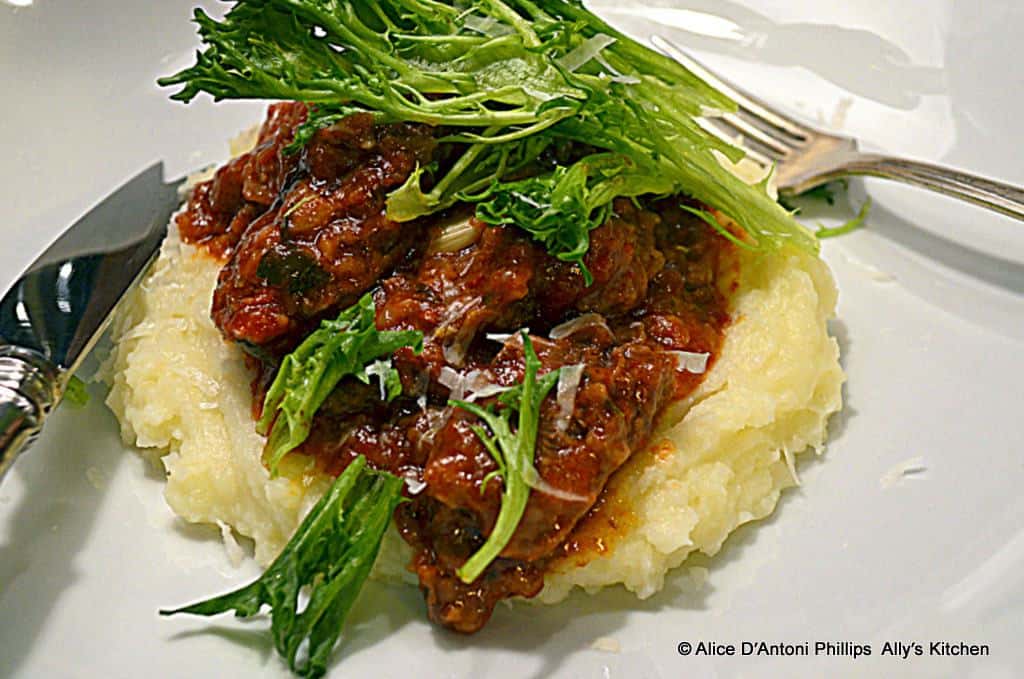 Serves: 6+
Preheat oven to 300
What you need:
2 1/2- 3 lbs thick cut NY Strip cut into about 1" slices
1 tsp sea salt
1 tsp fresh cracked pepper
1 1/2 tsp smoked hot paprika
½ tsp red chili flakes
¾ cup flour
4 tbl butter
½ cup canola oil
3 tbl sliced garlic
1 cup red wine
2 cups water
2 medium sweet onions cut into cubes
4 green onions with tops chiffonade sliced
1 large can (28 oz) crushed tomatoes
1/3 cup grated pecorino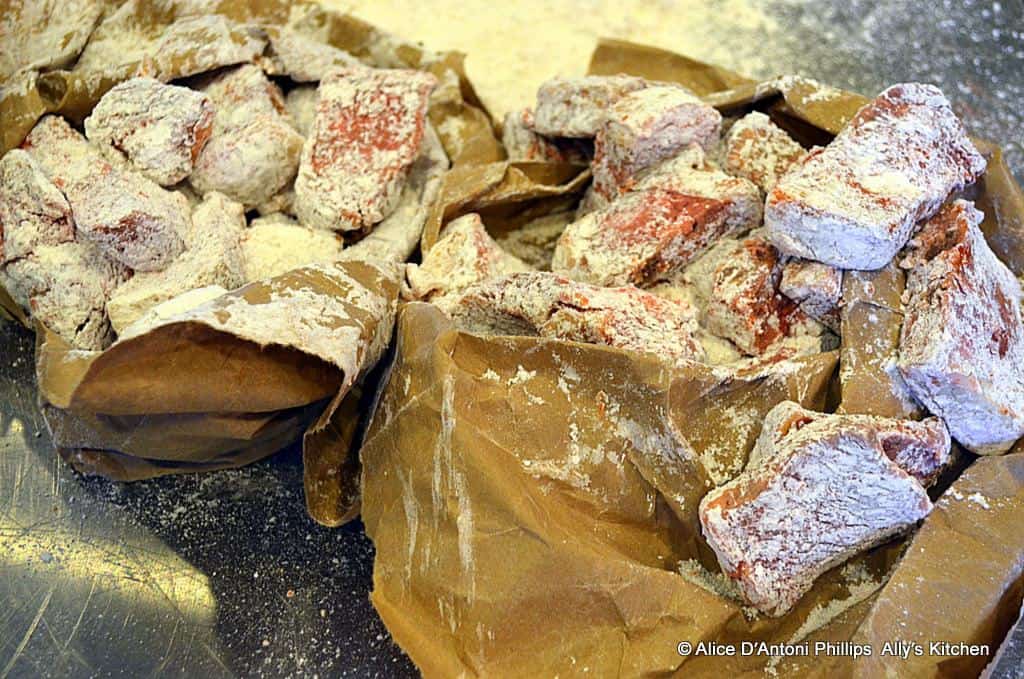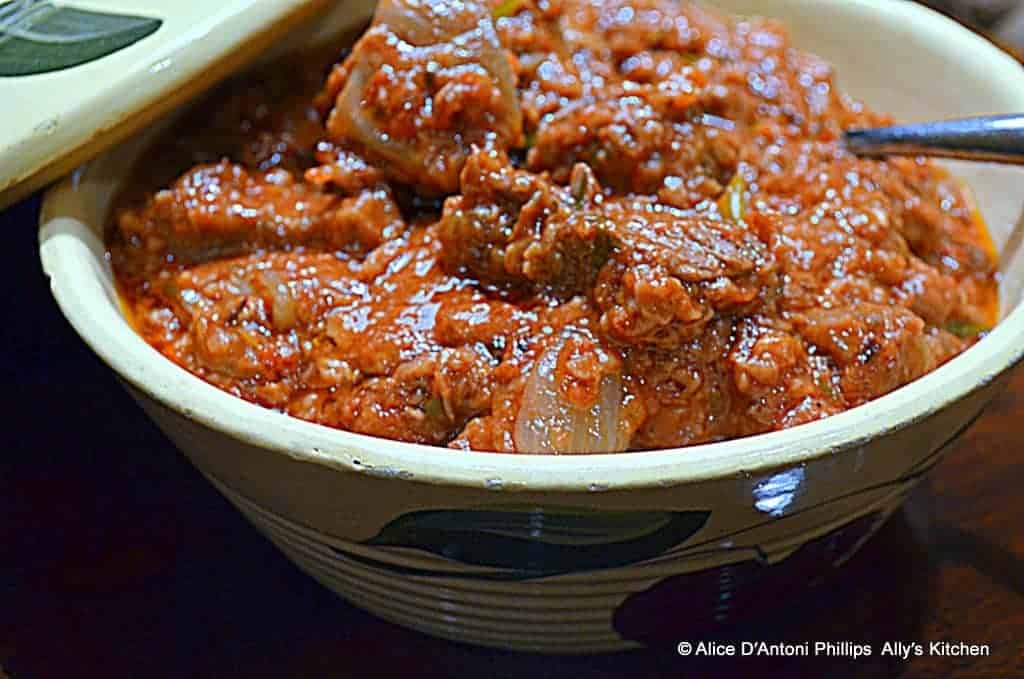 What you do:                       
Combine the salt, pepper, smoked paprika and chili pepper flakes and sprinkle on and coat the pieces of meat well.  Place the flour in a brown paper bag (or plastic bag) and shake and coat all the pieces evenly with the flour.  Shake off excess.
In a large heavy skillet over medium heat, melt butter and canola oil.  Saute garlic  until translucent.  Place some of the pieces of meat and brown both sides.  Repeat with all pieces of meat until every piece is a nice golden brown.  (Note:  Just stack to the side of the skillet the already browned meat, then add new meat.)
Increase heat medium high and add red wine.  Let simmer and boil about 5 minutes, stirring the meat around so as not to stick.  Reduce heat to medium and add water, onions, and green onions.  Cover tightly with a lid and place in oven for about 2 ½-3 hours.  Check once or twice to see if you need to add more water and stir the meat.
Remove from oven and add crushed tomatoes.  Stir and blend.  Let simmer on top the stove about 30-45 minutes on low. Add pecorino cheese and blend.  It's ready to serve whenever!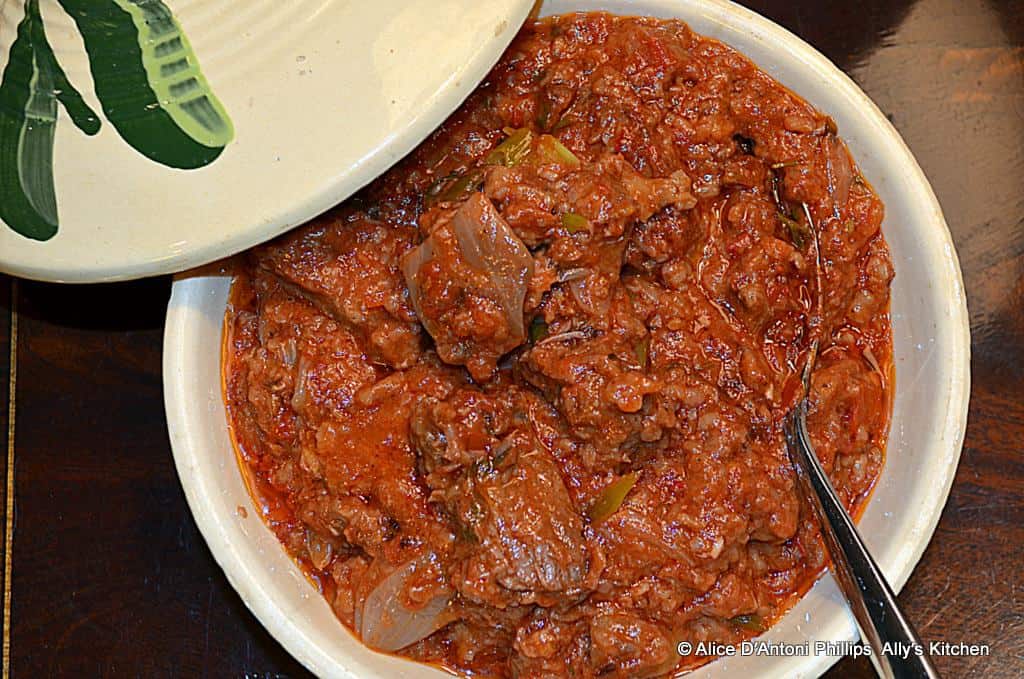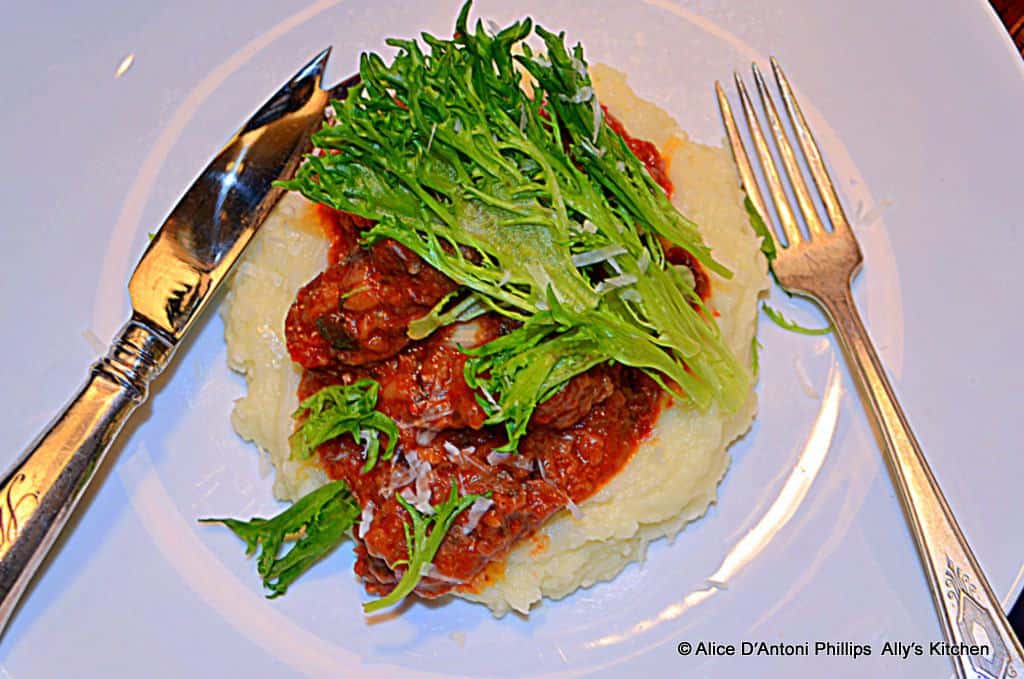 ©Alice D'Antoni Phillips  Ally's Kitchen