I haven't met a bean I don't like! But, there are some that I like, no love, more than others, and one happens to be this cranberry bean, which in Italian is known as the borlotti. But, rather than using that fancy word, I love the cranberry. Now that name comes from the fact that these beans are a pink or red and as they cook they turn brown. Mild in flavor, they're in no way connected to a cranberry, and they are somewhat like the pinto, a FAVE, in taste and size!
Perfect for chilis or as soups, these beans are full of protein and fiber as well as other kinds of minerals and vitamins! You can't go wrong eating these beans. And, with the flavoring of the ham shank and then the tender chunks of ham that fall off that bone during the cooking, you'll feel like a bowl of these critters are a full meal!  Now, the difference in the color of the beans in the bowl you see here is because of the lighting. Just an FYI, the darker colored bean was taken outside in natural light as we were dining, whereas the lighter color version of the same bowl was taken in my kitchen with overhead lighting! xoxo ~~ally
Want a really fabulous slaw, something new and different, to serve with these beans. The click here!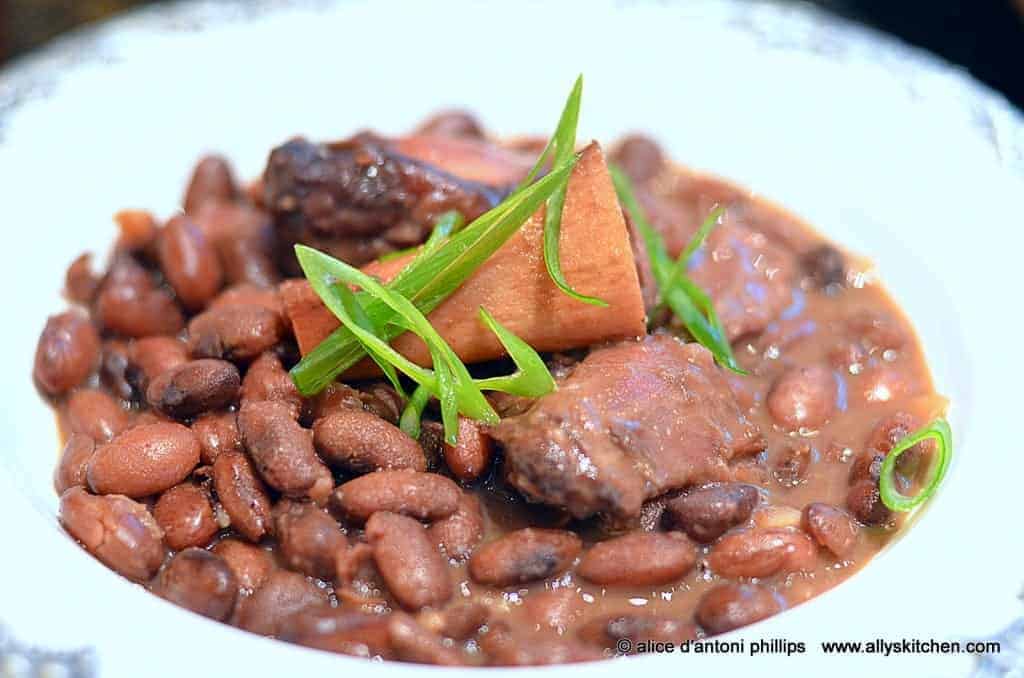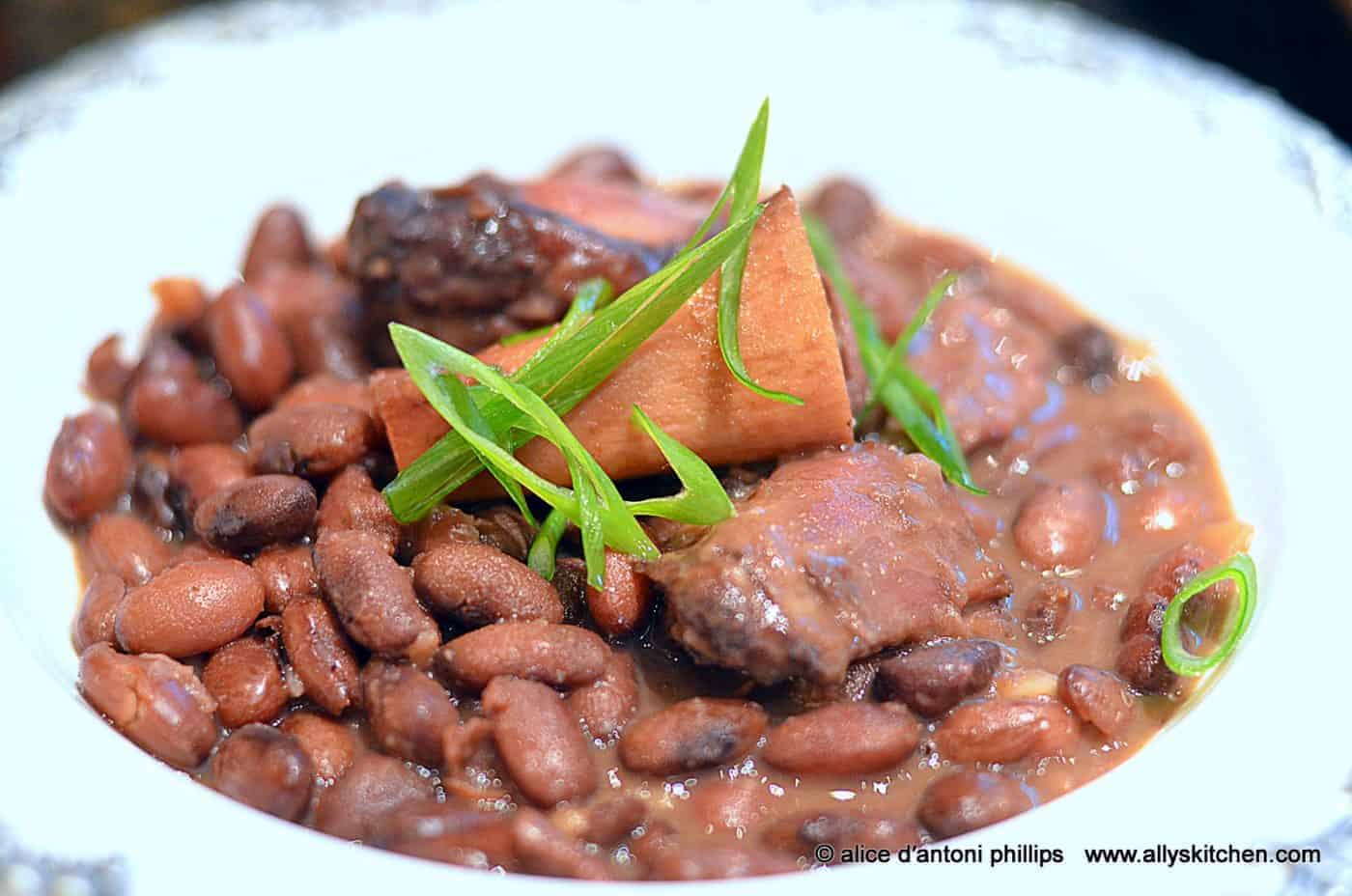 bourbon ham shank cranberry beans
Ingredients
2 Tbl. Extra virgin olive oil
1/4 cup chopped shallots
2 Tbl. Chopped garlic
1 pound dried cranberry beans (washed and drained)
1 ham shank piece (bone-in)
½ cup bourbon (can substitute concentrated apple juice)
32 ounces chicken broth (divided)
3-5 cups water (as needed as beans are cooking)
2 tsp. sea salt
1 tsp. coarse ground pepper
1 tsp. red chili flakes
Green Onions, garnish
Instructions
In a large heavy pot over medium high heat, add the oil and let it get hot. Saute the shallots and garlic for about 3 minutes in the hot oil. Add beans and cook about 5 minutes in the hot oil/shallots/garlic then add in the ham shank and cook another 5 minutes stirring so the beans don't burn. Add the bourbon and let it sizzle about 3-5 minutes.
Add 2 cups of chicken broth, 2 cups of water, salt, pepper and chili flakes and blend. Cover with a lid and let this come to a boil cooking about 30 minutes, then reduce heat to medium, cover and cook about 1.5 hours more broth and/water as needed. Stir occasionally.
Reduce heat to low and let the beans just simmer for another hour or more until tender. Total cooking time will be around 2 ½ to 3 ½ hours.
Your ham shank should fall off the bone and you can shred it into chunks into the beans. I like to keep the bare bone in the beans as it continues cooking—good marrow just might seep into the broth! The broth will thicken as it cooks, and you can adjust this thickness by adding more water and/or chicken broth. When serving garnish with green onions for a beautiful pop of color and more flavor!
https://allyskitchen.com/bourbon-ham-shank-cranberry-beans/
©ally's kitchen intellectual property