italian chopped brussels sprouts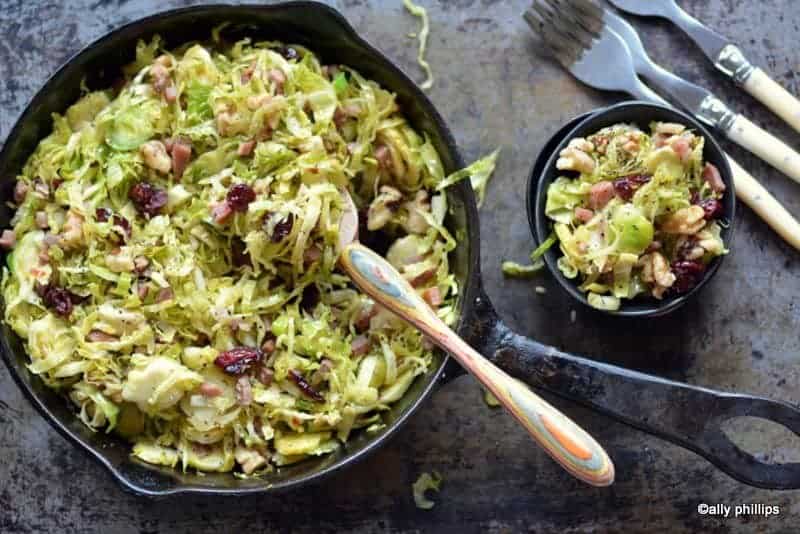 Brussels sprouts. You either love 'em or not. Sometimes folks who are in the 'not' category might just swing back to the 'love' category if they try these italian chopped Brussels sprouts.
Tender and velvety you'll get spikes of proscuitto with that salty fix. Then you'll grab a small bite of sweet and tart with a dried cranberry. And, finally you'll latch on to a crunchy walnut that surprises your palate. That's what this dish is~an array of textures and flavors that can make you love brussels sprouts more or be a crossover and decide, yeah, I do like these little cabbage lookin' critters.
I can see so many variations with this dish. Yes, it's a side dish. But think of all the other ways it can be used. How about for breakfast with a steamed egg on top. Oh, wow, this is great because as the egg steams in the center 'nest' of the spouts, the bottom is getting a nice crunch. And, it all holds together because of the seeping of the egg whites in the bottom of the skillet! Come on, be adventurous…try these sprouts and all the possibilities! xoxo ~peace & namaste~ ally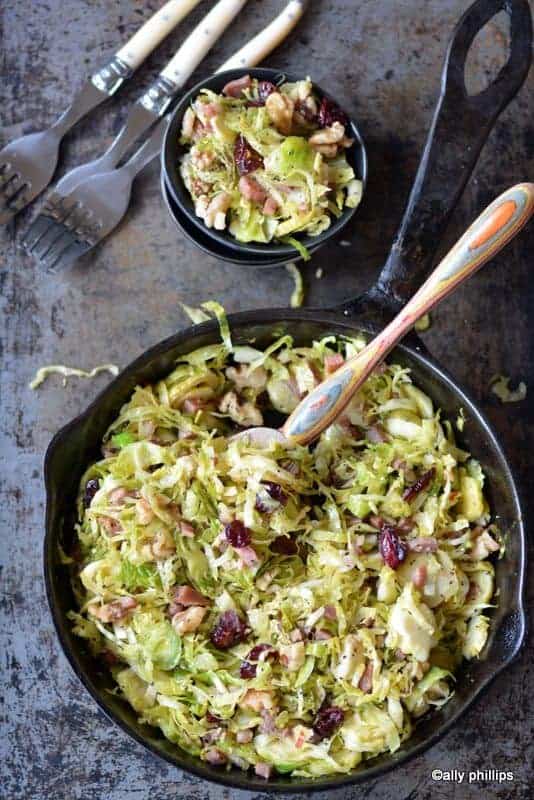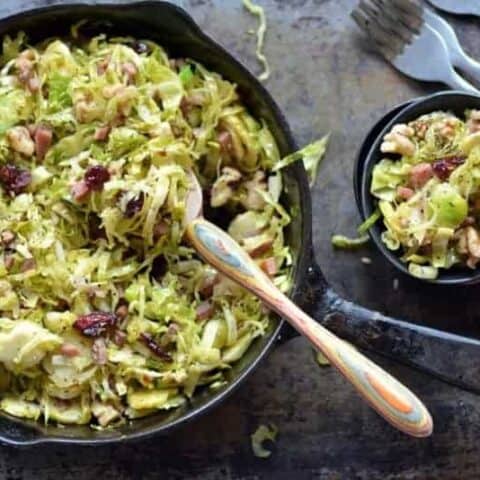 italian chopped brussels sprouts
Ingredients
Canola cooking spray
4 oz. prosciutto, diced (I use Krogers 'cubetti' —these are small diced cubes of meat.)
1 lb. brussels sprouts, cleaned, ends trimmed, and sliced thinly into rounds
½ tsp. coarse ground pepper
½ tsp. red pepper flakes
¼ cup dried cranberries (optional)
¼ cup walnuts, chopped (optional)
Instructions
Heat a medium-sized cast iron skillet on medium high heat. When hot, coat with cooking spray. Add the prosciutto, reduce heat to medium, and cook the meat about 2 minutes.
Coat the brussels sprouts (that are in a bowl) well with cooking spray. Toss and blend. Put into the skillet and using tongs mix with the prosciutto. Add the pepper and red chili flakes. Cook about 5 minutes.
Turn off heat. Add the cranberries and toss into the mixture. Cover with a lid. Let he brussels sprouts steam about 10-15 minutes. Add the walnuts when ready to serve!
Notes
This dish can be eaten warm or room temperature.

Think about using it as a topping on a sandwich, in a pita pocket.

Put a scoop of it in a skillet and steam an egg over it for breakfast!