eggplant & lime cilantro sauce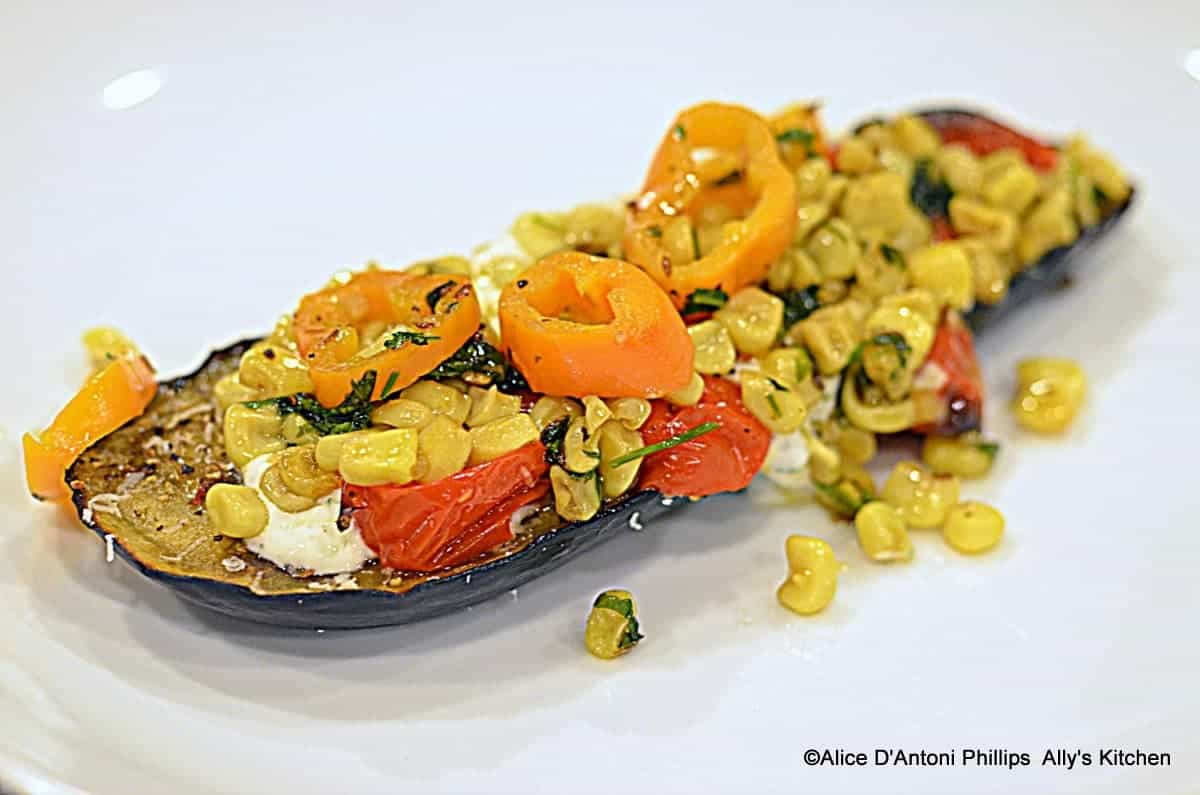 Inspiration for cooking can come from likely and unlikely sources.  This creation comes from a likely source~~a great cookbook that just intrigues my eyes, my palate, my soul and my spirit~~I don't say that about many cookbooks, so listen up!  It's called 'Plenty' and it's dubbed 'vibrant vegetable recipes from London's Ottolenghi.'  Actually, the book makes me want to entirely swear off meat, or better yet, keep it, but scale back dramatically.
I could go on and on about this cookbook (and, I'm soon to buy his next one!) and how it speaks to me~~since I'm a visual person the glamour food shots are a major springboard for getting motivated to do different things with all those veggies on my kitchen counter and in my refrigerator crisper!  If you haven't got this book in your collection, check it out as well as the new one out, 'Jerusalem'.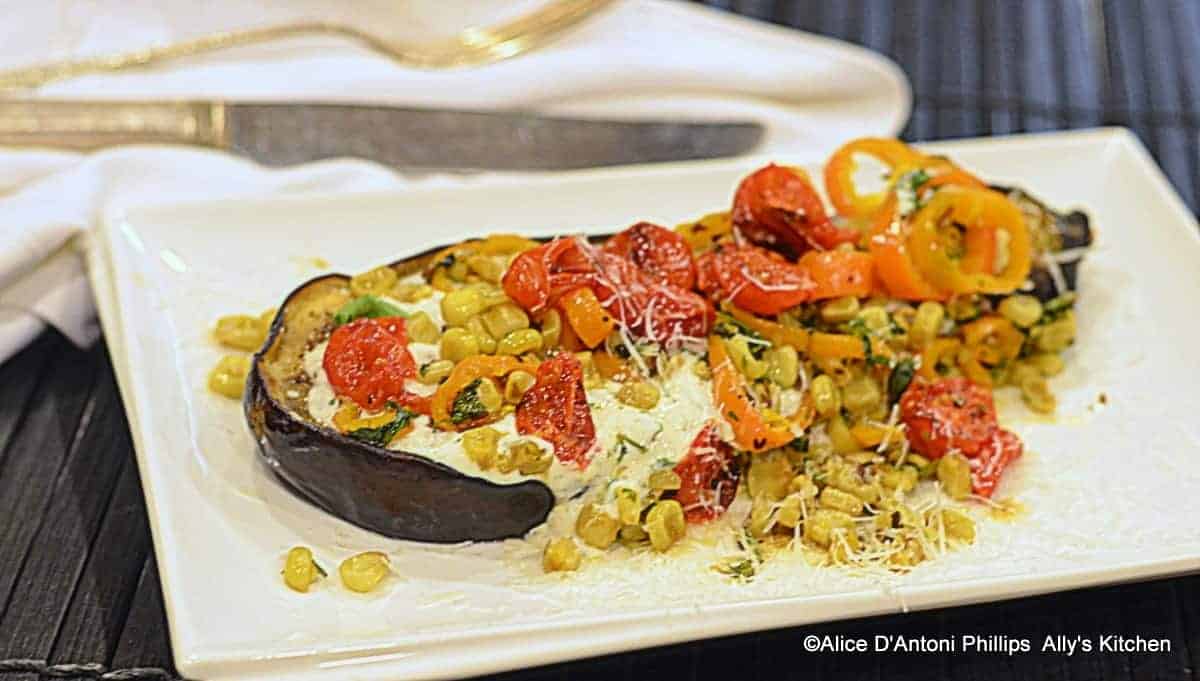 Serves: 2
Preheat oven to 400 
What you need:
¼ cup + 2 tbl chopped cilantro (divided)
½ cup sour cream
¼ cup buttermilk
1 lime's zest and juice
½ tsp sea salt
1 tsp coarse ground pepper
1 medium size eggplant or 2 small sliced lengthwise in half
1 cup cherry tomatoes sliced lengthwise in halves
1/3 cup + 3 tbl olive oil (divided)
1 ½ cups frozen corn
1 tsp ground cumin
4-5 small sweet peppers sliced into rings
Freshly grated parmesan reggiano for garnish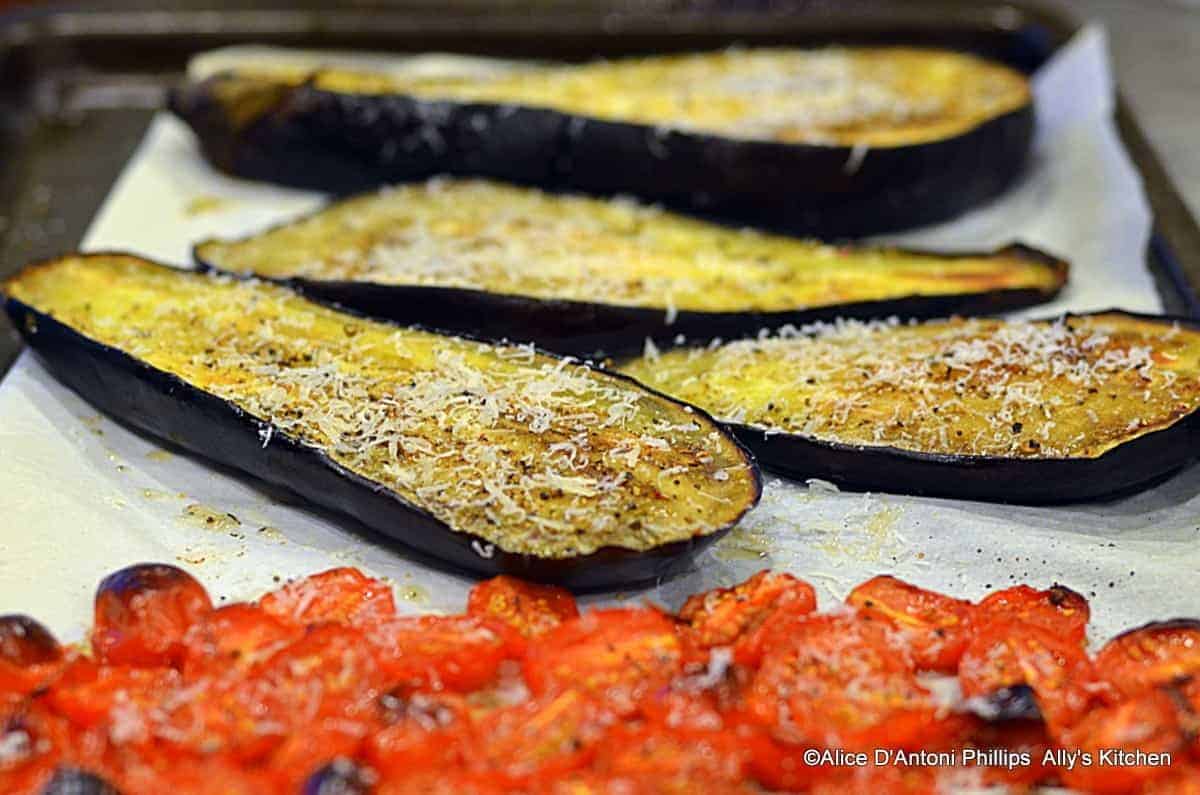 What you do:
In a mixing bowl, combine cilantro sour cream, buttermilk, lime zest/juice, sea salt, pepper, Place in refrigerator to chill.
(Note:  To get the sliced eggplant to sit flat, slice a small piece from the underside.)
Put eggplant and tomatoes on a parchment paper-lined cookie sheet. Coat both with 1/3 cup olive oil, sea salt and pepper to taste.  Place in preheated 400 oven for about 18-20 minutes.  When done, remove from oven for plating.
In a small skillet, put 3 tbl olive oil and heat on medium.  Put in corn and cumin, blend and cook about 5 minutes.  Add pepper rings, 2 tbl cilantro and salt/pepper to taste.  Reduce heat, cover with lid and let steam.
To serve, place roasted eggplant slice on a plate, dollop on some sauce and spread (don't be skimpy!), add corn/pepper mixture then some of the roasted tomatoes.  Grate cheese on top (if you like!).