Bohemian Lasagna with Veggies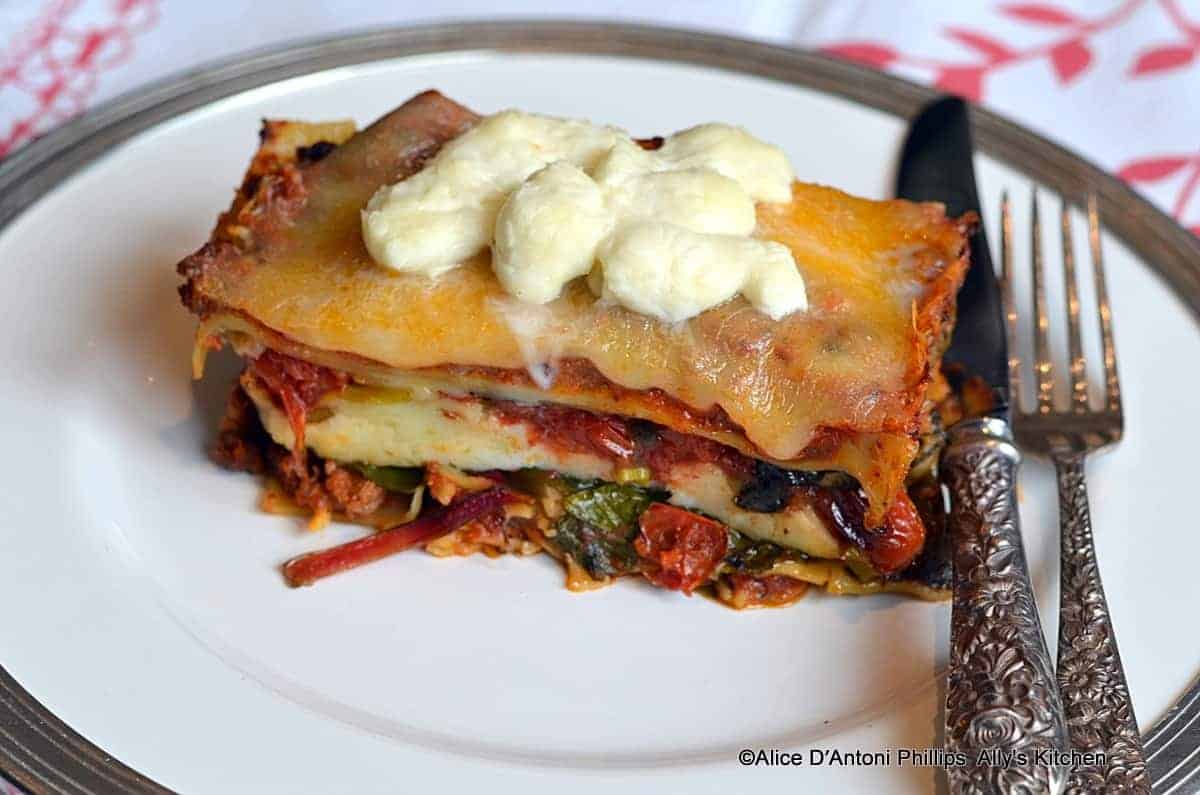 Bohemian Lasagna with Veggies is a recipe that gives you the chance to be your own Picasso. To express yourself. To create your masterpiece!
An Easy Lasagna Recipe
According to the Urban Dictionary, someone who's Bohemian is 'somebody who leads an alternative lifestyle, they are not hippies because they can have an extremely wide range of different tastes in music, fashion, art, literature, etc.
They are usually very creative people.
Easy Lasagna Recipe with Ricotta
They are above all optimists even if they can be very cynical, too. They like wearing a mixture of weird clothes and mix different fashions together just for the heck of it.
Generally, they are laid back and relaxed. I totally agree with most all of this description in terms of who I am.
And, that's part of the essence of this recipe. If you want to add ricotta instead of mozzarella, do it. Sometimes I've even used small curd 4% fat cottage cheese. It's absolutely divine.
Easy Lasagna Recipe
Yes, in the late 1960s and early 1970s, I had my hippie lifestyle, but that dissipated as I got older, settled into a married lifestyle, began a career, started having children, and doing all those traditional things you do as such.
My cooking certainly reflects my former days of growing up in the 1960s and 1970s. I like things easy, healthy, and edgy sometimes.
Best Lasagna Recipe
You know the drill, build a home, start college funds, become the carpool Mom, hang out at PTA meetings, start a Supper Club, have your kids in the gazillion activities after school.
However, my Bohemian roots and lifestyle never left me. It's resonated through every part of my fabric and never more so than in my cooking.
And, I can assure you that many times when I hosted family dinners, gatherings, supper club and more, I made this type of lasagna. Yes, it's simply the best lasagna recipe because it allows you to be you.
Ingredients for Lasagna
There are a lot of ways to make this lasagna your own with the vegetables you add. One thing's for sure, however, it's go to have plenty of my pasta meat sauce!
This 'Bohemian Lasagna' made with any of my Bolognese recipes! It's a perfect example of Boho meanderings in the kitchen!
Homestyle Lasagna
That's another reason to make one of these recipes. You can use this sauce for so many other things like a topping for nachos or even a base for a new chili.
I have some really simple meaty pasta sauce recipes, so please take a look and see what might resonate with you.
World's Best Lasagna
The big thing to remember with anything 'bohemian' is that there are no rules, whatever tickles your palate works.
Yes, that makes it YOUR world's best!
That's the exciting thing about cooking this way, you never fail! There's always a way out because 'it's you'!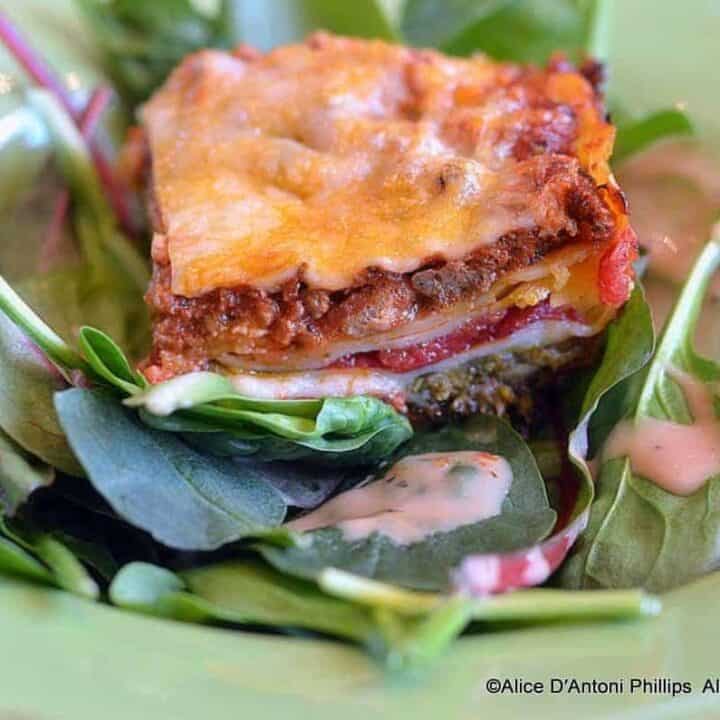 Bohemian Lasagna with Veggies
Yield:
8 x 10 x 3" baking dish About 6-8 servings
Ingredients
Preheat Oven to 350
12-15  lasagna noodles, no bake type
4-5 cups of previously made Bolognese Sauce, see notes below
2 cups European salad greens
2 cups chopped vegetables,  eggplant, mushrooms, zucchini, onions, bell peppers, fresh baby spinach etc.
3 large Roma tomatoes sliced, can substitute cherry tomatoes
1 cup fresh basil, whole leaves or chopped, packed
2 cups cheese, can be mozzarella, buffalo mozzarella, parmesan, asiago, or combination of cheeses
1/3 cup extra virgin olive oil
1/2 tsp. red chili flakes
18-24 small mozzarella bites, garnish, optional
Instructions
Coat inside of baking dish with cooking spray. Lay bottom layer of lasagna noodle. The following layers (which you can change if you have a Boho spirit inside you!): first a layer of lasagna then 2 cups sauce + 1/2 cups cheese, lasagna noodles, salad greens + broccolini (or your veggies) + 1/4 cup drizzle of olive oil, sprinkling of pepper + red chili flakes, lasagna noodles with Roma tomatoes layered on top + 1/2 cup fresh basil + 1/4 cup olive oil, lasagna noodle layer with remaining bolognese spread on top and another layer of noodles + 1/4 cup drizzled olive oil.
Cover with doubled foil. Bake in 350 preheated oven for about 35-45 minutes. Remove foil and cover top with remaining shredded/grated cheese.
Put back in oven just to let this melt. Then put the mozzarella ball bites on top, return to oven, and let them melt slightly.
Remove and let rest about 20+ minutes before serving. Garnish with the remaining sliced fresh basil. Serve on a bed of greens for a new twist!
Notes
Check out these bolognese sauces to make!