mixed berry smoothie bowl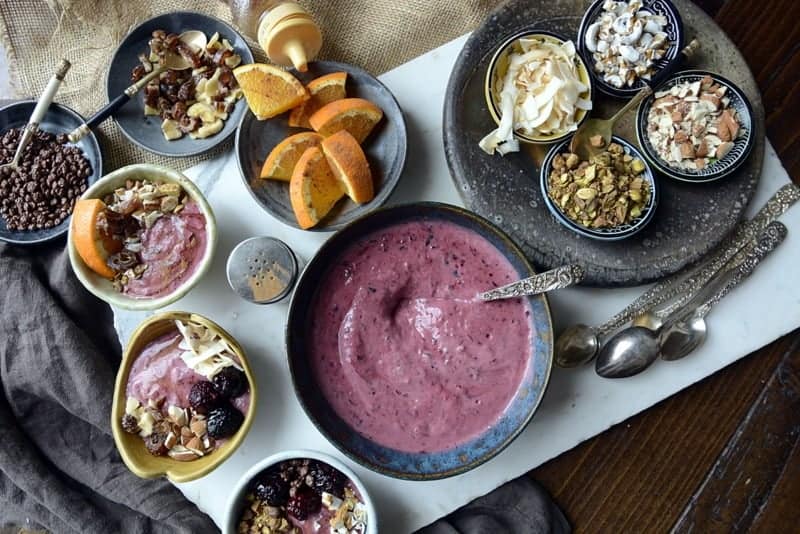 Move over salad bar, this mixed berry smoothie bowl bar will be your next passion for a weekend brunch! Healthy and so simple. It's a hit!
Smoothie Bowl
Thanks to Dole Sunshine for partnering with me on this smoothie bowl creation! I am the creator of this recipe and for the description and information that follows. For a full disclosure, click here!
Smoothie Bowl Recipes
Smoothie bow recipes are so simple and quick to make. But, when you make your smoothie bowl, you probably want it also to taste scrumptious! There's nothing better than using Dole Sunshine's frozen fruit.
Frozen Fruit Smoothies
Frozen fruit smoothies can be made year round regardless of where you live. You just need to have on hand frozen fruit in your freezer. I love using the mixed berry fruit because it gives a little of all my favorite berries
Healthy Smoothie Bowl
You have to love love a healthy smoothie bow that has so much versatility. And, that's what you're getting with this lemongrass ginger mixed berry smoothie and the idea of a 'smoothie bar'!
Perfect for a child's birthday party, too! I mean imagine this smoothie bar and all the littl' munchkins choosing their own toppings. And, with you in control of what's put on the 'bar' then you can make sure it's all healthy and good for these kiddos!
Healthy Smoothies for Breakfast
It's so easy to make healthy smoothies for breakfast. That's because of how these mixed berries are packaged.
I'm loving how Dole Packaged Foods is offering us 40 ounce bags of mixed berries, AND you get several convenient pre-portioned individual packets in this bag. Perfect for a quick smoothie or snack! This makes for less clumping and freezer burn!
Healthy Smoothies that Taste Good
There's some unique flavors in this smoothie with the lemongrass and ginger, but the star of the smoothie, of course, are the mixed berries! And, having healthy smoothies that taste good is what your goal is in making a smoothie!
I love to pull out from the bag some of the berries I might want to use as garnish and you can see I found some mighty fine looking blackberries, blueberries and more!
Yes, this is a healthy smoothie that tastes good. But, to keep it healthy watch all those toppings that you load on. That's where the calories add up and can get you in trouble. Maybe a teaspoon or just a taste of a few toppings.
Filling Breakfast Smoothies
Wait til you see all the healthiness in this mixed berry smoothie! It's one of those belly filling breakfast smoothies that give you some staying power.
Some unexpected tastiness that's just so simple and easy. No cooking. Just pull out your food processor or blender and you're in business!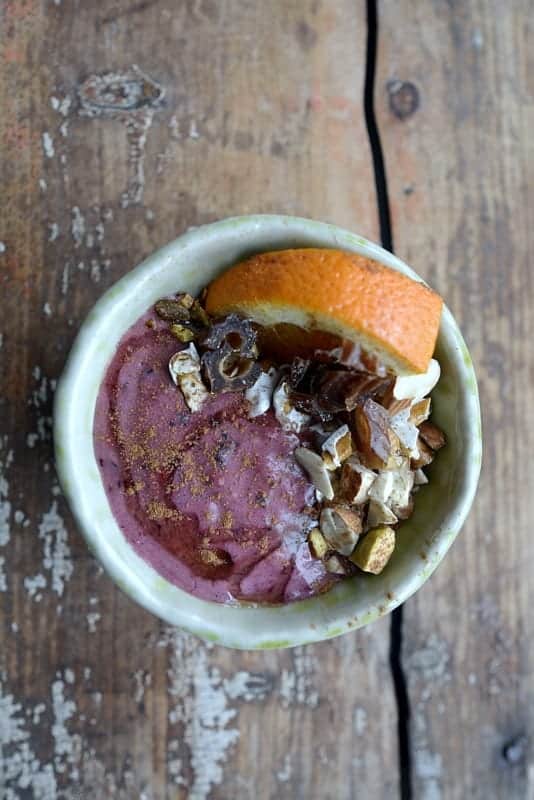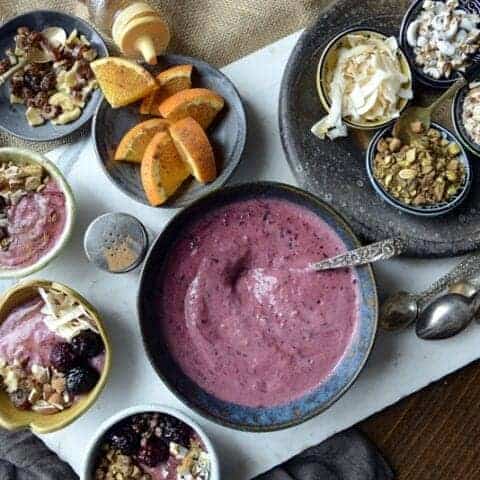 mixed berry smoothie bowl
Yield: About 4-6 (depending upon bowl size)

Move over salad bar, this mixed berry smoothie bowl bar will be your next passion for a weekend brunch! Healthy and so simple. It's a hit!
Ingredients
3 cups Dole Packaged Foods Mixed Berries, partially thawed
1 tsp. Gourmet Gardens Ginger Paste
3 Tbl. honey
1 (6 oz.) Vanilla Greek Yogurt
1 avocado, scooped from shell
1/8 tsp. salt
TOPPING BAR OPTIONS:
Salted Pistachios, chopped
Almonds, chopped
Walnuts, chopped
Dole Packaged Foods Dates, sliced in small pieces
Dole Packaged Foods Golden Raisins
Vanilla Yogurt Pretzels, roughly chopped
Banana Chips
Toasted Unsweetened Coconut
Orange triangles, seedless, lightly dusted with ground cinnamon
Mini Chocolate Chips
Granola Mix
Honey
Instructions
Combine the berries, lemongrass, ginger, honey, yogurt, avocado and salt in a food processor or blender.

Blend into a thick creamy mixture.

Serve in small bowls. Have a variety of toppings available for garnishing and topping the mixed berry smoothie bowl.
Notes
Smoothie bars are a great weekend adventure! Start with this delicious mixture and let your family, friends and guests create and design their own bowls using a variety of toppings!

This can also be an amazing dessert! If you want to add some libation flair, drizzle lightly on top of each serving some Kahlua, Bailey's or your fave after dinner drink.

This mixed berry smoothie makes a fabulous topping for angel food cake, ice cream, pound cake and more!