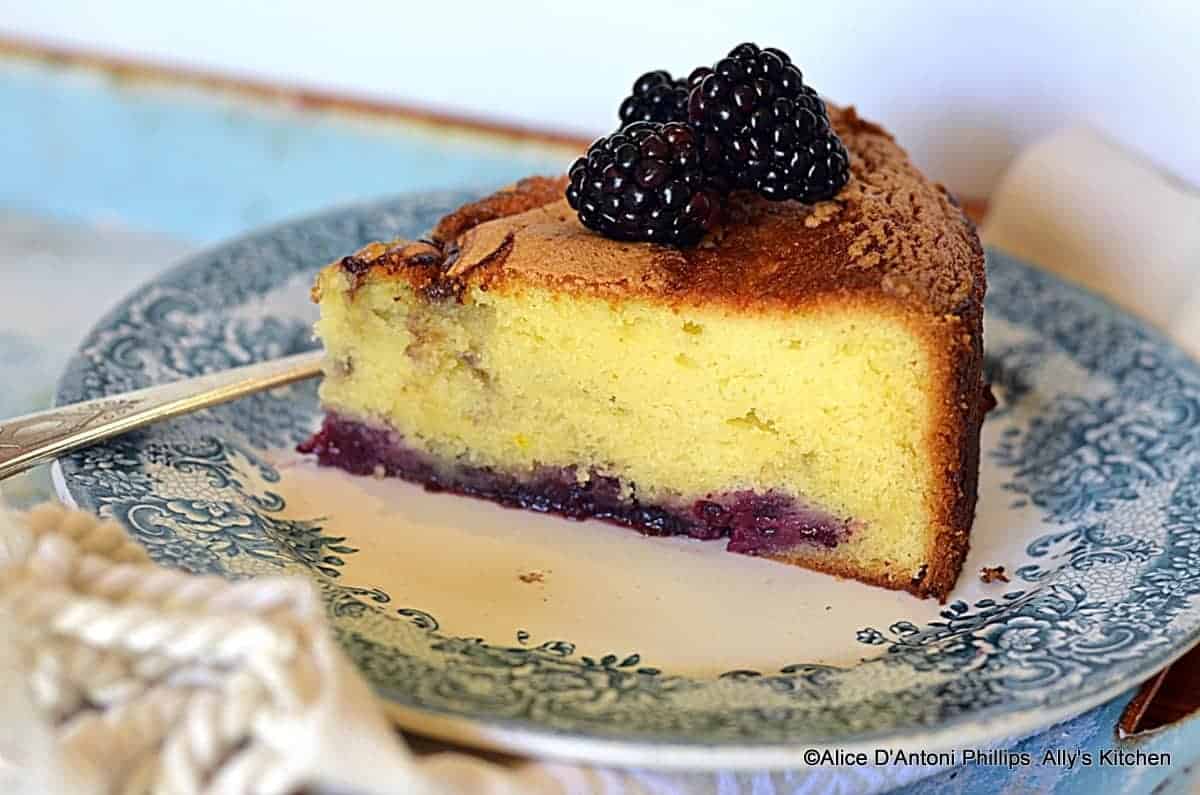 Not your typical blackberry cake, this mouthwatering blackberry pound cake is large enough to feed a crowd.
Blackberry Pound Cake
Today I'm going to be like Publishers Clearing House Sweepstakes! Why? Because I'm taking this fabulous 'Blackberry Pound Cake' to an unsuspecting recipient and giving it to them!! Oh, I just can't wait!! Actually, it's one slice shy of a whole cake~~when I photographed the slice that you also see has a bite taken from it, well, one bite led to another and another until, as my baby grandson, Nicholas, would exclaim in his raspy 2 y/o voice throwing his hands in the air 'all gone!'
Blackberry Bundt Cake Using Cake Mix
For those who might 'flinch' at the fact that I took a shortcut and used a cake mix, sorry~~sometimes I just feel like I have to tread on the 'path less taken' side of cooking and see what these little struggling companies like Duncan Hines and Pillsbury are doing to improve their packaged products~~I mean everyone needs a littl' lovin'!
Blackberry Pound Cake
Blackberry pound Cake recipe is a simple classic and always a crowd-pleaser! It's creamy and smooth on the inside with a crispy crust on the outside and top. I love that!
When it's raining outside, treat yourself to such a simple sunny pound cake. Crazy blackberry scent in the house and a cup of hot tea are what you need in such rainy weather.
Cake Recipes With Jam
Jam cakes differ from most cakes in that they have a richer flavor and aroma bouquet. It is prepared quickly and is perfect as a quick dessert. Jam can be added to the cake dough, they can be sandwiched or added to cream, mousse.
Easy Blackberry Cake
Blackberry cake is beautiful and delicious. Not even that … It's not just beautiful and tasty – it's a very cool cake! I love it very much for its appearance and divine taste. A fluffy cupcake with a juicy filling will conquer everyone with a sweet tooth and such pastries are ideal for tea.
And, I'm a strawberry lover, so here's another recipe for strawberry chocolate mousse jar Yuuuummmmmmmmmmmm!!
Blackberry Coffee Cake
The delicate fragrance of coffee cake gives a unique aroma to this delicacy. Combined with blackberries and honey, they give an incredible flavor that is refreshing! If you are an avid coffee drinker, by all means, give it a try, you will love it! It'll certainly be a crowd favorite, just like the ever delicious easy mandarin pound cake, and vintage pumpkin pound cake.
Best Blackberry Cake Recipe
If you're a Blackberry dessert fan-like me, then you'll definitely want to try more of my creations! Yes, every bite is like a refreshing cool taste of happiness.
Blackberry ricotta muffins
Cherry & blackberry galette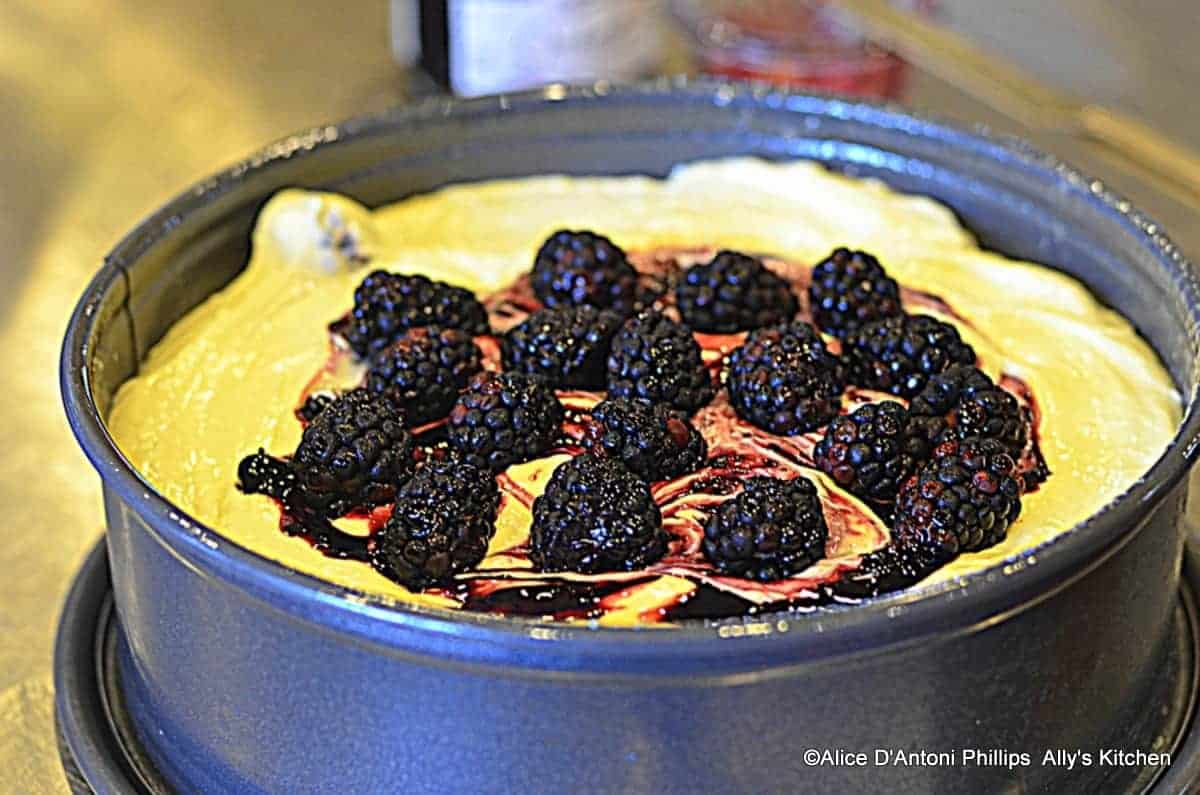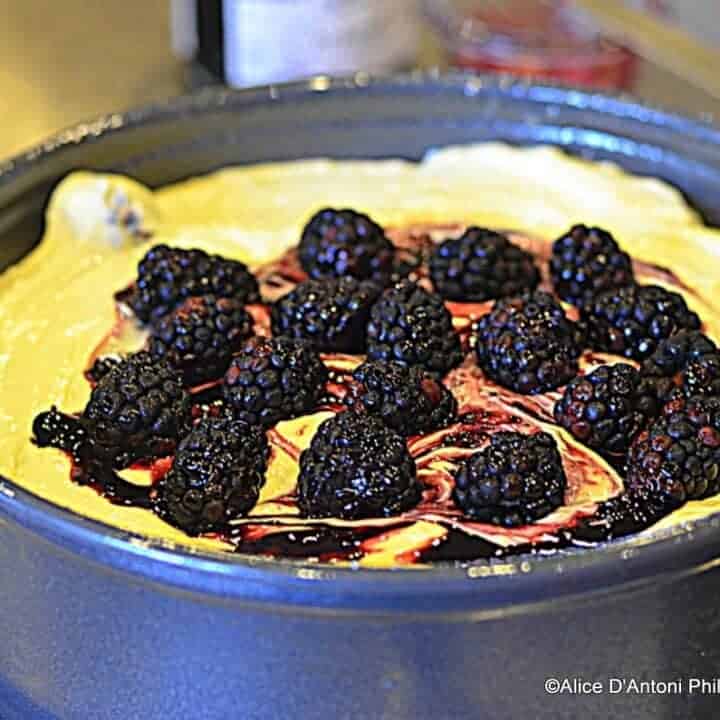 Blackberry Pound Cake
Yield: Preheat oven to 325 Makes:  One springform cake

Not your typical blackberry cake, this mouthwatering blackberry pound cake is large enough to feed a crowd.
Ingredients
1 box yellow cake mix
8 tbl softened butter
3 beaten eggs
½ cup coconut milk
½ cup sour cream
2 ½ cups fresh blackberries (divided)
1/3 cup berry jam
Instructions
Put cake mix in a large bowl. Cut up and add butter and eggs and blend with a hand mixer for about 2 minutes. Add milk and sour cream and mix (with mixer on medium high speed) for about 3-4 minutes or until the batter gets thick and fluffy.

Fold in 2 cups of blackberries. Dizzle the berry jam on top the batter and swirl with a knife. Add the remaining berries to the center of the batter.

Put batter in a greased springform pan and place on a cookie sheet. Bake in a preheated 325 oven about 65-75 minutes or until a toothpick comes out clean.

Remove and let cool for an hour or more. Refrigerate or serve immediately.