peach blueberry yogurt rum nut poundcake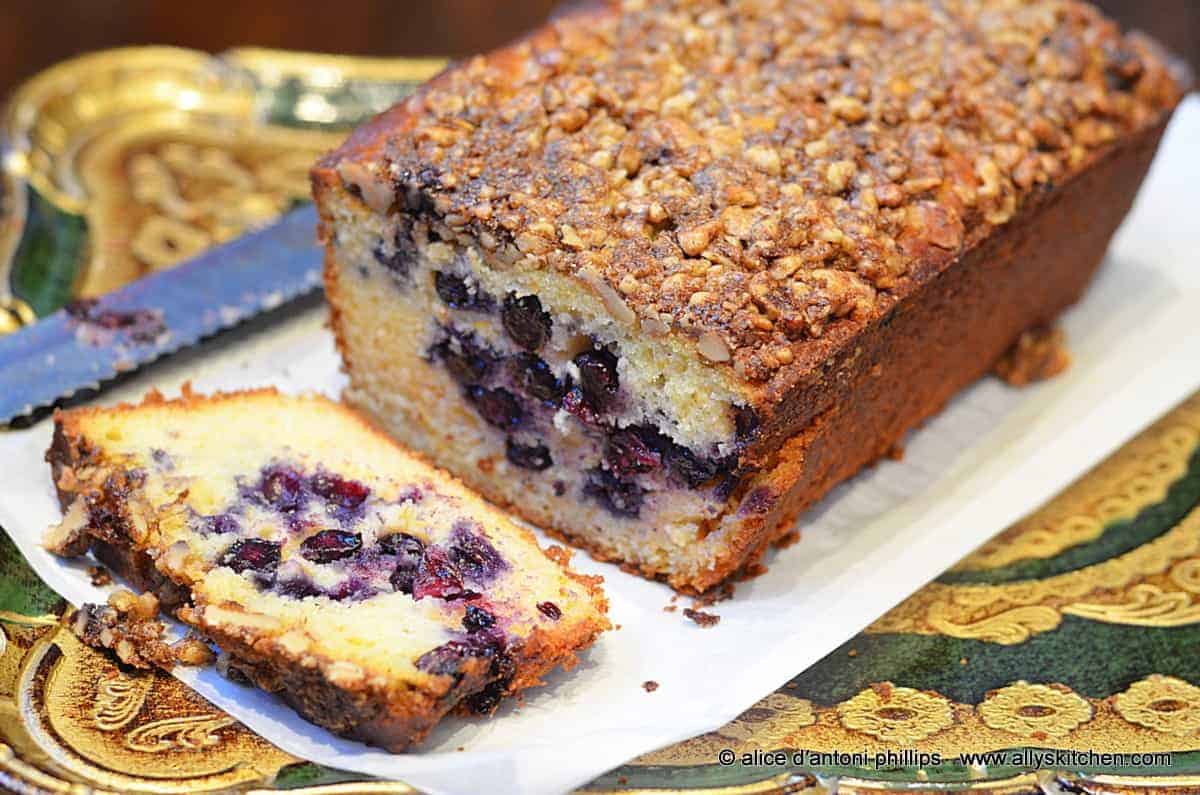 You know that something's reeeeeally good when you hear moans and groans. I mean moans and groans of ecstasy and happiness. These are sounds that I heard when Ben, my hubster, went to the kitchen to make a cup of coffee after dinner~~it was as if he was sprouting wings, growing a halo and becoming an ethereal being heading to heaven! I knew what he'd done. Taken the piece of poundcake that I'd cut for these photographs, and he was tasting it. Just breaking off a bite or two.
Maybe he was just in the mood. Maybe he was over-reacting (I mean I heard him utter, "OMG, this is better than mother's poundcake.") Maybe he was just being nice (nahhhh, not his style). Whatever it is, you'll just have to decide for yourself. And, if you feel a nudge between your shoulder blades with wings sprouting then you could be having the same reaction! And, just to letcha know, there was nothing left on the plate but crumbs.
Hey, I did this Chocolate Cherry Smoothie at the 2019 Rose Parade on the Culinary Cues Stage! It was a hit when I shared with KTLA-TV and Nurse Alice.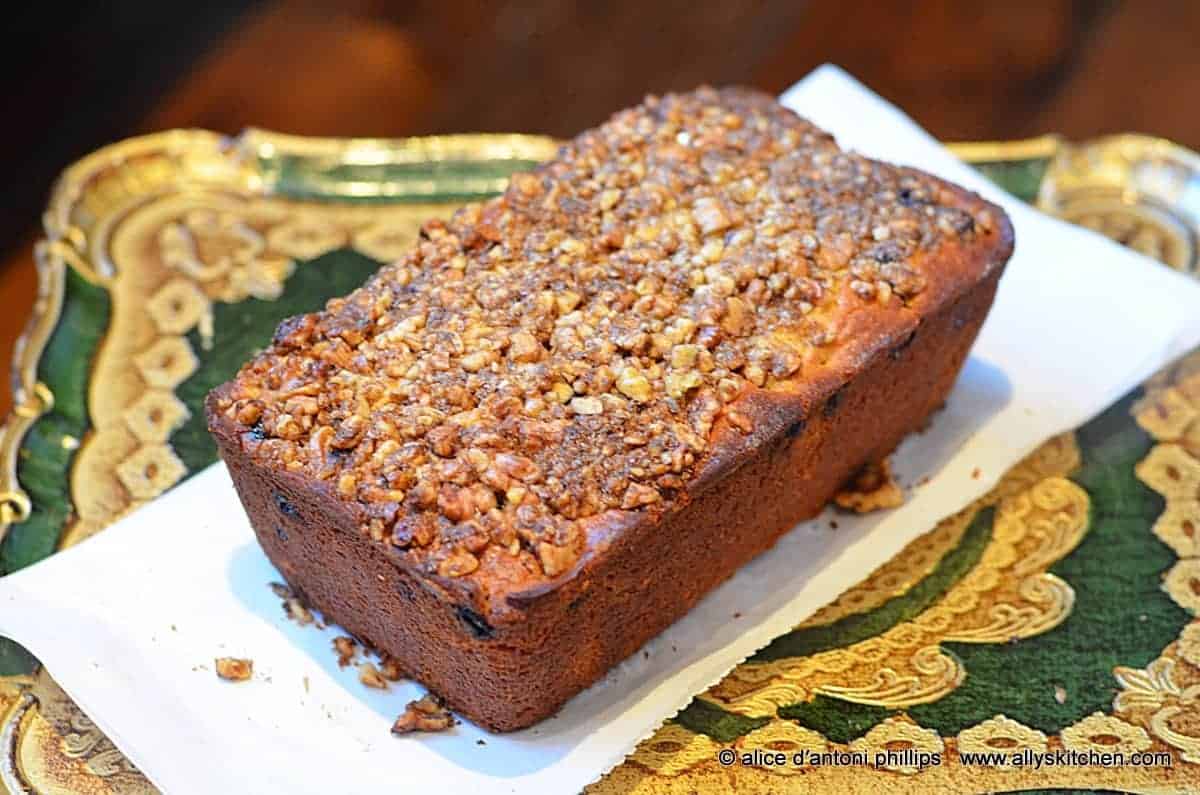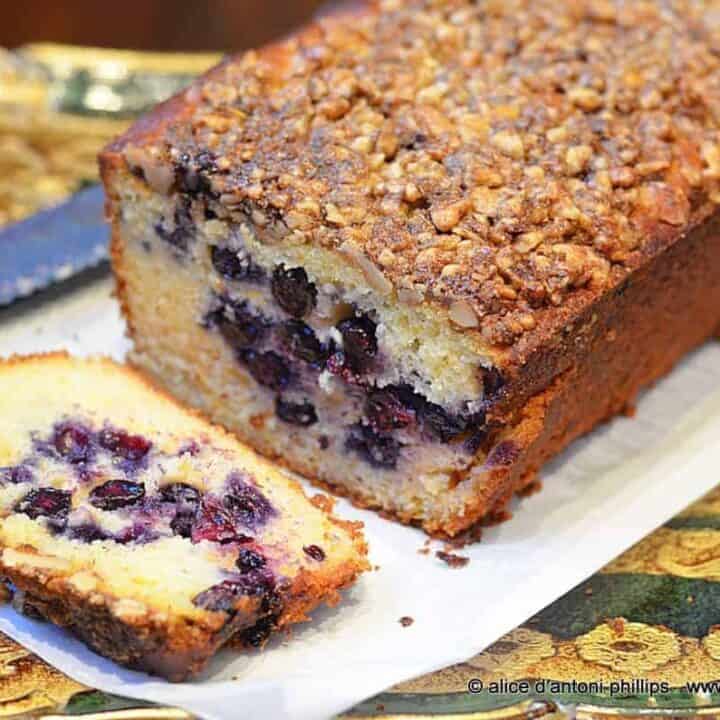 Peach Blueberry Yogurt Rum Nut PoundCake
Ingredients
Preheat oven to 350
RUM NUT TOPPING
4 Tbl. melted butter in bowl
1 Tbl. brown sugar
½ tsp. Jamaican allspice
¼ tsp. sea salt
2 Tbl. rum, optional, can substitute pineapple juice
¾ cup chopped walnuts
CAKE BATTER
½ cup room temperature butter
1 cup sugar
3 room temperature eggs
1 (15 oz.) can Dole Packaged Foods peaches, drain and puree in food processor
1 (6 oz.) cup Greek peach yogurt
1 Tbl. vanilla
2 ¼ cups rice flour
½ tsp. sea salt
2 tsp. baking powder
¼ tsp. baking soda
2 cups Dole Packaged Foods blueberries, thawed, pat dry on several layers of paper towels
Instructions
In a small mixing bowl, combine the melted butter, and brown sugar and blend. Add the allspice, salt, rum and walnuts and blend together. Set aside.
In a large mixing bowl, whip (using a hand mixer) the butter and sugar about 3-4 minutes. Add the eggs one at a time and blend in (mixer on low). Add the pureed peaches, yogurt and vanilla and blend with the mixer a few minutes.
In another bowl, combine the flour, salt, baking, powder and baking soda, blend together. Slowly fold the dry mixture into the wet mixture making a batter.
Fold in the blueberries into the batter. Pour into a well-greased large loaf baking pan. Top with the nut topping.
Bake in a preheated 350 oven 30 minutes uncovered then cover the top of the loaf pan loosely with doubled foil to keep the top from browning more.
After about 60-75 minutes, a toothpick should come out clean from the center. Let the poundcake cool completely, then remove from the pan.