almond rose crinkly scones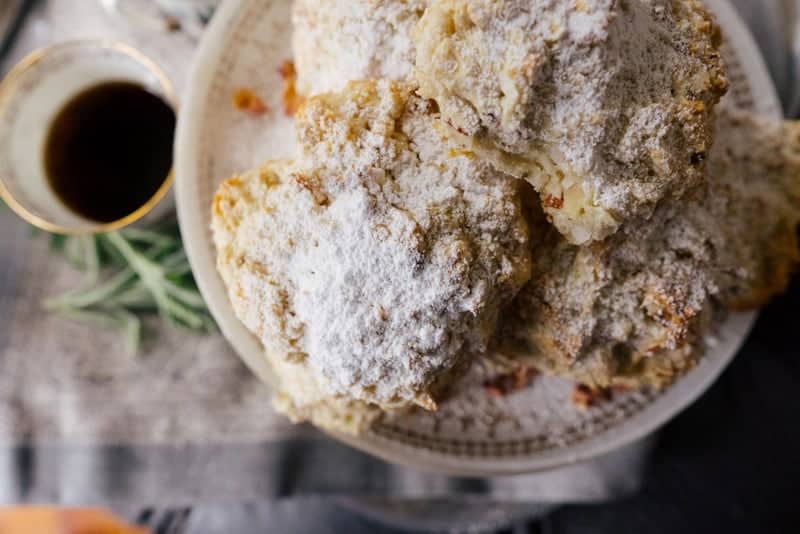 Each bite of these almond rose scones is like a spa on your palate. The aromatic rose water gives a delicate and exotic feel to each bite!
What is a Scone
What is a scone? Well, if you know what a biscuit is, then it's kinda like a biscuit, but not. Scones aren't flaky like biscuits. Scones are kind of crumbly. And, scones usually are eaten with a hot drink like coffee or tea and you're going to put butter, jam, jelly, honey and other things on it, if you like, like a biscuit.
How to Store Scones
It's simple to store and save scones. But, believe me, they're best when consumed the day they're made. You can freeze them for about three months. Make sure they're air tight in the freezer so as not to get freezer burn. And, you can refrigerate them about a week. Store in an airtight container or a tight wrapping of plastic/saran wrap. You can keep them at room temperature. If I use this technique, I'll put the scone in a toaster oven or the oven for a few minutes to warm up. It kind of gives them the 'fresh out of the oven' taste.
Rose Water Recipe
Now if you've not tried rose water in baking, then you're in for a treat. These scones are perfect for a rose water recipe!
Easy Rose Water Recipe
And, for those who're tip toeing into rose water for the first time, well, this easy rose water recipe will, hopefully, make you realize that vanilla extract isn't the only kid on the baking block.
Rose Water Cookies
Like these scones, rose water cookies are delicate and special. You could take any butter or shortbread cookie recipe and substitute rose water for the vanilla. or whatever extract is used, and have the aromatic delicacy of roses on your palate. Here are a few other cookie recipes that you might want to adapt and use rose water with.
Almond Lavender Butter Cookies
Eastern European Walnut Cookies
Rosewater Almond Cookie
As you can see, it's really easy to make a rosewater almond cookie. I'm thinking I'll adapt either the Orange Almond Wedding Cookie or Almond Lavender Butter Cookie recipe using rose water!
Almond Scones Recipe Easy
Now this almond scones recipe is super easy. There was a time in my cooking career that I thought things like making scones or cheesecake was difficult. Way above my skill level. But with some practice and persistence, and even through the flops and failures, good stuff came. It was edible and snarfed up!
Can You Use Almond Milk in Scones
You can use almond milk in scones. My recipe calls for half and half. But, you could use almond milk, whole milk or even cream. I think each will work just fine. And, if not almond milk, then oat milk could work.
Rose Scones Recipe
My concept of a scone is nothing that's perfect. I don't roll out the dough and cut precise triangle pieces and bake. i basically make these organic, each different mounds of dough and bake them. This gives me the 'crinkles' on top that I so love when biting into the tender inside of the scone.
Easy Rose Water Recipe
And, using this easy rose water recipe will give you immense confidence in using more rose water in baking. Just get ready for the insane aroma of the roses!
Almond Butter Scones
Scones wouldn't be scones without making the butter scones and almond butter scones are even better. I use sliced almonds that I can crunch up even more. The golden brown flicks in the scones add more texture and interest for me.
Recipe for Almond Scones
Besides this recipe for almond scones, you might like these recipes: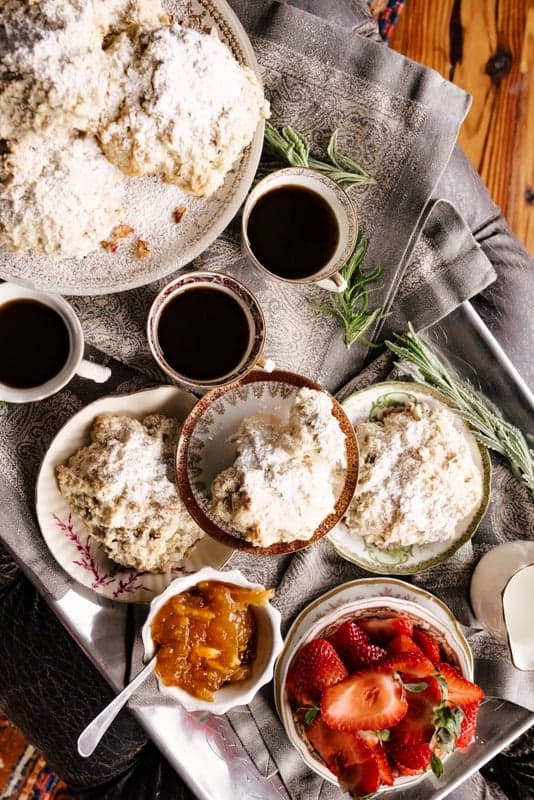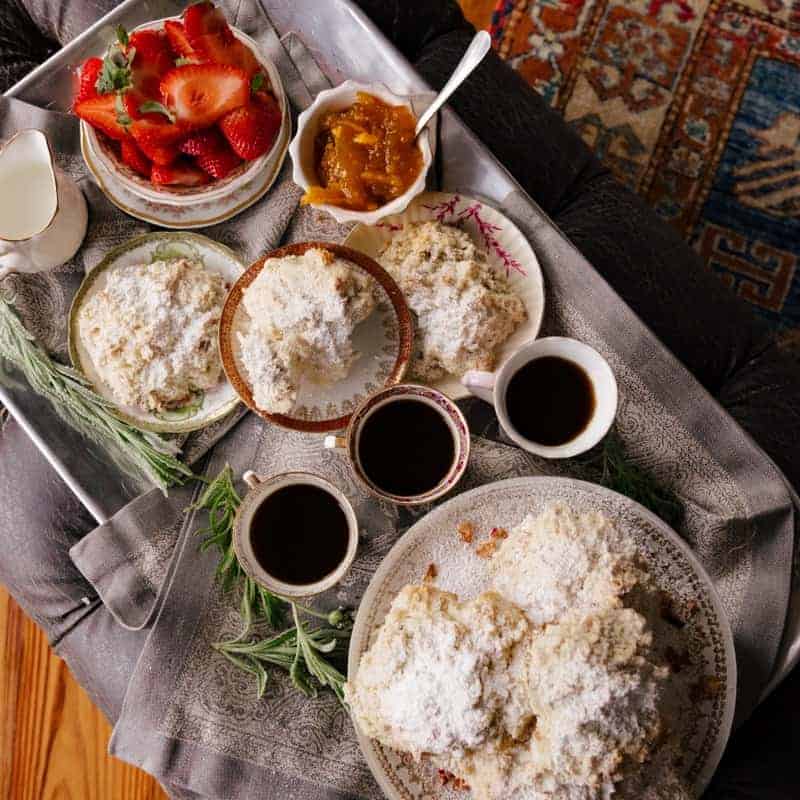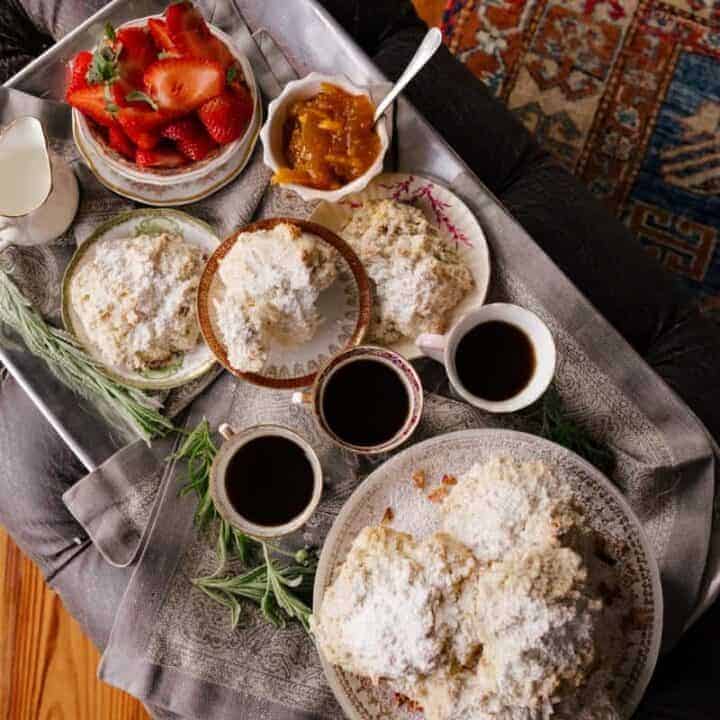 almond rose crinkly scones
Yield: Makes 10-12 large scones

Each bite of these almond rose scones is like a spa on your palate. The aromatic rose water gives a delicate and exotic feel to each bite!
Ingredients
Preheat oven to 375
2 cups flour, all purpose
½ cup sugar
1 Tbl. + 1 tsp. baking powder
½ tsp. salt
6 Tbl. butter, unsalted, chilled and small diced
¾ cup half and half
1 egg
2 tsp. rose water
½ cup sliced almonds, crushed
1 Tbl. rose petals, dried, edible, optional
¼ cup powdered sugar, optional
Instructions
In a large mixing bowl, sift together the flour, sugar, baking powder and salt. If some of the sugar doesn't sift through, simple dump into the mixture.

Add the diced butter and quickly work into the dry mixture with your fingers/hands. Careful not to melt butter. You'll want a somewhat 'pebbly' mixture.

In a large measuring cup, whisk together the half and half, egg and rose water. Pour into the dry mixture and work together into a thick play dough like mixture.

Add the almonds and rose petals (optional) and quickly blend together.

Dollop about 10-12 amounts onto a parchment paper lined cookie sheet leaving about 2-3 inches spacing between each.

Bake in a preheated 375 over about 17-20 minutes or until slightly firm to the touch and somewhat golden brown.

Dust with powdered sugar and serve.