southern cinnamon peach pie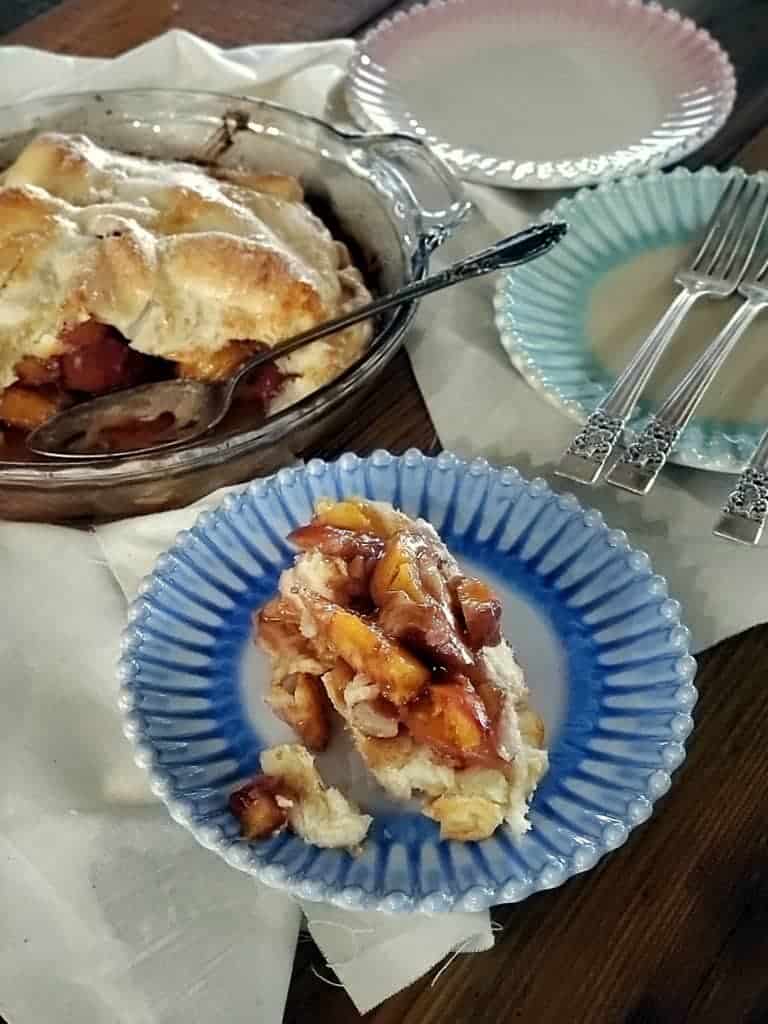 Peach Pies
Best dang southern cinnamon peach pie you're ever gonna taste! Not one crust but two for this crunchy peach pie that's sure to be a hit with your family!
Peach pies are just a Southern thing. Like sweet iced tea, we love our peach pies. And, when peaches are in season, there's nothing better than a peach cobbler or pie! But, you don't have to wait until peaches are in season. If you've never tried a peach pie with frozen peaches, then you're missing delicious peach pies year round!
Peach Pie Crust
Now I know that the peach pie crust is a big thing. We all love that crunchy sugary bite of golden brown crust with our peach pie bites. And, it's easy to get that one of two ways. Use two peach pie crusts, one on the bottom and one on the top. Or you can make a peach pie tart tatin, and you'll end up with the crusty crunchy peach pie crust. Here are a few of my peach creations!
Yes, you want a big spoon to scoop out your serving, then lots of vanilla ice cream!
OMG, this recipe has been insanely popular. Only a few ingredients and check out the crust! Something different!
These are kind of like 'hand pies' with a crust you bake on top then you flip them upside down to serve. I used puff pastry, but you could certainly use pie crust. They're simply heavenly!
Upside Down Peach Peach Pie Mounds
Peach Pie with Frozen Peaches
If you've never tried peach pie with frozen peaches, then you're missing the taste of 'fresh' peaches year round! Honestly, the slices are nearly perfectly shaped. The taste is juicy sweet. And, once they thaw you have a tough time realizing they're not fresh. If you want to try Dole Sunshine's frozen peaches, I don't think you'll be disappointed. They're my go to peaches if I can't find my beloved South Carolina, Georgia or Palisades (CO) fresh peaches. Check out this Rum Coconut Liqueur Ribbon Peach Pie where I used, yes, frozen peach slices.
Perfect Peach Pie Recipe
Now the perfect peach pie recipe for me is one that is simple, few ingredients. A peach pie recipe that showcases LOTS of peaches. And, a peach pie recipe that's easy not requiring me to make a homemade crust. Yes, yes, I will at times, but honestly, when you find pie crusts like Wewalka pie crusts, why not save some time and have less mess.
Easy Peach Pie
Nestle in because this is one easy peach pie recipe. With just a few ingredients, lots of cinnamoneeee taste and the sweetness that's not overpowering for the peaches, you're going to be making this peach pie for the preacher when he or she comes to visit! xoxo ~ally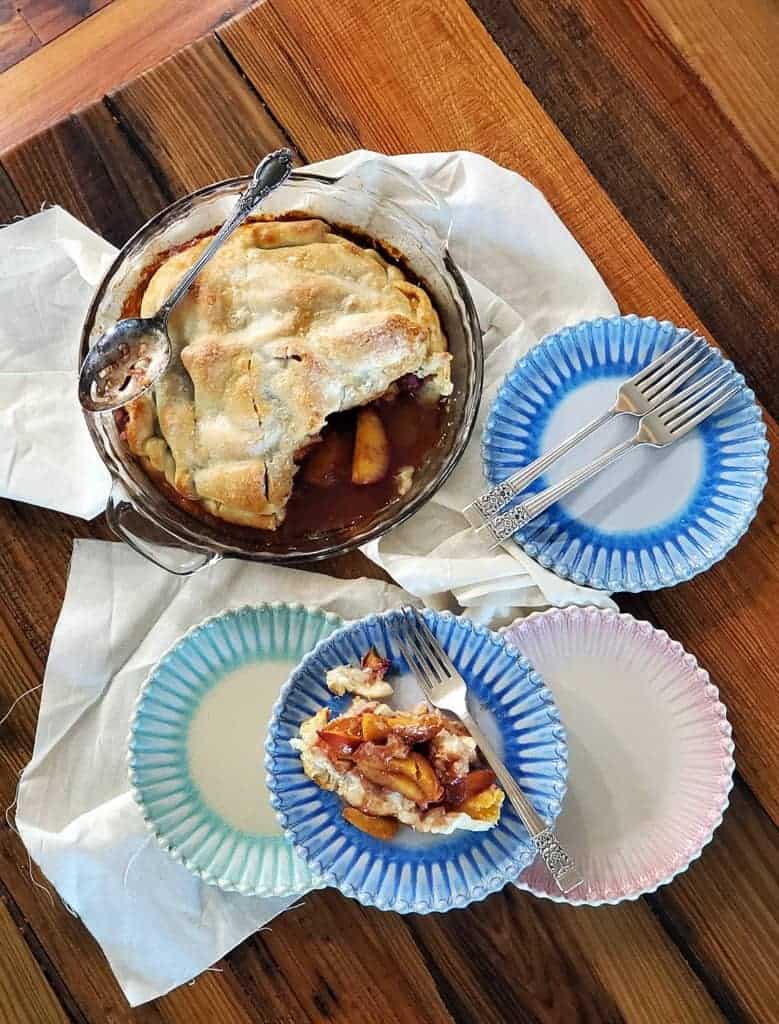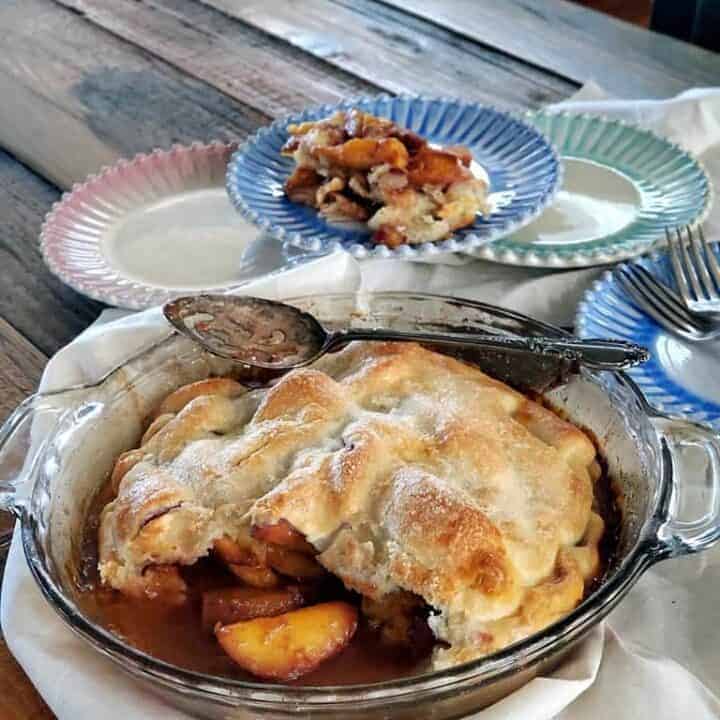 southern cinnamon peach pie
Yield: One Pie (about 8-9" diameter)

Best dang southern cinnamon peach pie you're ever gonna taste! Not one crust but two for this crunchy peach pie that's sure to be a hit with your family!
Ingredients
Preheat oven to 375
2 refrigerated pie crusts, roll out, about room temperature
8-9 cups peach slices, fresh/peeled or frozen (thawed) slices
¼ cup light brown sugar
3 Tbl. sugar, divided
2 tsp. ground cinnamon
3 Tbl. butter, salted, cold and cut into small pieces
1 egg, white only
Instructions
Grease a pie pan well. Put one crust in the pan and let the dough drape over the sides.

Put the peaches in a mixing bowl. In a small bowl, blend together the brown sugar, two tablespoons of sugar and the cinnamon. Sprinkle on the peaches and toss and blend.

Pour into the pie pan. Put the butter pieces on the peaches.

Take the second pie crust and lay on top. Pinch together the overlapping parts of the dough securing the two pie crusts together. Tuck this dough around the inside of the pie pan/plate. Cut a small 'x' slit in the center. Or four small about 1" slits around the pie.

Use a pastry brush to coat the top dough with the egg white. Sprinkle the remaining sugar on top.

Place the pie on a cookie sheet. Bake in a 375 oven for 45-50 minutes or until the crust is golden brown.
Remove and let the pie cool thoroughly before slicing of scooping.
Notes
If you're slices aren't perfect, who really cares! Just scoop out the pie with a spoon!

This pie is best if eaten the same day it's baked. If you want to warm a piece of pie, I'd do it in a toaster oven rather than a microwave.