pineapple rosemary scones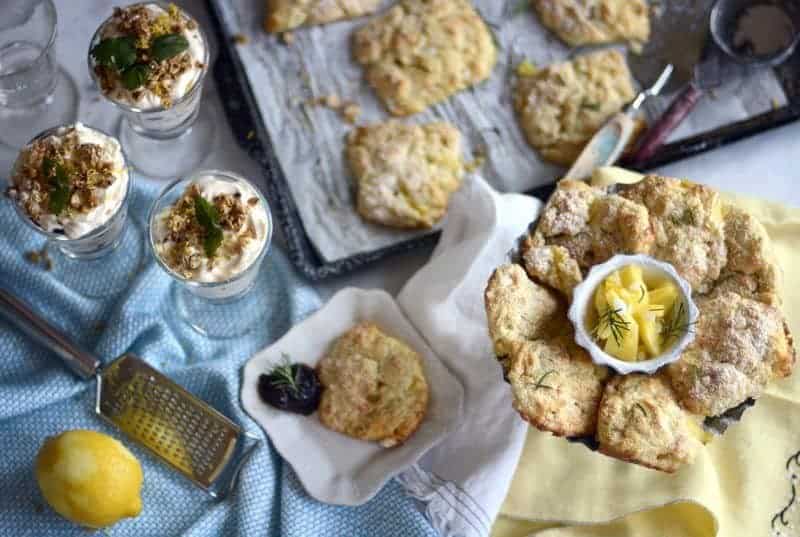 When these pineapple rosemary scone cakes were eaten by five food bloggers, they got great reviews. Fluffy. Not too sweet. Tender. Moist. A great combination with the rosemary and pineapple.
Yes, they're scones. But, they're also like a small cake. There's a tad bit of crunch on the exterior. And, the crispy from the pearl sugar is unexpected.
These scones were made for photography. Yes, just perfection. During the 'Food Photo Workshop' co-hosted and taught by Kita of Girl Carnivore and me, we incorporated everything we made and ate into our photo shoots. This shoot was orchestrated by Christie of Girls Can Grill, and Rosemary, who's still deciding what her blog name will be. They styled it whimsically and just perfectly. Accompanying this breakfast were cool and creamy fruit and granola parfaits with delicious yogurt from Cabot Cheese!
Hey, want more pineapple…then here you go! An amazing recipe for crunchy pineapple blueberry slaw!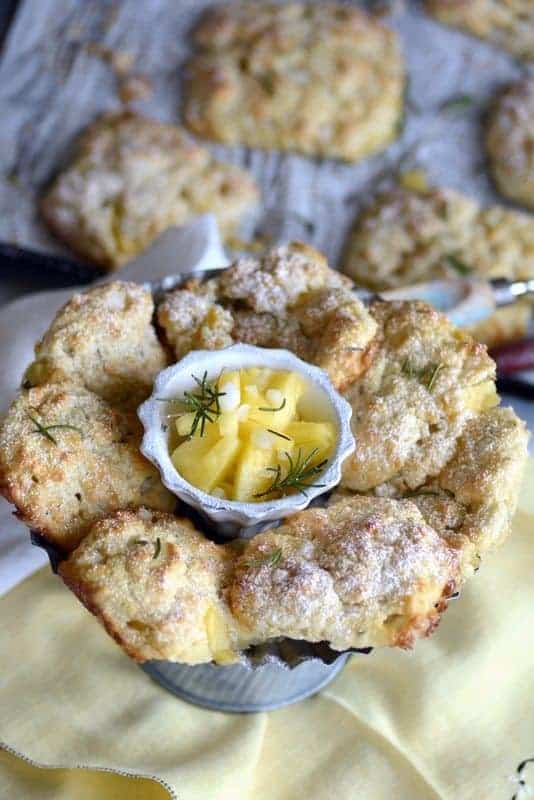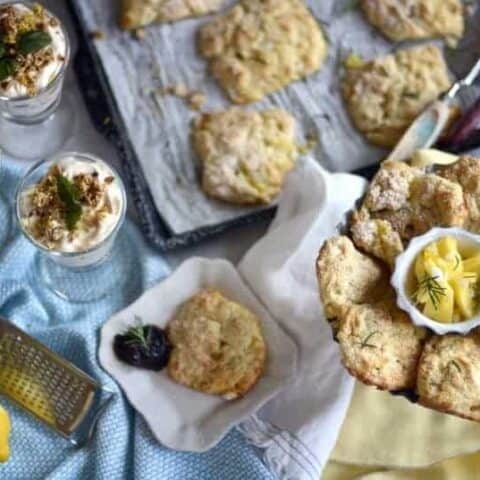 pineapple rosemary scone cakes
Ingredients
Preheat oven to 350
2 cups all purpose flour
¼ tsp. sea salt
2 Tbl. baking powder
2 Tbl. sugar
¾ cup pearl sugar
4 Tbl. butter, salted, cold, cut into cubes
3 Tbl. Crisco vegetable oil, solid
2 Tbl. fresh rosemary, minced + more for garnish
1 cup buttermilk
1 cup frozen pineapple chunks, packed, thawed, cut into smaller tidbit pieces, drain & dry
OPTIONAL:
2 Tbl. powdered sugar
Instructions
In a large mixing bowl, combine the flour, salt, baking powder, sugar and pearl sugar. Blend well. Add the butter and Crisco and with your hands quickly work into the flour mixture making it somewhat like 'grainy' and 'oatmealy' like. (Hey, I know that's not a technical cooking term!)
Add the rosemary and buttermilk. Blend well into a thick batter. Add the pineapple chunks and fold into the batter.
Cover a large cookie sheet with parchment paper. Dollop on two tablespoons (plus) of the batter. Leave about two inches spacing between each because the scone cakes will spread in baking.
Bake in a preheated 350 oven for about 30 minutes or until slightly golden brown and light to the touch.
Remove and cool a few minutes. Optional : Dust with powdered sugar. (It's a nice touch!)
Notes
If you can't find pearl sugar, there are a couple of options:

1. Chop up cubed sugar

2. Use regular granulated

The pearl sugar adds a textural excitement to the recipe.