almond lavender butter cookies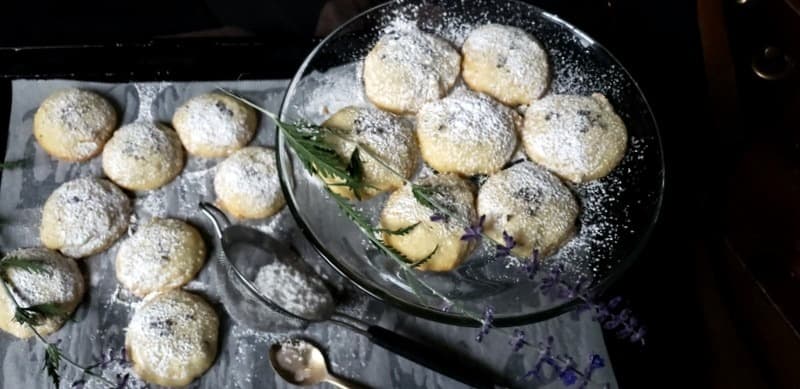 Is Lavender Edible
If you're asking is lavender edible, well, the answer is yes. But, there are some caveats.
With hundreds of varieties of lavender, you have to use those that are specially and precisely grown for eating. The best edible type of lavender is English lavender, like Lad, Hidcote and Munstead.
I wouldn't recommend getting my lavender from a flower shop. Instead, check out some of the dried lavender I've found on Amazon. If you're growing your own edible lavender, be sure to snip it first thing in the morning. It's fresher and tastier!
Lavender Recipes
Lavender recipes can be both sweet or savory. Don't think that lavender is just for sweet things. Other herb flavors that go well with lavender are things like thyme, sage, rosemary and oregano. If you've used the herb blend Herbes de provence, then you know the floral aromas of lavender in this mixture. Think of using lavender on things like chicken, lamb, and pork as well as some vegetables you're preparing.
Lavender Cookies
Butter cookies are really good. But, when you make them almond lavender butter cookies then you're into a new realm of deliciousness!
You want to use edible lavender and you can probably source it at grocers like Whole Foods, Trader Joes, The Fresh Market and even on Amazon. I've place two links below for you to check out and research.
Lavender Shortbread Cookies
These almond lavender butter cookies could also be called lavender shortbread cookies. They have a crispy exterior and are melt-in-your-mouth fabulous when you bite into them. They keep pretty well. I didn't put in an airtight container because I didn't want the outside to soften.
What I've did is put them on a cake pedestal and place a doubled clean linen dish towel on them. Of course, these cookies didn't last long, a few days. And, you can't just eat one, you end up eating two or three!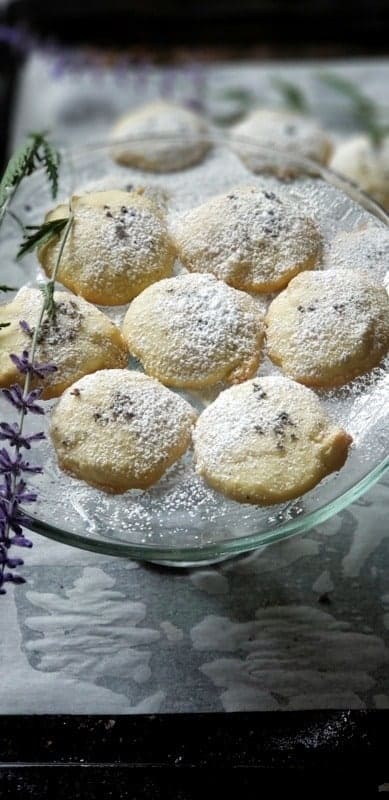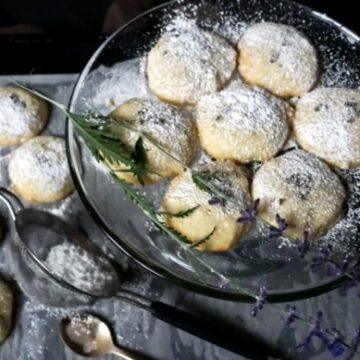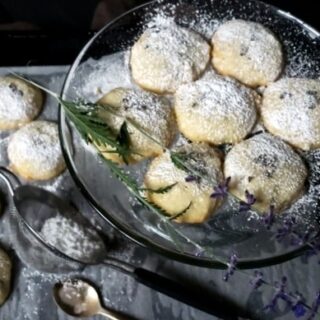 almond lavender butter cookies
Yield: Makes: 2 to 2 ½ dozen

Wanna make the BEST almond lavender butter cookies in the world? Cookies with both lavender and almond flavors? Yep, this is your go to recipe!
Ingredients
Preheat Oven to 325
10 Tbl. butter, salted, room temperature
1 cup powdered sugar + more for dusting when baked
1 tsp. almond extract
1 egg
1 ¼ cups flour, all-purpose
1 cup almonds, sliced, crushed
2 Tbl. lavender, edible, finely minced
Instructions
Preheat oven to 325. In a large mixing bowl using a mixer on low speed (then increasing as it blends), whip the butter and powdered sugar into a fluffy mixture.

Add the almond extract and egg and continue to blend with the mixer.

Add about half the flour and blend together with a wooden spoon. Add the remaining flour and blend in.

Finally, add the almonds and lavender and blend. Use a spring scoop (about two heaping teaspoons) and put on a parchment paper covered cookie sheet. Leave liberal spacing between the cookie scoops.

Bake in a preheated 325 oven about 12 to 14 minutes. Remove to a cooling rack. Dust with powdered sugar.