This recipe is brought to you by DOLE Packaged Foods, however, all of the recipe development and creative food artistry, including the photography, is solely the work of Ally in her Kitchen.  For more information CLICK~
Cherries are packed with nuitrition~~so, how do you get all that goodness into your diet on a more regular basis than just when the cherries are in season and when you have to spend time pitting those cherries.  It's a no-brainer for me~~I turn to Dole's dark red cherries, frozen & pitted & boholicious!
My dear Croatian Mom was 'green' and 'healthy' long before it became vogue and chic~~growing up during the Depression you were resourceful, re-cycled and ate unprocessed and healthy foods.  One of her favorite fruits was the cherry, and when they were in season, she couldn't get enough of them!  I know if these frozen cherries had been in the grocery store, she'd have gobbled them up~~straight or maybe she'd have popped a few in her whiskey sour totty!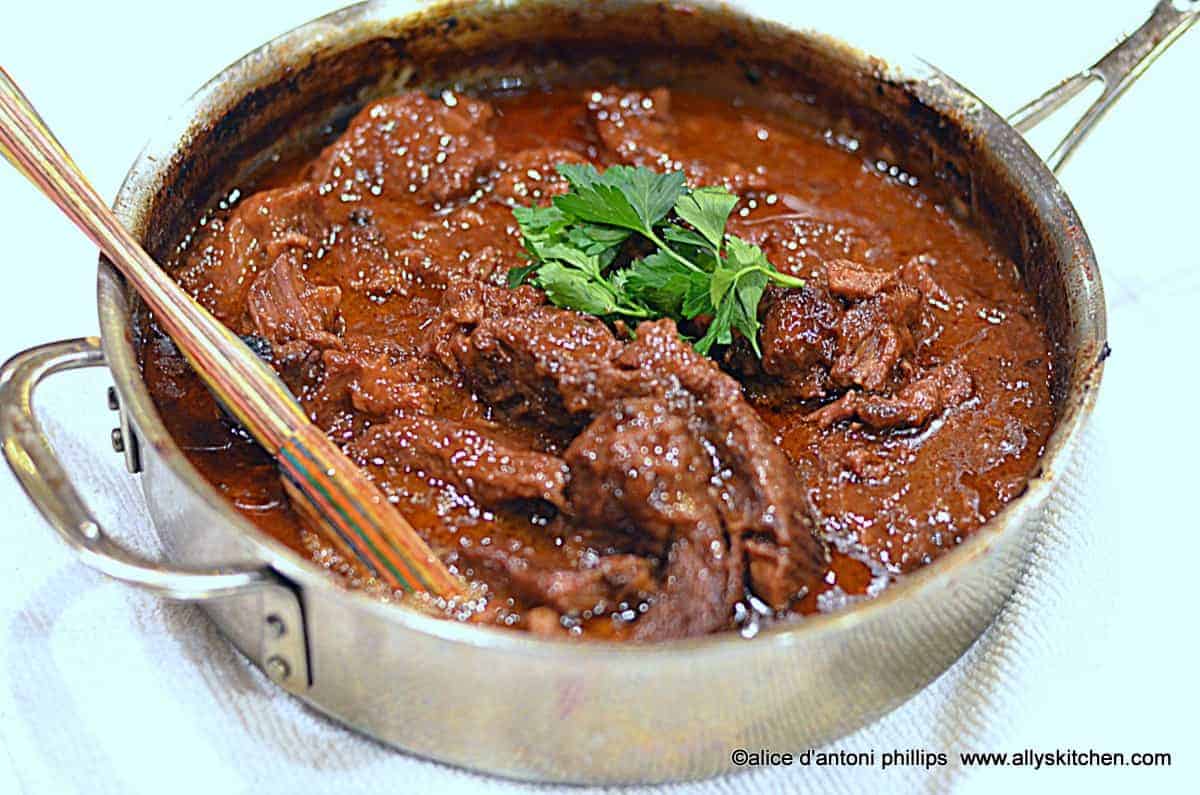 Serves: 6+
Preheat Oven to 425
What you need:
3 lbs country style boneless beef ribs
1 ½ cups flour
2 tsp sea salt
2 tsp paprika
2 tsp granulated garlic
1 tsp pepper
2 tsp minced onions
4 tbl butter
¼ cup canola oil
Dark Cherry Sauce Recipe~~click here~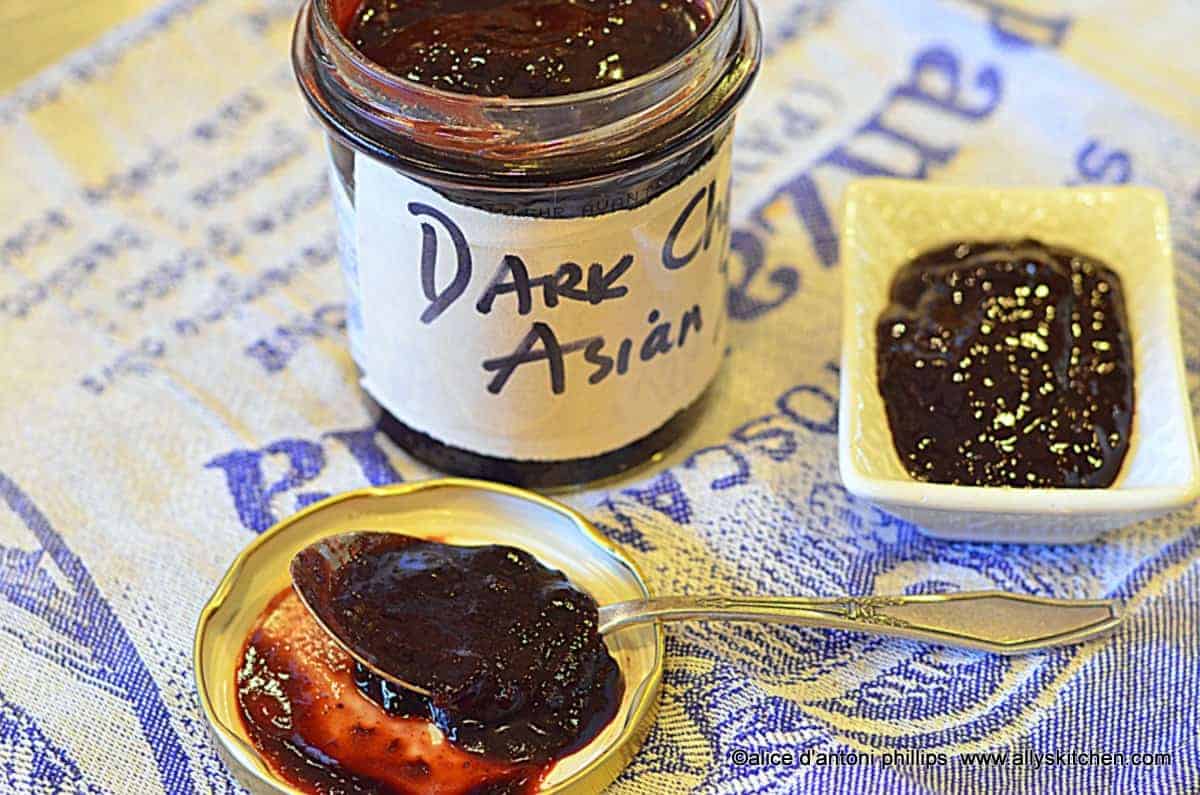 What you do:
Combine the flour, salt, paprika, garlic, pepper and minced onions in a large plastic bag.  Put 3 pieces of the beef in at a time and dredge completely in the flour.  Shake off excess and put on a plate.  Repeat with all the beef.
In a large heavy skillet over medium high heat, melt the butter and add the olive oil. Put the floured beef in and brown on all sides.  Slowly add about 3 cups of water while blending to make a gravy.
Cover the skillet with doubled foil, a lid and place in a preheated 425 oven for one hour.  Add  1 ½ cups of the Dark Cherry Sauce and blend in.  Recover and cook another 1.5 hours or until fork pull-apart tender.  Check occasionally to see if water is needed.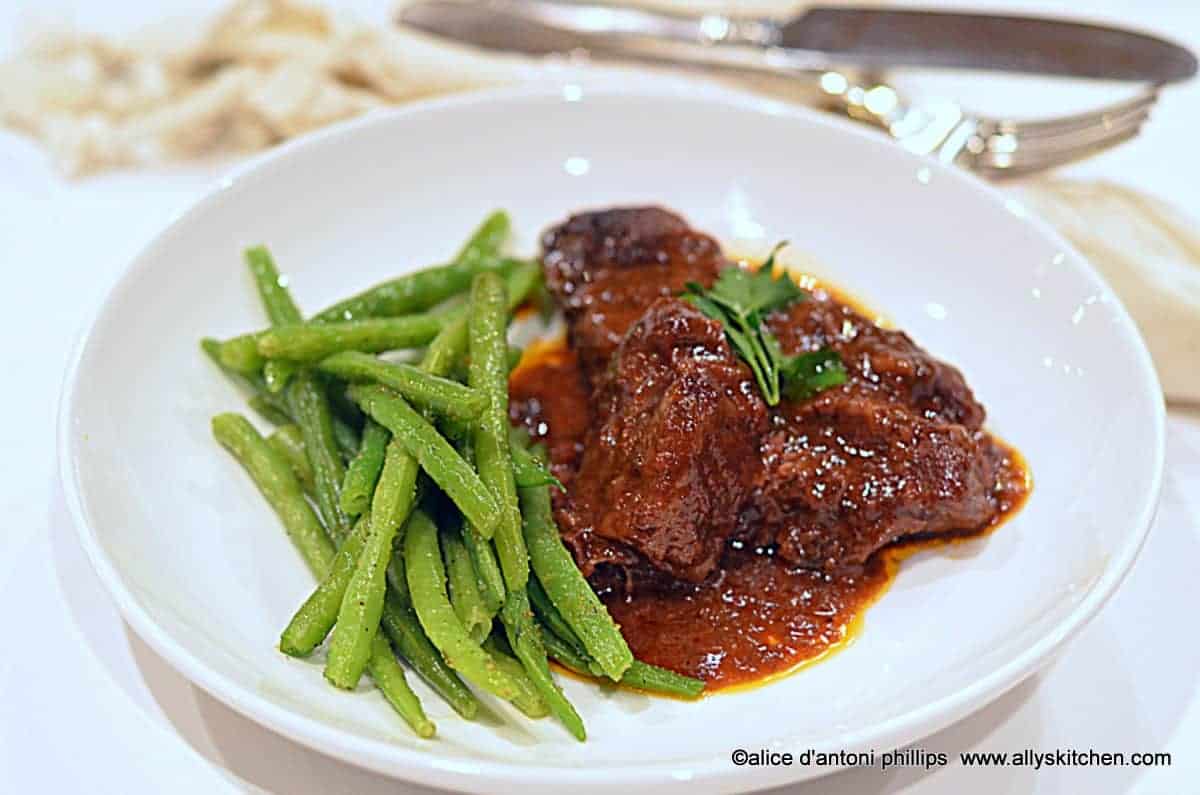 ©alice d'antoni phillips    www.allyskitchen.com