chocolate banana buttermilk bread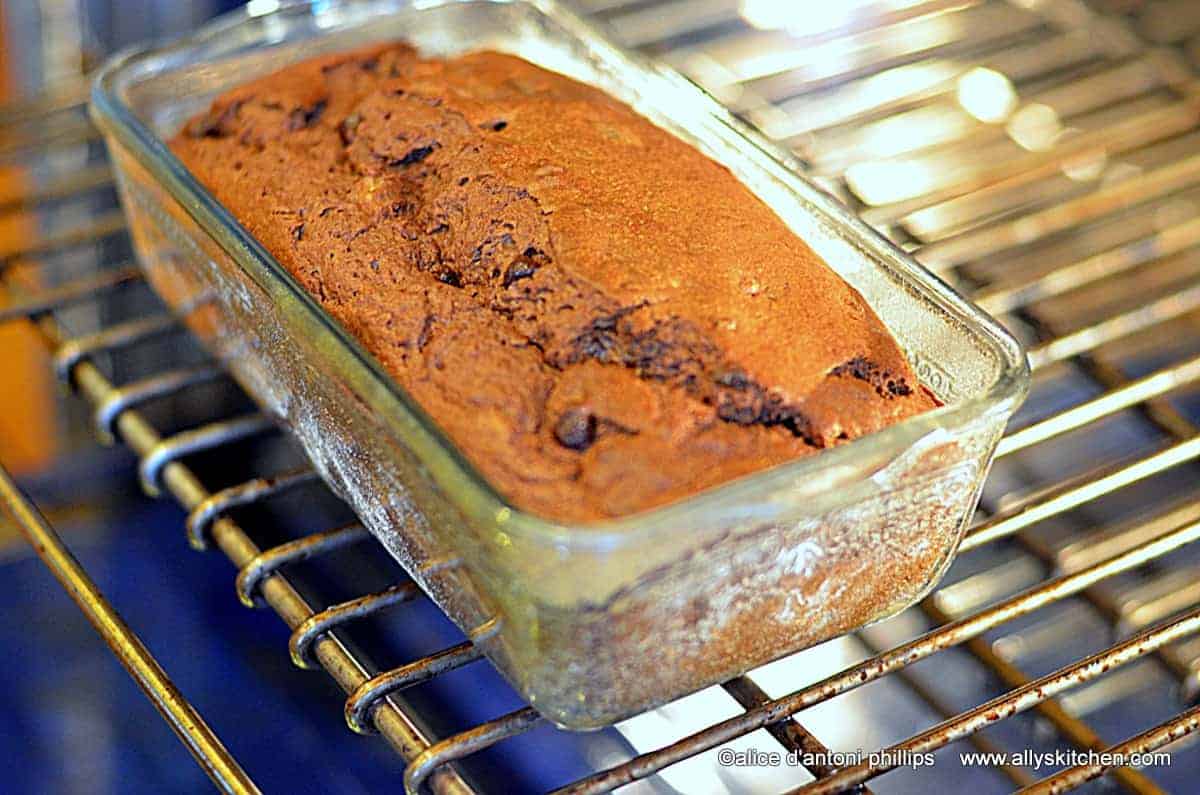 I call this houdini batter~~the better batter than can become just about anything you want it to be.  Need brownies?  Well, then put this batter in a square or rectangular baking pan.  Need a bundt cake?  Pull out the bundt pan and bake it. In the mood for muffins?  How 'bout going rustic and using a cast iron skillet! Presto, you got the batter right here!  The big thing you'll have to do is adjust your baking time depending upon your pan~~here's a guide that can give some help!  Click here~~
If you're serving this to others, imagine the possibilities for garnishing, styling and plating it!  How about some chocolate ganache with chopped fresh mint? Whipped cream, ice cream, plain yogurt with a drizzle of honey, fresh berries, bananas, sprinkles of coconut, a slather of cream cheese on a slice, mascarpone~~just let your dreams float and imagination soar!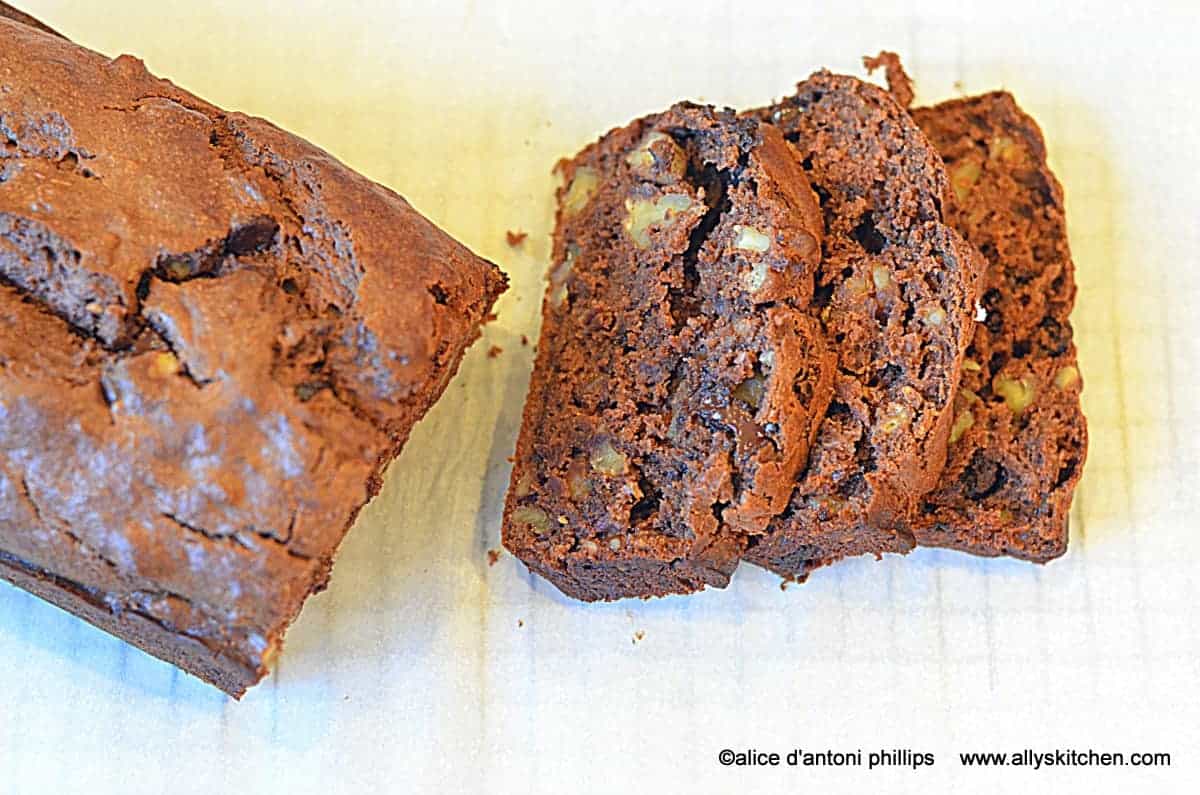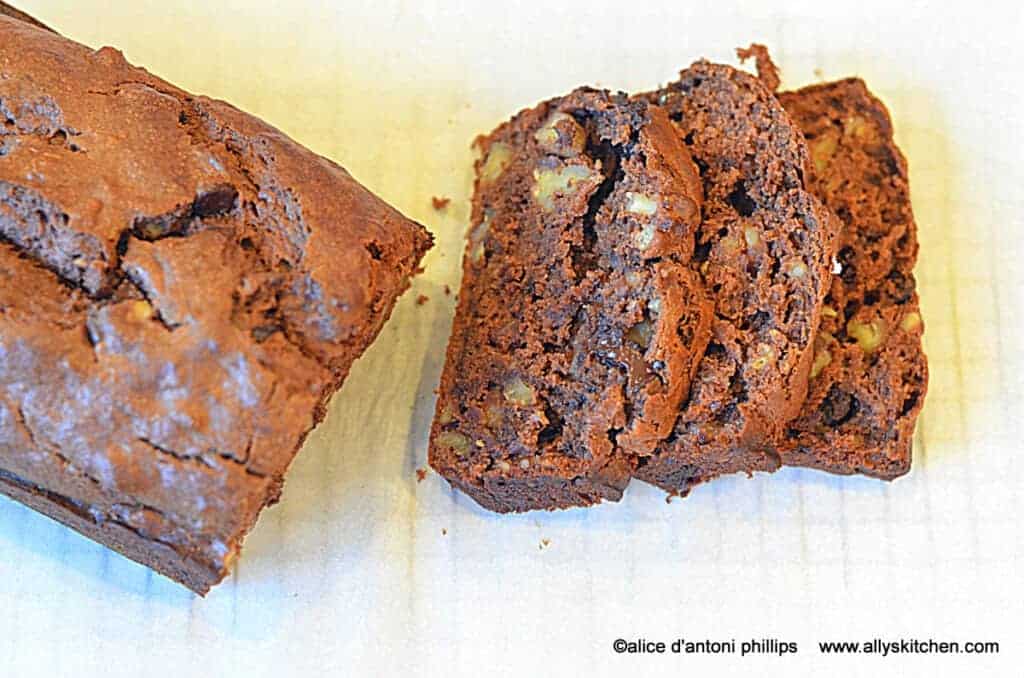 Makes:  2 loaves
Preheat oven to 350
What you need:
4 very ripe bananas smashed
2 tsp vanilla
3 beaten eggs
¾ cup coconut oil (if your coconut oil is in solid form, put in the microwave on high for a few seconds to change to fluid oil)
½ cup buttermilk
2 cups self-rising flour
1 tsp baking powder
½ tsp sea salt
½ cup unsweetened cocoa
2 tbl instant espresso coffee (optional)
½ cup sugar
¾ cups chocolate chip chunks
2/3 cups chopped walnuts (optional)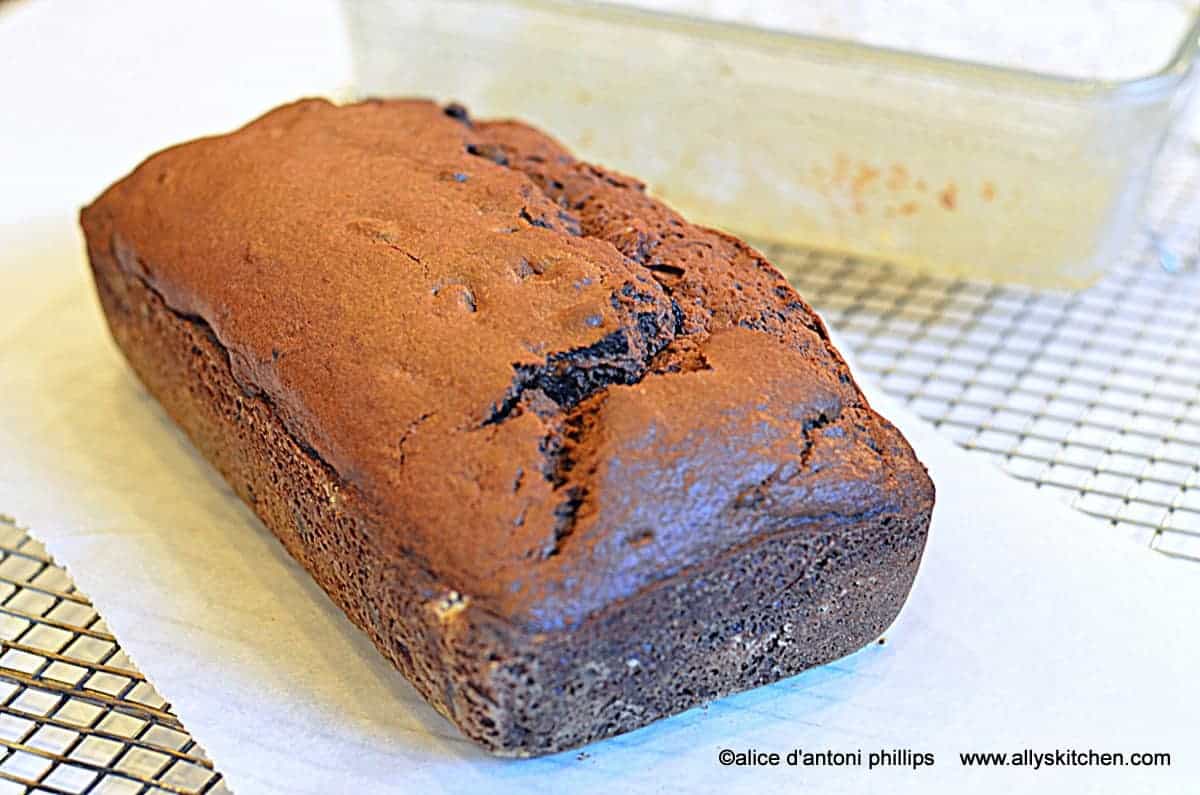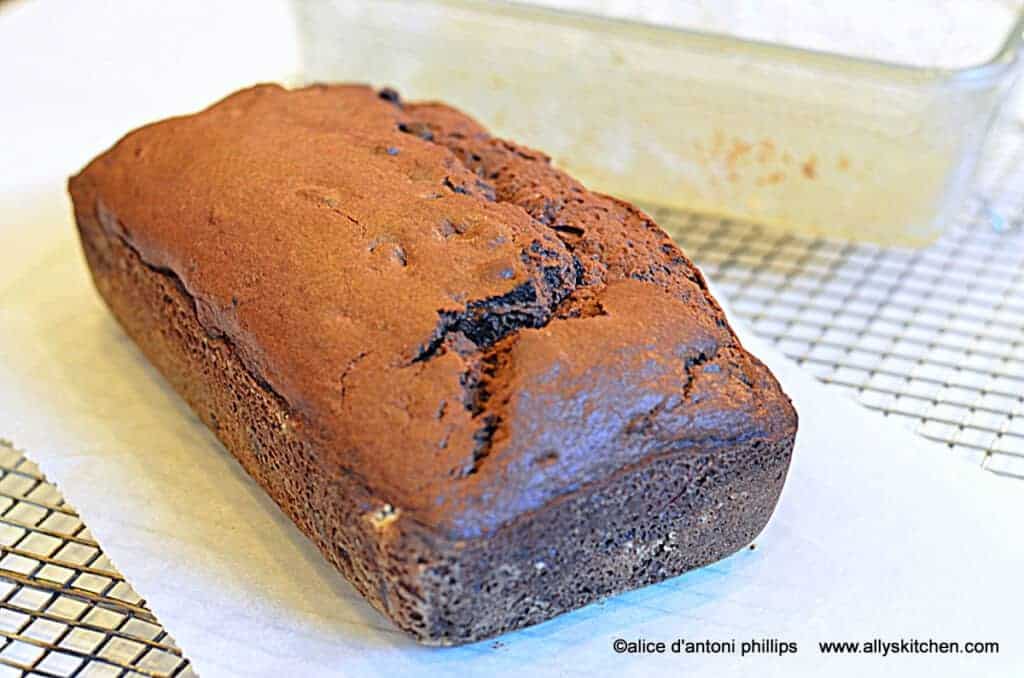 What you do: 
You'll need two mixing bowls.  Combine the bananas, vanilla, eggs, oil, and buttermilk in one and blend well.
Combine the flour, baking powder, salt, cocoa, coffee, and sugar in another mixing bowl and blend well.  Incorporate the dry ingredients into the wet and beat well for a couple of minutes.
Fold in the chocolate chips and walnuts (optional).  Pour into two greased and lightly dusted with flour bread pans.  Bake in a preheated 350 oven about 40-45 minutes or until a toothpick comes out basically clean.
Remove and let cool on a rack.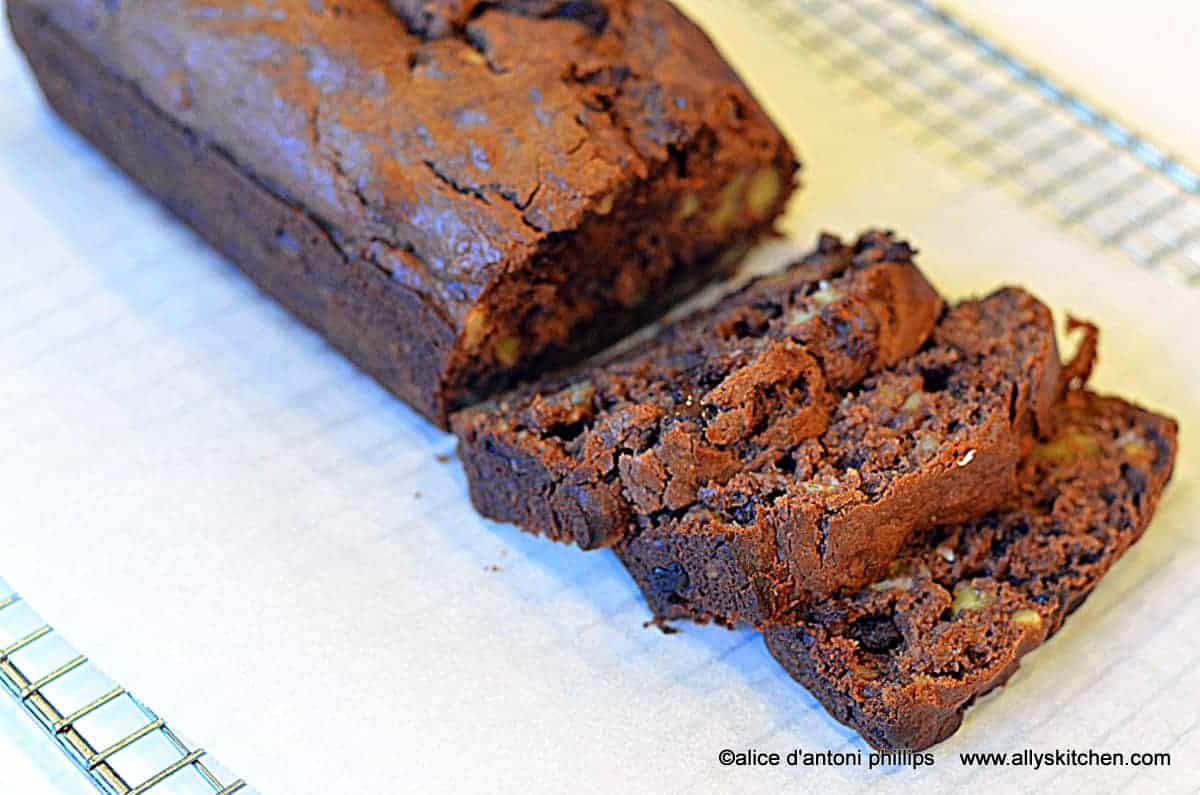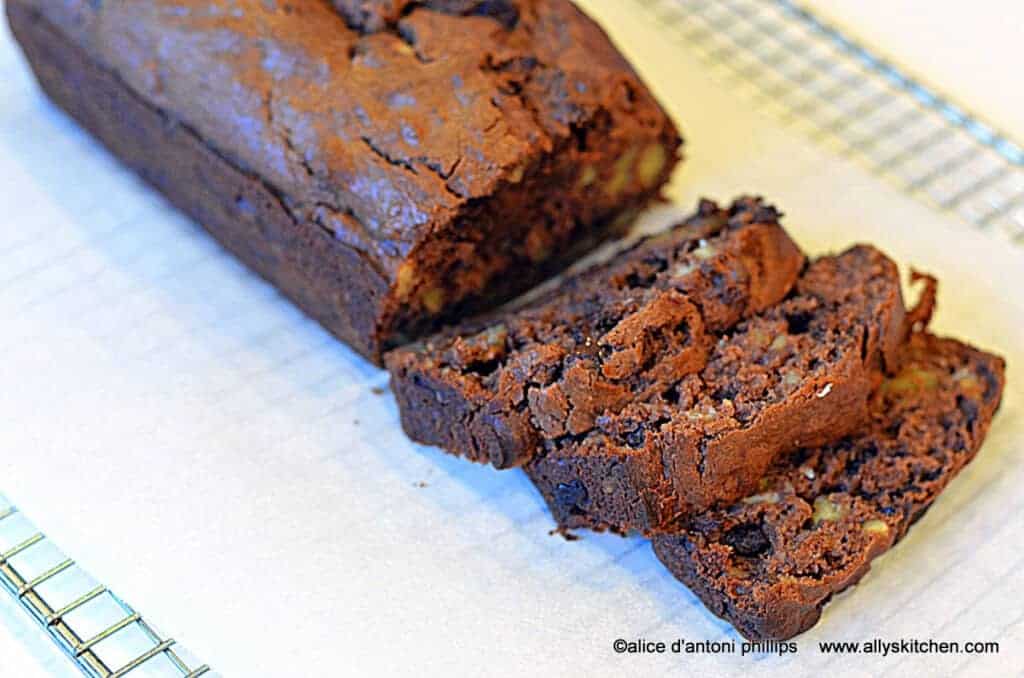 ©alice d'antoni phillips   www.allyskitchen.com