Easy Cajun Peppered Whole Chicken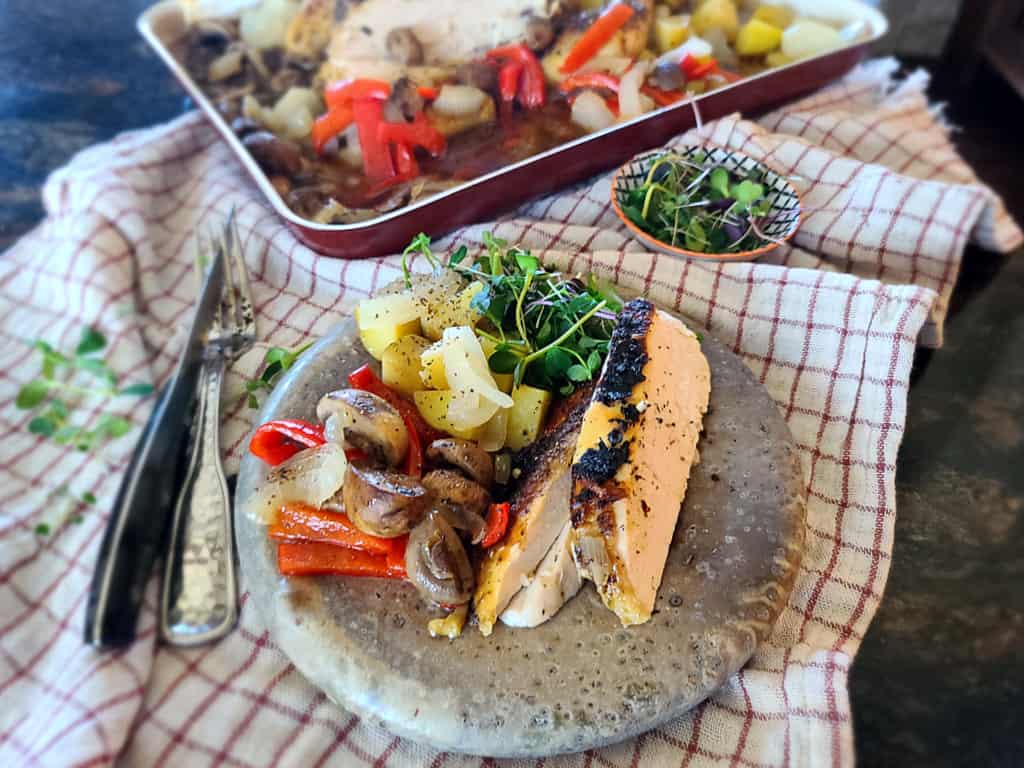 Easy Cajun Peppered Whole Chicken is gonna be the easiest meal you've fixed in a long time! Healthy, One pan. Absolutely scrumptious!
Cajun Chicken
This easy Cajun pepper whole chicken that's, by the way, spatchcocked, will be a go to for entertaining, dinner parties and more.
Cajun Seasoning
So what's so special about Cajun seasoning?
Cajun seasoning is a taste of Louisiana and the deep South. Yes, everyone can put their own spin on it and have their own family recipe.
However, in general, it's a few things: oregano, pepper, garlic powder, paprika and cayenne. I love to add thyme and onion powder. So while we're making this Cajun seasoning, let's make a good amount and have it for other recipes, too.
Cajun Chicken Recipes
Of course, if you don't want to prepare your own Cajun seasoning for this recipe, you can certainly buy prepared Cajun seasoning.
Cajun Whole Chicken Recipes
Now I love creating chicken recipes because I love chicken!
And, if you've not used my discount code at Cooks Venture for pasture-raised chicken delivered right to your door, well, then, you're missing out on big savings on your first order. Yes, I'm talking about a whopping savings of 50 bucks!
And, I'm telling you, this chicken is heirloom and grown on small farms in Arkansas. You'll taste the difference. Take a look for yourself. You can't find quality like this in grocery stores.
Here's the link and my discount code at checkout is AK50. And, yes, full disclosure, I do get a small commission from every sale. So, thanks so much for your support. It sure does help pay the overhead and costs of running Ally's Kitchen!
Spicy Spatchcock Chicken
Now this chicken is spicy. But if you're looking for something less spicy and with a hint of sweet, then you have to try my Easy Salted Maple Spatchcock Chicken!
Another great chicken recipe, my Mojo Cuban Chicken! And, my Chicken Fennel Bake!
Cajun Roast Chicken Recipe
This easy Cajun peppered whole chicken will be a family favorite. Clean up is pretty simple, too.
And, if you're interested in the cookie pans I'm using, well, check them out at my Amazon Storefront.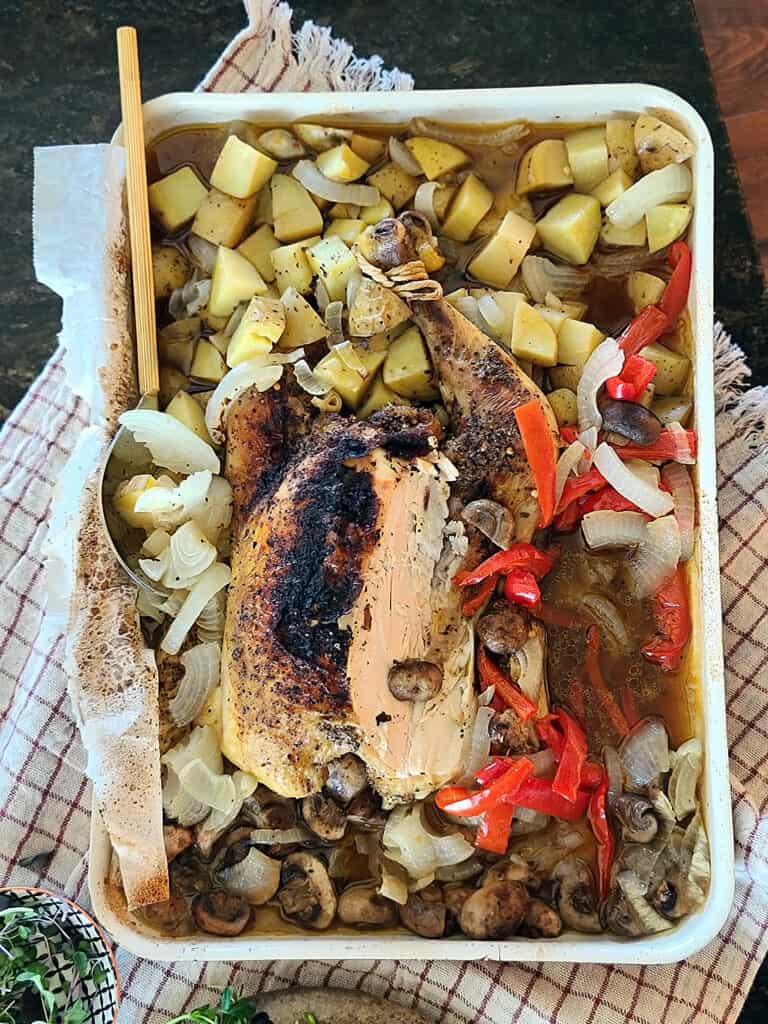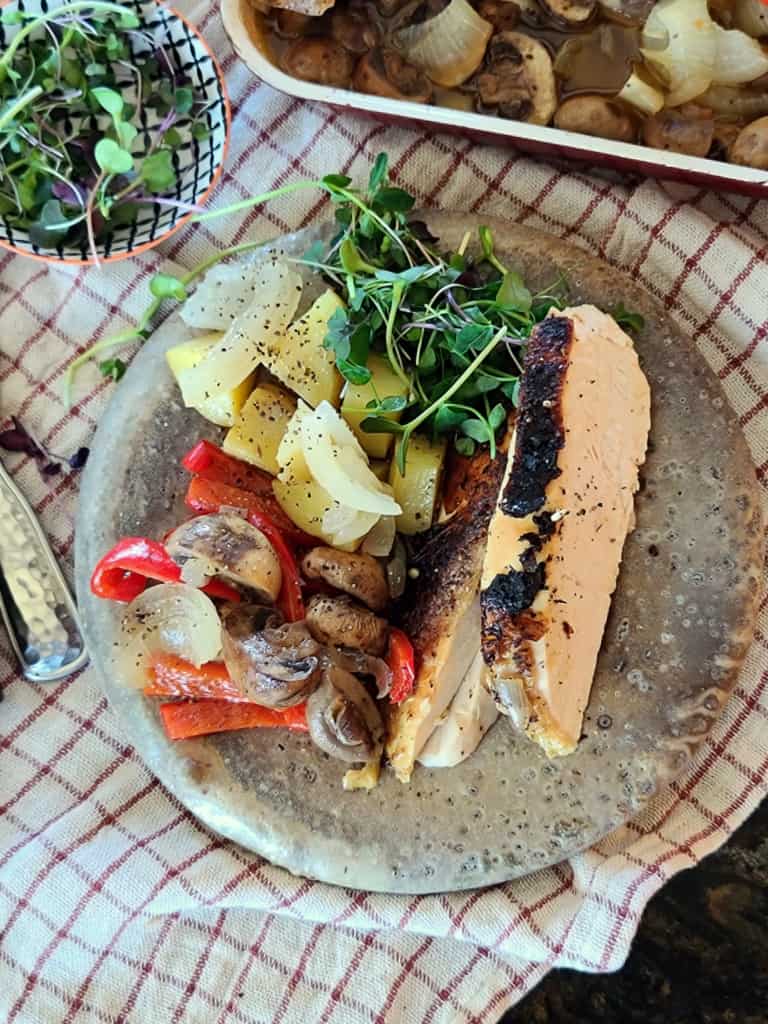 Easy Cajun Peppered Whole Chicken
Ingredients
Preheat oven to 350
1 3 to 3 ½ lb. spatchcocked chicken
2 Tbl. coarse ground pepper
2 Tbl. Cajun Seasoning Mixture
½ cup avocado oil, divided
1 ½ cups chicken bone broth
CAJUN SEASONING MIXTURE (optional to make):
1 Tbl. smoked paprika
1 Tbl. garlic powder
1 Tbl. onion powder
1 Tbl. oregano
2 tsp. sea salt
2 tsp. coarse ground pepper
1 tsp. cayenne
1 tsp. thyme
ASSORTED VEGETABLES:
1 cup water
3 cups Yukon potatoes, medium dice
2 cups red bell pepper strips
2 cup sweet onions
2 cups mushrooms, sliced
Sea Salt and Pepper to taste
Instructions
Line a large deep (about 2 to 3" deep) cookie sheet with parchment paper. Place the spatchcocked chicken upside down. Use half the pepper and Cajun seasoning mixture on the underside.
Flip the chicken and coat this side with the remaining pepper and two tablespoons of Cajun seasoning (prepared or homemade).
Drizzle with one-fourth cup of the avocado oil. Pour the chicken bone broth around the chicken. Cover with another cookie sheet. Try to get it as snug as possible when it goes into the preheated 350 oven.
Roast for about 45 to 50 minutes.
Pull the chicken from the oven. Remove the top and put the vegetables around the chicken. Add a cup of water. Cover and return to the oven for another 20 to 25 minutes or until the vegetables are tender and the chicken is internal temperature of 165 degrees+.
GOLDEN BROWN TOPPING: Remove the top cover. Turn oven to broil and brown the chicken/vegetables for about 6-8 minutes. Pan should be about 15 to 18 inches from the broiler. Remove from the oven. Recover and let the meat and vegetables rest for about 15 minutes.