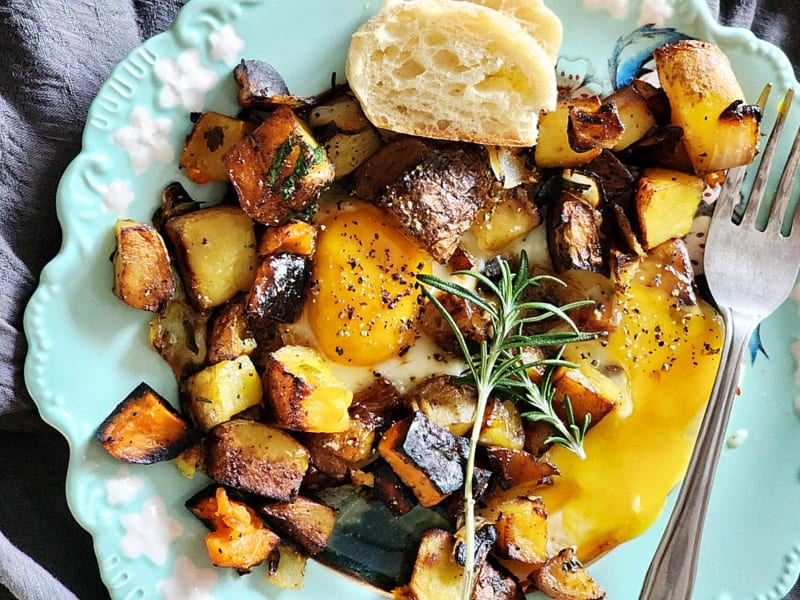 Ater serving 2 tours of Iraq, my soldier son came home with a love for Middle Eastern cuisine and especially this Afghani omelet!
Afghani Eggs with Potatoes
There's nothing more delicious than fried potatoes for breakfast. But when you pair these delicious potatoes with eggs, well then you have the makings of an exquisite Afghani omelette.
Afghani Breakfast
My son, now a LT COL in the Army, spent 27 months, two tours, in Iraq. He learned so much about this beautiful culture and their people.
And, one thing is for sure, he became a lover of Middle Eastern food.
He's got his own version of the Afghani omelette adding things like green peppers, sometimes tomatoes and cheese, but he also loves just the original version that he was introduced to which is more like this recipe.
Afghani Eggs
Every time the family gets together, there's always a request for my son to make the Afghani omelette!
Now he prefers to beat his eggs and make it more like an open-faced pizza. But, you can also do a whole egg twist steaming the eggs kind of like you do in my Shakshuka recipe!
Afghani Omelette
Now if you Google Afghani Omelette or Omelet, you'll see a lot of variations. That's the nature of just about any dish/recipe. There are variants of the recipe whether it's a pot roast or banana bread.
Usually the Afghani Omelette is not folded like a traditional omelet. It's more like an open faced pizza. And, tomatoes are the defining ingredient. Potatoes are.
Afghan Omelet Recipe
The spice mixture recipe also can vary. Since I love the North African spice mixture, Harissa, I use it in this recipe. It provides all the flavor and dimensions that we love, plus we have a little bit of 'heat' as in spice. If anyone wants more spice or kick to their serving then they can add some additional red chili flakes.
It probably would be well worth your time to make a batch of my dry harissa. It's not complicated, and you can double or triple the recipe. You can freeze and have for months and months.
And, by making it yourself, you'll be saving quite a bit of money because these spice mixtures can get pricey. So take a look at my homemade harissa.
I can keep you busy with recipe using this fabulous spice mixture!
One more thing. As you can see from the photos, you can make this omelet with a sunnside egg or eggs or scrambles. Your choice!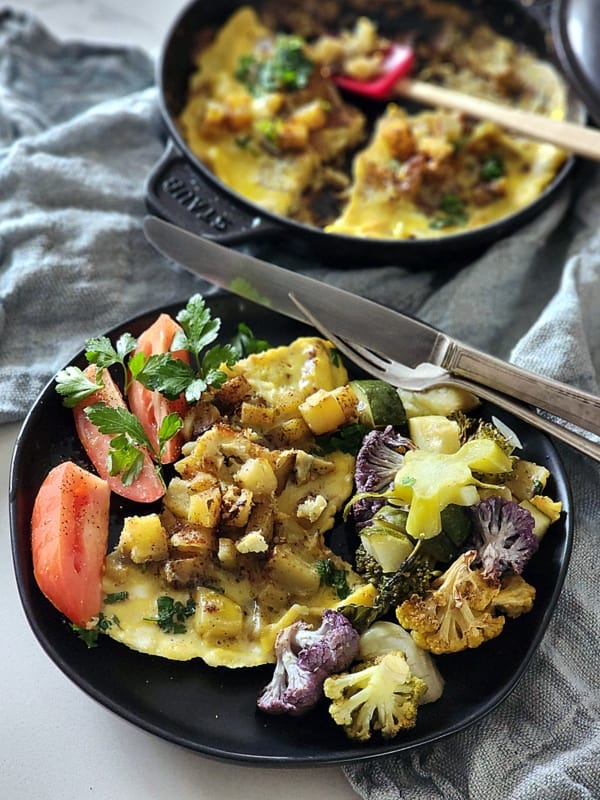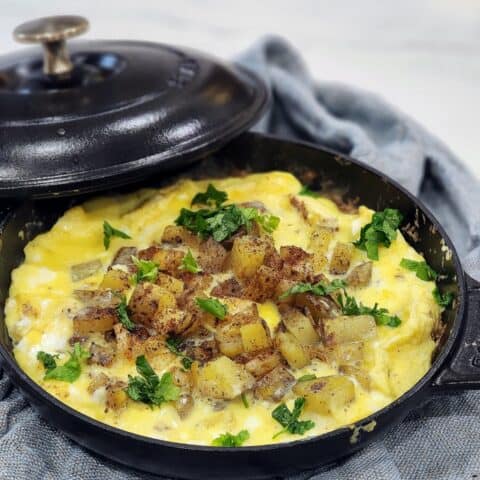 Your Easy Afghani Omelet
Ingredients
4 Tbl. extra virgin olive oil
1 Tbl. garlic, minced
6 cups Yukon potatoes, skin on, washed, small dice
1 1/2 Tbl. harissa
8 eggs, whisked well
Fresh chives, parsley and cilantro, finely chopped
OPTIONAL:
1 cup green peppers, small dice
1 cup sweet onions, small dice
1 cup cherry tomatoes, sliced in halves
1 cup grated cheese
Instructions
In a large skillet, 10-12", put the olive oil. Turn heat to medium. Add the garlic and saute about 3 minutes, just until you smell the fragrance of the garlid.
Add the potatoes, sprinkle on the harissa and cover with a lid. About every 3-4 minutes, blend the potatoes and move around. Turn heat to low and let the potatoes steam and slowly cook until very tender.
Move the tender potatoes to the centermost part of the skillet leaving about 1.5 to 2" around the perimeter. Pour the egg mixture around the perimeter and some on top of the potatoes.
Keep heat on low. Cover with a lid. Let the eggs cook slowly. After about three to four minutes, take a rubber spatula, go around the perimeter lifting the cooked eggs and let he uncooked drain in and under the cooked eggs. Do this a few times as the eggs cook.
Once eggs are all cooked into the potatoes, remove from the heat. Sprinkle on the fresh herb mixture and sliced like a pizza and serve.
OPTIONAL: If you'd like to add other elements, please do so as the potatoes are cooking with the exception of the cheese. This can be sprinkled on after the dish is done, cover with a lid and let it melt from the heat and steam in the skillet.
Notes
If you prefer sunnyside eggs, simple crack the eggs on top the potato mixture when it's cooked, turn heat to medium low, cover with a lid and let the eggs steam atop the potatoes.
The skillet will accommodate about 5-6 whole eggs.