Picnics. Family dinners. Tailgating. Covered dish church suppers. Whatever the occasion, this is one platter of goodliness that you'll sure to get rave reviews on!
For those who want a healthier alternative to the traditional deviled egg or if you just want a more hip 21st century version of the deviled egg, then this is for you. Now, I made a 'how to' video on this recipe [yeah, like it's so complicated…actually, I'm working on learning video skills]. And, I picked out the background music especially for these bacon bleu littl' devils. It's called 'Making Mischief' and that's what these babies will do to you~you'll be making mischief big time!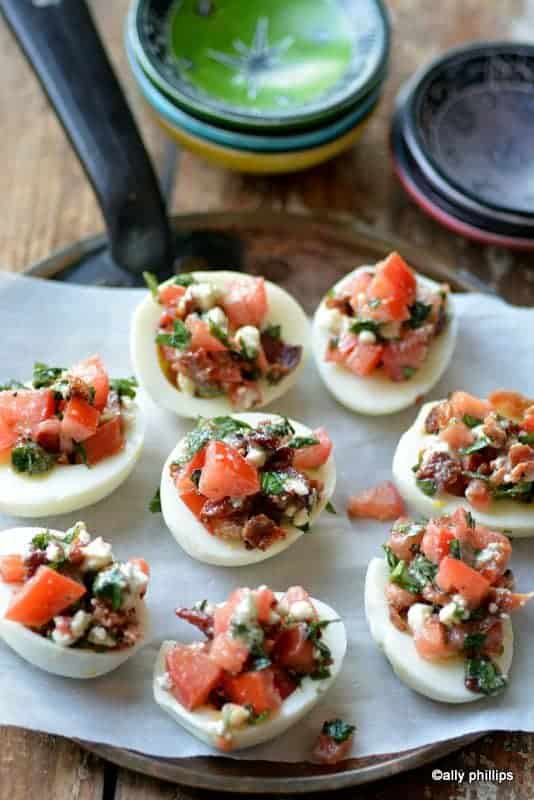 Ingredients
4 eggs, boiled, peeled, yolks removed, whites set aside
1 Roma tomato, diced
3 slices bacon, fried, drained, crumbled
3 Tbl. fresh basil, chopped finely
2 Tbl. extra virgin olive oil
2 Tbl. fresh lemon juice
½ tsp. sea salt
½ tsp. coarse ground pepper
Instructions
Put the halved egg whites on a plate.
In a bowl, combine the tomato, bacon crumbles, basil, olive oil, lemon juice, salt and pepper and toss together well.
Fill the egg whites. Refrigerate or serve immediately.
Notes
These things are mighty tasty! You might want to throw in an extra egg or two!
The filling is so good and you can use on anything...would make a wonderful pita pocket sandwich, topping for iceberg lettuce, on a grilled piece of chicken.
Go ahead, imagine the possibilities!
https://allyskitchen.com/bacon-bleu-stuffed-eggs/
©ally's kitchen intellectual property