black quinoa beans & green chiles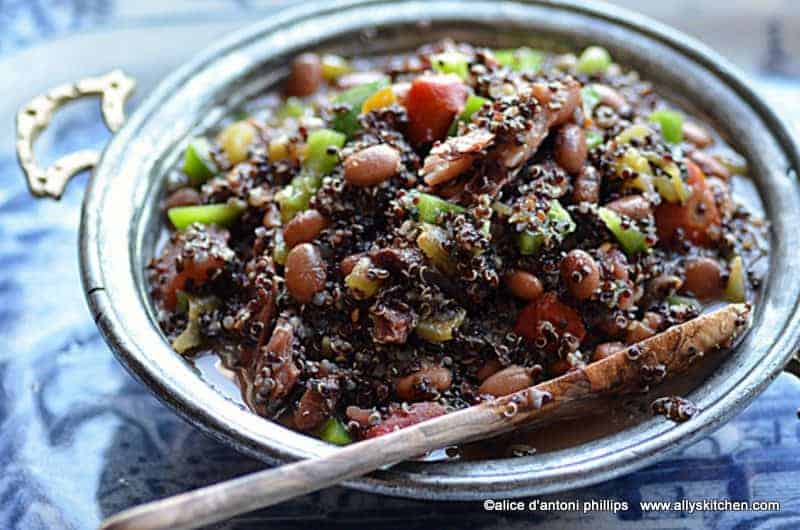 One thing I love about 'salads' is knowing that they can be cold, room temperature, warm or hot~yes, this 'black quinoa, beans and green chiles' salad is one that you can serve however you like!
Now I want you to use your imagination in how you dress this 'salad'~you might want to use it with a grilled meat or with seafood. You might want to use it in a wrap or with pita bread. Maybe you're hankerin' to put it in a bowl warm, have some good crusty bread and make a meal out of this dish!
Boho style eating is all about you deciding what makes you happy~it's about creating unique presentations with whatever you have handy. So, if a Ball or Mason jar is calling you as the serving piece, make sure you have a long necked spoon so you can get every single bite!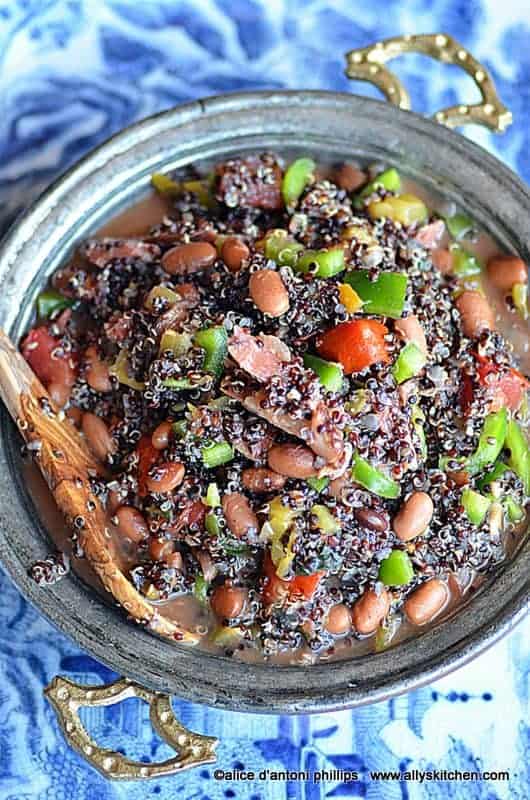 What you need:
4 cups cooked black quinoa (cook according to directions)
2 cups canned beans, drained (your choice–I used pinto.)
1 cup green peppers, diced
1 cup tomatoes, diced
1/2 cup green chiles
1 1/2 tsp. sea salt
1 tsp. cumin, ground
1/2 tsp. red chili flakes
1/2 tsp. smoked hot paprika
1 Tbl. Italian seasoning blend (can substitute Greek)
1/4 cup extra virgin olive oil
3 Tbl. red wine vinegar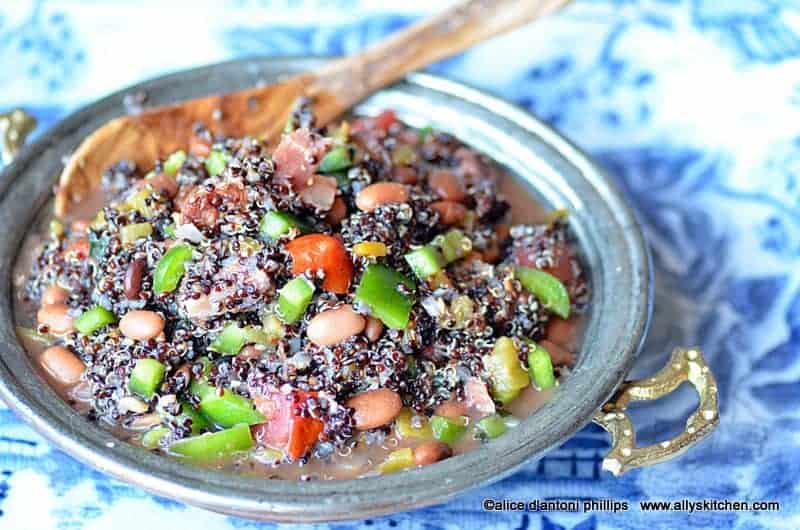 What you do:
Combine the qunioa and beans in a large mixing bowl. Give a quick blending with a spoon. In a small bowl whisk together the salt, cumin, chili flakes, paprika, Italian seasoning, olive oil, and vinegar. Drizzle on the quinoa/beans and toss and blend well
Refrigerate about an hour before serving. Remove and let the dish sit about 15 minutes before serving, just to take off the chill.