The Best Frozen Mint Lemonade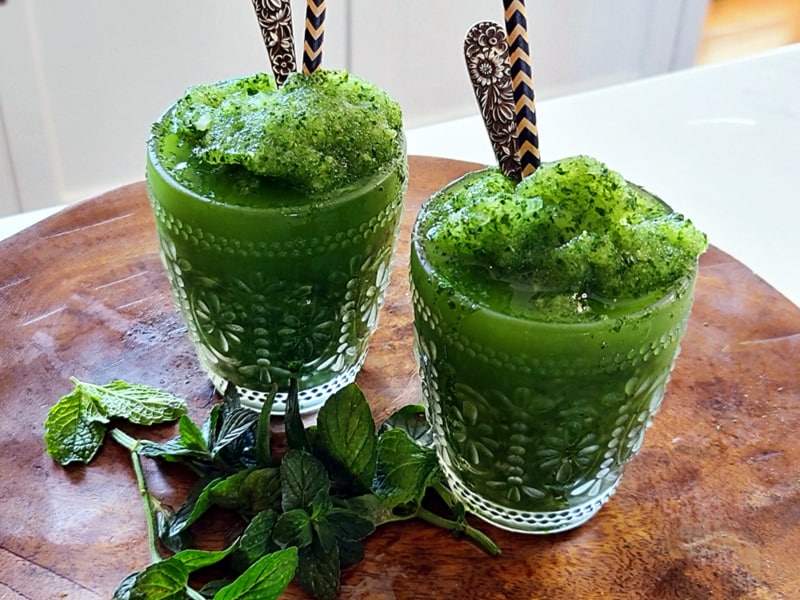 You'll need a spoon and a straw for the best frozen mint lemonade you've ever sipped! It's your slushie that's perfect for hot summer days!
Slushy Recipes
Get ready for one fine and easy slushy recipe! It's going to be your reason to grow mint!
Lemon Mint Slushie
Nothing's more refreshing than this lemon mint slushie. On a hot summer's day, it's sure to cool you and an added bonus is that it's healthy!
Lemon Mint Drink Recipe
Lemon and mint just go together in drink recipes.
Rich in nutrients, mint may help with indigestion and even help improve IBS. It's also associated with improving brain function and could help with cold symptoms.
Icy Mint Slushie
One of the best things about this icy mint slushie is that it's definitely going to mask bad breath! I mean with all the mint in it, you'll get that refreshing feeling of "I've just brushed my teeth!" when sipping.
Mint Summer Slush
But, the lemonade taste from the fresh lemons will tell you that you're enjoying something pretty darn special!
Lemon Mint Smoothie
Lemon is filled with health benefits!
According to Healthline there are six evidence-based benefits:
Supports heart health
Helps with weight control
Aids in preventing kidney stones
Protects against anemia
Helps reduce cancer risks
Improves digestive health
Mint Lemonade Recipe
Mint is so simple and easy to grow! You can start from seeds. Or you can just buy small containers at big box building supply stores.
Growing them in containers means that just about everyone can grow mint. And, even if you don't have a lot of space, don't worry, you can grow a great herb garden!
And, like basil and cilantro, mint is one of the easiest herbs to grow.
The cool thing about mint is that its roots are 'runners' which means, like ivy and other ground covers, it can take over a flower bed or garden in not time if you're not careful! However, not to worry because you can use mint in so many ways. And, you can preserve and dry mint when it's not growing season!
Lemon Slush
Not only can you make this lemon slush with mint, but there are soooooooooooooo many other recipes I've created for you to use that gorgeous mint!
Mint Cherry Ginger Goddess Drink
Asiago Cheese Date Mint Toasties
Lemonade Slushie
Gosh, this mint lemonade slushie would have been perfect when I was in the Sahara Desert.
As you might know, mint tea is very traditional and popular in the Middle East. And, I had the honor of being invited into a Berber family's home in the middle of the desert to share in tea and nibbles.
You don't want to miss this post. Mint tea with Hassan, a young child who lives with his single mom in the desert, was one of the highlights of my life.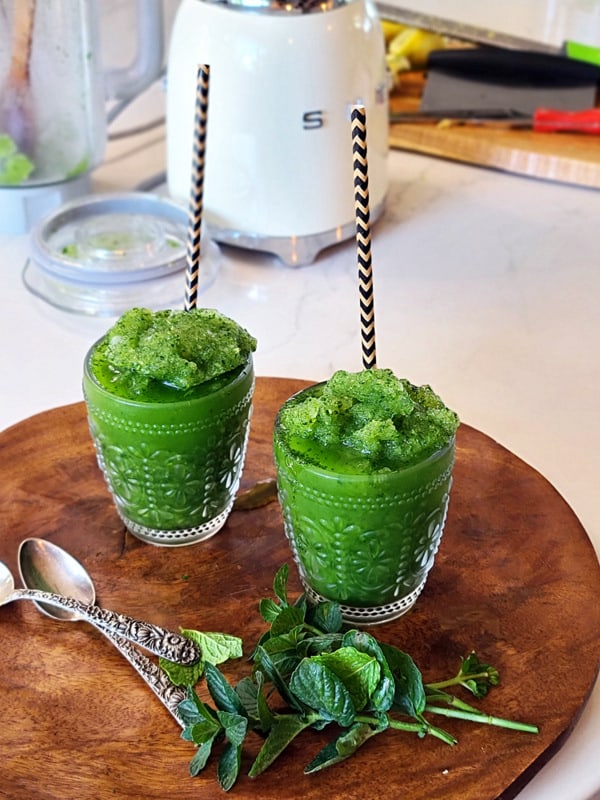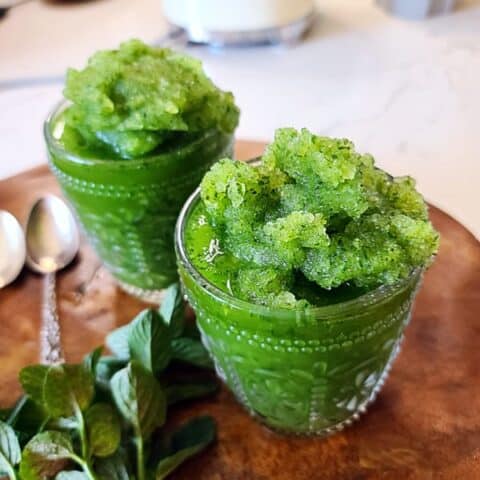 frozen mint lemonade
Yield:
About 3-4 6-8 oz. servings
Ingredients
4 lemons, juice and zest of 2 of the lemons
1 cups fresh mint leaves, packed, plus more for garnish
1/3 cup sugar
4 cups ice cubes
1 1/2 to 2 cups sparkling water
Instructions
Put the lemon juice, zest, mint leaves, sugar, ice cubes and one 1 1/2 cups of sparkling water in the blender.
Pulse and blend all ingredients into a thick slushie texture. Add the remaining sparkling water and more if you prefer a more liquid slushie.
Serve immediately with a sprig of fresh mint!