pineapple mint spiked green tea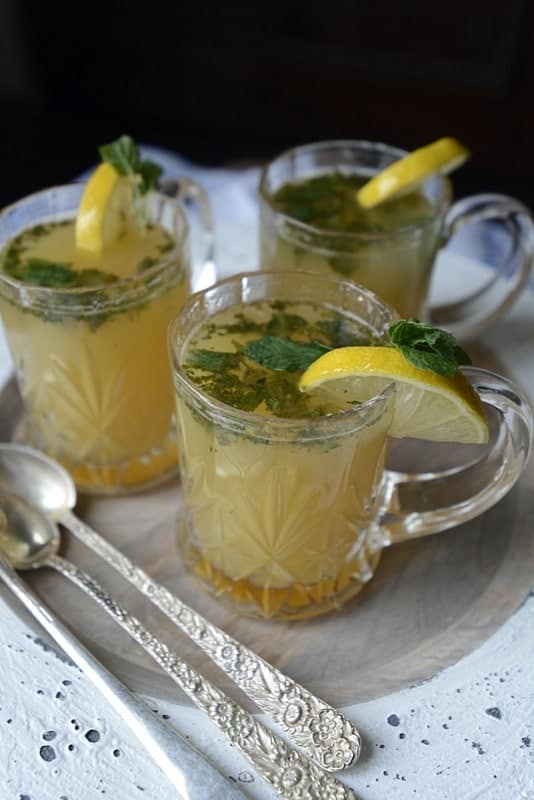 You sure don't have to have the flu, a cold or just be ill to make this pineapple mint spiked green tea! It's good anytime! UNspike it and have in the afternoon. Or, hey, if it's getting near cocktail time, keep that 'spike' in it!
Now this 'drink' can be considered a cocktail or not. It's your choice! I love anything with pineapple juice, so when you add that to the green tea, you have more bountiful flavor, I think. And, you sure do know the benefits of drinking green tea. Surely you've read about them, but, if for some reason, you haven't, then here you go. Check it out! xox ~ally
I have so many recipes with pineapple juice. How about in coleslaw! I'm telling you, crazy good!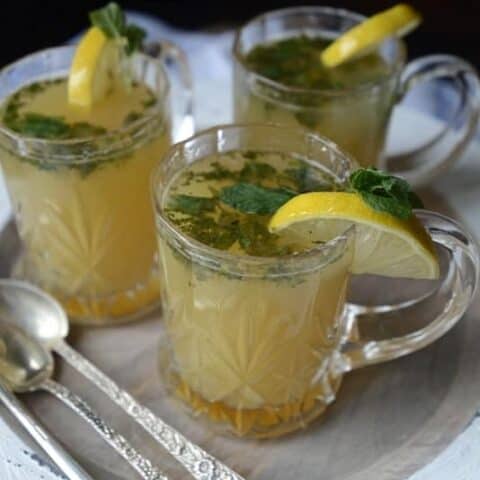 pineapple mint spiked green tea
Yield: Makes 2-3 mugs (6-8 oz.)
Ingredients
3 Tbl. Fresh mint leaves, mottled and crushed + 3 stems for garnish
¼ cup vodka
1 lemon, divided
12 oz. pineapple juice
2 cups water, filtered or bottled
3 green tea bags, preferably organic and a good brand
3 tsp. honey
Instructions
Mix together in a small cup the mottled fresh mint leaves, vodka and the juice of half the lemon and set aside.
Combine the pineapple juice and water and blend.
Pour into three 8-10 oz. mugs. Add a green tea bag to each. Place the mugs on a microwavable plate. Cover the mugs with another microwavable plate. Microwave on high for 5 minutes.
Remove from the microwave and pour equal amounts of the mint/vodka into each much. Recover with the plate and let the liquid steep about 2 minutes.
Cut a half lemon round to garnish the mug and add a stem of fresh mint. Drizzle (preferably from a honey bear plastic container) into each about a teaspoon of honey.
Serve immediately.