jamaican jerk mac and cheese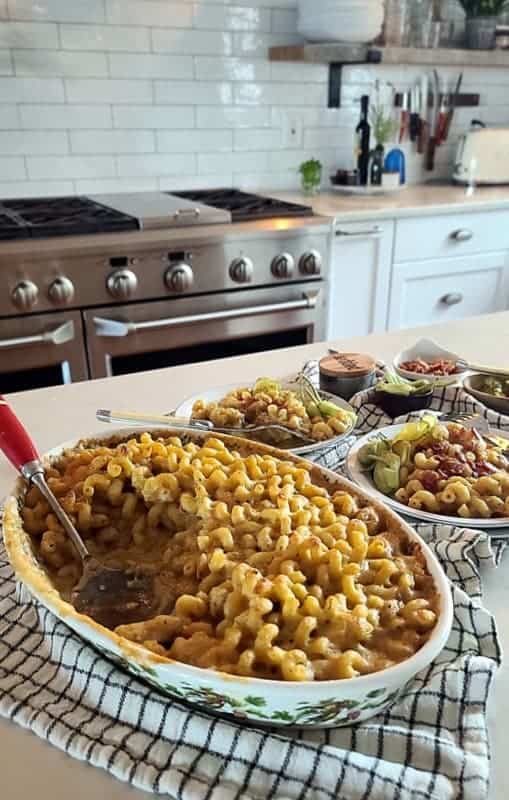 Mac and Cheese
The BEST creamy mac and cheese you'll ever taste! Put a Jamaican jerk spicy twist on it for explosive flavors! Make it a weeknight favorite!
Of course, it's easy to pick up the boxed versions of mac and cheese, but you're not getting the real taste of Southern macaroni and cheese. These flavors and textures can only be achieved with homemade. And, don't think making creamy mac and cheese is a daunting culinary task. Trust me, you'll ditch boxed mac and cheese once you taste this recipe!
Southern Macaroni and Cheese
We Southerners love our macaroni and cheese. I mean who doesn't love pasta and cheese and that's basically what macaroni and cheese is. In this recipe, I'm using a different pasta shape for the creamy mac and cheese. It's called campanelle pasta. It's so great for homemade mac and cheese because of its unique shape, kind of like a trumpet or cone shape with curled edges. Now this shape allows the creamy cheese to ooze into the 'trumpet' shape spaces and be even more cheesy when you devour each bite. If you can find this type of pasta, give it a try. If not, no worries because you can use the quintessential regular macaroni pasta shape.
Jerk Seasoning
You've probably tasted Jamaican Jerk Chicken. Well, when creating this recipe for macaroni and cheese, I wanted to add more "Southern" to it. And, this was by adding some spicy ingredients. In the South, we love our spicy food and it's not uncommon to eat in a diner or restaurant and see hot sauce on the table. The jerk seasoning mixture gives even more punch to the macaroni and cheese. If you don't want to add the extra red chili flakes, just omit them. And, you can cut back on the jerk seasoning. Remember, it's all according to your palate and what you like.
World Food Championship
A little history on this particular creamy mac and cheese recipe. At the 2013 World Food Championships, I competed in the 'Recipe Category' and our 'themed' ingredient was pasta! We had to do two builds (or two completely different recipes) to make it to the Top 10. The first was a 'signature' recipe of our choice. The second build, which put all contestants on the same playing field, was the 'mystery' pasta dish. And, in this case, it was 'Mac n' Cheese'!
I was giggly happy when that happened. Why? Because I knew I wanted to infuse a Caribbean twist on this luscious comfort food, so I created a Jamaican Jerk Mac n' Cheese. Three luscious cheeses, the taste of bacon, a crunch and saltiness. Oh, yeah, no wonder this recipe helped land me big time in the top 5 in this world competition! This jamaican Jerk mac n' cheese is sure to become one of your family's go to recipes!
And, one more great cheese dish, a grilled cheese sandwich, that won me first place in the Grilled Cheese Academy competition. The Bewitching Grilled Cheese!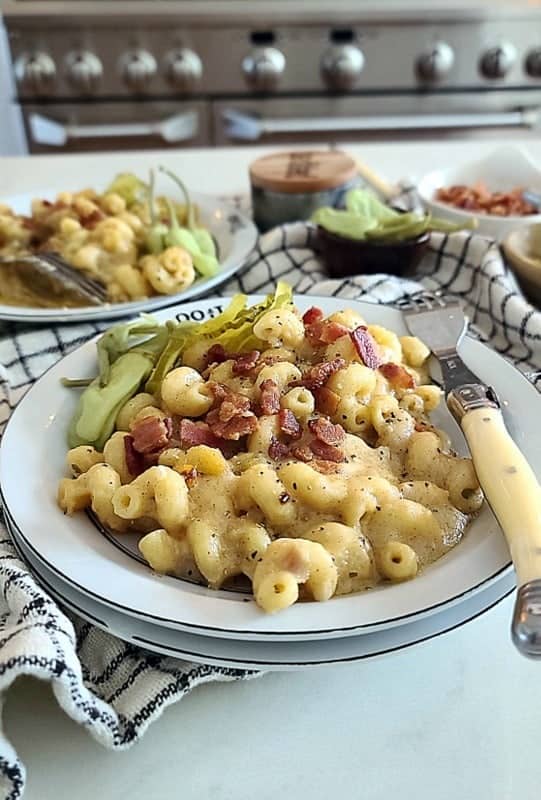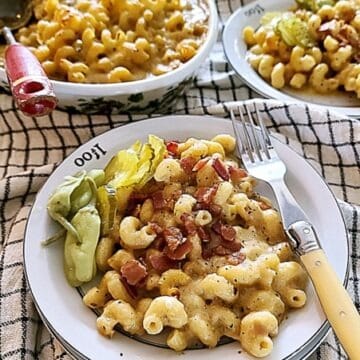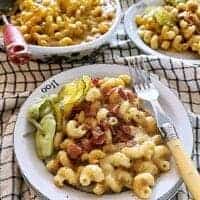 jamaican Jerk mac n' cheese
The BEST creamy mac and cheese you'll ever taste! Put a Jamaican jerk spicy twist on it for explosive flavors!
Ingredients
Preheat oven to 325
SEASONING SAUCE
8-10  pieces pancetta fried, reserve drippings, crumble pancetta and set aside for topping
3 Tbl. butter
3 Tbl. minced shallots
2 Tbl. minced garlic
2 Tbl. Jamaican Jerk seasoning mixture
½ tsp. red chili flakes
¼ tsp. sea salt
4 oz cup Tropical Fruit, fruit finely crushed in the juices (pulverize the fruit into a mash)
CHEESE SAUCE:
6 Tbl. butter, unsalted
¼ cup + 2 Tbl. flour
4 cups whole milk, warm in microwave to a lukewarm
1 Tbl. yellow mustard
¼ tsp. nutmeg
8 oz. grated or chopped Gruyere
9 oz. white cheddar
8 oz. parmesan reggiano
PASTA:
1 box (16 oz.) pasta, capanelle type preferred or regular macaroni shells, prepare according to package directions
TOPPING:
1 cup packaged bagel chips, garlic or salt/pepper flavor, chopped/crushed + pancetta crumbles, mix together for topping 
Cooking Spray Olive Oil
Instructions
SEASONING SAUCE: In a heavy medium size skillet over medium heat, add three tablespoons butter to the pancetta drippings. Add shallots and garlic and sauté about 2-3 minutes until translucent. Reduce heat to simmer and add Jamaican Jerk seasoning, chili flakes, sea salt and crushed fruit. Blend, turn off heat and set aside.

CHEESE SAUCE: In a large cast iron skillet over medium heat, melt butter. Add flour and whisk in working out all the lumps. Slowly start adding in warm milk (about 2 cups) whisking continuously making a thick sauce. Reduce heat to medium low. Add nutmeg and blend.

Begin adding the cheeses one at a time and blending in. Blend in the jerk Seasoning Sauce. Mixture should be the thickness of something like ketchup. Add more milk as needed to keep the sauce from getting too thick. Reduce heat to a very low simmer. Blend and stir occasionally.

PASTA: Prepare according to package directions.

The water should be salted and taste like sea water. When done, drain, and put in a large mixing bowl.

Add the sauce to the pasta and blend.

Coat an 11 x 17 baking dish with cooking spray. Pour the cheesy pasta into the dish.

Sprinkle on top the crunchy bagels/pancetta. Coat with a quick spritz of cooking spray.

Bake covered (with foil or lid) in a preheated 350 oven about 15-18 minutes. Remove and let rest about 10 minutes.
Notes
Can be baked in individual greased ramekins. Adjust cooking time to about 10 to 12 minutes.

A cool variation is to serve with a skewer of grilled chicken bites and kosher dill slices.

Refrigerate leftovers. When warming add milk to the mac and cheese and heat. Blend and stiry. This will help to re-create the creamy texture.