At the 2013 World Food Championships, I competed in the 'Recipe Category' and our 'themed' ingredient was pasta! We had to do two builds to make it to the Top 10~~the first a 'signature' recipe of our choice.  The second build, which put all contestants on the same playing field, was the 'mystery' pasta dish~~and, in this case, it was 'Mac n' Cheese'!
I was giggly happy when that happened. Why?  Because I knew I wanted to take a Caribbean twist on this luscious comfort food, so I created a Jamaican Jerk Mac n' Cheese~~three luscious cheeses, the taste of bacon, a crunch and saltiness~~oh, yeah, no wonder this recipe helped land me big time in the top 5 in this world competition!
This recipe brought to you by Dole Packaged Foods~~click here for full disclosure~~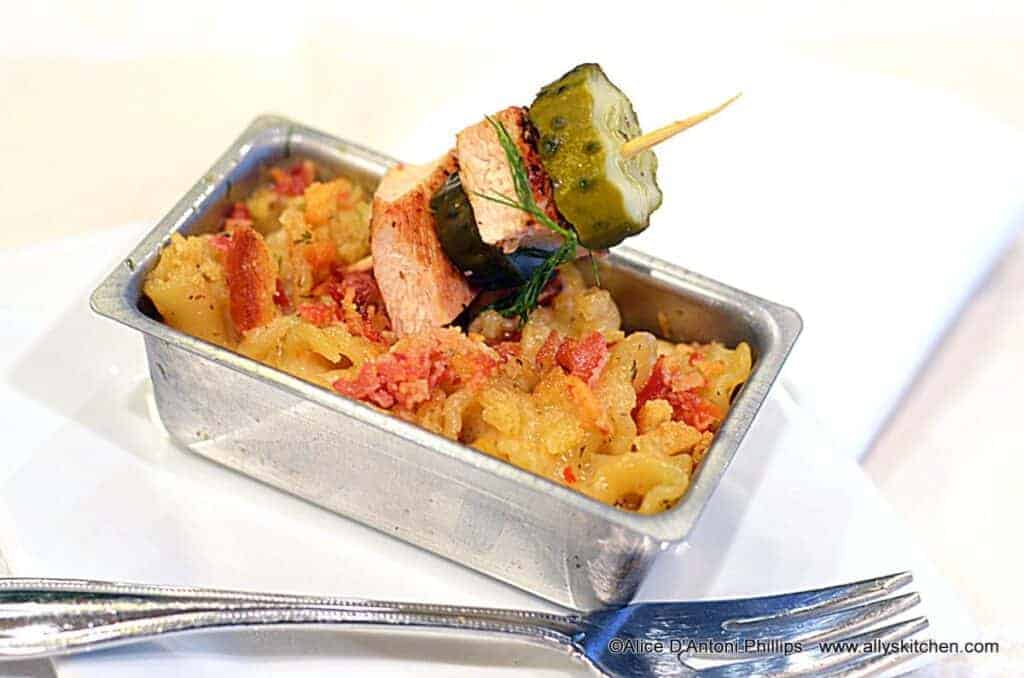 Serves: 8
Preheat oven to 325
What you need & What you do:
Seasoning Sauce:
8-10  pieces pancetta fried & drippings (about ¼ cup) reserved (Drain, crumble pancetta and set aside)
3 tbl butter
3 tbl minced shallots
2 tbl minced garlic
2 heaping tbl Jamaican jerk
½ tsp red chili flakes
¼ tsp sea salt
4 oz cup DOLE Tropical Fruit fruit finely crushed in the juices (pulverize the fruit into a mash)
In a heavy medium size skillet over medium heat, add 3 tbl butter to the pancetta drippings.  Add shallots and garlic and sauté about 2-3 minutes until translucent.  Reduce heat to simmer and add Jamaican jerk, chili flakes, sea salt and crushed fruit.  Blend, turn off heat and set aside.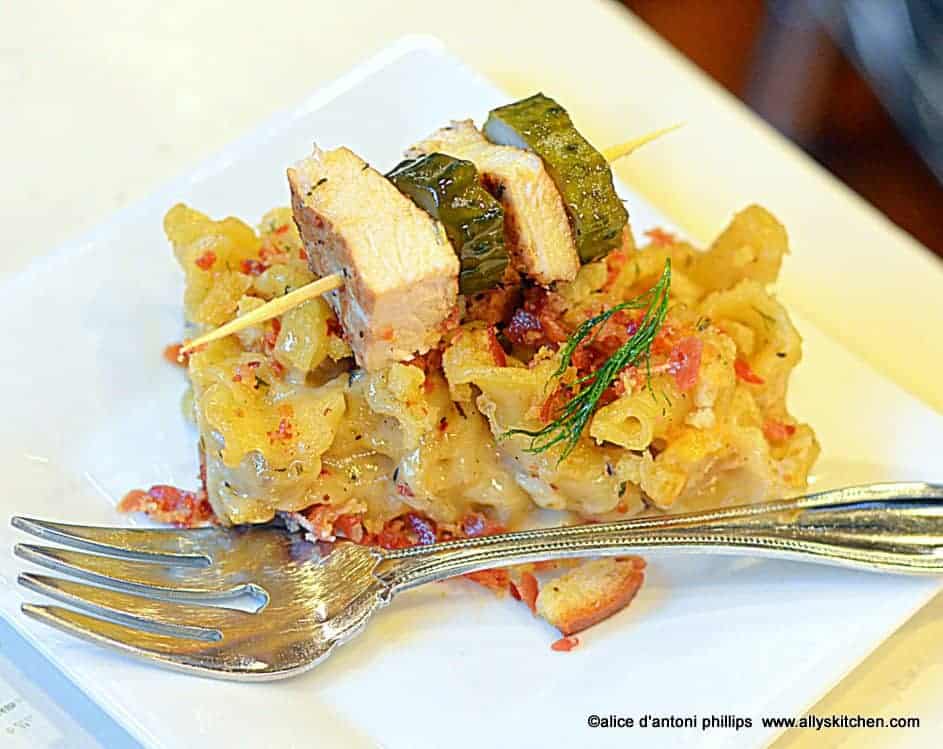 Cheese Sauce:
6 tbl butter
¼ cup + 2 tbl flour
3-4 cups whole milk (warmed)
1 tbl yellow mustard
¼ tsp nutmeg
6 oz grated or chopped Gruyere
6 oz white cheddar
4 oz parmesan reggiano
In a large cast iron skillet over medium heat, melt butter.  Add flour and whisk in working out all the lumps.  Slowly start adding in warm milk (about 2 cups) whisking continuously making a thick sauce.  Reduce heat to medium low. Add nutmeg and blend.
Begin adding the cheeses one at a time and blending in.  Blend in the jerk Seasoning Sauce.  Mixture should be the thickness of something like ketchup.  Add more milk as needed to keep the sauce from getting too thick.  Reduce heat to a very low simmer.  Blend and stir occasionally.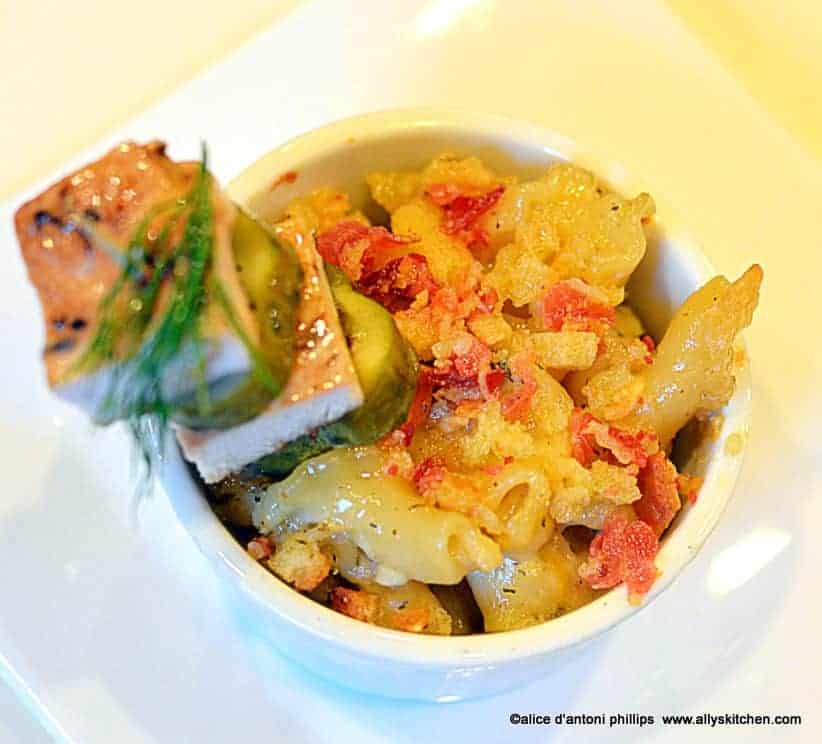 Pasta
(Note:  If the pasta is cooked ahead of time, coat with olive oil cooking spray to keep from sticking.)
16 oz Capanelle Italian pasta (these are like trumpet shell shapes and hold cheese well) or similar type
1 cup chopped and crushed Bagel Chips (either garlic flavor or salt/pepper flavor) + the pancetta bacon crumbles
Cooking Spray Olive Oil
Cook according to package directions.  The water should be salted and taste like sea water.  When done, drain, and  put in a large mixing bowl.  Add the sauce and blend. Pour into a cooking spray coated casserole baking dish.  Sprinkle on top the crunch bagels/pancetta.  Coat with a quick spritz of cooking spray (i.e., canola or olive oil) Bake in a preheated 350 oven about 15-18  minutes.  Remove and let rest about 10 minutes.  Ready to serve.
Note~~I also baked in individual ramekins during the testing, but prefer the casserole method of baking then serving in individual dishes.  Also, I served with a skewer of grilled chicken bites and kosher dill slices~~~this is optional!