grandma's fresh peach coconut cake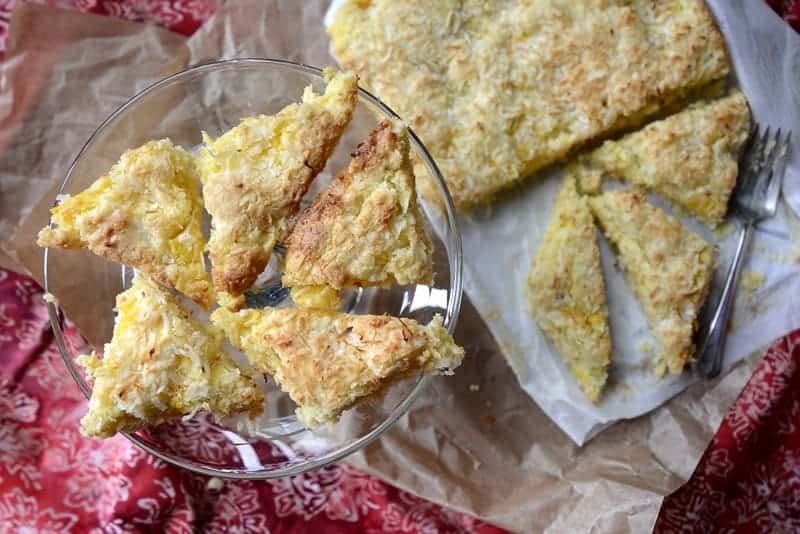 Cake with Peaches
Want to feel like you're in Grandma's kitchen? Well, this fresh peach coconut cake will transport you there with every single bite! Super simple to make!
Peach cake made from fresh peaches is just the epitome of summertime to me! And, I'm one lucky one to be able to get local fresh peaches grown right near where I live. Whether I'm in Colorado where the Palisades variety is just divine or my dear South Carolina as well as right near us, those Georgia peaches, I'm lucky. It's not hard to find a roadside stand just brimming with mounds of peaches during the summer. You'd find a huge contest when trying to determine what states give us the best peaches! 'Bout as big of a rivalry as some football teams!
Cakes with Coconut
I'm admitting I LOVE cakes with coconut. And, this fresh peach coconut cake is just like your grandma used to make, and, hey, if she didn't make a peach coconut cake, then this is your chance to live the dream and make it. Maybe you'll create a tradition for your kids and grandkids. What I love about this cake, well, besides being super easy (side bar, as y'all may or may not know, I don't tout myself as a baker…I call myself a 'rogue baker'!), it's thin. Yes, a thin cake that has some crunch and crisp. I'm really big on textures when eating, even with my sweets.
Summer Peach Cake
Summer peach cake is just like Fall apple pie! You must make it! And thinking of that brings me to another thing about my baking, cake making and desserts, they're not overly sweet. I like a hint of sweetness but not to be immersed in a vat of sugar. And, when you have fresh fruit that you're baking with, well, you want to taste the fruit and not just sugary sweetness. Another thing about my sweets and desserts, they're rustic and natural. Nothing fancy or patisserie here like in a French bakery or some fancy dancy bake shop. You see the naturalness of the ingredients.
Peach Cake Recipe
This peach cake recipe is really simple. Dry ingredients. Wet ingredients. Blend. Put in pan. Bake. Yep, that's it! To me, this is the kind of pastry you might see in Starbucks! Ohhhhh, how divine with a cup of java!
One last thing, if you want to try this recipe with fresh peaches, I'm thinking you'll love it, too! The Bridesmaid's Peach Cake!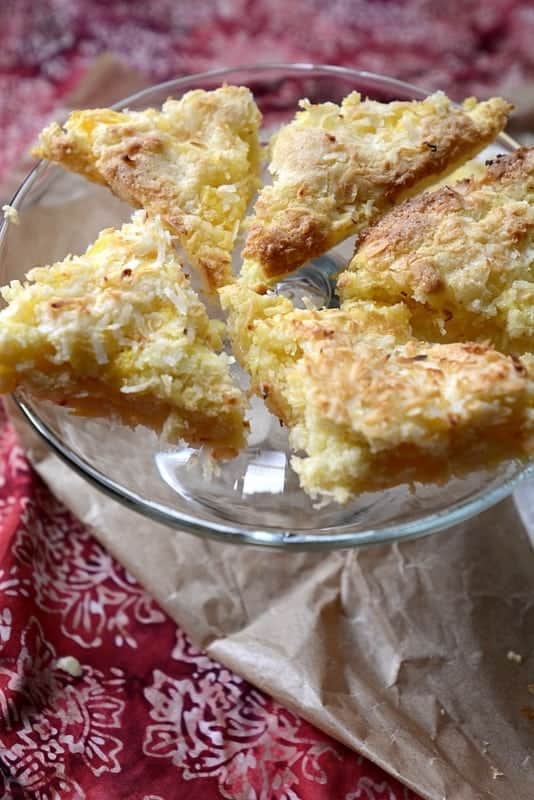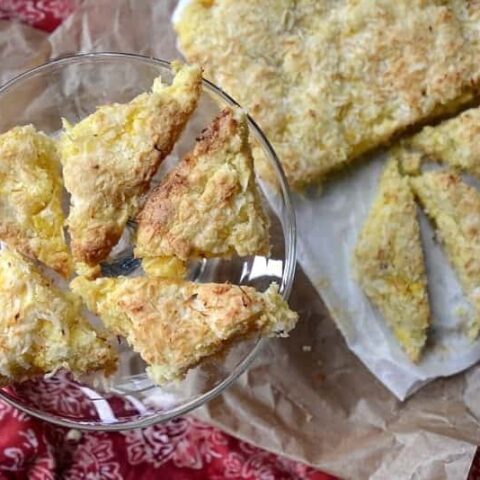 grandma's fresh peach coconut cake
Yield: One 8 x 12 baking pan

Want to feel like you're in Grandma's kitchen? Well, this fresh peach coconut cake will transport you there with every single bite! Super simple to make!
Ingredients
4 cups fresh peaches, peeled, with juices, cut into bite size pieces
1 lemon, juice and zest
1 ½ cups flour, all-purpose
1 Tbl. baking powder
1/8 tsp. salt
½ cup sugar + 2 tsp., divided
1 cup coconut, sweetened, shredded, divided
1/3 cup oil
2 eggs, beaten
1 tsp. almond extract
Instructions
Put the peaches in a medium mixing bowl with the lemon juice and zest. Mix and blend. Set aside.

In a large mixing bowl, sift together the flour, baking powder, and salt. Add one-half cup of sugar and three-fourths cup of coconut and blend.

In a small bowl, whisk together the oil, eggs and almond extract. Pour into the dry mixture. Add the peaches/juice and gently blend together.

Grease the baking pan well. Spread the batter in the pan. Sprinkle on the remaining sugar and the remaining coconut.

Bake in a preheated 350 oven about 22 to 25 minutes. Place on a cooling rack. Slice when cool.