OK, this is not so much a recipe as it is a technique. It's my way of getting the perfectly steamed sunnyside egg in a cast iron skillet. Yes, you can use a non-stick skillet, too. Of course, you can do soft boiled eggs, which I love, and which I finally mastered after much trial and error, but this skillet fried/steamed egg lends itself to a whole new dimension.
Some of the happy things about the perfect skillet steamed egg technique:
1. It's a glorious egg or eggs (you can do more than one in a cast iron skillet) that are dummy proofed. Just follow my easy directions.
2. You can do any size skillet. I've done skillet steamed eggs for one or six. Just swap out my skillet size.
3. I recommend using a well-seasoned cast iron skillet or a seasoned steel cast iron. Use the latter for 8-10 eggs.
4. Eggs are naturally healthy and low calorie. Using cooking spray (canola, olive oil, coconut) keeps them from sticking, plus you don't add more big calories.
5. Set you blaze on low. Cover with a lid. And, in a few minutes (about 7-9), you have your delicious eggs. Just leave them there to steam in the low slow heat.
6. It's a great way to make eggs for a crowd. Got people coming over for the Saturday morning brunch. Then this is your answer.
7. It's communal eating at its best. Take the big skillet of steamed eggs to the table and dish out.
For more great breakfast egg recipes, check out Sumptuous Spoonfuls post!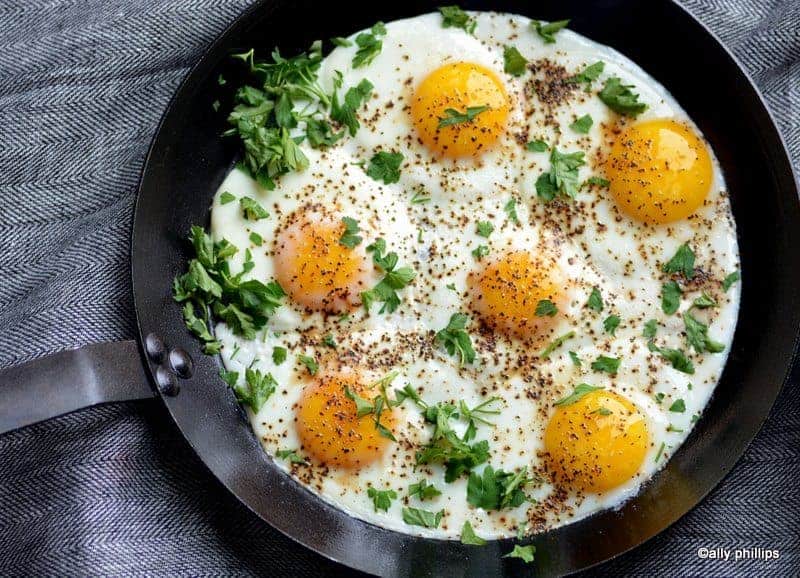 Here's the secret technique. The steps are under each photo! Good Luck & let me know how you likeee!! xoxo ~ally