moroccan beef ribeye bites with steamed eggs tomatoes & green onions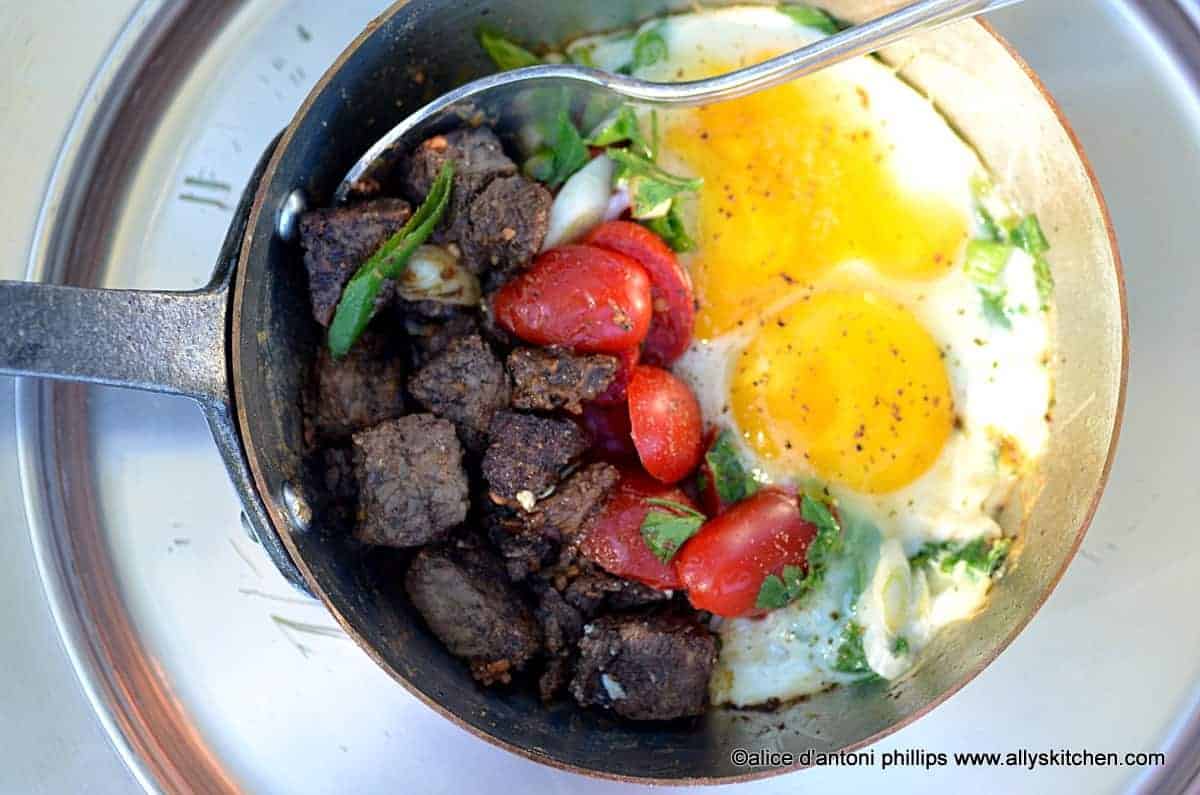 Food is just a focus bull's eye big deal in our family~~we always look forward to meals each and very day. But, holidays are even more special for gatherings and food. It's a time for us, whether it's just Ben and me or the entire crew of family and friends, to sit down, feast our eyes on absolute beauty, pass platters, skillets and trays of boholicious eats, talk, laugh and make memories!
This dish is also a perfect way to pamper Mom on Mother's Day with breakfast in bed!There's nothing better than a really good comfy bed, one that 'loves you back' like Casper designed mattresses~since I'm in SC, it's nice to know that their knit fabric parts come from here! And, this Mother's Day they've included me in their #breakfastinbedfest that they're co-hosting with The Infatuation. Oh, now back to the ribeye and eggs…yes, they'll love you back, too!
And, it's not just dinner that warrants that feeling~~breakfast and brunch are even more special on holidays because there's that leisurely factor of hanging out in your jammies, grinding coffee beans, brewing more and more coffee, and waiting for the feast of more food~~and, yes, it can be a full table of eats.
These individual skillets of moroccan beef ribeye bites with steamed eggs are perfect~~I'd serve them with some roasted red potatoes, maybe some crusty hot bread~~yes, the kind you just tear off whatever you want, fresh fruit, granola, yogurt and more coffee!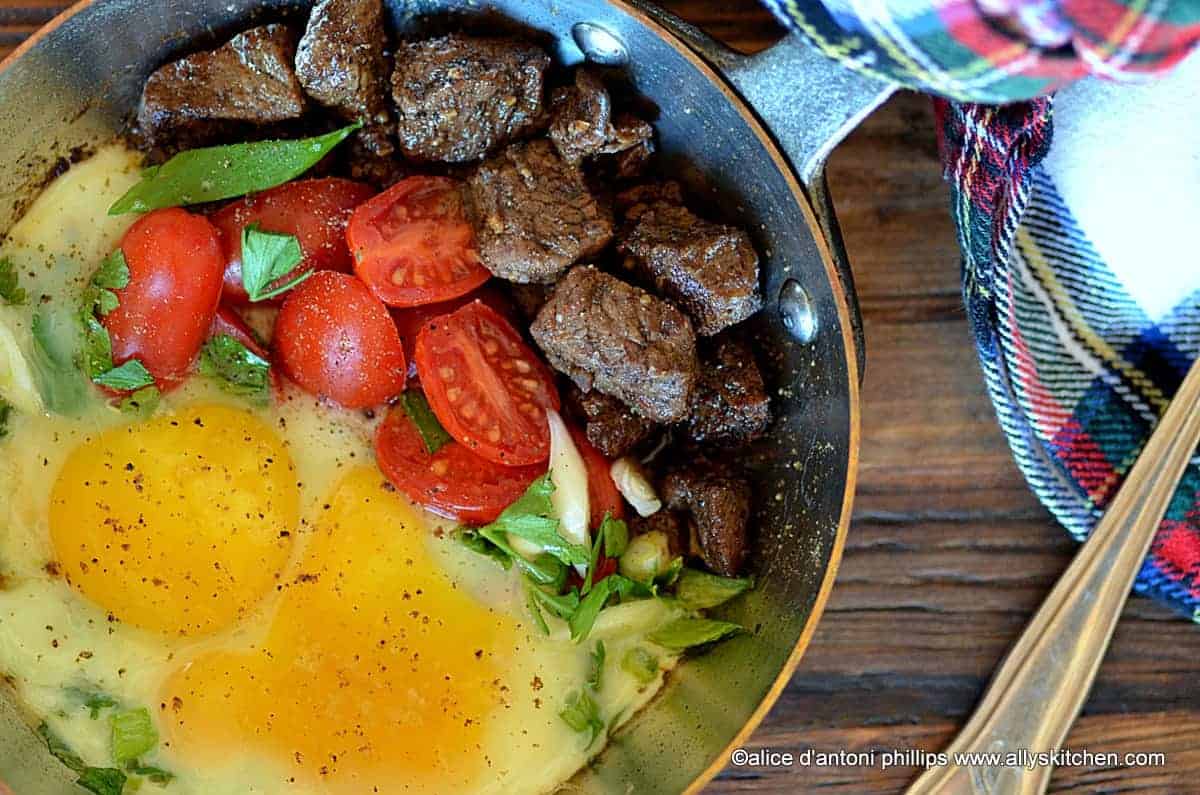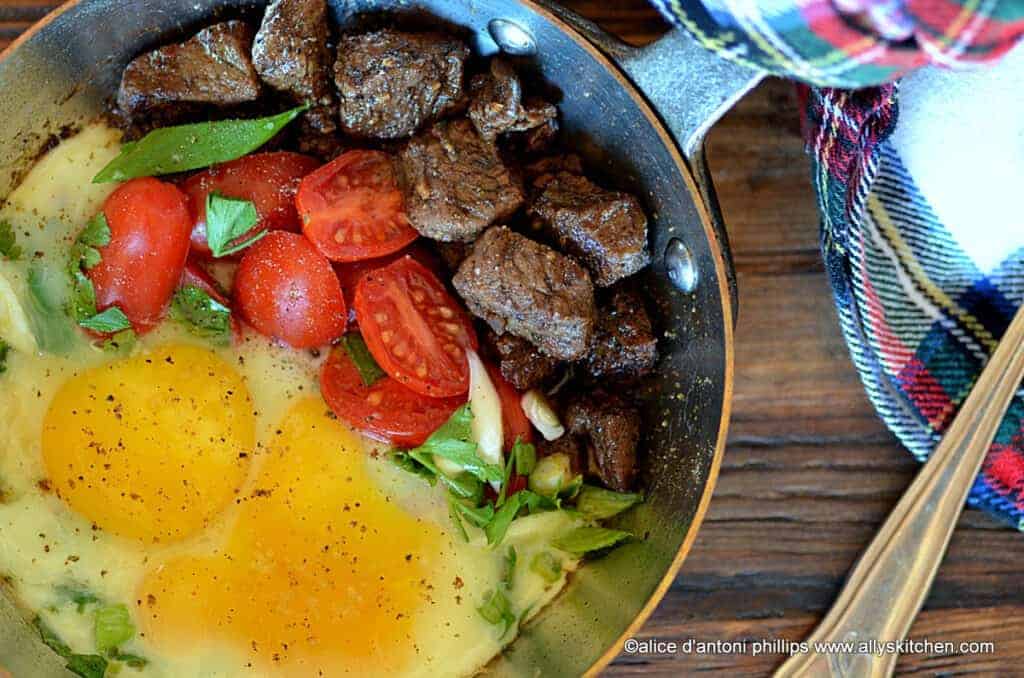 Serves: 4
What you need:
1 lb. beef ribeye steak cut into small bite size pieces
2 Tbl. ras el hanout (can substitute spicy blend like Jamaican Jerk, Cajun seasoning, etc.)
1 tsp. sea salt
2 Tbl. Olive oil
Cooking spray
12-15 cherry tomatoes, sliced in half lengthwise
6 green onions, sliced thin with some of the green tops
1 cup fresh flat parsley loosely packed
8 eggs
Fresh ground cracked pepper to taste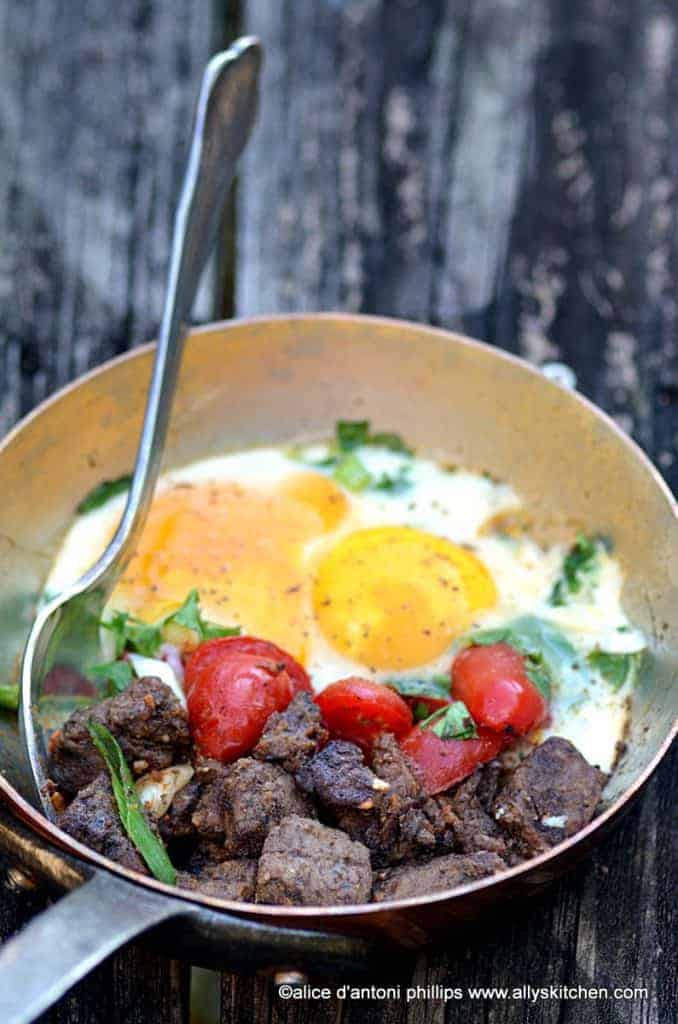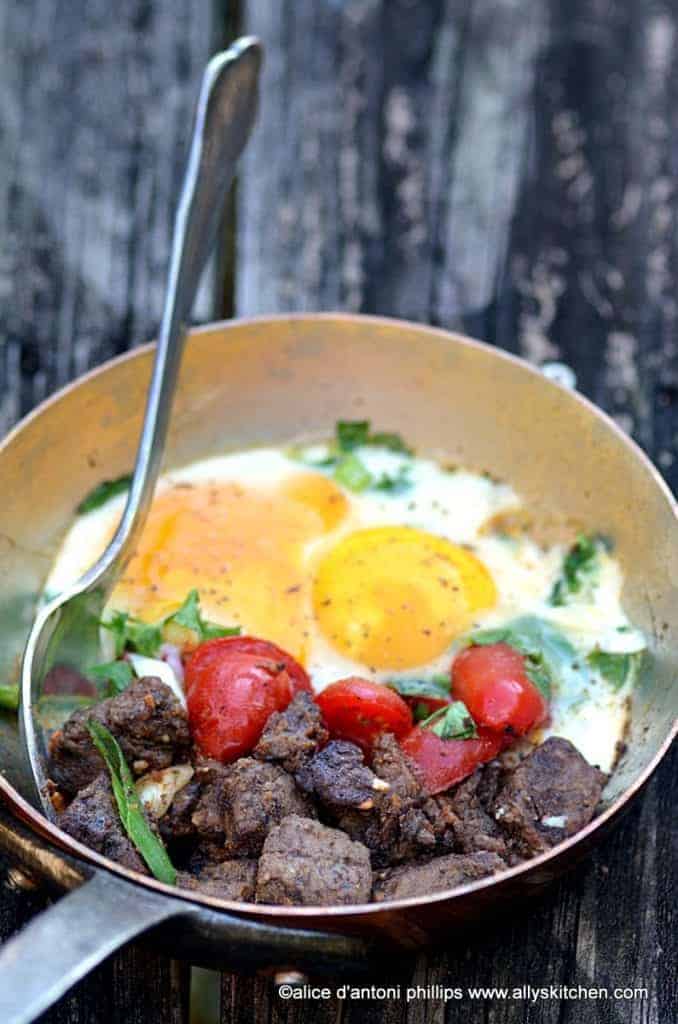 What you do:
In a large cast iron skillet over medium high heat, put olive oil. Toss the meat pieces in a bowl with the ras el hanout and salt. Work into the meat with your fingers. Put in hot skillet, reduce heat to medium and sear on all sides for about 5-7 minutes. Turn off heat and set aside.
Using small individual skillets (preferably cast iron or copper), coat well with cooking spray. Put equal amounts, in rows in the skillets, of beef, tomatoes, parsley, and green onions in each. Crack two eggs atop the mixture. Put the skillet on simmer/low, cover with a lid.
After about 2 minutes, take a spatula and gently move the edges back and tilt the skillet to let the whits of the egg drizzle around the sides. Cover and steam the egg another about 2 minutes or until the egg whites are basically done and the yolk is soft (unless you prefer it more well done).
Note: Work with one to two skillets at a time otherwise you might find yourself overwhelmed! When done remove lid and serve immediately.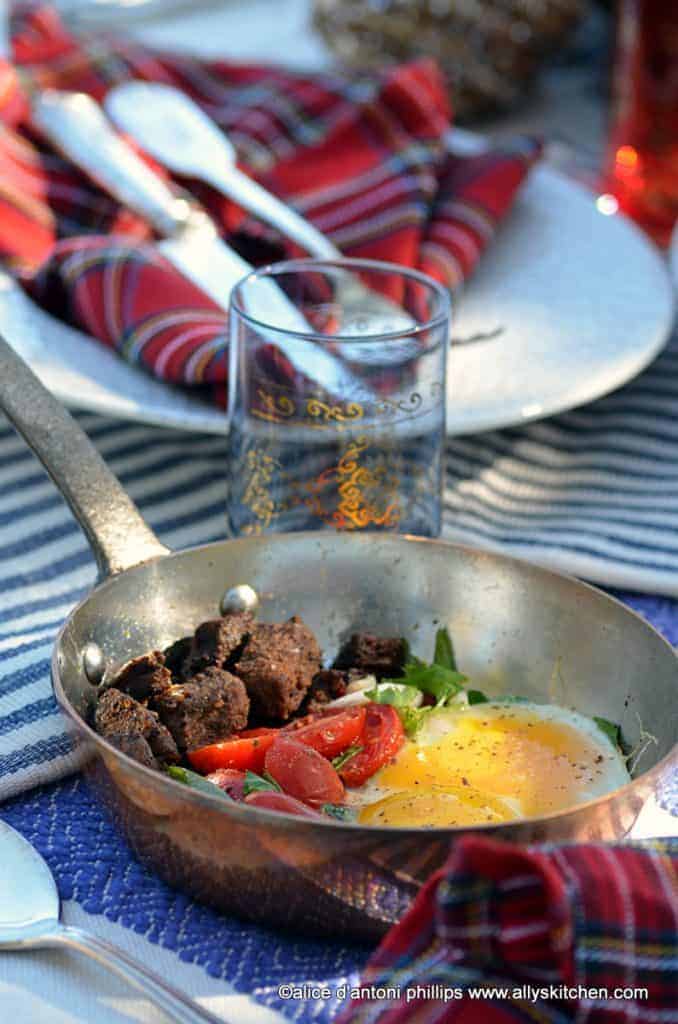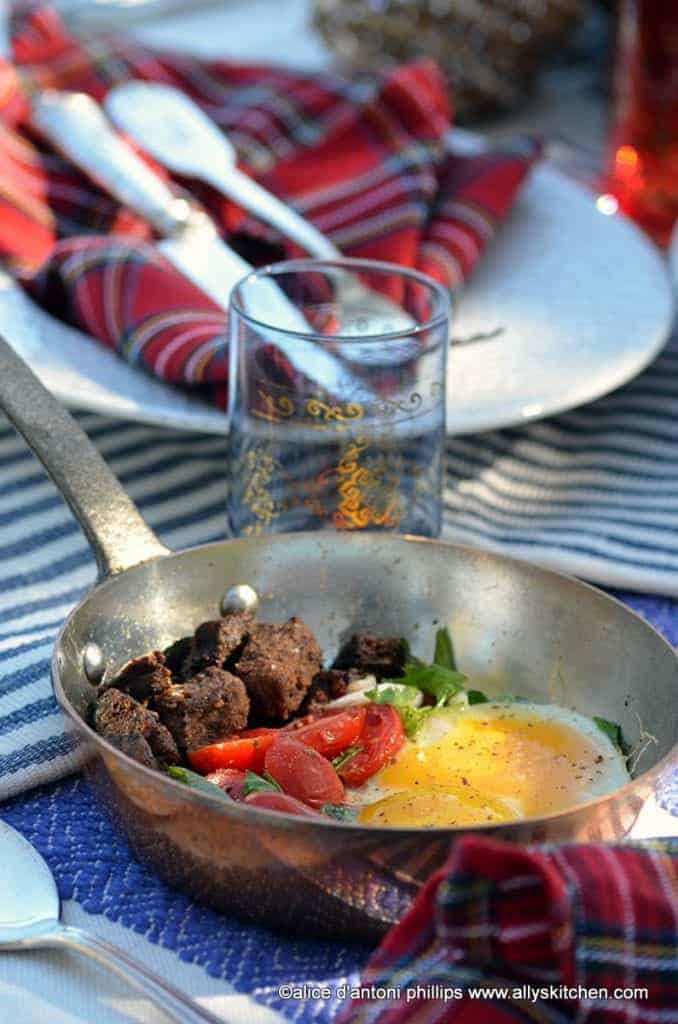 ©alice d'antoni phillips www.allyskitchen.com