Easy Healthy Asian Vegetables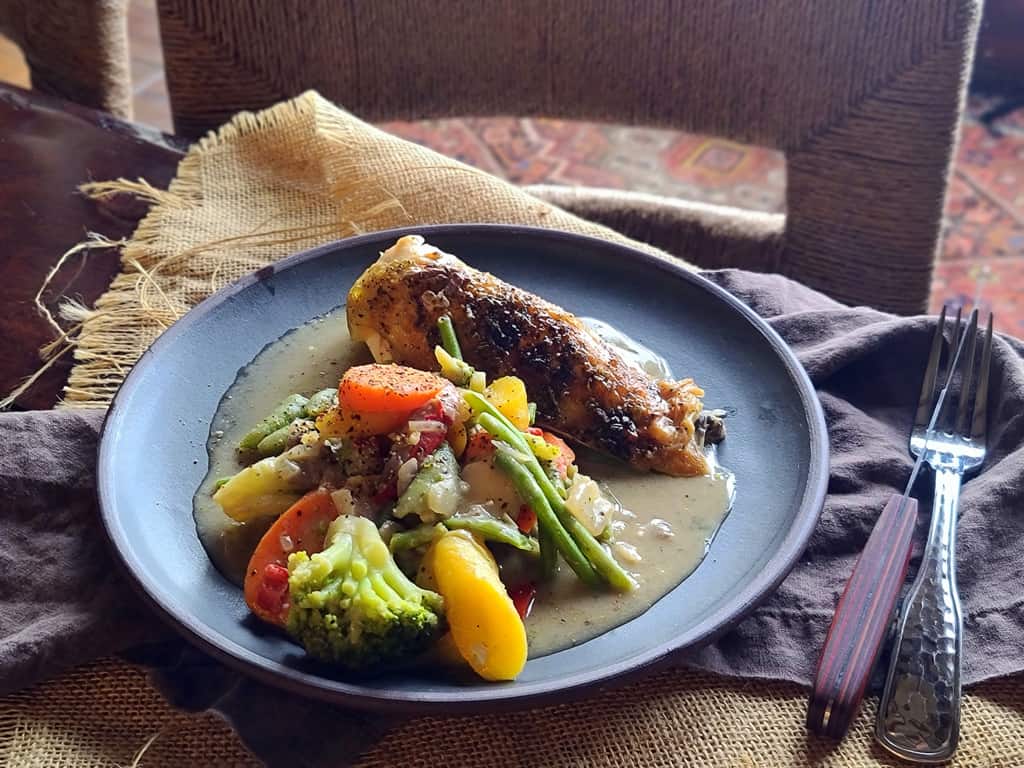 When I served these Easy Healthy Asian Vegetables in a beautiful sauce, it got rave reviews and everyone went back for seconds!
Just a heads up, I do have two products in this recipe where I collaborate/partner with the brands. These opinions are all my own. I use these products regularly in my cooking and wouldn't recommend them unless they were top notch.
Asian Vegetables Side Dish
Frozen Asian vegetables from Costco are pretty darn close to fresh. They're perfectly sliced and cut. They're vibrantly colorful. And, when you prepare the using this recipe with the bone broth sauce, they're doubled and tripled with nutrients!
And, when you see the amount of frozen vegetables I'm using, don't get alarmed. They do cook down what in the sauce. Plus, I wanted tons of veggies rather than lots of sauce. The sauce gently coats the veggies rather than overwhelming the veggies.
Asian Vegetables Dishes
I served the vegetables in the creamy mushroom chicken bone broth sauce with roasted Sunday chicken!
If you haven't checked out my deal with Cooks Venture on grass-fed and pasture raised meats, well, you're missing out on major savings.
Just check it out, click here, and if you decide to build a box of meats, beef, chicken, lamb and/or pork, then please do yourself a favor and use my discount code AK50 at checkout! You'll save $50! And, yes, I have a paid collaboration with Cooks Venture. It's the meat of choice that I feed my family. All the opinions are strictly my own.
Frozen Asian Vegetables
To make these frozen vegetables more scrumptious, we're making a creamy sauce. And, to add to the nutrients in the sauce, I'm using Kettle and Fire's Mushroom Chicken Bone Broth. Again, I can save you money and the bone broth can be delivered right to your front door.
Just head to Kettle and Fire, order, and at checkout use my discount code ALLYSKITCHEN. You're going to save 20% on your order. Not too shabby!
Stir Fried Vegetables
Now if you don't want to put the vegetables in a sauce (oh, lawsy I can't imagine why not!), then you could do a simple stir fry with them. Add some toasted sesame seed oil to your hot wok or skillet. Throw in the veggies and finished off with some shoyu soy sauce.
Asian Vegetables Sauce
This Asian vegetables sauce starts with a simple roux. Adding shallots and garlic intensifies the flavors.
Then I'm using a while wine to start the sauce and following with the mushroom chicken bone broth.
Finally, we're going to add some unsweetened coconut milk to give it a tad bit more creaminess.
Asian Style Vegetables
Now these vegetables can be served with about any type of protein or seafood. You can also add more mushrooms and make the dish more 'meaty' making it great for an entree rather than a side dish.
Asian Stir Fry Vegetables Sauce
The sauce that's enveloping these vegetables is totally different from the traditional Asian stir fry vegetable sauce. There's no soy sauce in it. It's got a roux base and it's creamy. You could add soy sauce and if you want a hint of sweet maybe add a few tablespoons of sweet chili Asian sauce like Trader Joe's Sweet Chili Sauce.
Healthy Asian Sauce for Vegetables
I'm always looking for ways to infuse flavor and more nutrients in my recipes. And, I certainly think I've done son with this creamy sauce for the Asian vegetables.
Cooking Asian Vegetables Recipe
Sure hope you try this recipe. It got rave reviews from Pop and my 27 y/o grandson, Charlie. In fact, we polished off ALL of it, including the spatchcock chicken from Cooks Venture!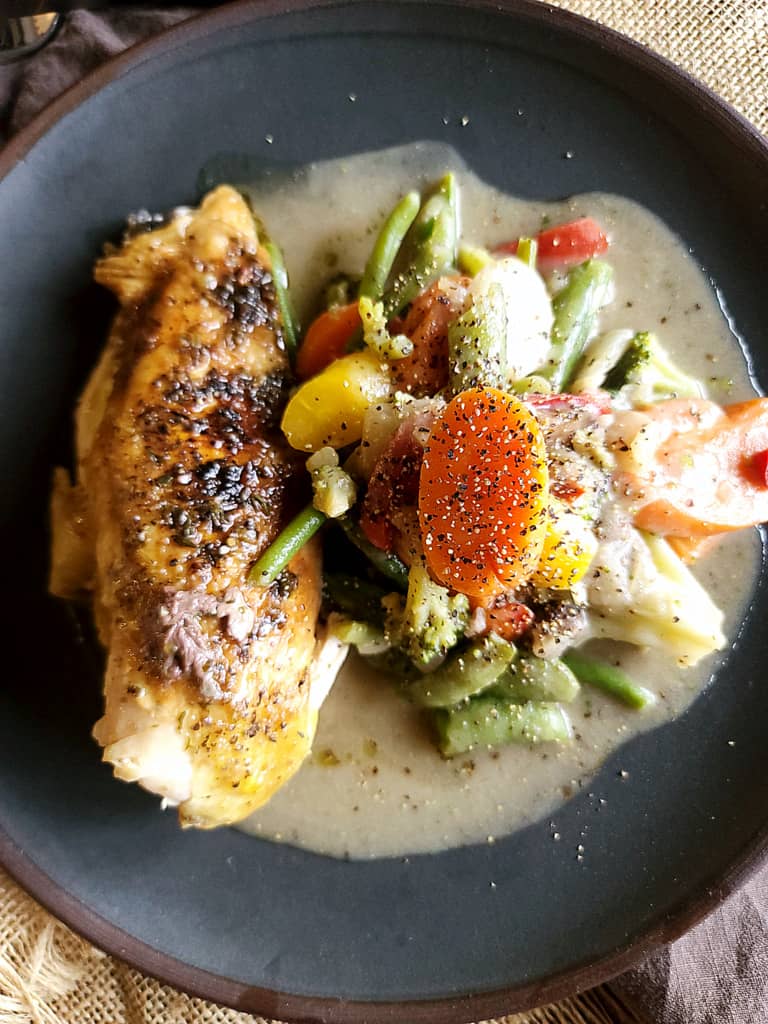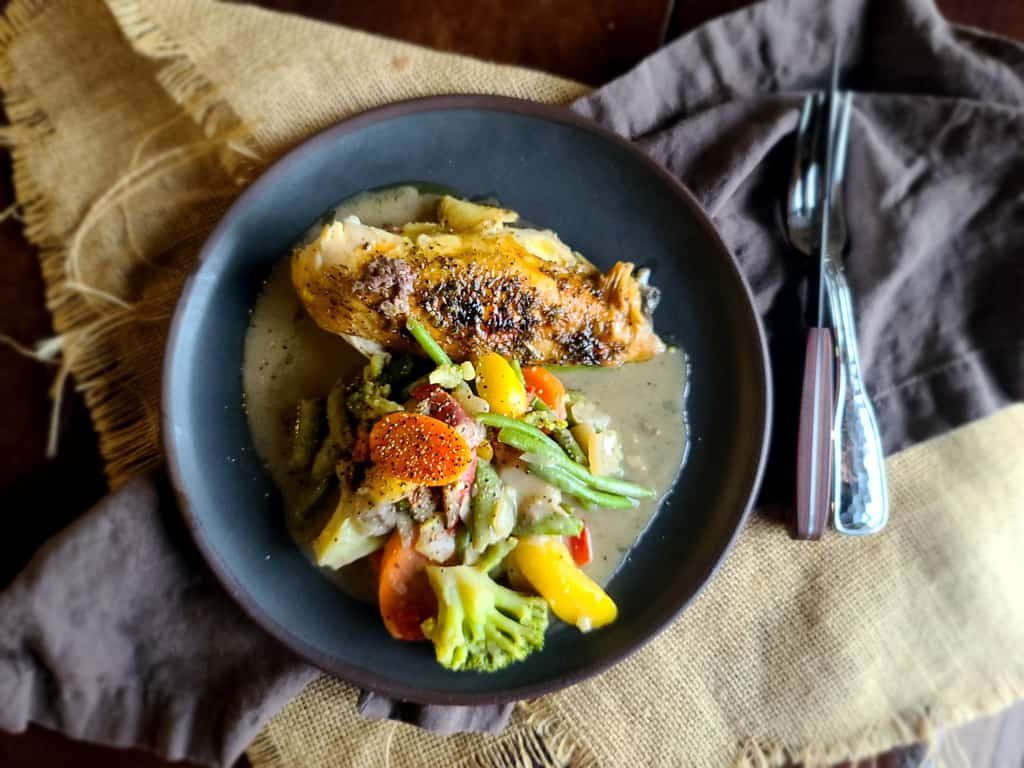 Easy Healthy Asian Vegetables
Ingredients
1/4 cup oil, extra virgin olive oil or coconut oil
3 Tbl. shallots, finely diced
3 Tbl. garlic, finely diced
1/4 cup flour, can substitute, arrowroot or corn starch
1/4 cup white wine, I used chardonnay
1 box (16.9 oz.) Kettle and Fire Mushroom Chicken Bone Broth
1/2 cup coconut milk, unsweetened
Sea Salt and Pepper to taste
42 to 48 ounces frozen Asian blend veggies, partially thawed, drained
Sea salt and pepper to taste
Instructions
In a large skillet (10-12" diameter) over medium heat, put the oil.
Add the shallots and sauté about two minutes. Add the garlic and sauté another about two minutes. Stir/blend both so as not to burn.
Quickly whisk in half the flour and blend. Then work in the remaining flour. Keep whisking for about 60 seconds.
Reduce heat to medium low. Add the wine and whisk quickly the mixture. Then start slowing adding in mushroom bone broth stirring to work out any lumps. Finally, add the coconut milk and blend.
The mixture should be creamy and thickening. Add salt and pepper to taste.
Finally, add the drained partially thawed vegetables and blend.
Cover with a lid. Turn heat to low. Let the vegetables cook about 15 to 20 minutes. Ready to serve.