Simple Grilled Pork Chop Sliders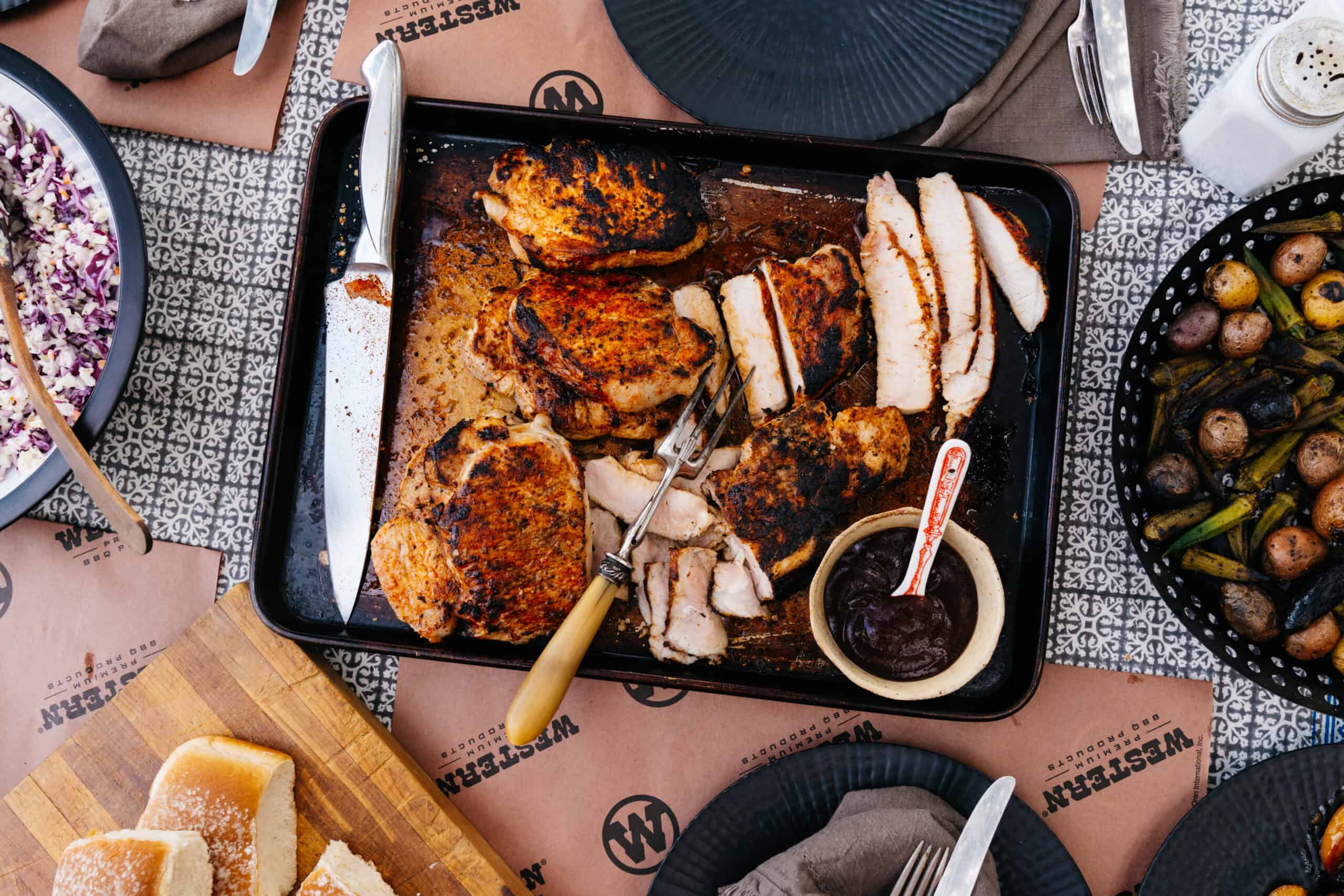 It doesn't get much easier than this! Simple grilled pork chop sliders have just two ingredients. The pork. The seasoning. Then grill away!
Grilled Pork Chop Sliders
The best pork chop sliders start with a nice pork loin roast or tenderloin! Yes, you could use thick cut boneless pork chops, too.
But, a pork roast or tenderloin allows me to slice the chops into the thickness I want.
Grilled Pork Tenderloin
When grilling your pork hand cut chops, which I usually cut about two to three inches thick, be sure to keep an eye on them.
Pork chops can get dry in a matter of minutes, and you don't want that. You want juicy when you slice them thinly to make your sliders.
Pork Tenderloin Sliders Hawaiian Rolls
You can, of course, use any type of roll you want to. But, for me, the Hawaiian rolls are the best. They have that hint of sweet. They're always super tender and tasty.
Pork Tenderloin Sliders
Nothing's easier to do and more fun than grilling the thick cut chops, slicing thinly and then letting everyone build their own pork tenderloin slider!
Have an array of toppings because everyone's like a box of crayons. We're all different in our tastes and likes.
Pork Tenderloin Sliders with Caramelized Onions
One topping that's always a hit and super easy to make are caramelized onions.
Simple sauté sweet thinly sliced onions in olive oil (you can use butter) over about medium low to low heat until they're nice and brown and caramelized. This can take about 20 to 30 minuets.
Grilled Pork Sliders
Oh, gosh, what to serve with grilled pork sliders. Well, here are absolute musts for me. Coleslaw!
One of my fave coleslaw recipes is my Blue Cheese Coleslaw.
Another perfect side would be The Best Purple Cabbage Coleslaw. It's got apples and other crunchy flavors that just pair nicely with pork.
Pork Tenderloin Sliders with Coleslaw
Besides coleslaw, what other things do I like when grilling and serving outdoors. Well, let's look at sides that are easy and universally delicious. Potatoes! And, you'll have a huge hit on your hands with these Cheesy Cuban Mojo Potatoes!
Sauce for Pork Tenderloin Sliders
Sauces for the pork tenderloin sliders can run the gamut! You can choose your favorite bottled BBQ sauce. Or you can opt to make some sauce options that give folks choices. Don't do too many. It creates much confusion.
Check out this sauce that I use on my Chorizo Beef Meatloaf. You can certainly make it and use for the sliders. Or go totally island'eee with this Apricot Mustard Spicy Sauce!
Smoked Pork Tenderloin Sliders
Finally, if you want your sliders a little more 'smokey' tasting and smelling, then add some extra smoked paprika to your seasoning mixture.
The harissa is a wonderful spice mixture for the pork. And, it's so so simple to make!
And, don't forget to have a tray of absolutely delicious nibbles that can go on or with the sliders. Many of the same things that I'd serve with breakfast nibbles!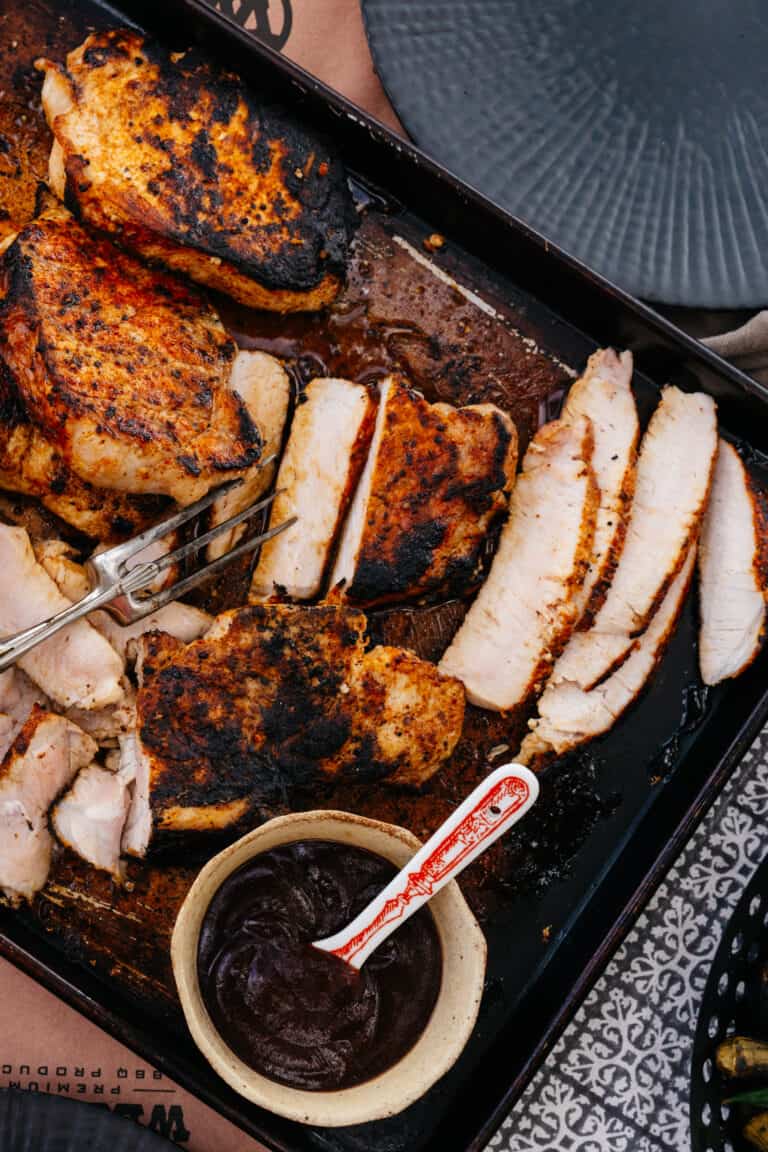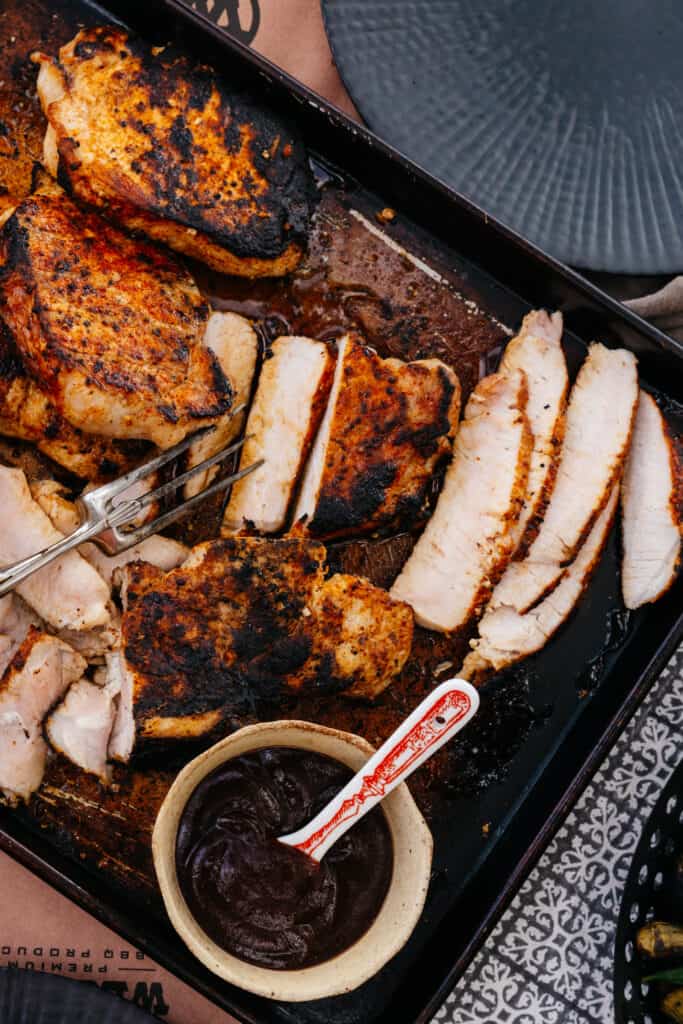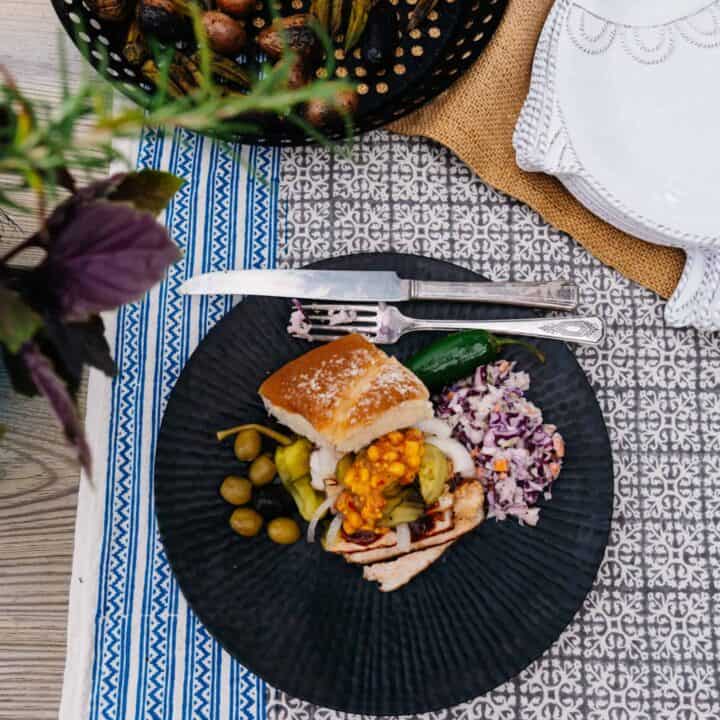 Simple Grilled Pork Chop Sliders
Yield:
Feeds About 6-8 folks
Ingredients
3 to 3 1/2 pound pork roast or tenderloin, cut into about 2 to 3" slices
1 tsp. harissa, per pork chop coating both sides
Instructions
Heat your grill to about 350 to 400.
If needed, give it a spritz of cooking spray so the chops won't stick.
Place on the grill.
Grill on each side, turning once or twice each side, until internal temperature is to your liking. 145-150 Medium Rare, 150-155 Medium, 160 Well.
Let the chops rest about 3 minutes then slice thinly for using on sliders.
Notes
Make my homemade HARRISA! I promise it's easy! And, upteen times better than store bought!