The Best Pub-Style Beef Casserole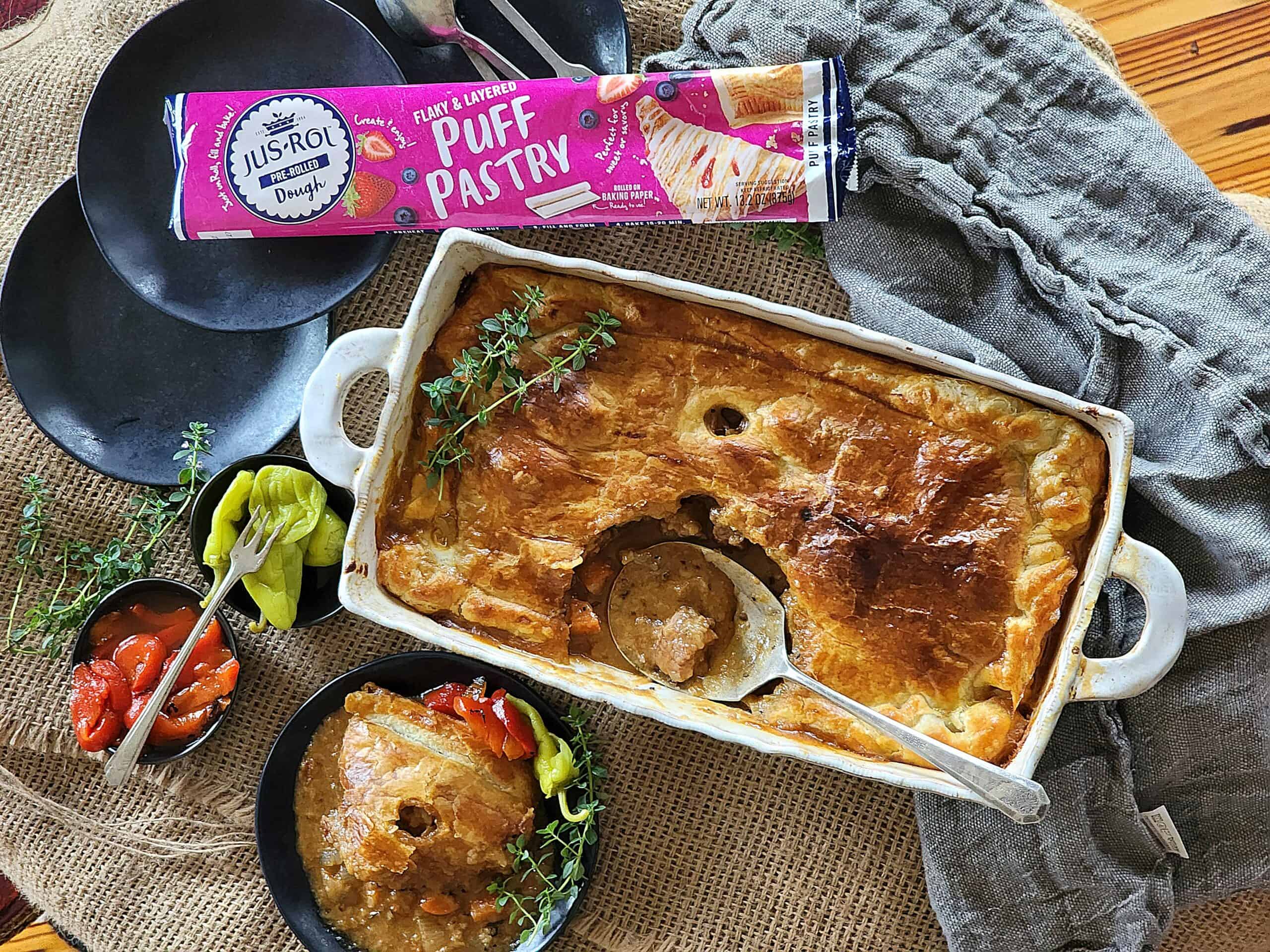 My pub-style beef casserole is warm comfort beef and amazing flavors inside. Then it's topped with crispy flaky puff pastry! Guaranteed fab!
The Best Pub-Style Beef Casserole
Hey, y'all this is a sponsored post in partnership with Just-Rol, which makes amazing refrigerated dough products that I love. All the content and ideas are my own. I created the recipe and chose decadently delicious puff pastry to finish off this pub-style pie. Yes, I was compensated for this post. For more information on my disclosure policies, click here!
Pub Pie
Ohhhh, a pub pie! I mean I think of being somewhere really interesting where the people are working class, jolly, engaging and clinking their mugs and glasses of ale! Yes, pub pie is a classic dish found in most pubs around England. But, to be sure, you'll also find pub pies called other things, too.
You'll be digging into tender velvety pieces of beef cooked with vegetables, and, of course, ale! And, all of this is then covered or wrapped in a buttery, flaky, crunchy crust!
Irish Stew Recipe
There's nothing more heart-warming and comforting in food than a pie or casserole. And, in this case an beef and mushroom combination. This kind of stew with a crusty pie crust topping is sometimes thought of to be Irish stew.
Irish stew basically reflects the history of Ireland where sheep are raised and root vegetables are grown. Of course, recipes vary by region. But, typically mutton or lamb is used.
Many countries have their own version of stew. Since I love this type of cooking, I've got some really delicious recipes.
If you've not tried my Bosnian Pot, then, oh, goodness, what are your waiting for!
Beef and Ale Casserole Recipe
What's going to make this recipe even more outrageously delicious is the topping!
Yes, I'm using puff pastry. Now for me puff pastry is perfect for elevating any type of dish. And, this puff pastry from Jus-Rol is superb. I love the chilled packaging found in the refrigerated dairy section of your grocer.
With the rolled version, I just let it come to about room temperature. Then it's so simple and easy to unroll. There's a fabulously convenient baking sheet that it's rolled in that makes working with this pastry even more convenient. And, gosh knows, that makes a huge difference. There's no need for even dusting your surface with flour!
Recipe for Beef and Ale Casserole
After I've put the pre-cooked beef mixture in the casserole dish, I'll eyeball the size and make sure it's going to cover the baking dish.
I like using a rectangular dish for this recipe because the puff pastry from Jus-Rol is that shape. Then I'll use some avocado oil or coconut oil cooking spray around the perimeter and sides just to ensure easy release once the dish is baked.
An added bonus of Jus-Rol's puff pastry is that it's suitable for vegans! If you want to make this dish 'vegan' then just lose the beef and add more mushrooms, maybe some diced eggplant and/or tofu.
How to Make Beef and Ale Casserole
Making a beef and ale casserole is super simple. And, since I have a few more, you might want to take a look.
My Rustic Hearty Beef Stew Recipes are perfect for using puff pastry on top and creating yet another belly-warming dish. No need for bread. You've got all the 'sopping bread' that you need with the puff pastry.
Beef Mushroom and Ale Stew
Of course you can add to the tenderness of the meat by selecting a cut like rib eye steak or New York Strip steak then cutting into either cubes or somewhat thin slices.
If you're budget provides and you want to splurge, then go for a piece of tenderloin.
Mushrooms are an integral part of this recipe. My thoughts are to 'splurge' on that ingredient buying a gourmet package. Different mushrooms add to the flavor profile. Dense portabella adds rich, meaty flavor, the oyster brings silky-smooth texture and mild taste, and the shiitake provides a deep, smoky flavor.
A mushroom medley can include those 'exotic' ones like oyster, morel, shiitake, porcini and Brazilian.
Beef Stew Pie
The type of beef you select makes a difference in cooking time. Eye of round, which I used because it was on special, tends to be tough and lean.
I cut it into small cubes thereby allowing it to tenderize and cook at the high temperature.
Eye of round is a slow-roasting type of beef. It's very good for braising, pressure-cooking poaching, sous-vide and slow-coking.
Beef Stew Pie Puff Pastry
The versatility of Jus-Rol puff pastry is endless. I'm thinking I can make individual ramekins of my White Bean Chicken Chili, mold a square of the puff pastry on top, bake and have an incredibly 'new' dish that's 5-star quality!
Beef and Ale Stew
You'll not go wrong with this beef and ale stew. You can also make the beef stew mixture in advance like 24 hours. Then finish off with the topping crust puff pastry the next day.
Anything like this stew that sits for 24 hours in the refrigerator only means more deliciousness!
Visit this link and check out their store locator to find this delicious puff pastry & their other refrigerated doughs near you!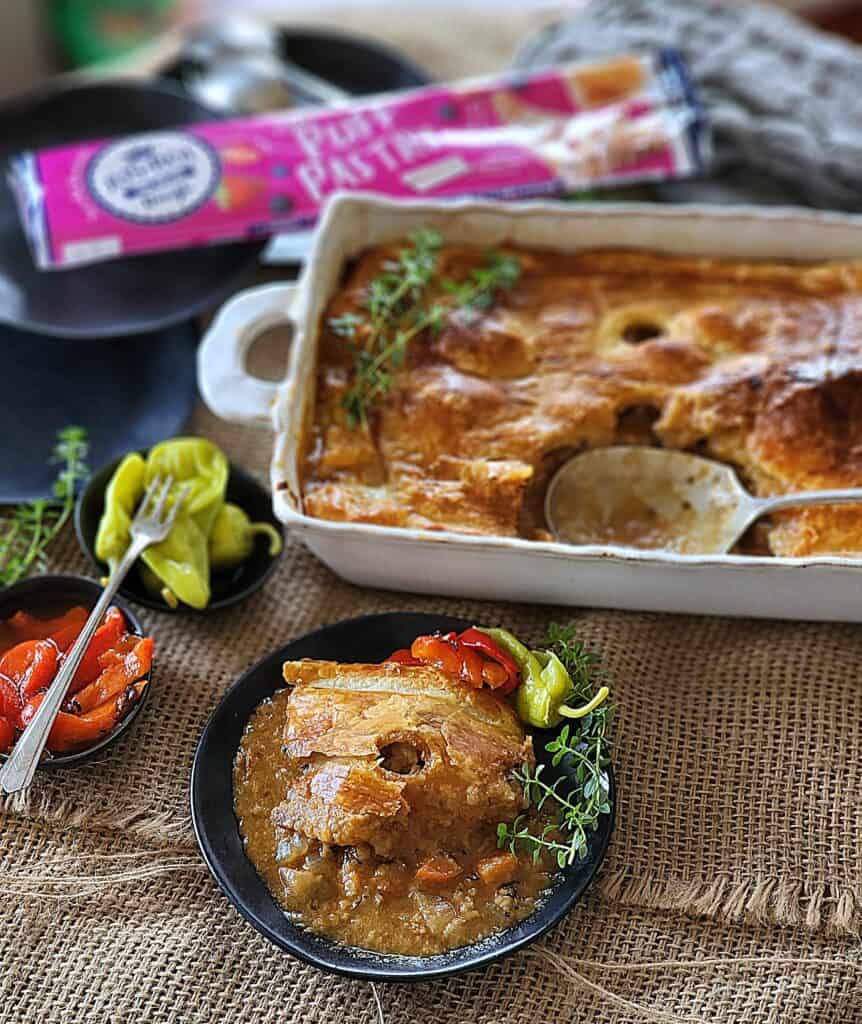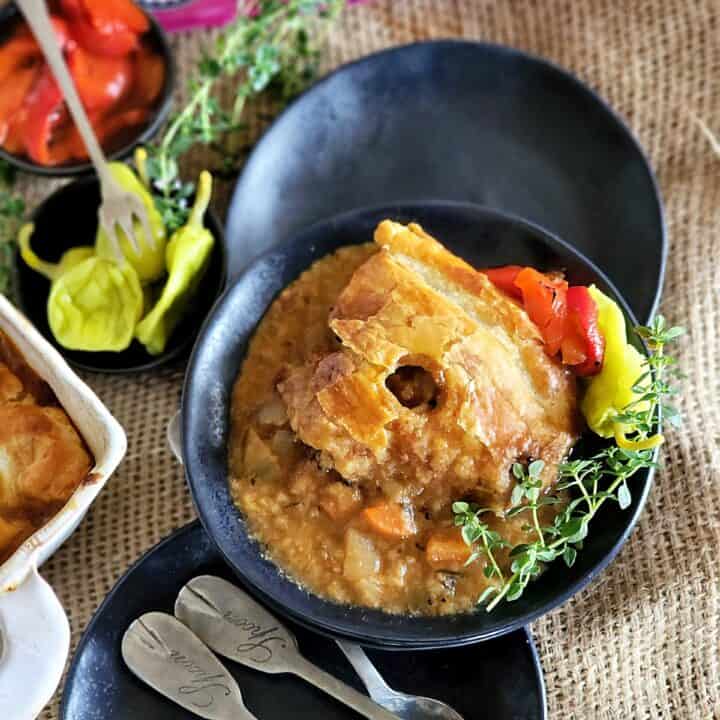 The Best Pub-Style Beef Casserole
Yield:
Makes: One 8 x 13 x 3" casserole dish
Ingredients
Preheat oven to 425
2 Tbl. Nutritional yeast
2 Tbl. Garlic granules
2 tsp. sea salt
2 tsp. sweet paprika
1 tsp. coarse ground pepper
1 to 1 ¼ lbs. beef, eye of round, cut into about 1" chunks
½ cup flour, all purpose
½ cup extra virgin olive oil
1 cup beef bone broth
12 oz. hard cider beer, crisp apple or similar type
1 cup carrots, medium dice
1 cup sweet onions, French onion
4 oz. mushrooms, gourmet brand
3 Bay leaves
1 Herb bundle, about 6 sprigs of fresh thyme and 6 sprigs of parsley, flat or curly, tie with cooking twine
1 package Jus-Rol puff pastry, about room temperature
1 egg
Instructions
In a small bowl combine the nutritional yeast, garlic, salt, paprika and pepper. Blend together. Set aside.
Put the beef chunks in a bowl with the flour. Toss, blend and coat the meat with flour. Set aside.
Combine the bone broth and beer in a large measuring cup. Add the spice mixture to it and blend. Set aside. Over medium high heat, heat a large braising pan or Dutch oven. When hot, put about half the olive oil in it.
Add the flour-dredged meat chunks and brown adding more olive oil as needed. Add the liquid with the spices. Deglaze the pan also. Add the carrots, onions, mushrooms, bay leaves and herb bundle. Blend together.
Cover and put in a 425 preheated oven for 45 minutes. When done, remove. Grease a casserole dish, about 8 x 13 x 3", around the sides and top edges. Pour the beef stew into the dish.
Take the about room-temperature puff pastry and carefully roll out using the parchment paper. Cut one to three small holes in the middle. Flip the puff pastry onto the top of the casserole dish. Use your hands to crimp and bring the overhanging dough into the dish and around the beef stew covering it all.
Bake for 20 to 25 minutes in a preheated 425 oven. Remove when done and let cool about 3 minutes. Serve immediately.
Notes
The beef mixture can be done in a pressure cooker or slow cooker. Simply adjust the cook time.
Since I have not done this, I'm estimating times. For pressure cooker 25 minutes. For slow cooker [High}, 2 to 3 hours.
If you use a more tender cut of meat, rib eye steak, New York Strip steak, this meat is more tender and needs less cooking time.
To find a store locator for Jus-Rol products, click here!