double date spicy chicken wings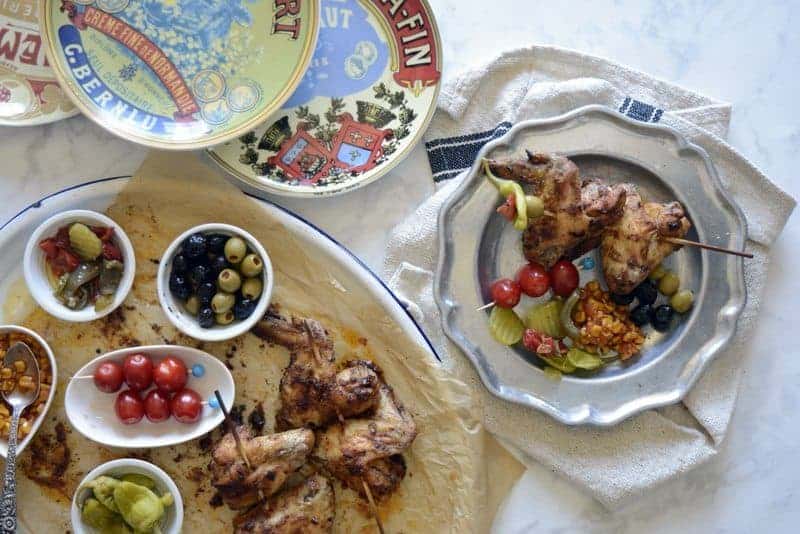 I know. I know. The first thing you're probably wondering is, why does Ally call these 'double date' spicy chicken wings. Well, one because I wanted to come up with something cutsey and clever, or at least quasi-clever. And, two, because I was skewering two of these organic bad girls and boys on one stick. So, I thought, hummm, we have a double date here on a skewer stick. Hence, 'double date spicy chicken wings'. I reckon they could have been something like 'over roasted chicken wings' smoked paprika cumin chicken wings' 'naked spicy chicken wings'…oh, the list could go on and on, so I landed on this name.
Chicken wings are the easiest and most perfect thing to cook on a weekend or weeknight when you have the munchies. These basically take under 30 minutes, and the hardest part is massaging the oil and spices into the weetle wings. Oh, wait, I take that back. With this recipe the challenging part is threading them on the skewer. But, they look so darn adorbeee and when they're plated with the assortment of sides, it becomes a fiesta plate!
Speaking of sides, you can choose your poison here. I love things with a briny vinegar salty taste. There's a tad bit of sweetness in the spicy corn chow chow, which, by the way, is store bought from Aldi's and soooooooooooo good! And, cheap! I'm sure you can find something at your grocers. Things like pickled 'anything' would be great. Maybe a fresh salad, coleslaw. Yep, you can make a great sauce, like tzatziki.
Here are some ideas of things I've created that would be stellar with these wings!
1. Honey Lime Pineapple Dipping Sauce
2. Hottie Chili Tomato Sauce
3. Smokey Chipotle Sour Cream Sauce
4. Labneh Sauce
5. Apricot Mustard Spicy Sauce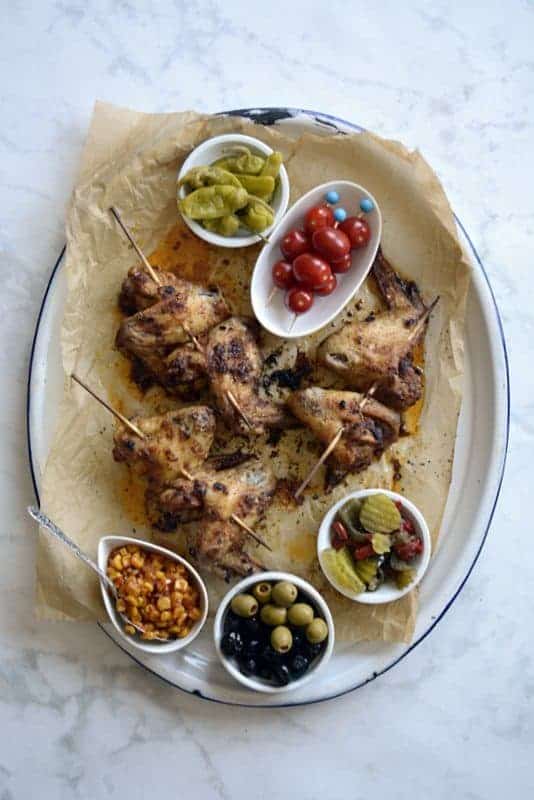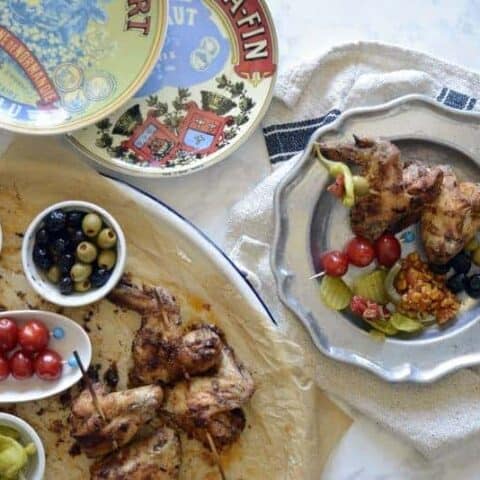 double date spicy chicken wings
Ingredients
Preheat Oven to 425
6 chicken wings, organic
3 Tbl. oil
1 tsp. sea salt
1 tsp. lemon pepper
1 tsp. smoked paprika
1 tsp. garlic granules
1 tsp. ground cumin
½ tsp. red chili flakes
SIDE OPTIONS:
Olives, green and black
Pepperoncini
Pickled Vegetables
Kosher Dill Pickles
Corn and/or Black Bean Chow Chow
Instructions
Wash and pat dry the wings. Put in large mixing bowl. Drizzle on the oil and massage into the meat.
Add the salt, lemon pepper, paprika garlic, cumin and chili flakes. Toss and blend.
Thread two wings on individual 8-10" wooden skewers (presoak in water).
Put on a parchment paper lined cookie sheet. Bake in a preheated 425 oven for 27-29 minutes.
Remove and serve with an array of side options.