7 budget bedroom decor ideas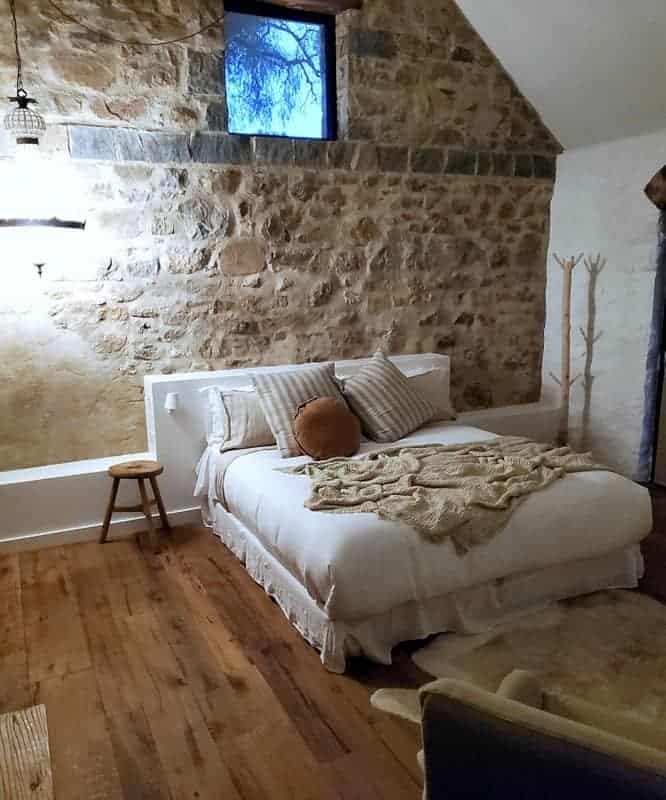 Bedroom designs on a budget! These seven budget bedroom decor ideas can happen without breaking the bank! Feel like you're in a new room!
Room Makeover
There's something exciting about a room makeover OR REdecorating, especially when it's your own bedroom. The only problem is that redecorating can cost a lot of money if you don't go about it in the right way. Last year alone, the average American spent $9081 on home improvements– a number not everyone can afford. If you can follow these seven budget bedroom decor ideas you'll feel like you're walking into a 'new' bedroom!
Thankfully, there are countless ways to re-design your bedroom without breaking the bank. The best part is that your room doesn't have to look cheap, and some people have a way of turning their rooms into luxury spaces at a minimal cost, for example, doing something as simple as adding a marble coffee table. It's also a great opportunity to be creative, and you may also do your bit to help the planet while you're at it.
Bedroom Makeovers
Thankfully, there are countless ways to re-design your bedroom without breaking the bank. The best part is that your room doesn't have to look cheap, and some people have a way of turning their rooms into luxury spaces at a minimal cost. It's also a great opportunity to be creative, and you may also do your bit to help the planet while you're at it.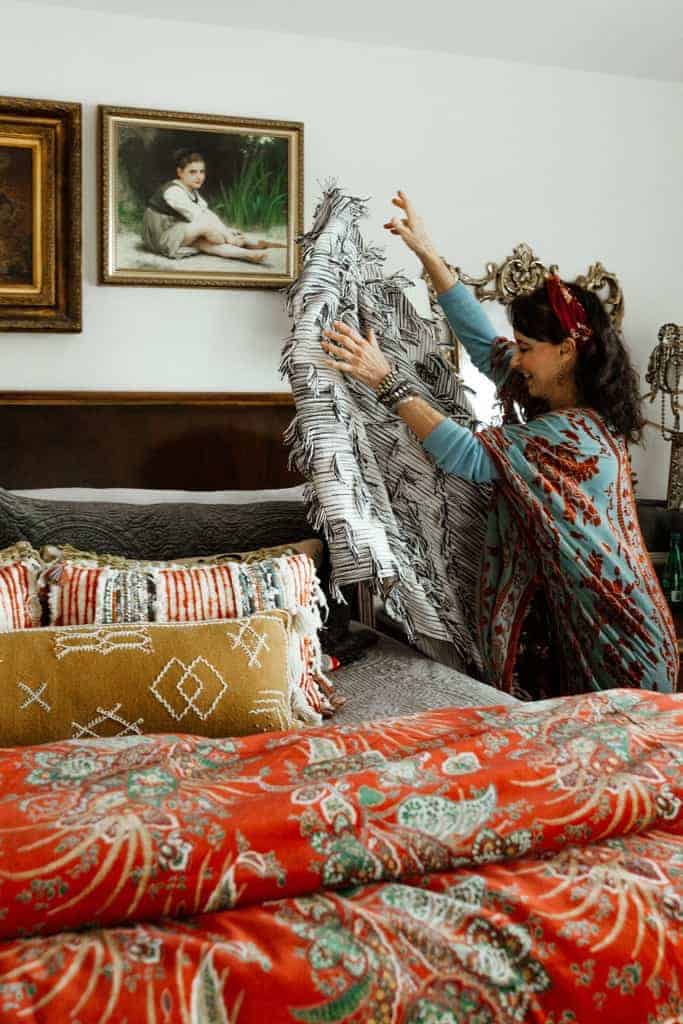 Ideas for Decorating Bedrooms
You're going to find so many ideas for decorating bedrooms.
Before you start redesigning your space, you'll need to get the tedious parts out of the way first. This means doing a deep clean, donating any unwanted furnishings to charity, and updating any items that need replacing. Bedframes and mattresses are your first port of call, as your new room should prioritize your sleep quality above all else.
One-third of American adults don't get enough sleep, and much of this is down to your mattress. OK, bottom line, make sure you get a new, inexpensive mattress that will last you for years to come. This is one purchase you will be glad to splurge on. Think about how much you'll save in terms of a really good night's sleep. Once that's out the way, you can let your creativity run wild.
Designing a Bedroom
It's easy to go overboard when designing a bedroom, especially when your mind is racing with ideas. When you're on a budget, it's difficult to bring all these ideas to life without making a few compromises. Instead, stick to a simple set of ideas that you know will bring a timeless touch to your space. Picking a neutral color scheme, for example, is an easy way of doing this. And, a bucket or two of paint will totally transform the way your bedroom looks and feels. It's inexpensive and gives an entirely new image.
Decorate a Bedroom Cheap
Yes, you can decorate a bedroom cheap or let's say inexpensively or on a budget. Don't be fooled, though, as this doesn't mean you are destined to have a boring bedroom. Once you have a simple theme perfected, you can bring splashes of pattern and color into your space by making clever use of soft furnishings. White or nude walls mean you can use almost any color to match, and this makes it much easier to switch-out your soft furnishings and reinvent your space whenever you want. One clever idea is to use pastels and brights in summer, but deep velvets and paisley in the winter months.
And, don't overlook the power of lighting! With just some simple inexpensive changes, you can capture an ambiance that's only through the magic of lighting!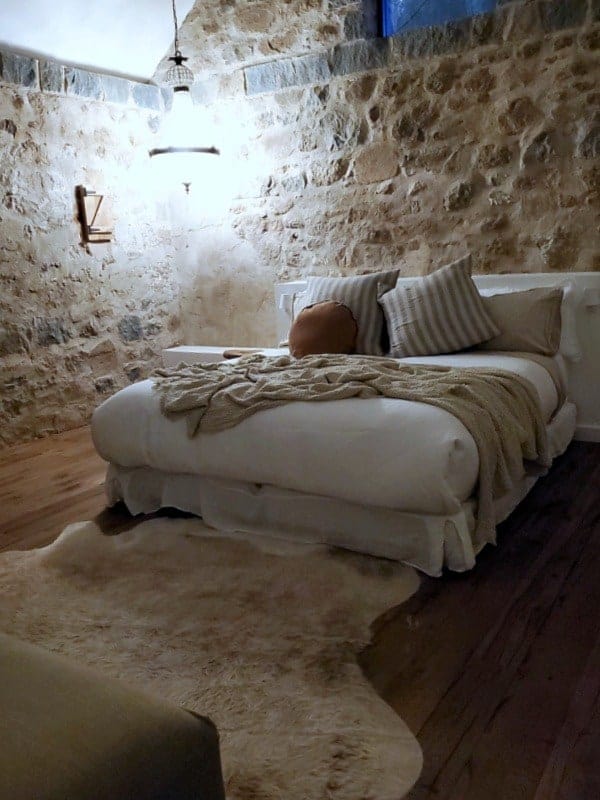 Small Bedroom Decorating Ideas on a Budget
Many people see a small decorating budget as a limitation, but it doesn't have to be that way. In fact, working with a small budget can inspire you to think outside the box, which always results in a unique bedroom that oozes with personality. Below you'll find some easy and fun ways to let your creativity shine through:
Making a mosaic display from old tile and glass
Knitting or crocheting your own bed throws, cushion covers, and rugs
Painting a feature wall- Sewing curtains from recycled fabric

Updating blinds and curtains
I have a variety of throw pillows and throws that I cycle in and out as I change up the feel and decor of our bedroom. This decorator pillow inventory serves me well. Then if you look for throw pillow covers, like at Pottery Barn, when they're on deep sale, you can even change up your looks more quickly by just swapping out pillow covers.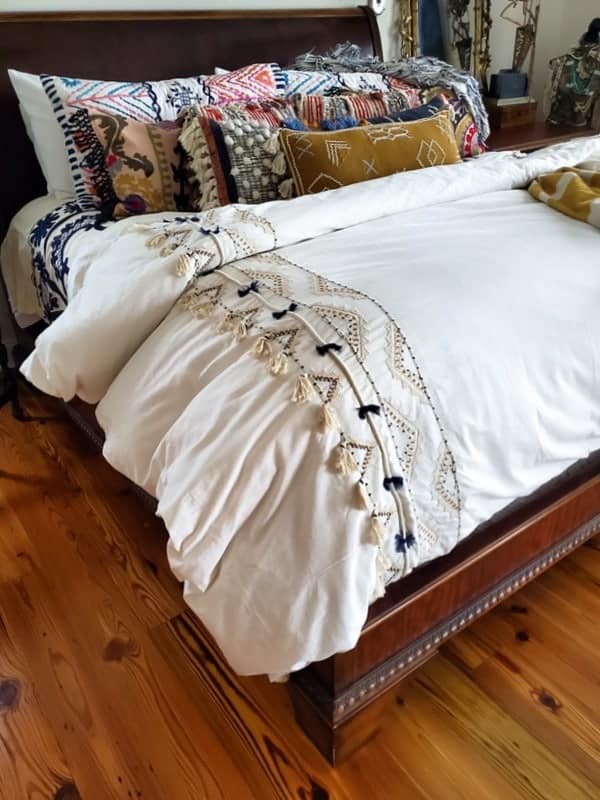 Thrifted Furniture
There is a huge myth surrounding vintage and thrift stores that everything there is old and dirty. While you may find some questionable items on your search, you will also find plenty of new items that simply haven't yet found a home. When you get past the hurdle of 'used' and think 'renewed, of course, using your budget bedroom decor ideas here, you'll be amazed at the possibilities.
Vintage furniture stores are a great way of finding one-off pieces, and many will have been refurbished back to their former glory. It isn't just furniture you can find, but jewelry boxes, vases, and fabric cut-offs that you may wish to transform into a throw or cushion cover.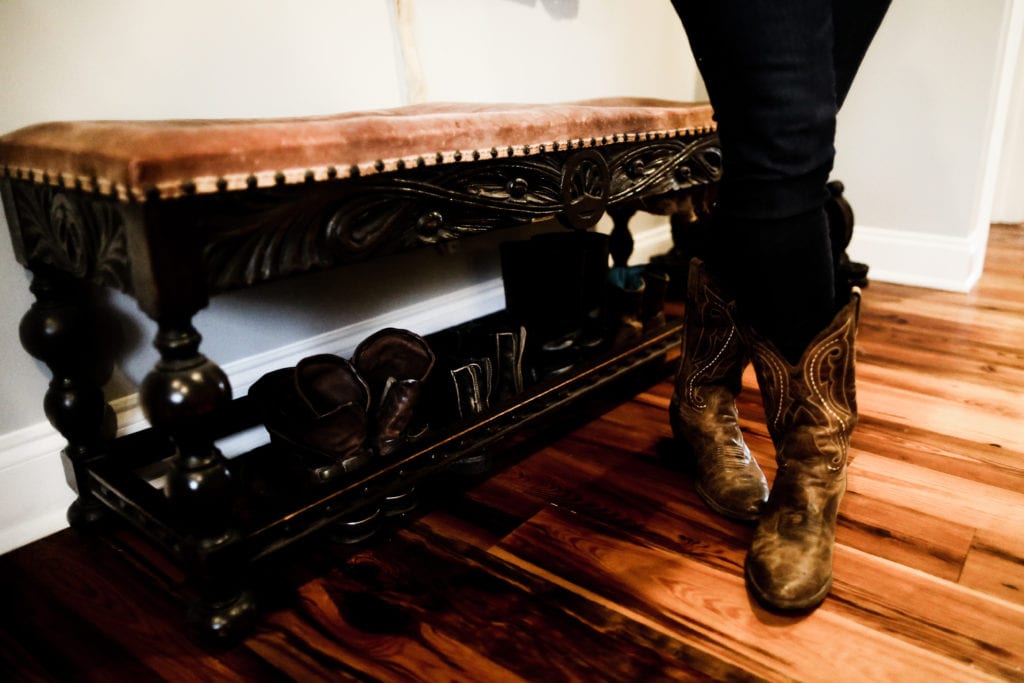 Antiques Worth Millions
Whether it's one of those antiques worth millions or just something you, love, that's what's important! It isn't just vintage and thrift stores that are a goldmine for furnishings; there are plenty of online marketplaces that offer daily deals, meaning you can get what you need for a fraction of the price you may pay in a salesroom.
The tricky part is that the internet can be a daunting place when there is so much choice. Before you begin your search, refine what you would like, and try out a few different sites. Those like eBay are great for second-hand and vintage finds, whereas Etsy lets you browse from thousands of sellers who make their own furniture and soft furnishings.
Thrift Store Makeover
This is one of my most favorite budget bedroom decor ideas! The thrift store makeover! Every year, nine million tons of furniture go to landfill. OMG, this is a most disturbing statistic! And, it doesn't have to be that way. When I was growing up in those coalfields of West Virginia, our family always on a budget because of sheer necessity, we found ways to make something 'brand new' (to us) out of just about everything that would be destined for the dump! In fact, one day as I was walking the railroad tracks home from junior high school, I literally saw a sofa on the side of the tracks. I ran home, super excited, and said "Mama, Mama, I found our sofa!" And, by golly, we cranked up the car, pulled in some extra hands, and brought that sofa home. Mom sawed it in half, yes, we wanted a 'corner' sofa', made slip covers for it, and we thought we'd died and gone to heave with our new 'sectional' sofa!
Goodwill Finds
Honestly, most of this furniture doesn't need to be thrown away and can be given a new lease of life through a process called Upcycling, which was a way of life for us. Goodwill finds help the Earth!
This now trendy way of refreshing old furniture not only keeps your within a small budget but helps you to do your bit for the planet. To this very day, if I see old furniture sitting out by someone's trash to be hauled away, my first thought is to look at it and imagine what it can become with a little bit of creativity!
For example, an old chest of drawers can be sanded down and painted to look like a completely different item, and old sofas can be reupholstered with vintage fabrics for a unique statement piece. This is an ideal time to be creative again, and you can bet that your furniture will be truly special.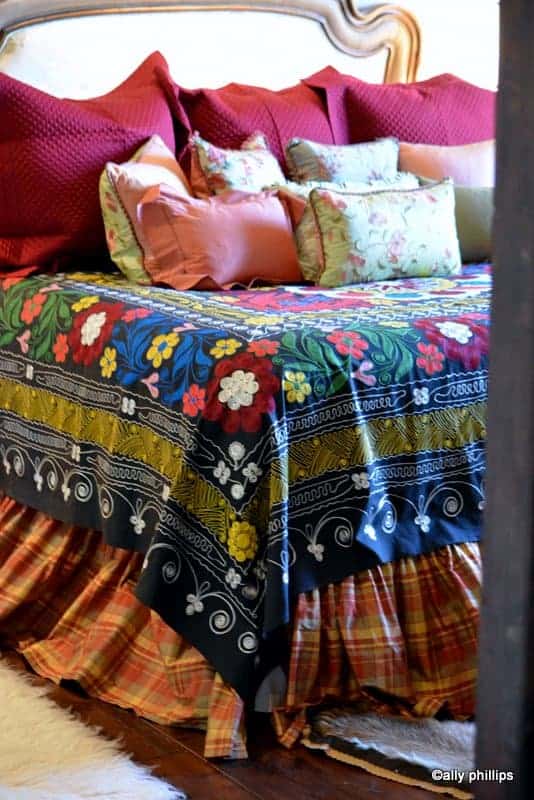 Help with Interior Design
It's not easy decorating on a budget, especially when you want a total refresh of your space. Luckily, that doesn't mean you can write off your dream room yet. Get some help with interior design!
Ask family and friends to help. Listen to their ideas. And, ask for their elbow grease help! Taller friends can help with painting in high spaces, whereas artistic loved ones may be able to help a feature wall come to life.
If you know people who decorate for a living, that's even better. It might be time to call in any favors or offer some of your services in exchange for theirs. This way, you won't need to spend any money, and this may be an excellent time to bond more with your loved ones.
Comfortable Bedrooms
Remember it's your bedroom where you'll spend a lot of time! Make it the MOST comfortable of bedrooms!
This room becomes your nesting place that brings you joy when you walk through that door. Make it your sanctuary of peace and tranquility. Use the seven budget bedroom decor ideas to your advantage. And, never forget that it's your room, so it should reflect your personality and lifestyle! xoxo ~ally
PS: If you're looking to inject new life into your living room, look no further! Check out these ideas!