Outrageously Delicious Easy Pumpkin Cake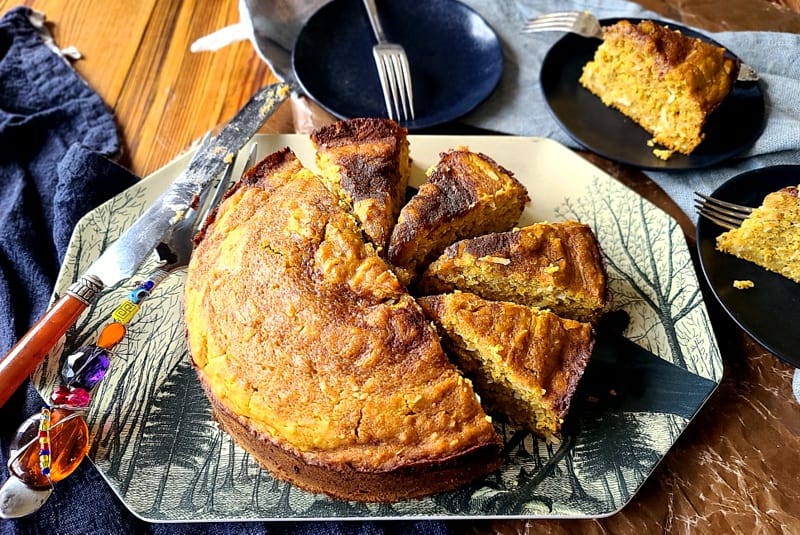 Outrageously Delicious Easy Pumpkin Cake knocks your socks off! OMG! Super moist, not too sweet. Crazy simple to make! You're gonna nail it!
Coconut Pumpkin Cake
OK, I'll admit, I LOVE coconut! And, every chance I get to use it in a recipe, well, you'd better believe I'm gonna do it.
Pumpkin Coconut Dessert
That's why this is called my outrageously delicious easy pumpkin cake! It's not only a dessert, but it's about the best coffee cake you'll taste!
Pumpkin Cake Recipe
Now this pumpkin cake recipe is super easy. There are two steps. That's the beauty of it.
You have your wet ingredients. Then you have your dry ingredients. You marry the two. And, presto, there's magic!
Pumpkin and Coconut Loaf Cake
I used a springform pan to bake my cake in. But, if you want to make it a pumpkin and coconut loaf cake, then use loaf pans.
Recipe for Pumpkin Cake
Now any pumpkin recipe worth it's salt must have cinnamon in it, in my humble opinion.
And, it needs to have a lot of cinnamon. Hey, cinnamon is super healthy for you, too.
Pumpkin Bundt Cake
Now I absolutely love pumpkin, too. And, I've got some great recipes that are perfect for the holidays.
If you want a showstopper, and I say that will total truth, bundt cake, then you must check out my Pumpkin Spice Bundt Cake. I'll confess I was sweatin' bullets hoping it would release flawlessly from the fancy schmancy bundt pan, and it did. I credit that to a lot of good greasing of the nooks and crannies in this pan. Yes, it's 'non stick' but I'm telling you unless you grease them well the non-stick sticks!
Easy Pumpkin Muffins
Another of pumpkin recipe of mine that's super simple is the Pumpkin Fig Date Nut Bread. Now you could easily use a muffin pan and create muffins. And, they'd be fabulous on Christmas morning!
Pumpkin Halloween Cake
With a little ingenuity, this recipe could morph into a pumpkin Halloween cake! I mean use a chocolate ganache drizzle and make a spider web design on top. Then add small candies of Halloween, eyeballs, candy corn and other things. Get creative.
Easy Pumpkin Cake Recipe
Now this vintage pumpkin bundt cake is my mother-in-law's recipe. Remember she baked back in the 1940s and 1950s, so don't expect super healthy ingredients like coconut oil. It's really yummy, very moist and like a pumpkin pound cake. You could swap out some ingredients for healthier, but, alas, I'm afraid you might not get the 'full monty' of the vintage cake.
Healthy Pumpkin Cake
I suppose one of my 'healthier' pumpkin recipes is a cake slash pie slash cheesecake.
It's got a lot of Greek yogurt in it. The crust has plenty of almonds. Then there's also pumpkin seeds. Beware, however, there's a good amount of dark brown sugar and butter. But, hey, isn't that what holidays are about, kind of letting loose and enjoying these special tastes!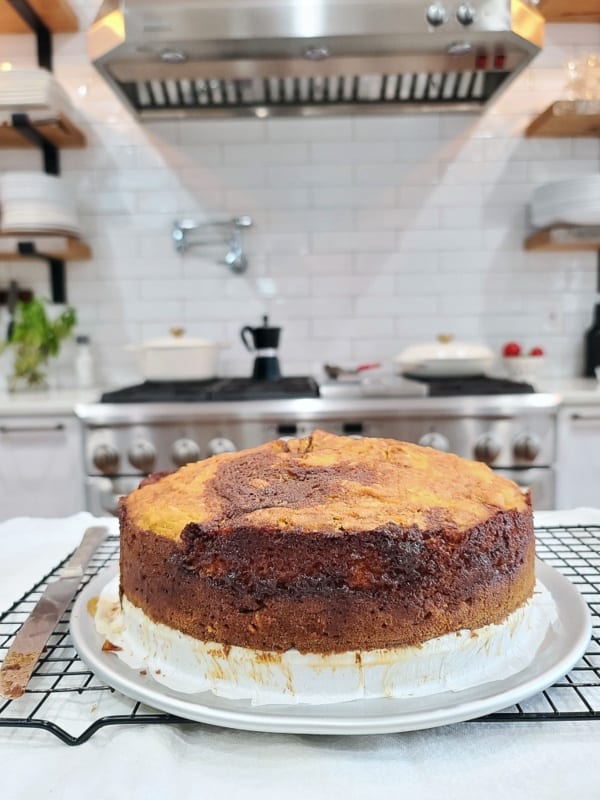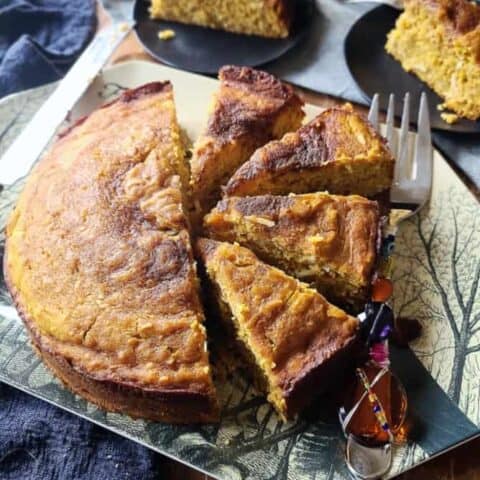 Outrageously Delicious Easy Pumpkin Cake
Yield:
Makes: One springform pan cake (9 ½ -10" diameter)
Ingredients
Preheat oven to 350
WET INGREDIENTS:
3 eggs, beaten
2 tsp vanilla
1/3 cup coconut oil
1 cup buttermilk
1 cup ricotta
1 cup honey, divided
1 can (15 oz.) pumpkin puree
DRY INGREDIENTS:
2 cups flour, all-purpose
1 Tbl. Baking powder
½ tsp. baking soda
¼ tsp. salt
4 tsp. cinnamon, divided
1 cup coconut, shredded, sweetened
Instructions
In a large (4-6 cup) mixing cup or medium bowl, whisk together the eggs, vanilla, coconut oil, buttermilk, ricotta. Blend well. Add three-fourths cup of the honey and the pumpkin puree. Blend well. Set aside.
In a large mixing bowl, whisk together the flour, baking powder, baking soda, salt, three teaspoons of cinnamon and the coconut.
Add the wet ingredients to the dry and blend into a thick batter.
Pour into a well-greased spring form pan. Consider putting parchment paper on the bottom part of the pan.
In a small bowl, whisk together the remaining honey and cinnamon. Blend well, then drizzle on top the cake batter that's in the pan.
Put the pan on a cookie sheet. Bake in a preheated 350 oven for 50 to 55 minutes or until a thin wooden skewer comes clean from the center. Take a butter knife and gently go around the inside of the cake to dislodge any sticking from the sides.
Let the cake completely cool then dislodge and remove.
Notes
If you want to use a GF flour, I suggest almond or rice flour. Or you could use an all-purpose GF flour.
Feel free to add nuts or raisins.
Coconut milk can be substituted for buttermilk.