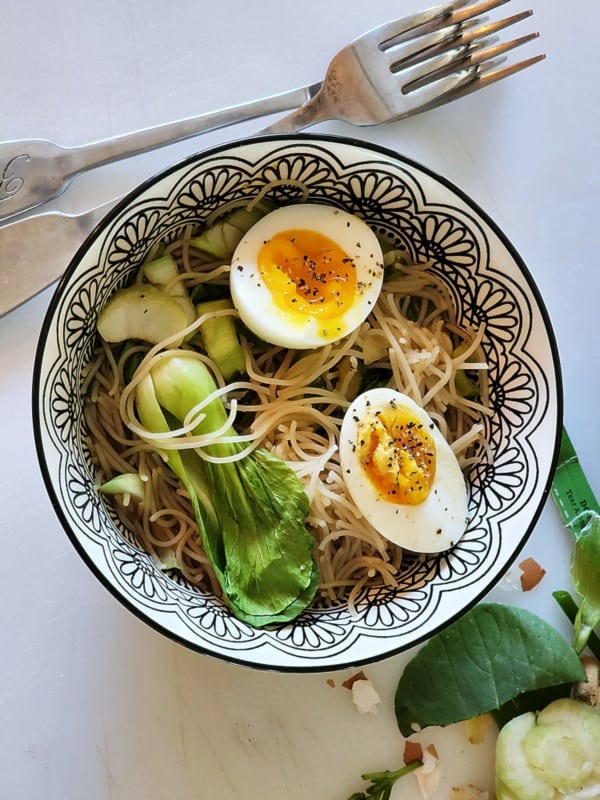 This is the quickest easiest miso noodles you'll ever make! Totally healthy. Superbly delicious. Fast and perfect anytime!
This post contains sponsored products. For a full disclosure, click here.
Miso Noodles
What's easier and more delicious than miso noodles. Miso broth that comes in a box and all prepared for you! With my discount code ALLYSKITCHEN at checkout, you'll get 20% off your order.
Miso Noodles Recipe
I can't extol the benefits of bone broth enough to you. Sure enough, you can make your own bone broth.
However, it's a long and time-consuming process. What happens every day when you need to have bone broth in your diet?
Miso Noodles Soup
Well, you have a couple of choices.
You can purchase one of THE BEST bone broths on the market (do your research) and have in your pantry. Use my code ALLYSKITCHEN at checkout and get 20% off.
You can add bone broth protein powder to your smoothies, cooking and more daily. Click here and you'll get 15% off your purchase. Or use code ALLY15 at checkout.
Don't get me wrong, sometimes I do make my own bone broth. Yes, I use bones that I gather from the butcher and let this glorious liquid simmer for hours and hours until the collagen and goodliness breaks down into the liquid, and I get the immense benefits.
It would behoove you to learn more about the nutritional and medicinal benefits of bone broth. Just Google.
Japanese Miso Noodles
Remember, YOU are the best advocate and steward of your health. If you want to age well into those decades beyond your 40s and 50s, then it's going to take healthy foods and more. My advice is don't leave it to luck.
Noodle bowls are quick and easy, plus delicious! Here's my beef noodle bowl that's full of tasty beef, mushrooms and greens!
Miso Broth Recipe
I'm using miso bone broth for this recipe. And, from there, it's a no brainer.
This soup is perfect for a pick me up. Quick tummy warmer when you get the hungries. And, it's adaptable to your likes. I mean if you don't have bokchoy, not to worry. Throw in some frozen peas!
Miso Broth
This miso broth has 10 grams of protein for serving. So with the healthy ingredients of the bokchoy, fresh basil and green onions, Pop and I are getting a healthy snack.
Spicy Miso Noodles
It's easy to spice up, as in heat spicy, this recipe. Just add your favorite hot sauce or red chili flakes. Yep, it's that easy.
Miso Soup with Noodles
I used rice noodles that cook quickly in the hot miso liquid, covered, which I heated on the stovetop in a saucepan. If you find that your noodles aren't as tender as you wish, then, simply cover and microwave on high for about 60 to 90 seconds. You can also throw the noodles in the saucepan with the hot liquid.
Easy Vegetarian Soup
If you're looking for an easy quick vegetarian soup, then this will work. And, if you're the kind of vegetarian who does eat eggs, well then, you must check out my failsafe soft boiled egg recipe! It's magic. Yes, it works. Just follow the yellow brick road!
Vegetarian Miso Soup with Noodles
Now Pop and I both love delicious noodle soups, and if you're looking for more ideas, well, here are some of our favorites: Asian Ramen Noodles, Easy Thai Curry Noodles, Asian Beef Noodles, and the twins' Budda Noodles!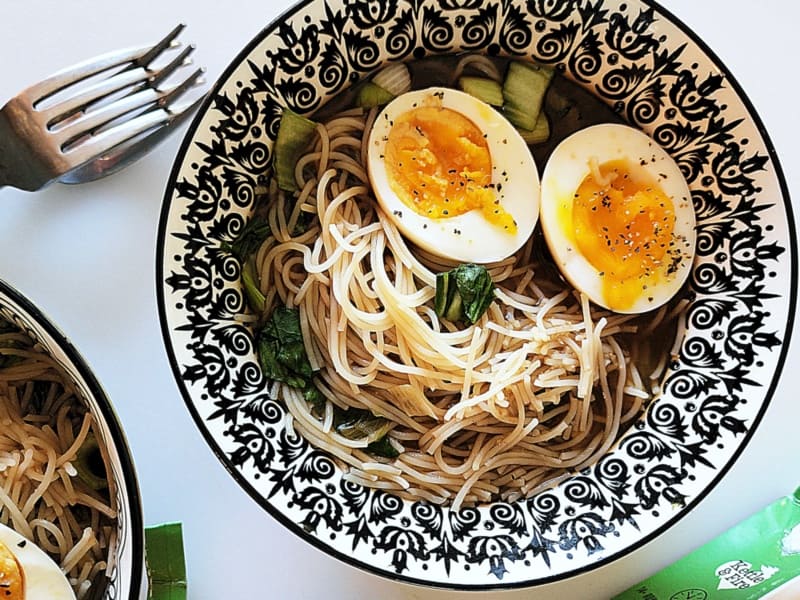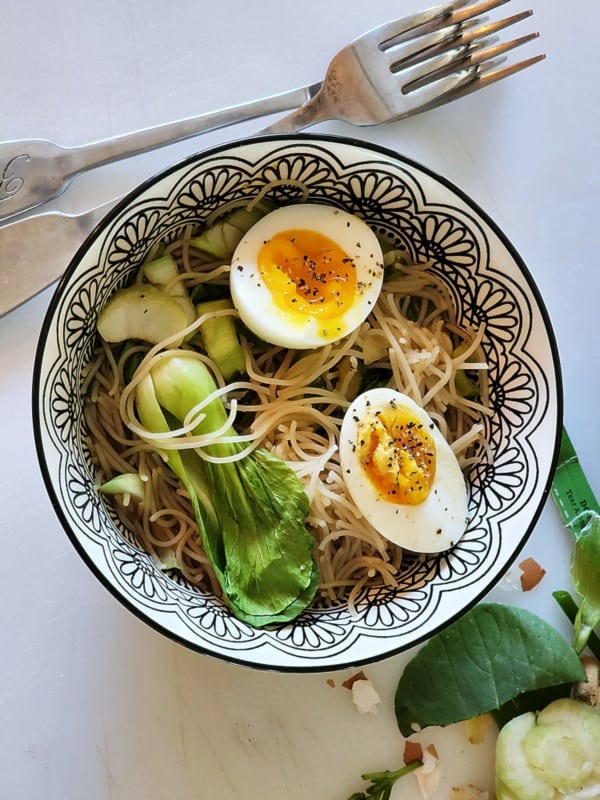 Quick Miso Noodles
Ingredients
1 box (16.9 oz.) Kettle & Fire Miso Bone Broth
6-8 oz. rice noodles, thin, angel hair type
1 tsp. fresh ginger, sliced or grated
2 cups baby bokchoy, sliced and chopped
1/3 cup fresh basil leaves, packed
1/4 cup green onions, thinly sliced
2 soft boiled eggs, optional
Instructions
Put the miso bone broth in a medium size sauce pan over medium heat. Let it get super hot.
Put the rice noodles and ginger in a large mixing bowl (microwaveable safe). Shred the noodles somewhat.
Pour the very hot broth other noodles. Cover with a plate or bowl for about 2 minutes. Use tongs to separate the thin cooked rice noodles.
Add the bokchoy, basil and green onions. Mix. Cover and let the soup sit another about 3-5 minutes. You may want to put in the microwave and reheat about 60-90 seconds on High.
Serve immediately with a sliced soft boiled egg on top (optional).
Notes
The noodles can be put in the saucepan (if larger enough), then add the remaining ingredients. Cover and let the rice noodles soften and everything 'steep' in the hot bone broth.
Recommended Products
As an Amazon Associate and member of other affiliate programs, I earn from qualifying purchases.