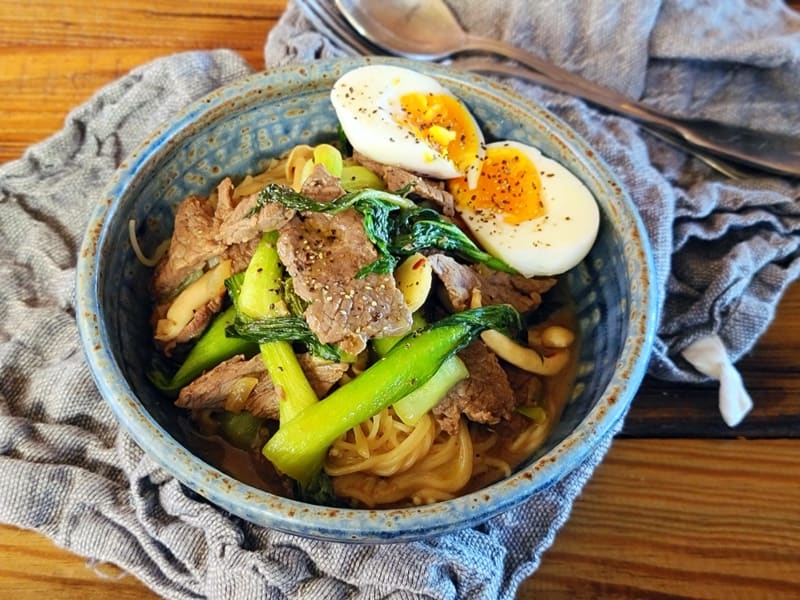 Easy Asian Beef Stir Fry is that dish that will be a family favorite! Asian flavors, spicy (or not), and full of healthy deliciousness!
Beef Ramen Noodle Stir Fry
OK, this is going to be one of the most simple and quickest beef noodle bowls you make!
And, I'm big on noodle bowls! Ever since Ben and I traveled for a month to China in 2019 (check us out at the Great Wall of China) where we tasted every variety of noodle bowl you can imagine, I've been hooked on them. Even if it's breakfast, I want a noodle bowl!
Healthy Beef Ramen Noodle Stir Fry
There's some real healthy in here, too.
We've got nutritional yeast. Then there are the mushrooms, which are super healthy.
And, lots of green with the bokchoy!
Easy Beef Stir Fry with Ramen Noodles
Flavors abound in this bowl. When you use seasonings like fish sauce and coco aminos, you're getting immense flavor.
Beef Ramen Stir Fry Recipe
You can choose your noodles for this bowl.
Rice noodles are great.
But, honestly, I prefer nice very thin egg noodles.
Also, I love serving this beef bowl with a soft boiled egg. If you haven't tried my way to cook soft boiled eggs, yes, failsafe, then check it out. Soooooooo many folks have done it and been amazed that they can now do a soft boiled egg!
Beef Stir Fry Marinade
I love adding to this beef stir fry, water chestnuts. There's a hint of crunch. And, I love a crunchy texture.
Plus, water chestnuts, and you'll use the liquid in the recipe also, have some great antioxidants and fiber!
Stir Fry Beef and Broccoli
This is a quick and easy stir fry. And, if you want to add more vegetables, then no problem. Choose your favorites and chop, dice, slice.
Now I don't want my veggies overcooked, so you'll have to finish the cooking process to your desired texture. And, you might need to add more bone broth.
Easy Beef Stir Fry Recipe
If you want to make this recipe more of a 'soup', then I suggest adding really healthy beef bone broth from Kettle and Fire.
You could also cook your noodles in this bone broth. And, if you use my discount code at checkout, ALLYSKITCHEN, you'll get 20% off your order! We can all use a break on food costs!
And, yes, I do work with KF, but believe me, I consume a lot of this product because it's just that good. Do your own research and find out. Just google 'best bone broths'!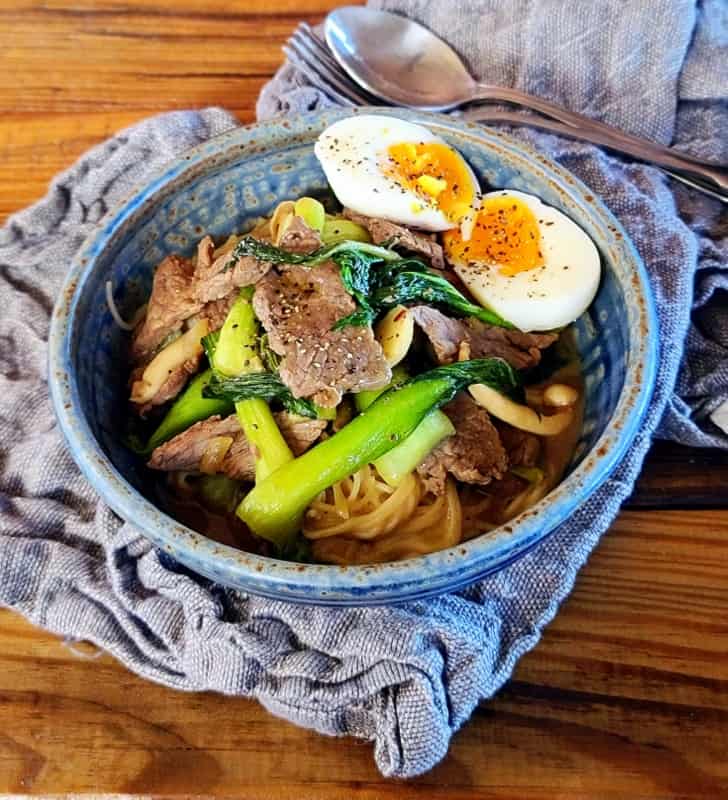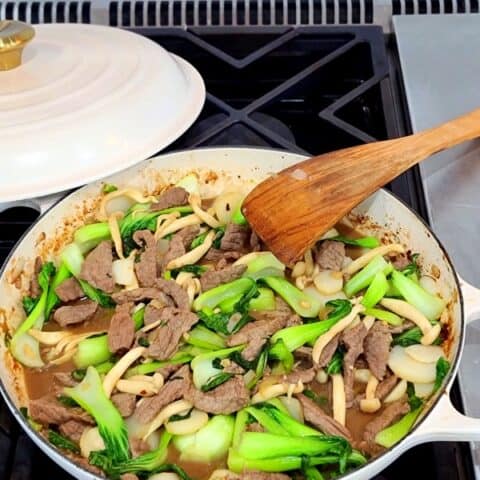 Easy Asian Beef Stir Fry
Ingredients
1 ½ lbs. beef, thinly sliced on bias
2 Tbl. Coconut aminos
2 Tbl. Soy sauce
2 Tbl. Fish sauce
2 Tbl. Nutritional yeast
1 tsp. white pepper
½ tsp. red chili flakes, optional
¼ cup oil, sesame or olive oil
2 Tbl. Garlic, finely chopped
¼ cup onions, fine dice
8 oz. mushrooms, white beech or your choice, if whole mushrooms, please slice
8 cups baby bokchoy, leaves and stalks, well washed and dried
1 can (8 oz.) water chestnuts, sliced, reserve liquid
SERVING WITH:
Steamed rice or noodles
Soft Boiled Egg
Instructions
Use the velveting technique to marinade the beef strips. Refrigerate at least an hour before cooking the remove and let the meat come to about room temperature.
In a small bowl, whisk together the coconut aminos, soy, fish sauce, nutritional yeast, white pepper and red chili flakes. Set aside.
In a large heavy skillet, pan or wok over medium high heat, put the oil. Sauté the garlic and onions for a a couple of minutes until the fragrances emit. Stir so as not to burn. Add the beef and brown for about 3 to 4 minutes tossing and turning to cook all pieces.
Add the seasoning mixture and the liquid from the water chestnuts. Reduce heat to medium, blend, cover and let it cook about 2-3 minutes.
Add the mushrooms, bokchoy and water chestnuts. Use tongs to toss and blend well. Turn heat to medium low, cover and let this mixture steam for about 5 to 7 minutes.
Serve over rice or noodles.

Notes
1. The most tender meat to use for this is either a NY Strip or Ribeye. You could also use London Broil or a sirloin cut.