kitchen remodeling and gutting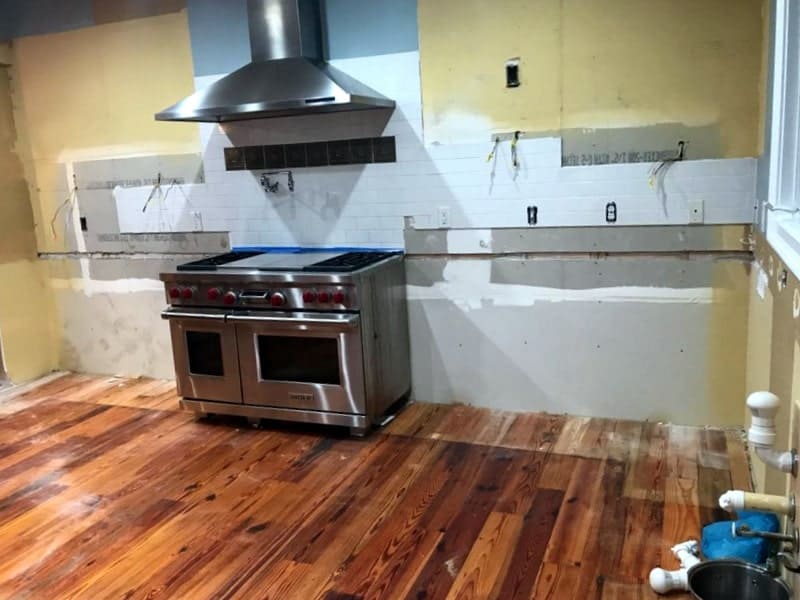 Kitchen remodeling and gutting can sometimes come with mixed emotions. Saying goodbye to the old. Living with the mess. Worth it!
Renovating Your Kitchen
In my first post on this huge kitchen remodel, I talked about saying goodbye to an old friend. Yes, mixed emotions because this dear friend, my kitchen, has been my steadfast companion for about twenty years.
Through thick and thin, hurricanes, cooking and entertaining from two to a hundred people, this kitchen has weathered the storms and always come out glistening and smelling like a rose. And, then in the third post in this series, I'm so excited to share my new sink with you! Not just a 'sink' but a SINK!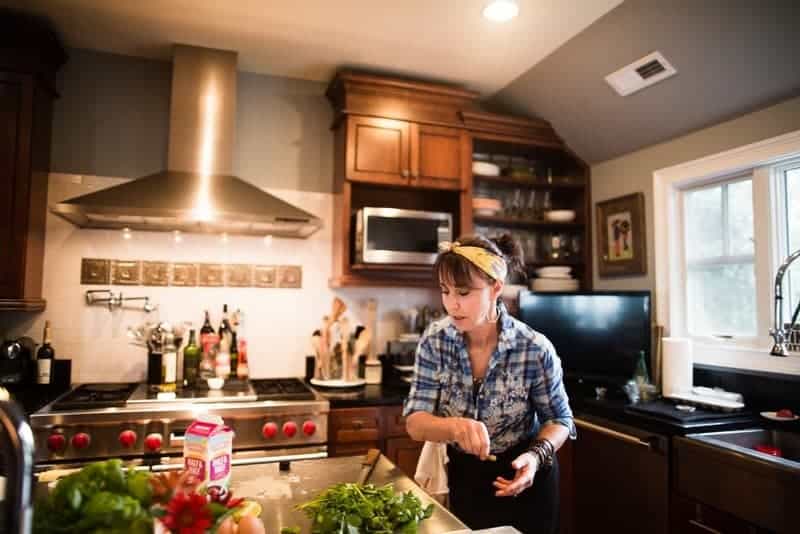 How to Get Rid of Old Kitchen Cabinets
Now comes the reality phase of saying goodbye. The starkness of watching it go. Yes, this is the gutting stage. The time when others come in and start dismantling and tearing out. Luckily for me, I wasn't there in person to see this. And, even better, my foodie peep BFF and her hubby were there to do this work.
I'm thinking I would have shed some serious crocodile tears watching as each knob, handle, drawer, door, cabinet and the black granite was coming off.
There comes a time for renovation and new things. And, to make my kitchen more inviting, the cabinets had to go.
Getting Rid of an Old Kitchen
Looking at the trusty Kohler professional plumbing fixture, the farm sink, the dishwasher. And, not to mention the stainless steel prep table and center island with the stained, scratched authentic Carrara marble surface. I can't even fathom how many vegetables, meats and foods I've prepped on that stainless steel table!
How many Christmases, Thanksgivings, Easters, July 4ths, birthdays, graduations, marriages, parties, showers and more. I can't begin to count.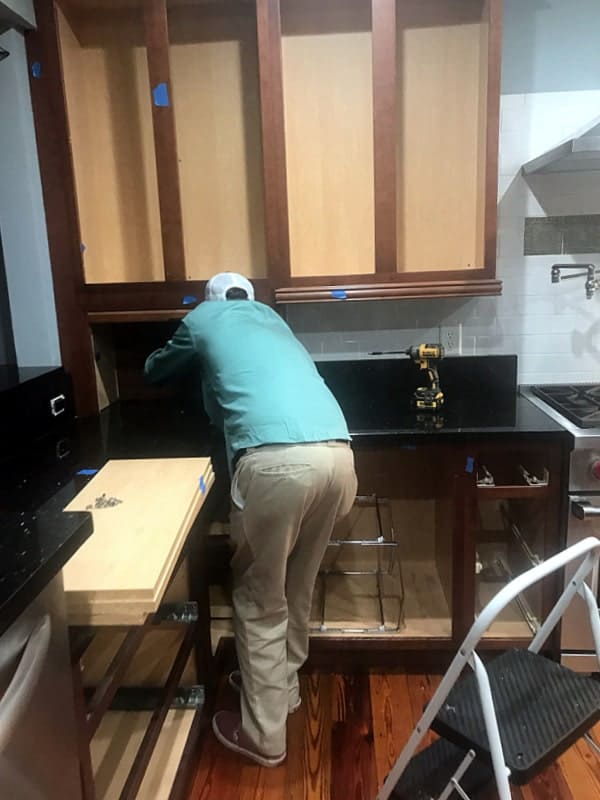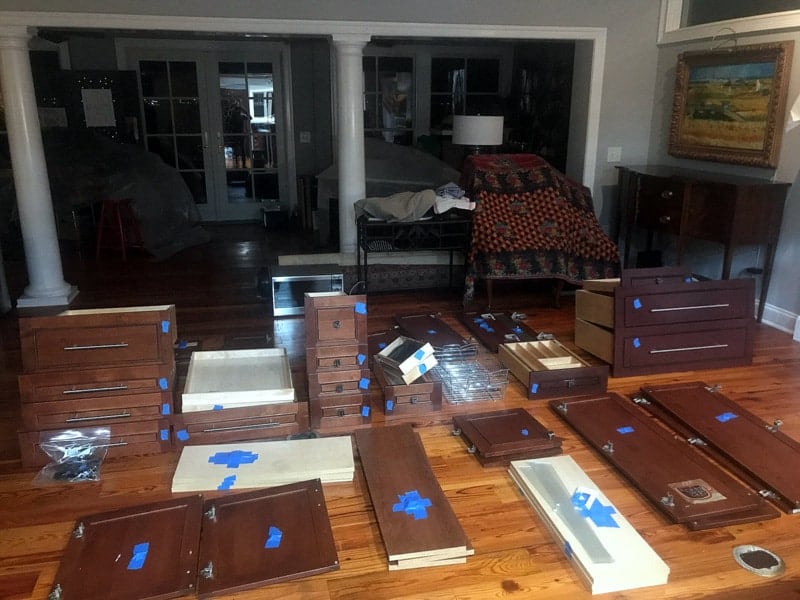 Kitchen Renovation Ideas
There to take pictures and videos was my bestie peep, Whitney, and her hubby, Lee. it was comforting to know that loved ones were not just 'gutting' but taking immense care with all that was happening. Whit has probably spent over the past ten years thousands of hours in that kitchen.
Yes, talking, sharing, sipping wine, tasting, and dreaming about our futures. Lee, the quiet steadfast clever with any tool husband, loans her to me without asking for anything in return. He knows we have this special bond. And, that's why this kitchen goes to Whitney and Lee. They are gingerly and lovingly taking apart this beautiful space and they will retrofit into their own kitchen.
And, I couldn't wait to implement my remodeling kitchen ideas!
How to Recycle Kitchen Cabinets
Everything will be used down to the screws removing the doors, draws, shelving. They will refit the plumbing fixtures, the stately large gooseneck professional faucets, into the sinks in their beautiful home making their kitchen 'new' but still retaining the 'memories' of Ally's Kitchen.
Each day Whit and Lee will awake to the beauty of this kitchen that has infused into the grains of the wood and even the granite and marble surfaces, utter love and joy. And, each day they will continue to infuse their family traditions, make memories and create even more love.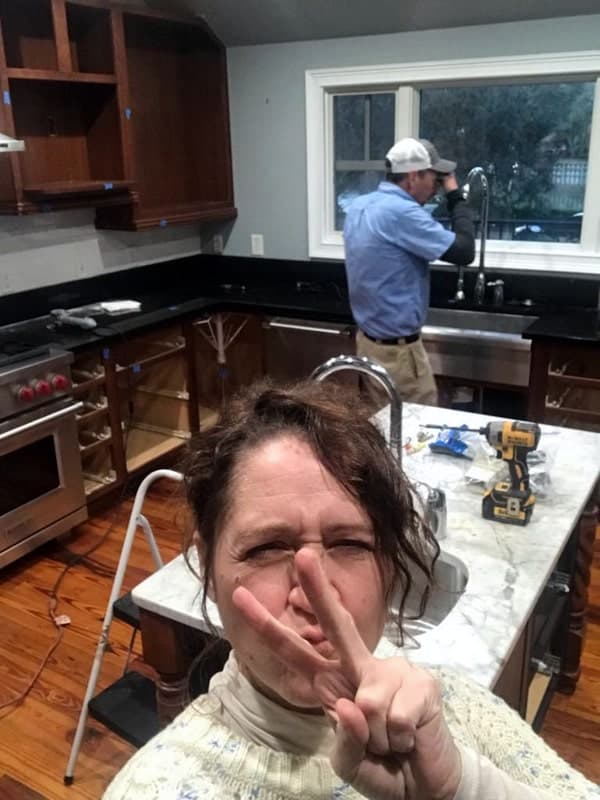 Remodeled Kitchens
As I said, in my previous post of saying goodbye to this kitchen, I do believe you can form bonds and friendships with inanimate objects. You give these things names, like I have two of my beautiful barnwood tables, Mela (which means 'gathering' in Sanskirt) and Kate (my dear Mom's name and from whom I acquired this love of cooking).
You spend time with them, make memories with them. You feel the love and energy emerge from the wood grain and more. Yes, and please don't think I'm whacko, you fall in love with this 'thing'.
And, if you're not up for a total gut, then there are some easier things that you can do to update your kitchen!
Modern White Kitchen
It doesn't talk as we think about communication and talking. It doesn't feel as we think of touching and caressing. It doesn't laugh, cry, sleep, eat in the traditional sense. But, in an obtuse crazy way, these things, my kitchen and my tables, do all of these things. And, there's love that's grown for each and every thing.
My kitchen and kitchen things aren't there just for looks. My kitchen is not there just to mechanically stand in front of a stove and cook. No sireee bobby, my kitchen and kitchen things are there because I passionately love them and share the happiness and inspiration with anyone who will listen, watch and or follow Ally's Kitchen.
But, now with my newly remodeled modern white kitchen, I know a new era will be ushered in.
White Kitchen Ideas
You're my chosen family without all the emotional and psychological baggage! My peeps. Folks like you, yes, YOU, who are now reading this post. (I see you smiling!) Without you, none of this would be. I know that.
And, that's what keeps me running like the Energizer Bunny! I'm hoping that my love of food, eating, cooking and being in the kitchen is infectious. My dream is for you to rediscover your kitchen if you've not spent time in there for a while. And, if you want to jump forward and see the new kitchen, well, it just takes a click!
New Kitchen
Or, if you have, to spark new ideas and inspiration for making food truly the heartbeat of your family and friends. Even down to the new design of the sink and making it a workstation, this kitchen will become the true gathering space of our home.
Maybe you'll love your kitchens so desperately that you'll christen them with names. And, that's coming up for me. So hang on and let's see what we name this new kitchen. Oh, yes, it's 'Ally's Kitchen' but it will have a sweet nickname! Put on your thinkin' caps!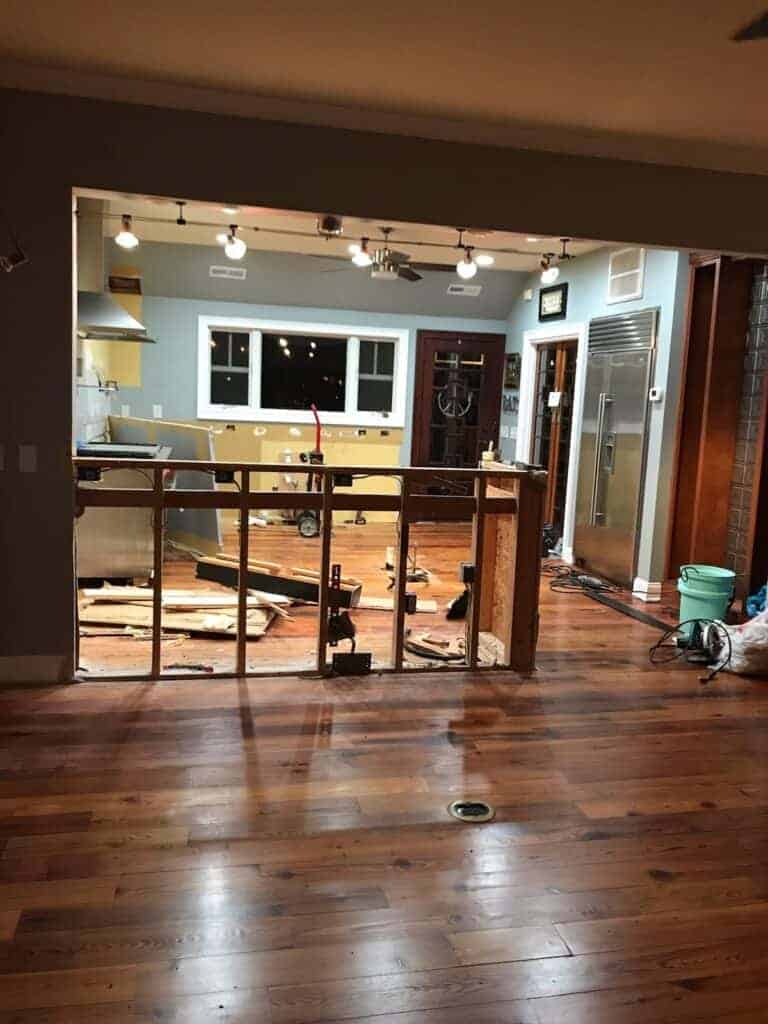 Kitchen Design Ideas
Enjoy seeing what's happened in this gutting stage. There's no turning back now. It's forging ahead with change. And, change is good because it does more than give us a new view. It invigorates. It stimulates.
It gives you a new pair of lenses to see life through, and there's nothing better than awaiting the next adventures in life! More to come as we progress to the totally different, new and exciting Ally's Kitchen! xoxo ~ally