The ultimate in comfort food made super easy, paprika beef goulash! As you might know, I love cooking things like this in the oven, but I know for all you busy folks out there, you'd rather throw everything into your InstaPot, Slow Cooker or Multi-Cooker and come back later to the magic of it being done. Well, not to worry, you can do that with this recipe. Simply adjust your time accordingly!
For this recipe, I decided to use a London Broil cut of beef. Typically, this beef is kind of 'tough' and that's why you slice it thinly and on the bias, so you help with that chewiness. But, when you cut up this cut of beef into chunks and cook like a 'pot roast', well, it turns into something incredibly tender and delicious.
So few ingredients are needed for this recipe. Many of these ingredients you already probably have in your pantry or cupboards. Next time you see London Broil beef on sale at the grocer, grab a couple of them. Freeze one and make this paprika beef goulash with the other. Now I served with veggies and Asian noodles (as you can see), but the ways to serve are endless, from sliders to scooped over mashed potatoes or with pasta. BTW, this dish freezes really nicely. And, it's even better on day two, so you might make a day ahead if you want more intense delicious flavors! Here's one of my fave salads to serve with this recipe. Mystery Salad, click here!
xoxo ~ally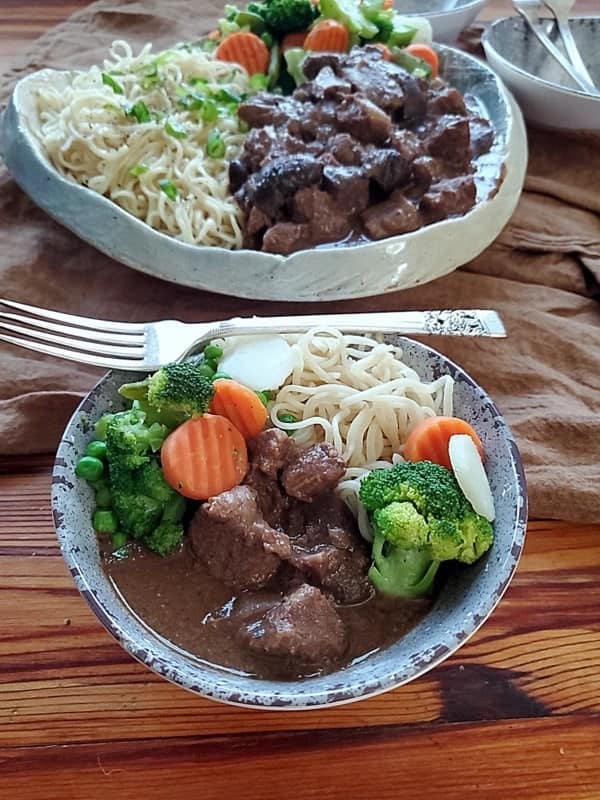 Ingredients
Preheat oven to 425
¼ cup bacon drippings
2 ¼ to 2 ½ lbs. beef, London broil, cut into 4-5 big chunks
1 ½ tsp. sea salt
1 ½ tsp. coarse ground pepper
1 ½ tsp. paprika, sweet
1 ½ tsp. paprika, hot
1 (25 oz.) jar marinara sauce + full jar of water
5 whole garlic cloves, smashed
Instructions
In a heavy deep pot (with lid), put the bacon drippings. Turn heat to medium high and let it get hot.
Put the meat in a large mixing bowl. Combine the salt, pepper, and both paprikas in a small bowl and blend. Put on the meat and toss and coat well.
Pan sear the meat in the hot oil cooking about 2 minutes per side.
Add the marinara sauce, water and garlic. Cover the pot tightly. Cook in a preheated 425 oven for about 2 hours.
Notes
This recipe could be prepared in an InstaPot, Slow Cooker or Multi-Cooker. Adjust cook time accordingly.
This beef can be prepared a day in advance then refrigerated. Believe me, it gets better!
https://allyskitchen.com/paprika-garlic-beef/
©ally's kitchen intellectual property