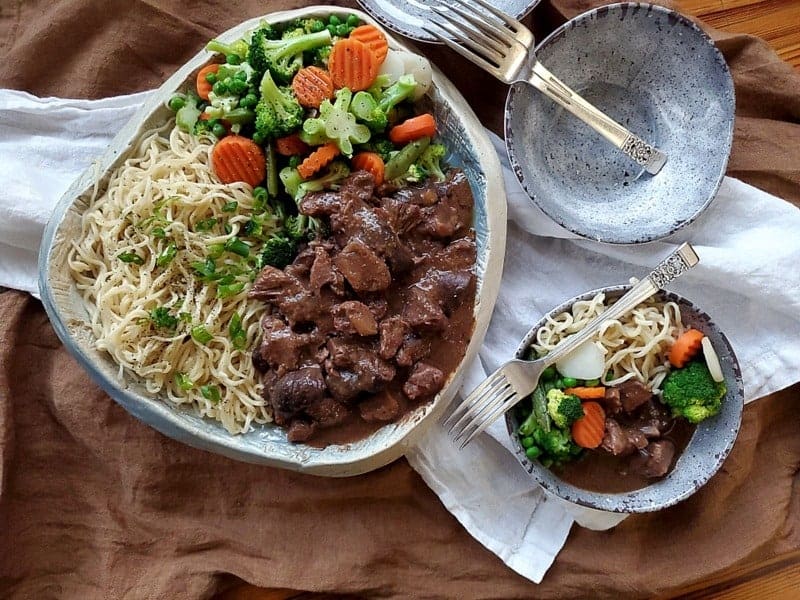 Paprika Beef Goulash dish is warm and comforting, perfect for a cold-weather day. It can be served with noodles, bread, boiled or roasted potatoes and pickles.
Paprika Beef Goulash
The ultimate in comfort food made super easy, paprika beef goulash! As you might know, I love cooking things like this in the oven, but I know for all you busy folks out there, you'd rather throw everything into your InstaPot, Slow Cooker, or Multi-Cooker and come back later to the magic of it being done. Well, not to worry, you can do that with this recipe. Simply adjust your time accordingly!
What is Beef Goulash?
For this recipe, I decided to use a London Broil cut of beef. Typically, this beef is kind of 'tough' and that's why you slice it thinly and on the bias, so you help with that chewiness. But, when you cut up this cut of beef into chunks and cook like a 'pot roast', well, it turns into something incredibly tender and delicious.
What is Hungarian Beef Goulash?
Goulash is a hearty and aromatic soup that will not leave anyone indifferent. This dish is a hallmark of the national cuisine of Hungary, so it can be found on the menu of every restaurant or cafe in the country. Goulash has a unique taste, but at the same time, it is not difficult to prepare it. Do you want to surprise your family or guests with culinary masterpieces? Then prepare Hungarian goulash.
Beef Goulash Recipe
Beef goulash with gravy is a classic dish for lunch or dinner. Beef for goulash is stewed with water, broth, or sauce until soft, and then gravy is prepared. It may contain vegetables, spices, sour cream, tomato sauce, and other components. Goulash is served with mashed potatoes, pasta, or any boiled cereals.
When it comes to adding a more delicious recipe to your dinner/lunch table, definitely you're going to love these simple and tasty New York Strip Hot Smoked Paprika Red Wine Stew recipes!
Goulash Meat
Before preparing beef goulash, the meat is cut into small cubes and fried. Delicious lamb goulash with gravy will satisfy your hunger and invigorate after a working day. Beef goulash is an invariable children's "delicacy". It is not difficult to cook, but it is a pleasure to eat it. Fragrant and mouth-watering meat with gravy is a national dish for many peoples.
Goulash Crockpot
In a multi-cooker at home, cook goulash crockpot. Hearty, tasty, and simple! Goulash crockpot in a slow cooker is a hearty and interesting dish. At the same time, it is surprisingly easy to prepare. The dish turns out to be aromatic, incredibly tasty, and satisfying. Even goulash in a slow cooker will not give you any special trouble. Love an easy recipe like this? Also, be sure to try our Havana paprika grilled chicken and slow cooker chicken marsala!
Traditional Goulash
Goulash is a dish that the whole country is proud of. It is easy to prepare and very tasty. So what is goulash? Hungarian goulash is … a spicy, thick soup. And it's terribly delicious. Traditional beef Goulash is one of my favorite old fashioned recipes, made with ground beef, onion, bell pepper, and macaroni in a seasoned tomato sauce with diced tomatoes. Perfect for busy weeknight dinners!
Ground Beef Goulash
Ground beef Goulash! This delicious, easy goulash recipe is made with hearty beef, tender macaroni pasta, lots of vegetables, and a savory tomato-based sauce. Want the same flavors in soup form? Also try my happy belly goulash, another super cozy dinner!
Easy Beef Goulash Recipe
Properly cooked beef goulash is always a delicacy! Beef Goulash turns out to be insanely tasty, and prunes add a special sourness. Be sure to try it, you won't regret it. Here's one of my favorite recipes that you should try is cajun beef onions peppers & paprika pineapples. xoxo ~ally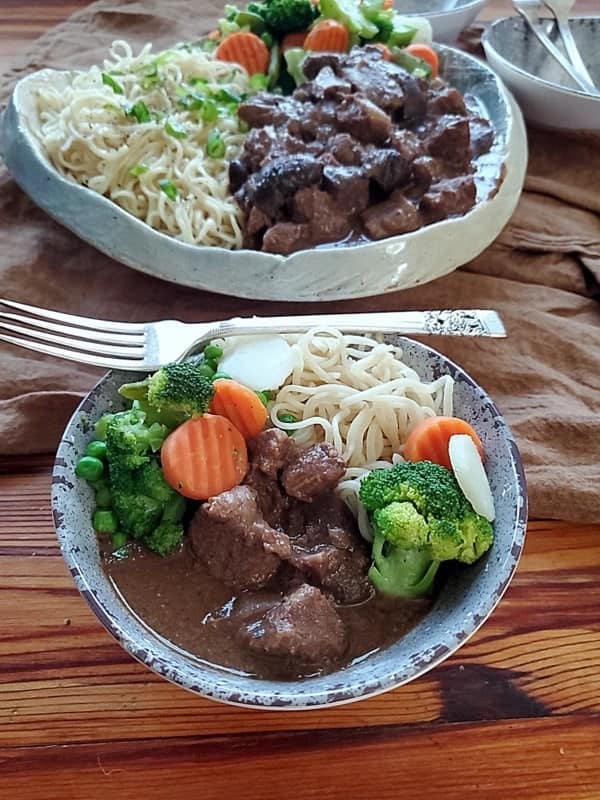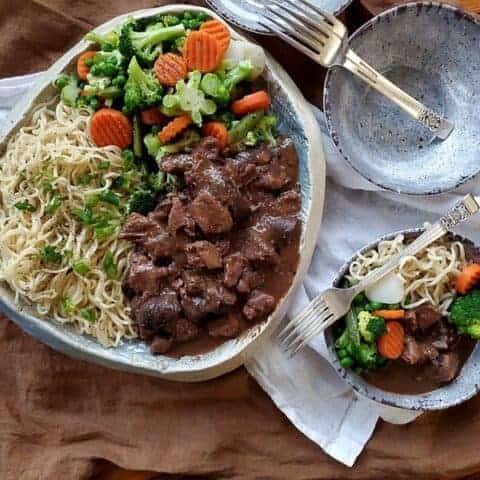 Paprika Beef Goulash
Paprika Beef Goulash dish is warm and comforting, perfect for a cold-weather day. It can be served with noodles, bread, boiled or roasted potatoes, and pickles.
Ingredients
Preheat oven to 425
¼ cup bacon drippings
2 ¼ to 2 ½ lbs. beef, London broil, cut into 4-5 big chunks
1 ½ tsp. sea salt
1 ½ tsp. coarse ground pepper
1 ½ tsp. paprika, sweet
1 ½ tsp. paprika, hot
1 (25 oz.) jar marinara sauce + full jar of water
5 whole garlic cloves, smashed
Instructions
In a heavy deep pot (with lid), put the bacon drippings. Turn heat to medium high and let it get hot.
Put the meat in a large mixing bowl. Combine the salt, pepper, and both paprikas in a small bowl and blend. Put on the meat and toss and coat well.
Pan sear the meat in the hot oil cooking about 2 minutes per side.
Add the marinara sauce, water and garlic. Cover the pot tightly. Cook in a preheated 425 oven for about 2 hours.
Notes
This recipe could be prepared in an InstaPot, Slow Cooker or Multi-Cooker. Adjust cook time accordingly.

This beef can be prepared a day in advance then refrigerated. Believe me, it gets better!