slow cooker chicken marsala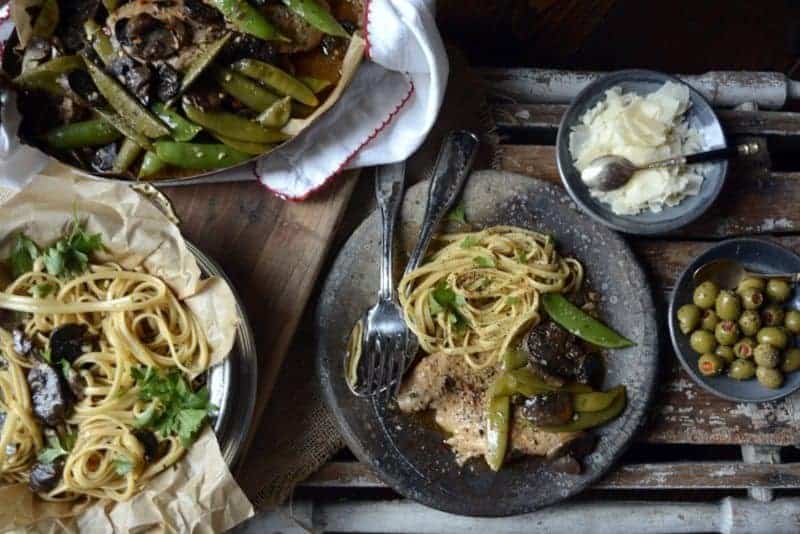 Food is supposed to be uncomplicated and deliciously complicated. This slow cooker chicken marsala and sugar snap peas is precisely that!
Slow Cooker vs Crockpot
And, that leads us to the debate over slow cooker vs crockpot. Is there a difference? Or is there even a debate? Simply put, the crockpot is a kind of slow cooker. Your crockpot has a stoneware pot and it's heated by a heating element. On the other hand, the slow cooker pot is usually made of metal. Both achieve very similar if not the same results.
Crockpot Meals
Bottom line, crockpot meals are perfect for busy families. I can remember getting my very first crockpot in the 1970s. Yes, we didn't call them a 'slow cooker' it was a crockpot. I think mine was a golden yellow. Yes, a lovely beautiful thing at the time that I proudly displayed on my kitchen counter. The crockpot meals I created and the family ate were prolific! If you're really interested, here's a history of the crockpot from the Smithsonian.
Super Easy Slow Cooker Recipes
Lots of folks love their slow cookers. And, it seems that we just automatically think of super easy slow cooker recipes when we pull out our slow cookers.
Yes, they're life savers. They're easy and perfect for busy people who want to come home to a great meal that doesn't mean staying in the kitchen for a long time. So, this dish being prepared in the slow cooker frees you from everything and in no time at all, you have the iconic chicken marsala and all you did was put everything in your slow cooker!
Sugar Snap Pea
The sugar snap pea is a wonderful contrast to add to this dish. When I create new recipes, the first thing I think about and consider are the aesthetic aspects of the dish. How do I make it pretty. What colors should be in the dish.
Are the textures complimenting each other. And, I knew that the sugar snap peas would be a divine addition. I thought about capers for the salty aspect as well as some green, but the sugar snap peas add so much more dimension, flavor, texture and style to this recipe.
Recipe of Chicken Marsala
I wanted to use the slow cooker as the main cooking vessel with this recipe of chicken marsala. One of my favorite Italian dishes is chicken marsala. And, I'm always looking for ways to use the basic elements of this dish in new recipes.
I've created a chicken marsala soup, which is outstanding and one of my most pinned recipes. Imagine that. Chicken marsala in a bowl as soup. But, it's absolutely divine. And, now this slow cooker chicken marsala and sugar snap peas is yet another variation of this delicious dish.
Slow cooker chicken marsala is like escaping to Tuscany without even going through TSA! Taste the fresh flavors of chicken, pasta and snap peas in one dish!
Chicken Marsala Soup Recipe
How do chicken soup and chicken marsala go together? Well, let me quickly explain! One of my most favorite Italian dishes is chicken marsala mean when I go to a really authentic Italian restaurant, that's what I oftentimes order, and even when I go to a great chain restaurant like Carabbas Italian Grill, yep, it's chicken marsala for me! And, if you haven't tried my chicken marsala soup recipe, well, you must!
Chicken Marsala Sauce
Since I'd seen a new Campbell's product at the store (yes, new for me), their packaged marsala sauce, I thought I'd give it a whirl in a new twist. Using this sauce in a in a chicken soup! I mean I could put all the essential things into a traditional chicken soup. Then use this marsala sauce and make it even better by adding more mushrooms. That's really the big drawback of this sauce. It's rather skimpy on the mushrooms.
And, that's what makes chicken marsala, chicken marsala! Otherwise overall, this sauce has nice flavors and it made the making of this soup pretty painless and easy. Sometimes life just calls for that, right? It's ok to simplify your life, take some shortcuts and eat at home cooking it in your own kitchen rather than not doing so because you detest being chained to the kitchen!
Enjoy, my dear luvs. Food is supposed to be uncomplicated and deliciously complicated. This slow cooker chicken marsala and sugar snap peas is precisely that! xoxo ~ally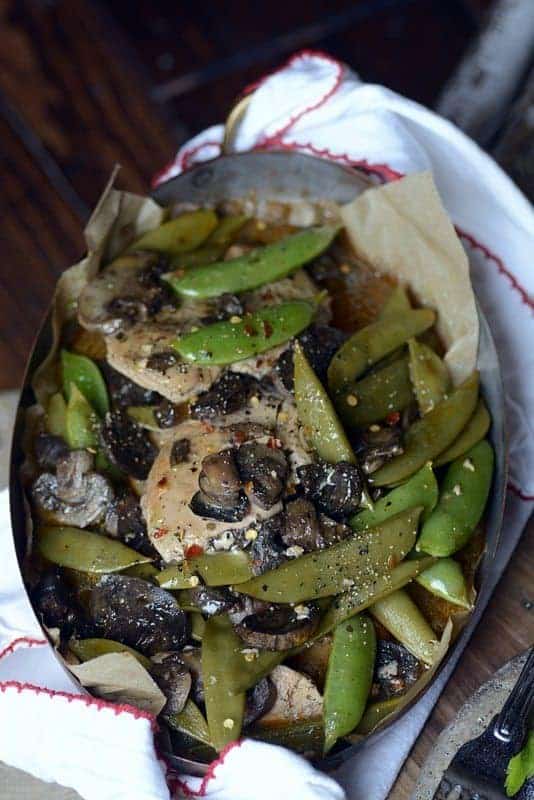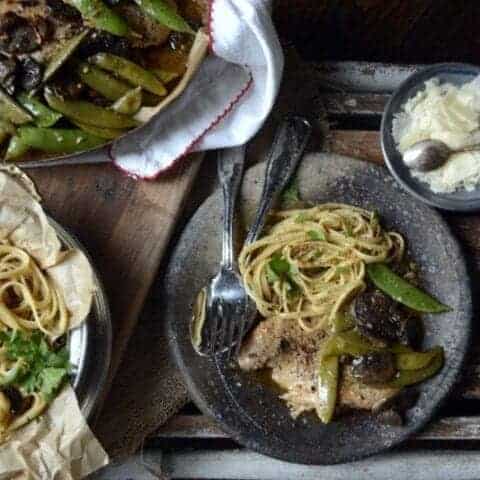 slow cooker chicken marsala
Food is supposed to be uncomplicated and deliciously complicated. This slow cooker chicken marsala and sugar snap peas is precisely that!
Ingredients
1 ½ lbs. chicken breasts, skinless, boneless and thin cut
1 ½ tsp. McCormick's Perfect Pinch Garlic Herb Seasoning
½ tsp. sea salt
½ tsp. red chili flakes
8 oz. sliced mushrooms, baby bellas or your choice of variety
1 pouch (11 oz.) Campbell's Chicken Marsala + 1 cup water to rinse pouch
2 cups sugar snap peas, rinse and clean
8 oz. linguine or fettucine
GARNISH
Freshly grated parmesan regianno cheese
Fresh Italian Parsley, roughly chopped
Instructions
Put the chicken breasts in slow cooker. Sprinkle with the garlic herb seasoning, salt and red chili flakes. Add the mushrooms on top the chicken. Pour the Campbell's marsala and water on the chicken.

Cook on high for 2 ½ hours. Turn heat to 'warm'.

Add the sugar snap peas and blend into the sauce mixture. Let the snap peas steam/cook about 15-20 minutes or until bright green. They will stay crunchy and bright green.

Prepare pasta according to directions.

Take some of the broth from the slow cooker, about one to 1 1/2 cups and toss and blend with the cooked pasta.

When serving, garnish liberally with freshly grated parmesan reggiano and flat Italian parsley.
Notes
Don't add the sugar snap peas until about ready to serve to keep them crunchy and bright green.

Cover the pasta and let it steep in the broth for about 15=30 minutes before serving.

Serve pasta with chicken, more broth and the mushrooms and sugar snap peas.

Change up the type of mushroom you use! I love shitake and oyster. Or do a combo of mushrooms for more texture and flair!

Serve with sides of olives, green and black or capers!