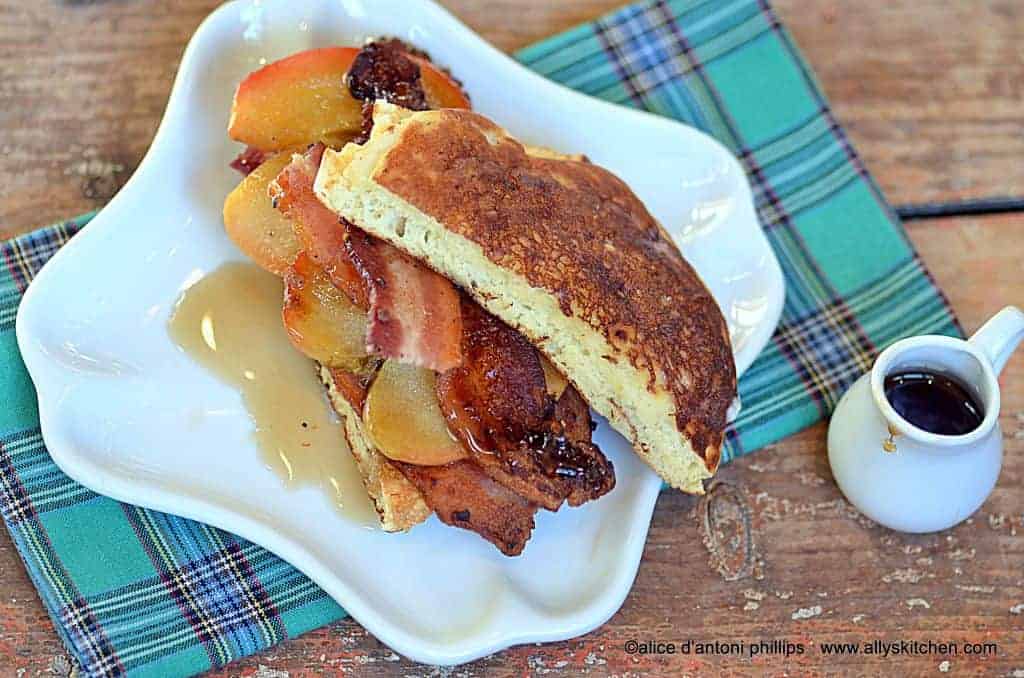 Bacon sandwiches come in all kinds. We're gonna be using a fluffy pancake as our 'bread' and filling it with crispy peppered bacon and fried apples!
Sandwiches with bacon
A bacon sandwich (also known as a bacon butty, bacon bap, or bacon sarnie in parts of the United Kingdom and New Zealand, a rasher sandwich in Ireland, and a bacon sanger in Australia) is a cooked bacon sandwich between bread that is optionally spread with butter and maybe seasoned with ketchup or brown sauce. Generally, dark cherry buttermilk pancakes are served sweet. The sandwich would be made from bread toasted on just one side in some establishments, while other establishments serve it on the same roll as hamburgers.
Bacon grilled cheese sandwich
A bacon sandwich is delicious to eat and forms a great option to pack in tiffins of your children. The best dutch baby pancake has flavors that are added to the sandwich which melt in your mouth giving you a stomach full of appetite.
Bacon turkey sandwich
Bacon is great, and it makes everything better, particularly sandwiches. The best news is that there are plenty of ways to make banana dipper pancakes with bacon. The BLT, also known as the Bacon, Lettuce, and Tomato sandwich, is the most conventional sandwich. It is also simpler and faster to make a basic grilled cheese sandwich with bacon, and then there is the tasty breakfast bacon sandwich. The possibilities are tasty and infinite!
Bacon sandwich recipes
Cook the S'mores Coconut Pancakes in a skillet over medium-low heat, rotating it regularly until it becomes crispy. It's going to take about 5 minutes. Place the bacon on a plate lined with paper towels when you are finished so that the excess grease will drain.
Cheese with bacon
On one side of each bread slice, spread some butter. This will be on your Caribbean grilled double cheese sandwich outside and will help make it extra crispy when you grill it. On one of the bread slices, spray 1⁄4 cup (25 grams) of cheese on the unbuttered side. For the other half of the sandwich, save the majority of the cheese. This will help "glue" together with the sandwich so that it does not fall apart. Flip over the sandwich and cook for a further 2 to 3 minutes. Use a spatula to gently flip it over, then cook it until it turns golden brown and the cheese melts.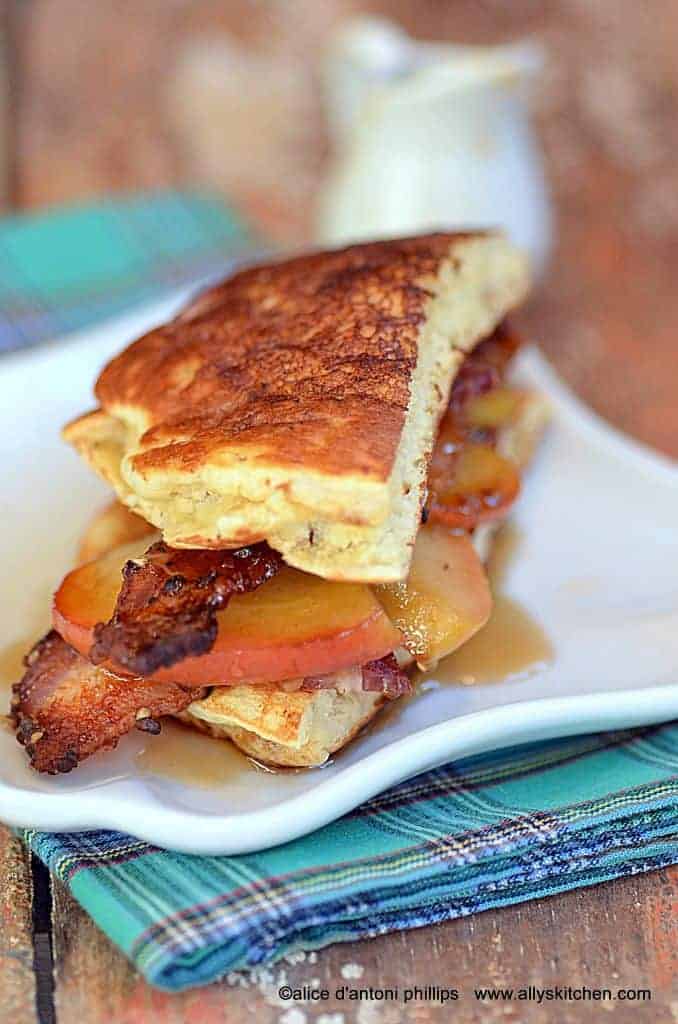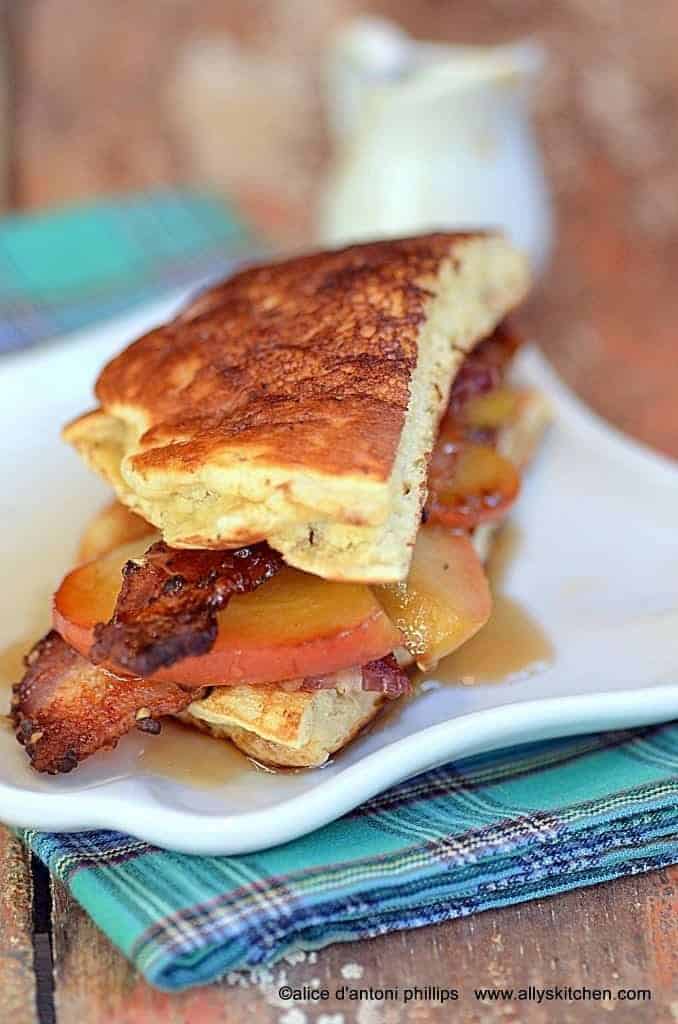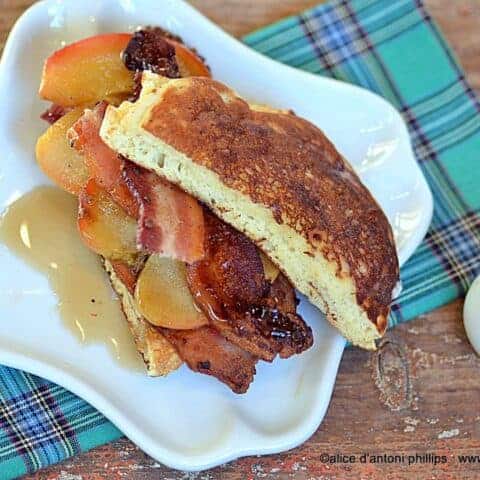 Pancake Peppered Bacon Apple Sandwich
Yield: 8-10 about 4-5" diameter pancakes

A bacon sandwiches come in all kinds. We're gonna be using a fluffy pancake as our 'bread' and filling it with crispy peppered bacon and fried apples!
Ingredients
1 cup self-rising flour
2 tsp. baking powder
1/3 cup sugar
2 eggs, beaten
1/3 cup buttermilk
1 tsp. vanilla
3 Tbl. canola oil
Cooking Spray
APPLES:
2 apples, cored, skin on & cut into thin wedges
2 Tbl. butter
1 tsp. cinnamon
2 Tbl. brown sugar
6-8 slices thick cut bacon, oven roasted or fried & drained (I used peppered bacon.)
Instructions
In a mixing bowl, combine the flour, baking powder, sugar and mix together. In another small bowl, combine the eggs, buttermilk, vanilla and canola oil and blend.

Pour the wet mixture in with the dry and blend well. Heat a non-stick (or very well seasoned cast iron skillet)skillet (about 10" diameter) over medium heat. Coat with cooking spray.

(Note: Make one pancake at a time unless working on a larger griddle.) Scoop about ¼ to 1/3 cup of batter into the middle of the hot skillet coated with cooking spray. Let it cook about 2 minutes or until the edges start to bubble or lose their 'shine'. Carefully, flip to the other side and cook another about 2+ minutes. Continue with all the batter.

Apples: In a heavy medium skillet over medium heat, put the butter, cinnamon, apples and brown sugar. Toss and blend cooking about 7-9 minutes or until the apples are al dente. Turn off heat and leave on blaze until ready to build the 'sandwich.'

Sandwich: Cut a pancake in half. Pile on some apples and bacon and top with the half pancake. OR put the apples and bacon on one side of the pancake and fold over! You really don't need syrup, but if you want it, make sure you have your fork nearby to chow down!