A bacon sandwiches come in all types, shapes and kinds. In this case, we're gonna be using a fluffy buttermilk warm pancake as our 'bread' and filling it with crispy peppered bacon and fried apples!
Now talk about something that's just comfy food to the nth degree! It's your choice to use maple syrup or not, but if you do, drizzle it on the inside with the apples and bacon so you can hold your sandwichnin your hands! Of course, I always have my fork nearby!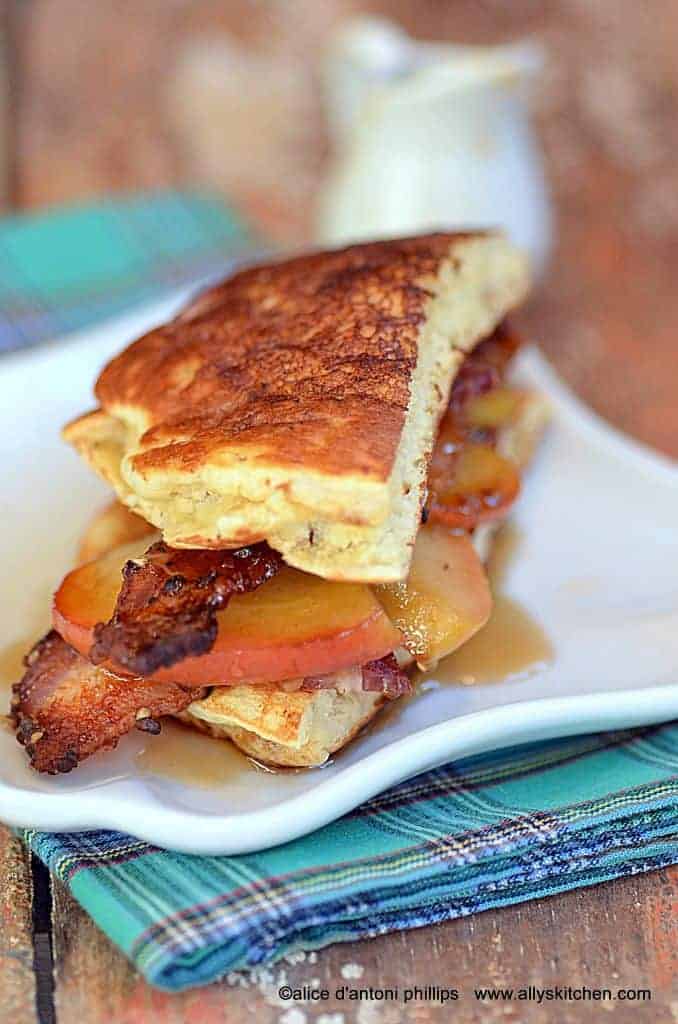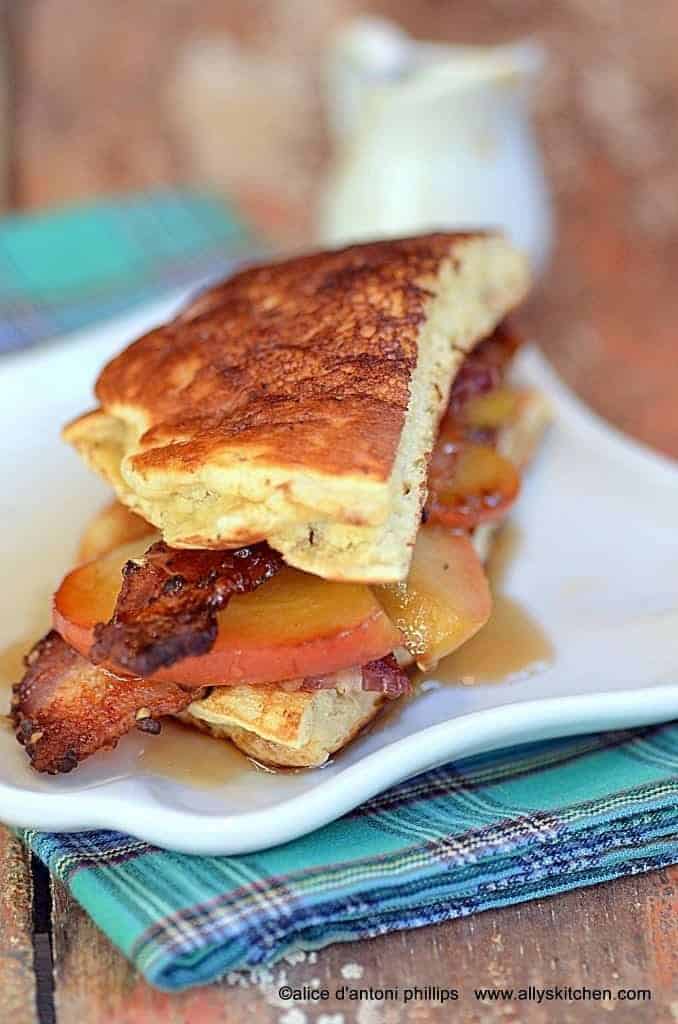 pancake peppered bacon apple sandwich
Ingredients
1 cup self-rising flour
2 tsp. baking powder
1/3 cup sugar
2 eggs, beaten
1/3 cup buttermilk
1 tsp. vanilla
3 Tbl. canola oil
Cooking Spray
APPLES:
2 apples, cored, skin on & cut into thin wedges
2 Tbl. butter
1 tsp. cinnamon
2 Tbl. brown sugar
6-8 slices thick cut bacon, oven roasted or fried & drained (I used peppered bacon.)
Instructions
In a mixing bowl, combine the flour, baking powder, sugar and mix together. In another small bowl, combine the eggs, buttermilk, vanilla and canola oil and blend.
Pour the wet mixture in with the dry and blend well. Heat a non-stick (or very well seasoned cast iron skillet)skillet (about 10" diameter) over medium heat. Coat with cooking spray.
(Note: Make one pancake at a time unless working on a larger griddle.) Scoop about ¼ to 1/3 cup of batter into the middle of the hot skillet coated with cooking spray. Let it cook about 2 minutes or until the edges start to bubble or lose their 'shine'. Carefully, flip to the other side and cook another about 2+ minutes. Continue with all the batter.
Apples: In a heavy medium skillet over medium heat, put the butter, cinnamon, apples and brown sugar. Toss and blend cooking about 7-9 minutes or until the apples are al dente. Turn off heat and leave on blaze until ready to build the 'sandwich.'
Sandwich: Cut a pancake in half. Pile on some apples and bacon and top with the half pancake. OR put the apples and bacon on one side of the pancake and fold over! You really don't need syrup, but if you want it, make sure you have your fork nearby to chow down!
https://allyskitchen.com/pancake-bacon-sandwich/
©ally's kitchen intellectual property