indian inspired biryani vegetable soup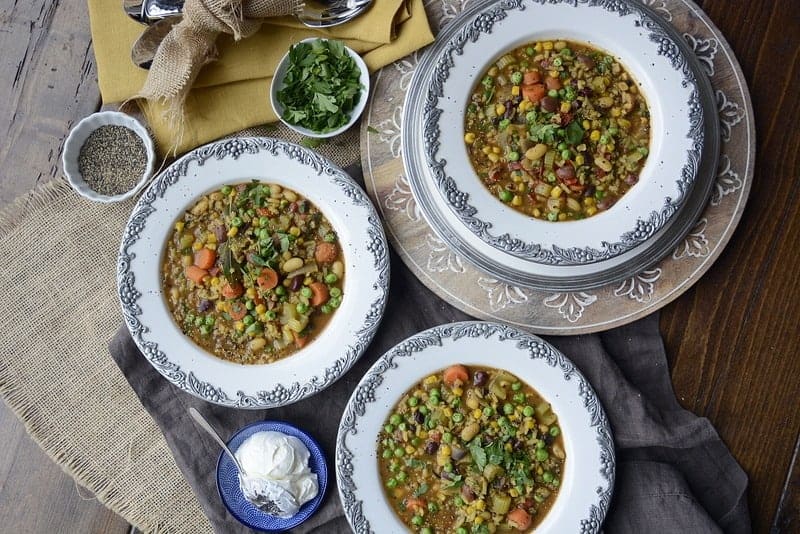 Oh, the inspiration for this 'indian inspired biryani vegetable soup' comes from something that Ben and I are doing in a couple of weeks! We're attending a fund raiser. It's the annual Vail Valley Foundation 'Black Diamond Ball' and the theme this year is 'Bollywood'! So, I've been searching the internet for sarees and exploring Indian attire, since we want to make this even more special by dressing thematically. Besides, there's nothing more gorgeous than women's Indian clothing. The colors. The fabrics. The shimmer shine and sparkles! I'm really excited!
To continue in this mindset, yes, I've extended it to the kitchen. And, today instead of 'just' a vegetable soup, I decided to do an indian inspired biryani vegetable soup. Meatless because I really didn't have any meat available, I'm really pleased with the fact that it's vegetarian soup. If you're not familiar with biryani, it's a South Asian rice mixture. The main ingredient is usually rice, but since I've created a soup, the rice doesn't dominate the mixture. Depending upon the meat used, which can be chicken, mutton, beef, fish and other things), you include the rice and in the Indian subcontinent, vegetables are added. Biryani recipes widely and there's even some that include nuts and sweeter richer ingredients like fruits, apples, pineapples and more.
What makes this indian inspired biryani vegetable soup so amazing is the array of aromatics and spices! OMG, after cooking the soup thickens and you have a hearty thick rich spoonful of goodliness in every bite. You can smell the aromas of different spices, chili pepper, turmeric, coriander, fenugreek, cumin, garlic and more. The tastes and flavors are distinctively unique and unlike what you might expect in a vegetable soup. So, put some adventure in your vegetable soup and give this recipe a try. It's super simple and all the ingredients are easily sourced and very reasonably priced. You're getting a lot of bang for your buck! xoxo ~ally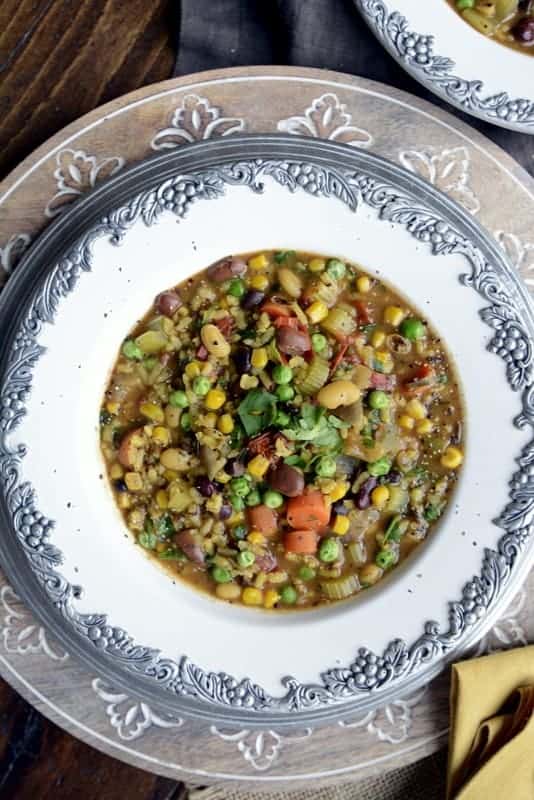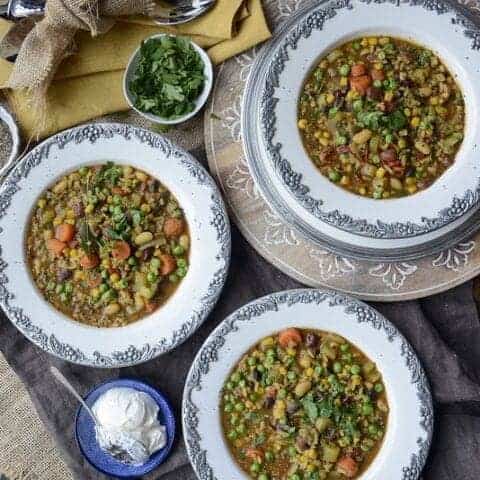 indian inspired biryani vegetable soup
Ingredients
5 cups chicken stock + 2 cups water
1 package (1.06 oz.) Simply Asia Chicken Biryani Seasoning Mixture
2 tsp. curry powder
1½ tsp.salt
1 tsp. pepper
3 bay leaves
1 cup purple onion, diced
2 cups fresh Roma tomatoes, diced
1 ½ cups celery, sliced
1 cup carrots, sliced
10 oz. bag corn, previously frozen
2 cans (14.5 oz.) beans, your choice I used mixed beans: cannolini, pinto and black beans.
1 ½ cups rice, uncooked, wild rice mixture or basmati rice
2 cups peas, frozen
½ cup flat parsley, rough chopped, packed
1 cup sour cream
Instructions
In a large stock pot over medium high heat, put the chicken stock, water, nutritional yeast, biryani seasoning mixture, curry powder, salt pepper and bay leaves. Let it come to a simmering boil and cook for about 10 minutes.
Reduce heat to medium. Add the onions, tomatoes, celery, carrots, corn, beans and wild rice. Cover with a lid and cook for another thirty to thirty-five minutes.
Remove the pot to a cool blaze. Add the peas and half of the parsley, blend, cover and let it sit for about ten minutes. Ready to serve with parsley garnish and an optional dollop of sour cream.