Sometimes my eyes get bigger than my stomach! In other words, sometimes when I'm grocery shopping, especially at Costco, I sometimes am motivated to load up on perishables because they're such a great buy and the quantity is at least double that of the same price at a regular grocer. This scenario is precisely what happens a lot with tomatoes. I just love the heirloom tomatoes. And, I can't pass up the Campari tomatoes. And, alas, they sit for days and maybe into a week or more on my counter. Yes, I'm using them, but with just the two of us, it's hard for us to consume this big quantity. That's where this creamy vodka marinara sauce was born.
I can't stand to waste. Born and reared in southern West Virginia, coal-mining country, Mom never wasted anything. Most everything, particularly food was recycled and reinvented to be used in something else. Stale bread was saved for dressing, puddings or French toast. Small amounts of beans were frozen and saved for the next pot of vegetable soup. Plastic tubs and containers that things came in were cleaned and used for storage of other things.  Even the drippings from frying bacon were considered 'liquid gold' and this fabulous seasoning grease was stored in jars or cans sure to be used when cooking something else whether frying potatoes or seasoning vegetables.
So when the about seven plus day old cherry heirloom tomatoes and a few of the Campari tomatoes came near their end of life for deliciousness for typical uses, salads, caprese, sandwiches, and more, I couldn't bear to toss out my wrinkled aging sweet critters that still had great taste. I must say that this recipe totally refurbished them into something glorious and beautiful. I could have used them in soups or stews or even in a pot roast, but making this creamy vodka marinara sauce gave me several options, as you'll see below, for using them over the next few days!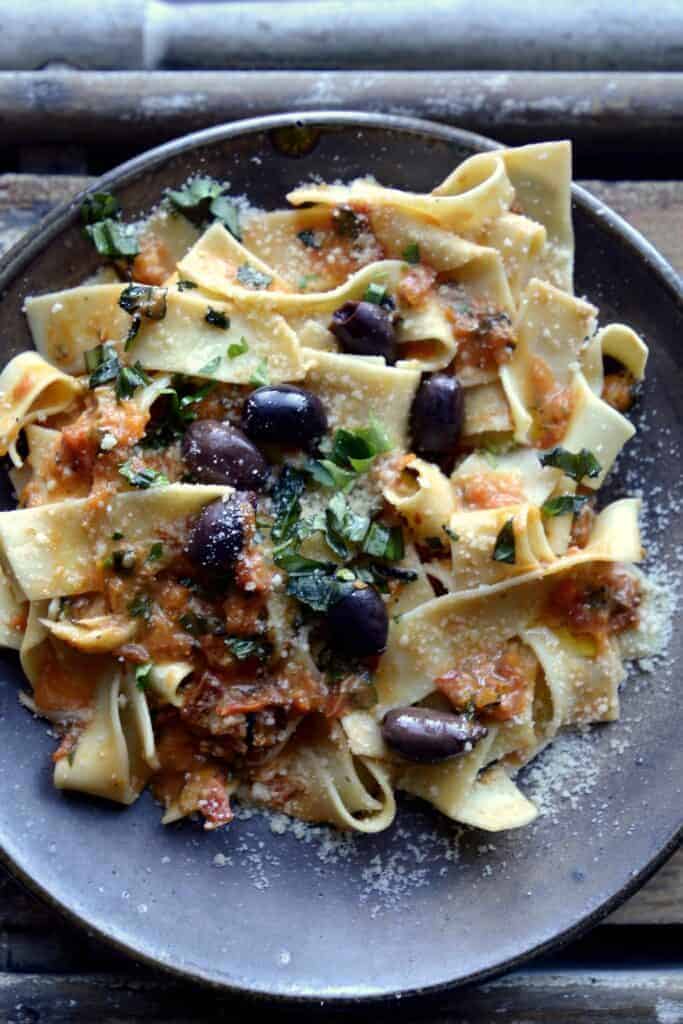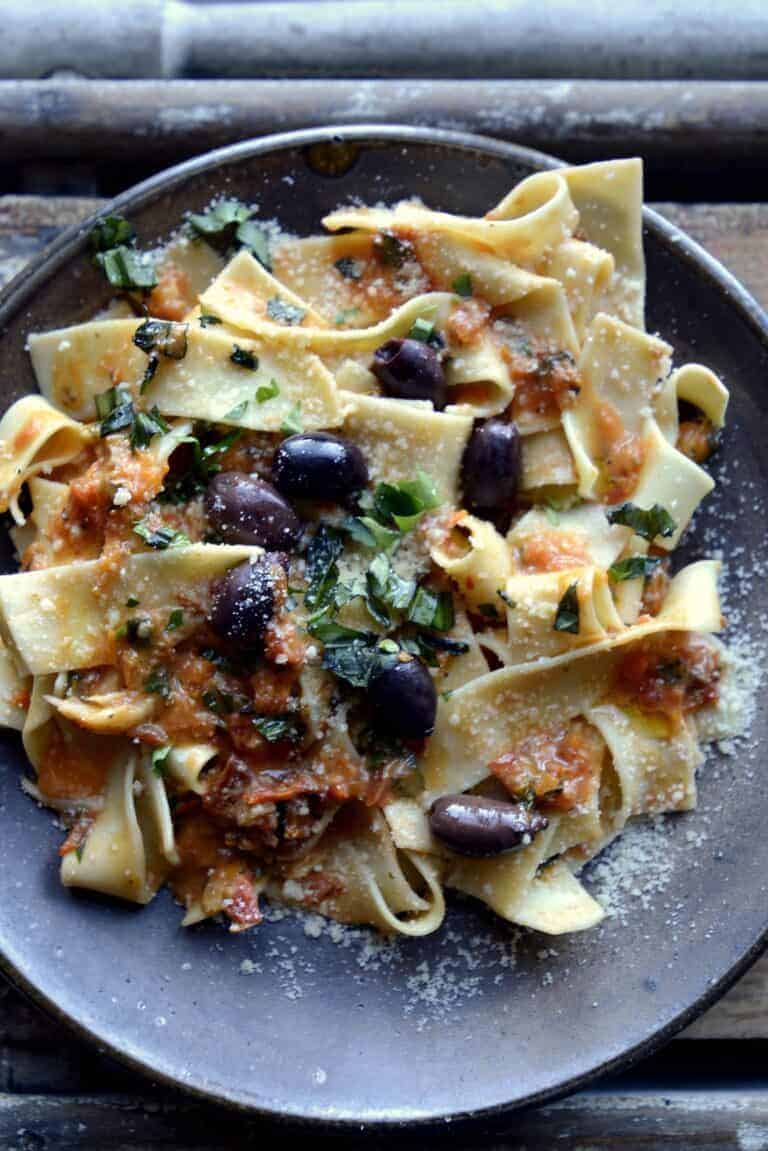 creamy vodka marinara sauce
Ingredients
4 cups tomatoes, can be older and wrinkled, I used Campari and heirloom cherry tomatoes
4 garlic cloves, peeled and smashed
¼ cup extra virgin olive oil
1 cup fresh basil, chopped + more for garnish
¼ cup vodka, can omit or substitute pineapple juice
2 tsp. sea salt
2 tsp. coarse ground pepper
2 tsp. Italian seasoning mixture
½ tsp. red chili flakes
8 oz. burrata cheese, can substitute grated parmesan
Instructions
Put the tomatoes, garlic, olive oil, one cup of fresh basil and vodka in a food processor and pulse into a fairly smooth mixture. Some chunkiness might remain.
Pour mixture into a medium size skillet. Add the salt, pepper, Italian seasoning, and red chili flakes. Tear apart the burrata cheese and add.
Turn the heat to medium and bring to a simmering boil stirring frequently (about 7-10 minutes) to melt all the cheese into the tomato mixture. About halfway through, reduce the heat to medium low. Cook about twenty-five to thirty minutes. Stir occasionally.
Remove and the marinara sauce is ready to use!
Notes
If you want a less chunky sauce, pulse the tomatoes longer in the food processor.
If you want to remove any remnants of tomato skins, then sift the tomatoes after pulsing and discard the skin remnants.
https://allyskitchen.com/creamy-vodka-marinara-sauce/
©ally's kitchen intellectual property