Mediterranean Slow Roasted Pot Roast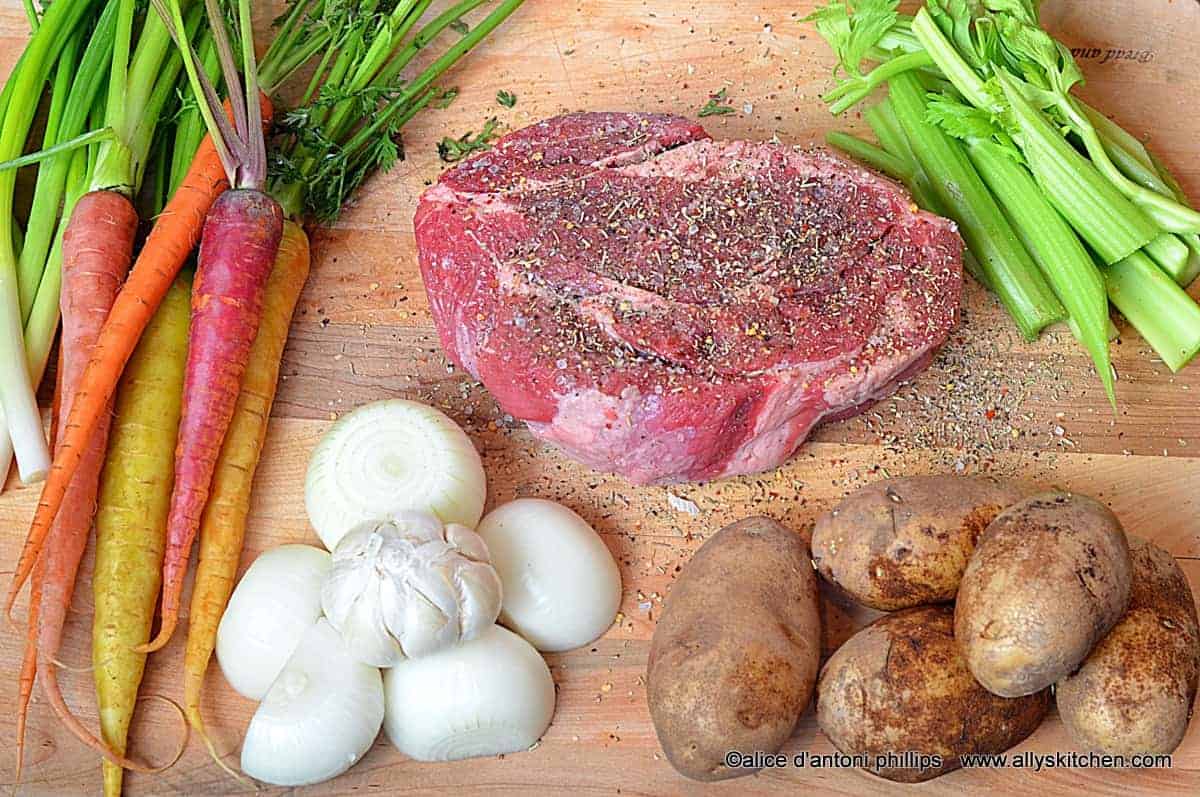 There's just so much about this 'pot roast' that's not a 'pot roast'…what I mean by that is that while this is a cheap, relatively speaking, cut of meat~~I mean it is a lowly chuck roast~~the way it's cooked, the herbs, the wine and the infusion of all the flavors over time makes it seem like a prime black angus, or whatever's better than that,  cut of meat! Once the meat has slow cooked the whole clove of garlic is so tender that it falls apart and each and every piece is a creamy delight of buttery goodness.
You've got to give this roast a spin~~from the V8 juice to the rustic peasant farm veggies, it's something that is not only exquisite to the eye but amazingly delicious on the tastebuds!


Preheat oven to 325
(Note~~This can also be done in a slow cooker.)
Serves: 4-6
What you need:
1/4 cup canola oil
2 to 2 1/2 lb chuck roast
2 tsp sea salt
2 tbl Italian herb blend seasoning (or 1 tsp each of the following dried herbs & mixed together~~marjoram, thyme, rosemary, sage, oregano and basil)
1/4 cup flour
1 cup red wine
1 cup water
1 cup V8 vegetable juice
1 whole garlic clove~~outer layers peeled off but whole garlic stays intact
Assorted Fresh Vegetables~~I used 4 potatoes (skin on) sliced lengthwise in halves, one bunch of organic multi-colored carrots cleaned with green tops trimmed, 4 stalks/greens of celery cut in 3-4″ pieces, 3 small sweet onions cut in halves, 3 cups sliced mushrooms
1/3 cup extra virgin olive oil
2 tbl lemon pepper
2 tsp sea salt
Garnish~~1/4 cup chopped fresh Italian parsley + 1/4 cup thinly sliced green onions/tops mixed together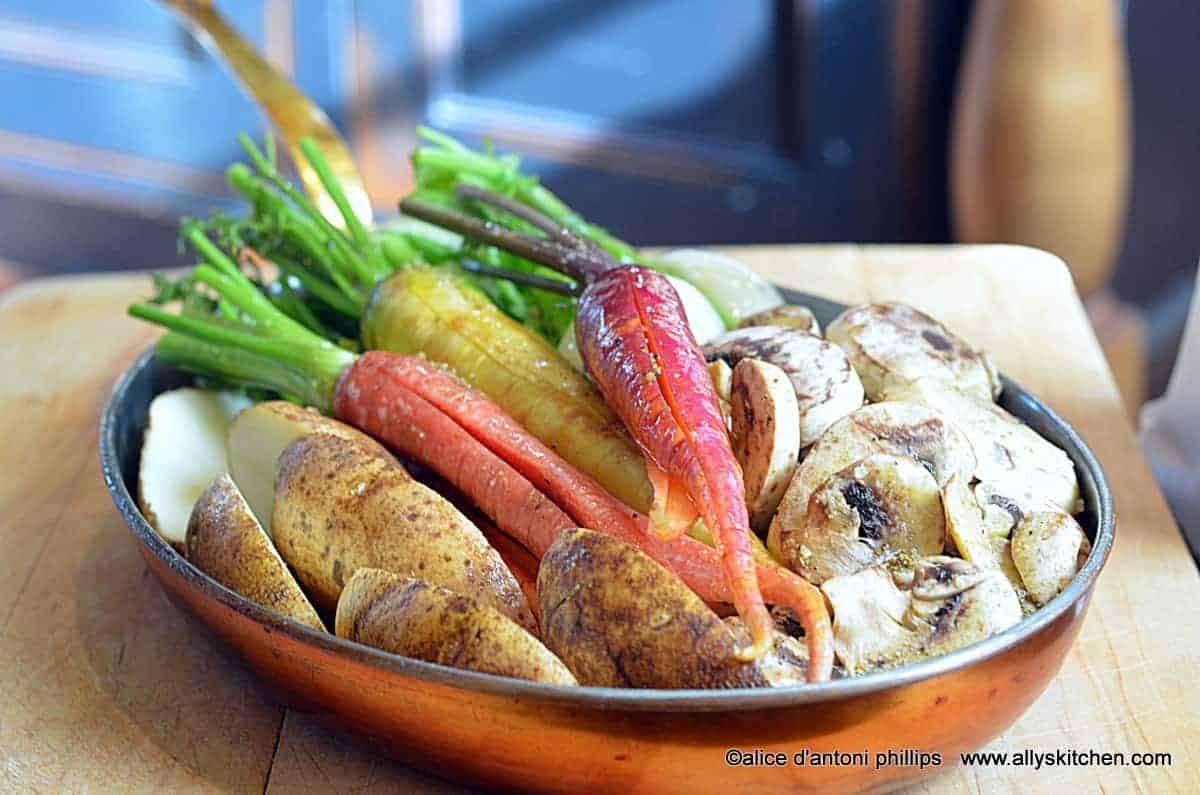 What you do:
In a heavy roasting pot (with a lid) over medium high heat, put the oil and let it get hot.
Mix the salt and herb mixture together.  On a clean cutting board, spread this mixture in a circle about the diameter of the roast.  Take the roast, lay it on the mixture, press down, flip the roast and repeat working in most all the salt and herbs.   Press into the meat with your hands.  Take the flour and coat the roast all over.  Place into the hot oil in the pot and brown on both sides.
Reduce heat to medium and add the wine.  Let it sizzle and cook about 3 minutes.  Then add the water, V8 juice and whole garlic clove.  Cover tightly with doubled foil then put the lid on the pot.  Cook in a preheated 275 oven about 4 to 4 1/2 hours or until the meat pulls apart with a fork~~totally tender!  Remove and let the roast sit (covered).
Assorted Veggies  (Oven temperature at 425)
Place the veggies in a large skillet or on a parchment paper lined cookie sheet.  Coat with olive oil, lemon pepper and salt.  Roast in a preheated 425 oven for about 50 minutes or until the veggies are tender.  Do the toothpick test!
Remove, cover with foil and let them rest.
Ready to serve the feast!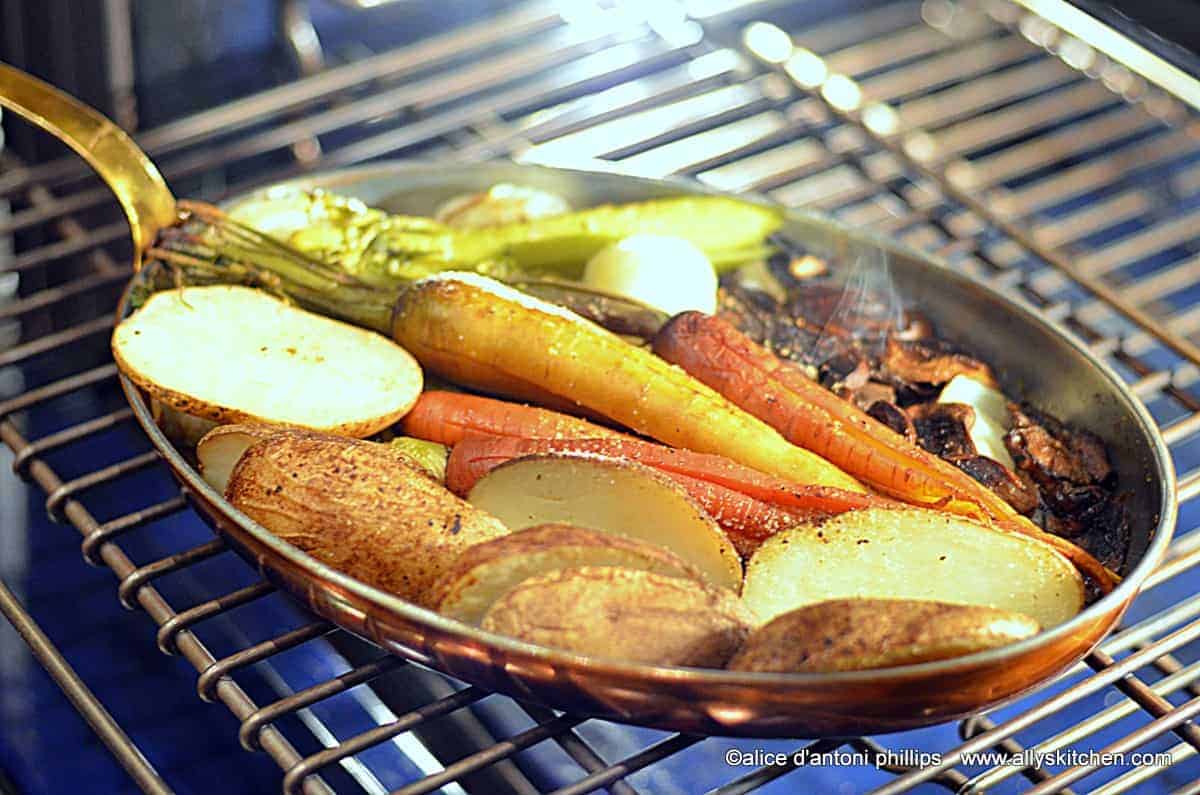 Serving Design Ideas~~
Large Platter~~Place the chunked meat in the middle of the platter.  Drizzle with some of the juices and put the remaining juices in a side gravy dish for serving.  Add the veggies to each side of the meat arranging the whole carrots and onions on one side and the potatoes and mushrooms on the other side.  Garnish with parsley and green onions.