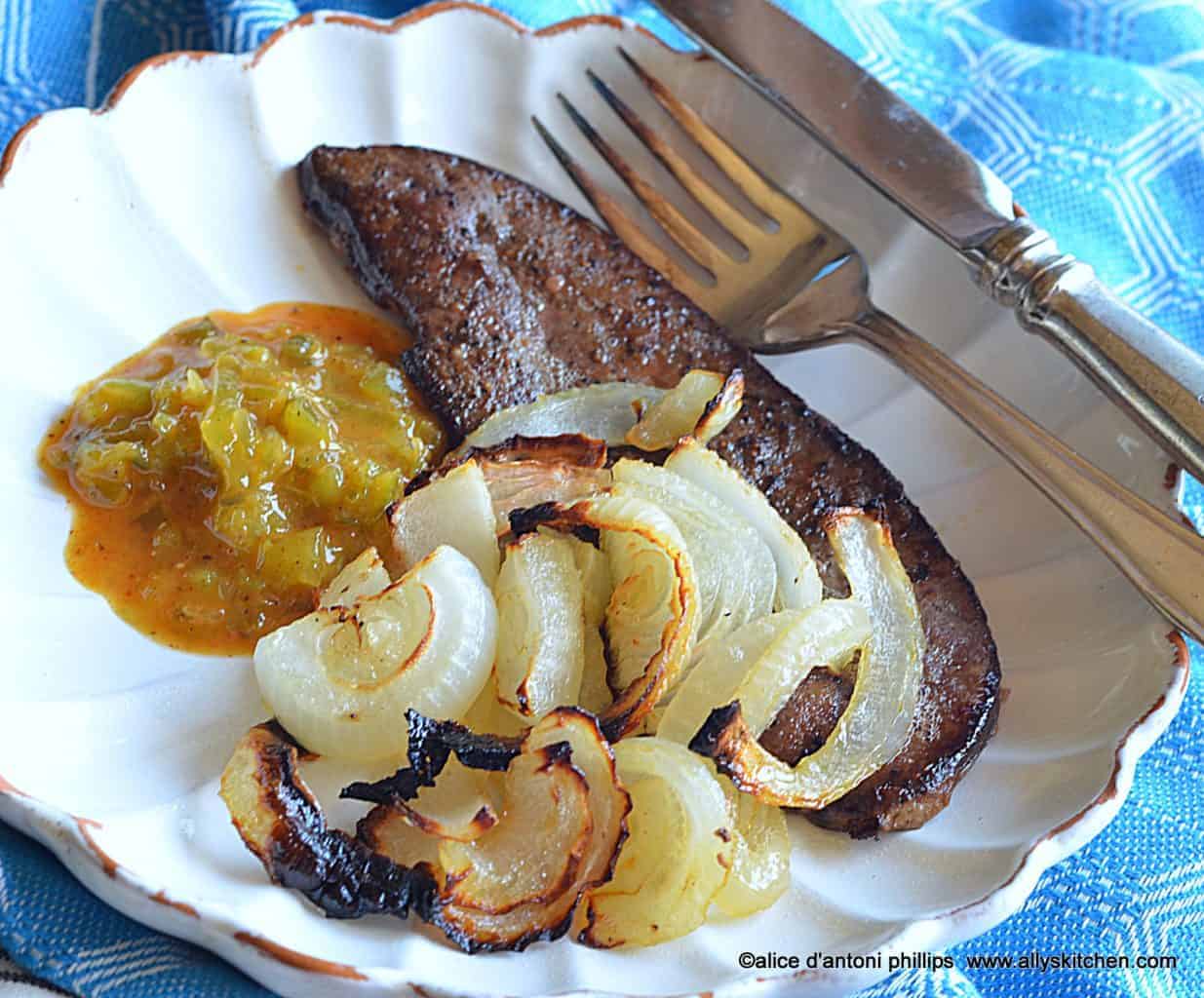 Oven baked calves liver and onions, yes, it's the superfood that is absolutely delicious and simple to make. Liver lovers unite!
Liver and Onions Recipe
Some things in life are just polarizing. Take politics, yep, polarizing. How about religion, shoo 'nuf, polarizing.
How to Cook Liver and Onions
And on the food front, some foods are polarizing. Liver seems to be one of those things.
You either like or love it or not. There doesn't seem to be an in between.
Cooking liver and onions is really simple with this recipe. Of course, I love to fry my liver, too, but this recipe is a lot less 'messy' and for sure, easier clean up.
Liver with Onions
I grew up loving liver. Yes, crispy chicken livers as well as liver, onions and gravy. And, if you haven't tried my crispy chicken livers, well then what in Sam Hill are you waiting for!!
When I was younger, Mom prepared healthy nutritious and thrifty meals, and liver was one of those 'inexpensive' meats that filled the bill.
Little did I know as a kid that liver is a superfood and it can be really exquisitely chic as Tuscan Liver Pate which I learned to make in cooking school in Florence Italy!
Liver and Onions with Gravy
My version of liver is without the gravy, and it's more on the 'healthier' side of preparation.
But, there are times when I walk back into those wonderful childhood memories with the liver, onions and gravy.
Beef Liver
Here's to peace and knowing that there are other liver lovers out there!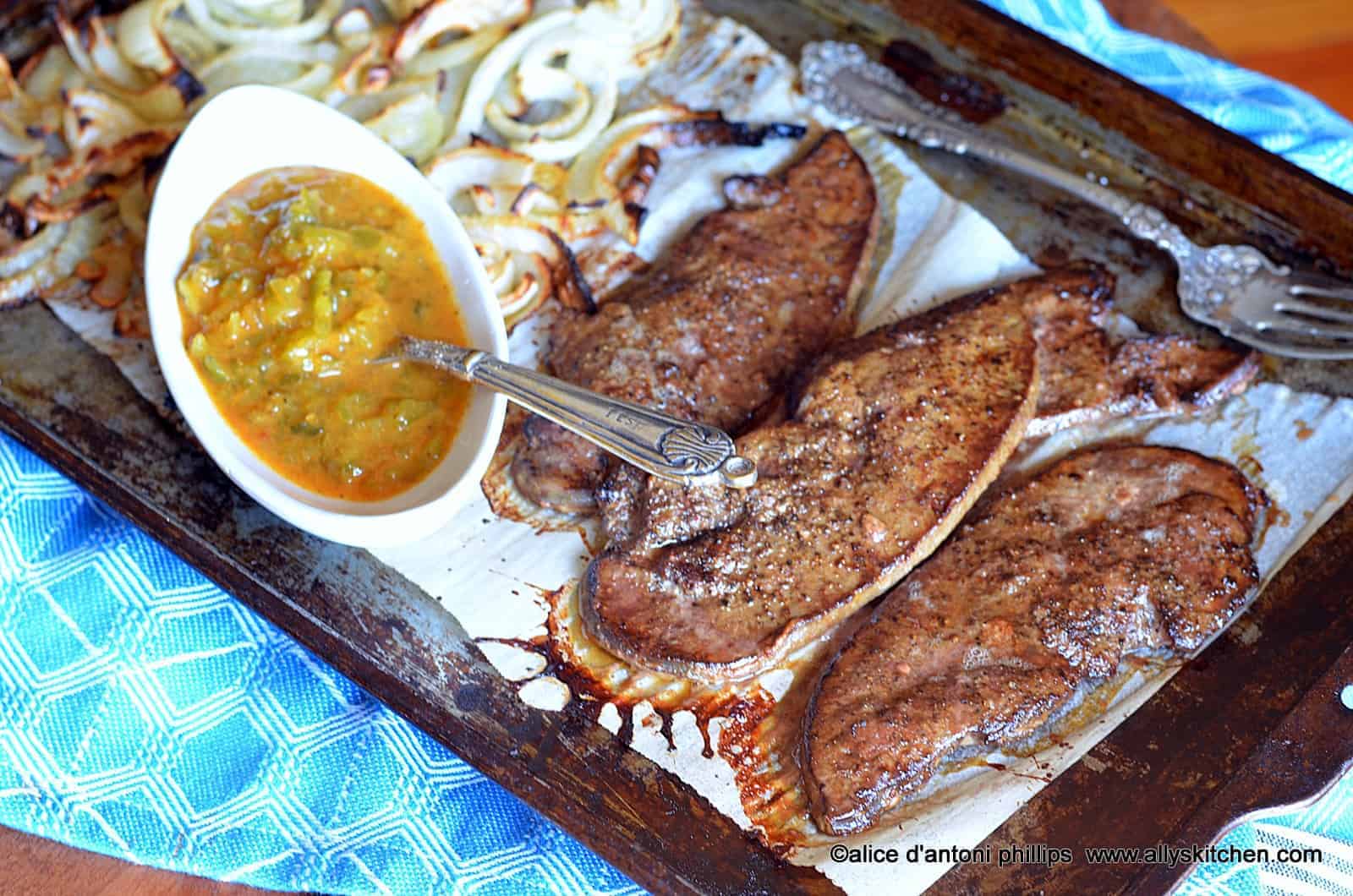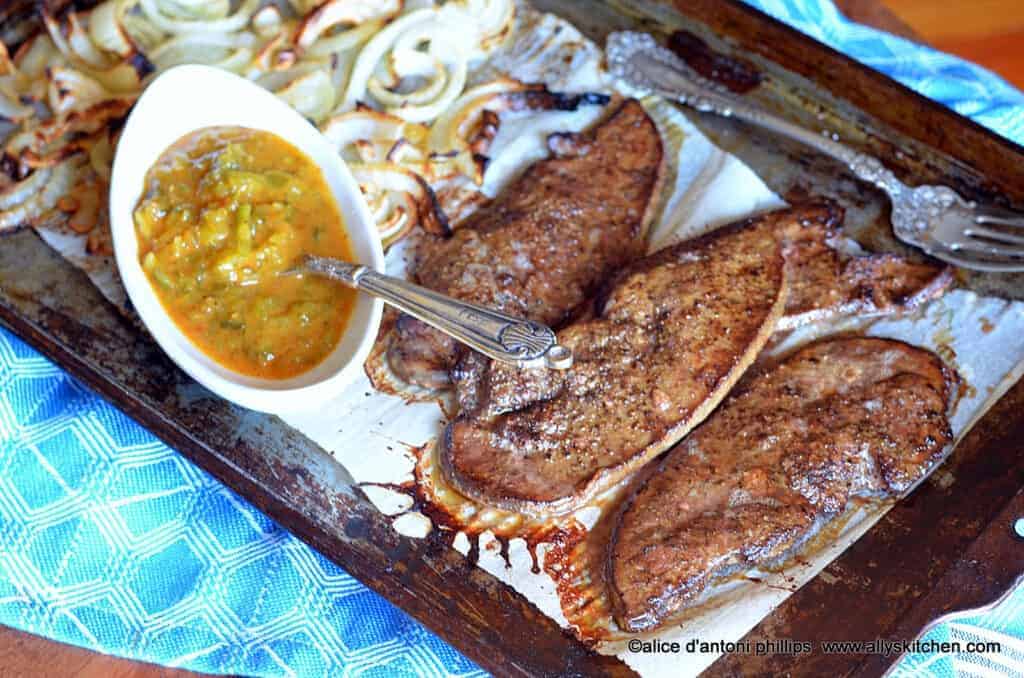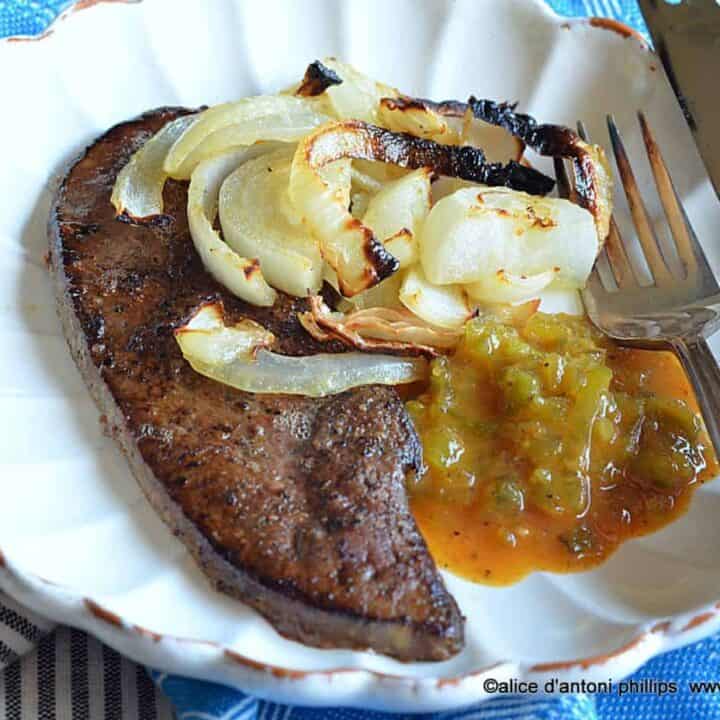 calves liver with onions
Ingredients
Preheat oven to 400
2 tsp. spicy brown mustard
3 Tbl. sweet pickle relish
1 tsp. hot sauce
2 sweet onions, cut into half and then thin slices
Cooking spray, avocado
1 lb. calves liver pieces (4 pieces)—thin slices (about ½" thick)
2 tsp. sea salt, divided
2 tsp. coarse ground pepper, divided
3 Tbsp. olive oil
Instructions
In a small bowl, mix the mustard, pickle relish, hot sauce, and ½ teaspoon of salt and ½ teaspoon of pepper together and blend. Set aside. Line a cookie sheet with parchment paper. Put the onion slices on one side. Coat with cooking spray. Sprinkle on ½ teaspoon of salt and ½ teaspoon pepper.
Toss and blend. Put in a preheated 400 oven for about 15 minutes. Move on to the preparing the liver. After 15 minutes, turn on the broiler and let the onions cha just about 2 minutes. Return oven to 400 degrees.
Put the liver slices on several paper towels and pat dry. Coat both sides with cooking spray. On the top side sprinkle equal amounts of one teaspoon of salt and one teaspoon of pepper. Coat a cast iron skillet with cooking spray and turn on medium high; let the skillet get hot.
Put the salt/pepper side down and pan sear about 2 minutes on the first side, then flip over and sear another minute. Turn off heat and set skillet aside.
Put the pan seared liver slices on the other side of the cookie sheet as the onions. Drizzle both with the olive oil. Put in the preheated 400 oven for 5 minutes. Remove and serve.

l