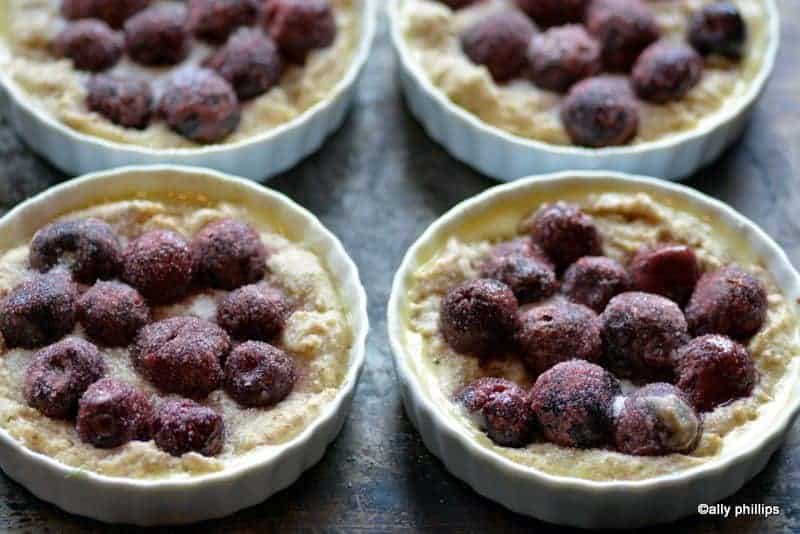 These littl' creme brulee ramekins are full of sweet dark cherry goodliness! Yes, there's some 'healthy' value added with the ground flax. And, the bursts of cherry juices and Mother Nature's nectar will just make you cheery cherry happy!
If you don't want the flax, you might try some ground almonds or walnuts. I haven't tested this change yet, but I'm thinking it would work. Another option would be wheat germ! While desserts might err on the side of some guilty pleasure, you can have some sliver of consolation that you're getting a little healthy from these nutty cherry cakettes! And, if you can, serve warm with a dollop of ice cream or whipped cream. Oooops! More guilty pleasures!
xoxo ~peace & namaste~ ally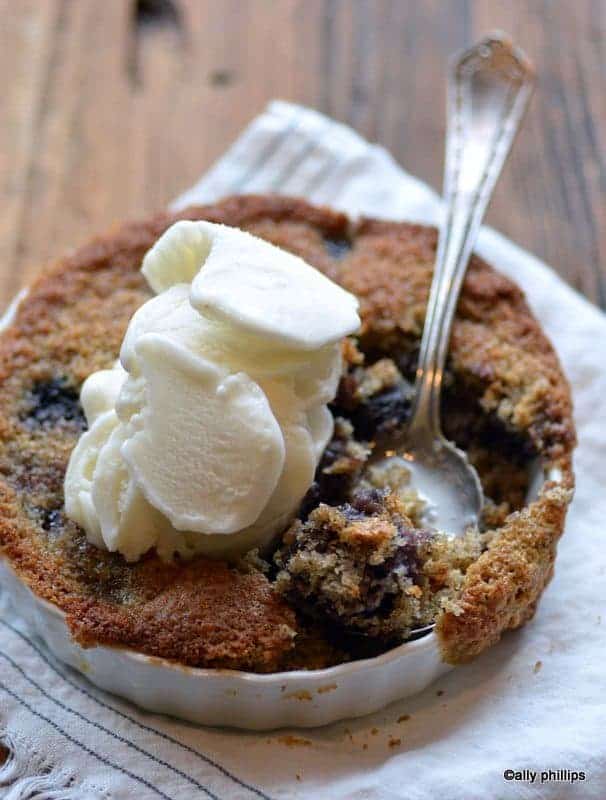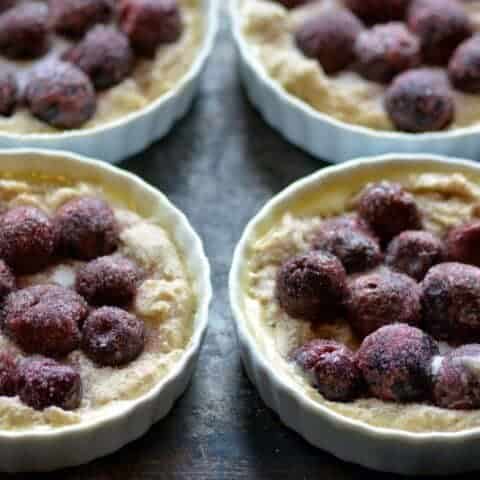 nutty cherry cakettes
Yield: Makes: 4 (4") ramekins
Ingredients
Preheat oven to 350
2 cup frozen Dole Packaged Foods cherries
½ cup + 1 Tbl. all-purpose flour
3 tsp. baking powder
¼ cup flax, ground
½ cup + 4 tsp. sugar
Pinch sea salt
1 egg, beaten
1 tsp. vanilla
3 Tbl. Butter, melted
¼ cup cream or whole milk
Instructions
In a medium sized bowl, put the cherries and sift one tablespoon of flour on them. Toss and coat. Set aside.
Sift together in a large mixing bowl one-half cup of flour and baking powder; add the flax, sugar and salt and blend together.
In a small bowl, combine the egg, vanilla, melted butter, and milk and blend together. Add the wet ingredients to the dry.
Coat your ramekins with cooking spray. Pour equal amounts of the batter in each. Add the cherries to the top. Place the ramekins on a cookie sheet. Bake in a pre-heated 350 oven for about 25-30 minutes.
Remove and let cool.