This artisan beef kale bean stew is the kind of meal that you might get if you can go 'back to the future', walk into a diner, sit on the red vinyl covered stool, and order up from the blue plate special. Yep, it's a comfort food to the nth degree. But, the thing about it is that it's very healthy. Good carbs in the beans, and a lean tender cut of beef along with the super food, kale. So, this is an updated trendy hip artisan beef kale bean stew!
It's important to use a tender cut of beef for this recipe. Why? Well, you're not going to be cooking it that long, so if you use something like chuck roast, you're going to be really disappointed. Chuck roast has to cook slow and low and for a long time in order to get tender. If you use a New York strip or ribeye cut, then you're going to fall in love with this easy quick, relatively speaking for a rich deep stew, recipe!
What makes this stew even more luscious is the combination of spices. Oh, yes, you're going to get hints of the smokey paprika, the flavors of the Italian seasoning, and then the sweet paprika tinges. The broth, slightly creamy yet brothy, is perfect for serving both in bowls or a deep dinner plate. Have plenty of good artisan bread for sopping up the juices and cleaning that bowl or plate. This artisan beef kale bean stew will be your fave when you pull into the 1950s diner!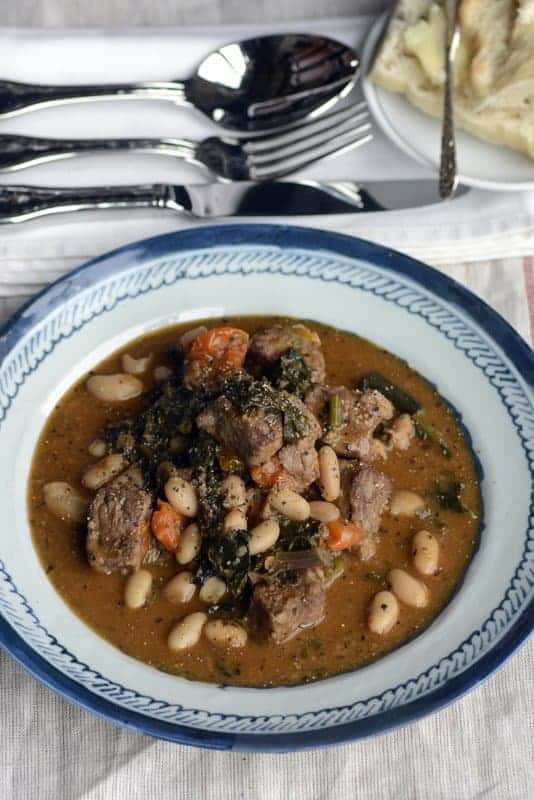 artisan beef kale bean stew
Ingredients
Preheat oven to 400
1 ½ lbs. beef, tender cut like New York strip or ribeye, cut in small bite cubes
3 Tbl. flour, all-purpose
¼ cup oil, grapeseed
1 tsp. smoked paprika
1 tsp. sweet paprika
1 tsp. sea salt
2 tsp. Italian seasoning
½ tsp. red chili flakes
½ tsp. coarse ground pepper
1 ½ cups cherry tomatoes, sliced lengthwise in halves
4 garlic cloves, whole, peeled, smashed
2 ½ cups beef stock
1 (14.5 oz.) cannellini beans
2 cups chopped rainbow kale, packed
Instructions
Put the beef cubes in a mixing bowl. Add the flour and toss and coat.
Heat a heavy large pot on medium high. Add the oil and let it heat up. Add the beef and brown on all sides.
Combine in a small bowl the smoked paprika, sweet paprika, salt, Italian seasoning, chili flakes and pepper. Sprinkle on the browned meat. Add the cherry tomatoes, garlic and beef stock. Blend, cover and put in a preheated 400 oven for 30 minutes.
Remove and add the beans and kale. Blend. Return to the oven and cook another 20 minutes.
Remove and let the stew rest. Ready to serve!
Notes
Like soups, stews, and pasta sauces, this stew is better on day two. Make it a day ahead of when you're serving!
https://allyskitchen.com/artisan-beef-kale-bean-stew/
©ally's kitchen intellectual property