How to Choose the Best Pots and Pans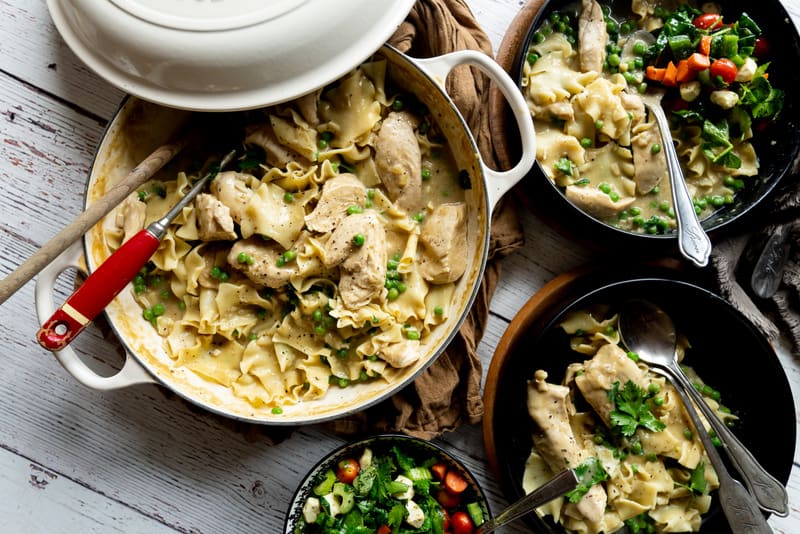 How to choose the best pots and pans can be totally overwhelming! Follow these easy tips for selecting those that will be best for you!
Best Cookware to Use
Pots and pans are key tools for all chefs. Second only maybe to kitchen knives, your cookware will be the equipment you pull out most when you're cooking up a storm in the kitchen or maybe even when you're out back in your yard.
If you enjoy cooking or take your cooking skills even just a little seriously you should have at least a passing knowledge of the cookware you're using so that you can better decide which pieces you should bring into your kitchen and then how to use and maintain them properly.
To help us teach you a little bit about all this, the friendly team at Helpful Chef have put together a quick guide to walk you through the basics of how to choose the best pots and pan. .
Best Cookware Material
As well as all different shapes and sizes, there are many different types of materials that are used to make the best pots and pans. The different materials used will have an effect on how the pans will perform and also on how easy they will be to maintain and clean.
Stainless steel is lightweight, durable and easy to clean. It is a great allrounder although some may complain that it can offer patchy heat conduction that could result in hot spots when cooking.
Aluminum is another popular choice among chefs. It offers better conductivity than stainless steel while remaining lightweight and durable. It is the thicker the better with aluminum pans with some premium pans being anodized for strength.
Cast Iron is another great choice for cookware although it is much harder to maintain than stainless steel and aluminum. Cast Iron is very much a 'for life' type of material though, as if it is well looked after it will last forever. Not only does cast iron conduct heat well, it retains it meaning long, slow and stable cooks are perfect for this type of pan.
Types of Pots and Pans
There are a lot of different types of pan. And, that just adds to the confusion of how to choose the best pots and pans!
So much so that a list of them all would just go on and on and on. Some pieces of cookware, however, will be useful a lot more often than others though, meaning you only need a few different types of pan to be able to cook many different types of dish comfortably.
The Skillet is one of the main workhorses of every kitchen. The shallow sides and large cooking surface area make it perfect for quick and intense heat. Variations include the saute pan and the wok. Great for eggs and omelettes as well sauteing vegetables and whipping up stir frys.
The saucepan all the way up to the stockpot are other kitchen mainstays. With a good saute pan and a set of saucepan type pots you'll be well stocked to cook almost all types of food. Perfect for soups, stocks, and stews, another interesting variation on this type of pan is the pressure cooker, which cooks using the same principles but adds pressure as well as heat, cutting down cooking time considerably.
Other specialist pans worth having are roasting pans for roasting joints of meat in the oven, griddles for cooking steaks, meats and vegetables and a good dutch or french oven for starting meals on the stove and then moving them into the oven to finish the cook.
Choosing Cookware for your Stove
Pans do have compatibility issues when it comes to cooking using different heat sources. Quality cookware will work across most if not all types of stove but there are some things to keep in mind.
Gas stoves are the most dynamic as they can work with all types of pan and heat all cookware materials evenly while offering high levels of control over the heat too. Electric stoves work best with flat bottomed cookware meaning your wok won't be very effective on an electric stove.
The same goes for induction stoves, which use magnets to heat the base of the pan directly rather than heating up an element in the stove itself. This means only certain pans with magnetised bases will work properly on induction stoves.
Best Pots and Pans
So there you have a quick introduction to things you need to consider when buying your cookware. Fortunately, you don't need to know a lot to go a long way, but there will always be a lot more to learn. We hope we've been a big help.

Big thanks to the Helpful Chef team for putting the guide together. Be sure to check out their in-depth guide to pots and pans as well their other cooking guides too.
And, take a look at some of my most delicious one-skillet and one-pan recipes!
One Pan Baked Italian Chicken Pasta