This would be a 'Southern' appetizer created for a girlfriend party!  Now why grilled pork chop and mustard green bites?
Well, most of my ideas come from ingredients I find the day I'm shopping for them.  I like to shop and buy local, seasonal and on sale, so both of these were on special.  The thing that clicked when I got home was seeing the toothpicks. I thought, I know exactly what I'm gonna do with this petite chops and fresh mustard greens!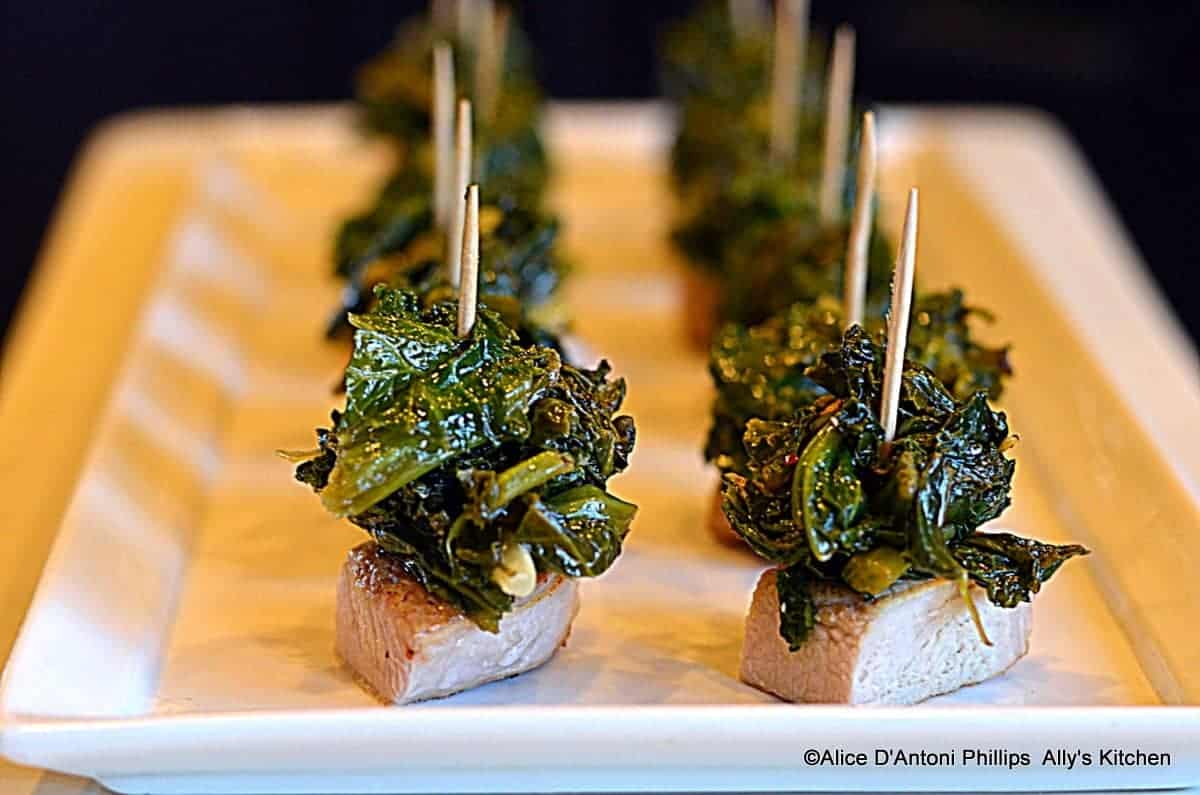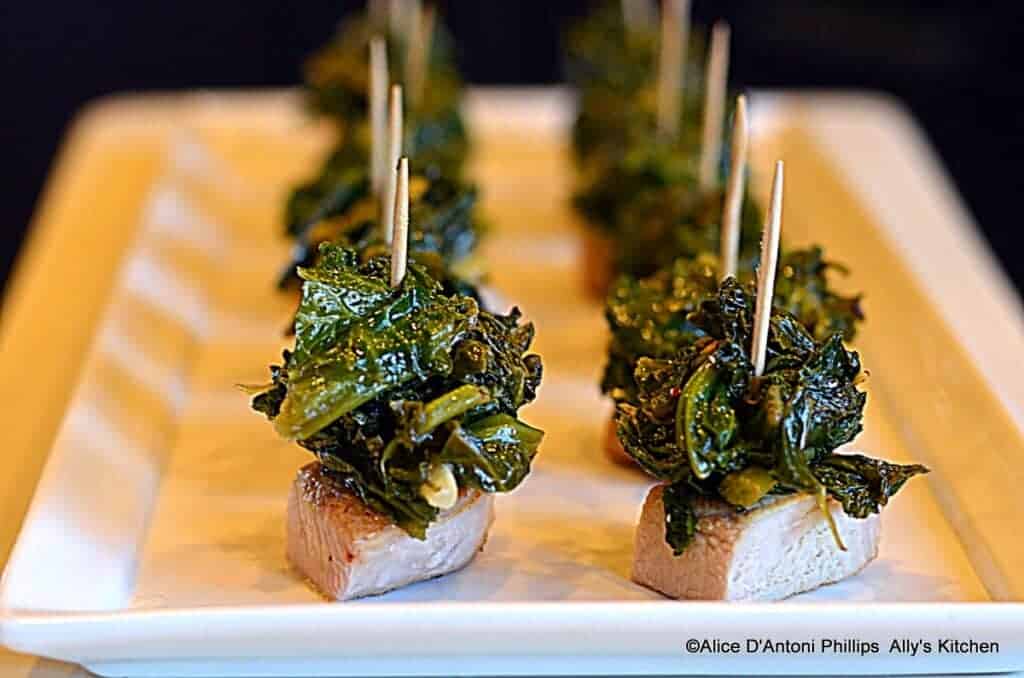 Grilled Pork Chop & Mustard Green Bites
Ingredients
MUSTARD GREENS
8-10 cups fresh chopped mustard greens
1/4 cup coconut oil
1/2 tsp sea salt
1 tsp coarse ground pepper
1/2 tsp red chili flakes
1/4 cup chicken broth
1/4 cup extra virgin olive oil
PORK CHOPS
4 small pork chops (about 1" thick)
4 tbl canola oil
3 tbl thinly sliced garlic
1 tsp sea salt
1 tsp coarse ground pepper
1 tsp smoked paprika
1/2 lemon juice
Instructions
In a large heavy skillet over medium high, heat oil. Add garlic and saute about 3 minutes.  Add greens, salt, pepper, and chili flakes and toss/coat greens.  Cover and cook about 15 minutes.  Add chicken broth, reduce heat to medium low and cook another 20 minutes.  Drizzle on olive oil, reduce heat to simmer and cook while you prepare the chops.  Before serving squeeze lemon juice on greens and toss.
Coat chops with salt and pepper.  In a cast iron skillet over medium high heat, add oil.  When hot, add chops and pan sear about 2-3 minutes to a golden brown.  Reduce heat to medium, turn chops, cover and cook another 7-9 minutes.  Increase heat to sear to a golden brown.  When done, remove to a plate and let rest for about 10 minutes.
Assembling:  Cut chops into about 2" squares.  Gather some of the cooked mustard greens (use your hands), pat into a small haystack like mound.  Perch on top of the chop square and put a spear with a toothpick.
https://allyskitchen.com/grilled-pork-chop-mustard-green-bites/
©ally's kitchen intellectual property