Simple Yogurt Banana Cake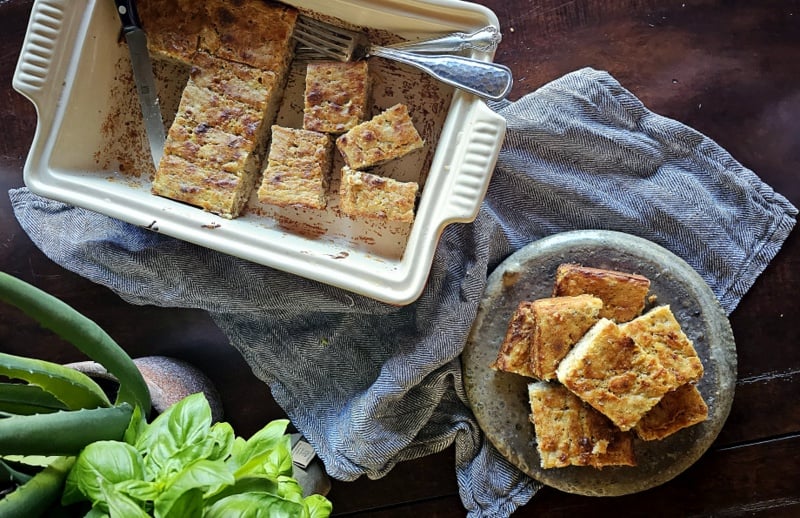 This yogurt banana cake makes the perfect treat with coffee or tea. It's go no added sugar & is loaded with healthy ingredients! Yes, moist!
Easy Banana Cake
This yogurt banana cake is super easy. Only eight ingredients.
And, yogurt is a big one.
Yogurt is a good source of calcium, which is essential for bone health. Some yogurts are also fortified with vitamin D, further supporting bone strength.
In this recipe, I'm using an organic whole milk honey yogurt. By using this, I have no need to add sugar. The yogurt, Kalona Super Natural brand, has the hint of natural honey sweetness for the entire cake.
Simple Banana Cake
We can't underestimate the nutritional value of bananas, and when combined with the other healthy ingredients in this cake, pasture-raised eggs, ground flax, walnuts, you're getting a lot of bang for your health buck.
Bananas are rich in potassium, an essential mineral that plays a key role in maintaining proper heart and muscle function, as well as supporting electrolyte balance.
Moist Banana Cake Recipe
What makes this cake so divinely moist? The yogurt. It's a dense moist cake that slices perfectly.
I'm using a 9 x 13″ baking dish because it also has a perfect lid with it. One of my LeCreuset favorites.
Yogurt Banana Cake
As if there weren't enough virtues for bananas, here another. Did you know this?
Bananas contain tryptophan, a precursor to serotonin, a neurotransmitter associated with mood regulation. Consuming bananas may contribute to a sense of well-being and happiness.
Best Banana Cake Recipe
I baked this cake at high altitude, about 7k feet elevation. It didn't rise as I expected, but that doesn't in one way compromise the deliciousness of the cake. Also, the top didn't get as brown as I wanted, so before removing I turned the oven to broil to get a tad bit more of golden brown on the overall top of the cake.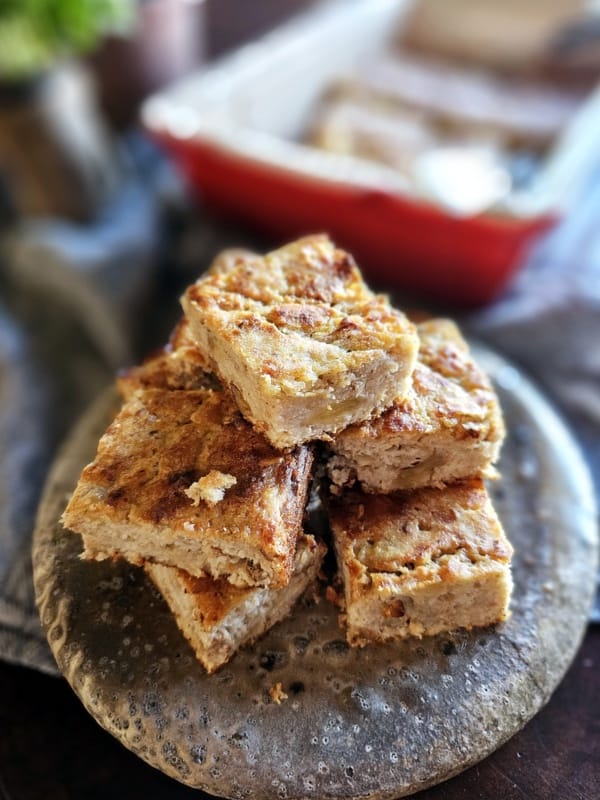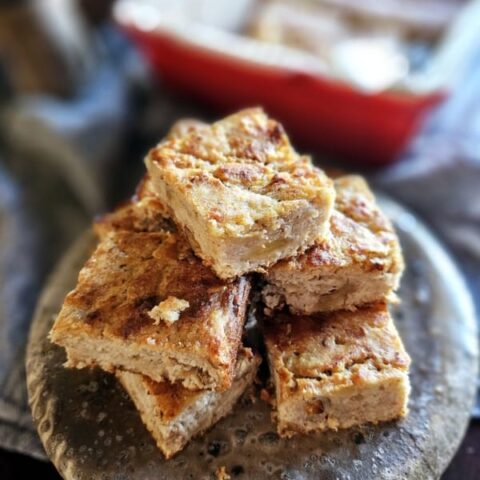 Simple Yogurt Banana Cake
Yield:
One 9x13" baking dish
Ingredients
3 bananas, mashed
2 pasture-raised eggs
1 1/2 cups honey yogurt, whole milk
1/4 cup butter, salted, melted
1 cup flour, all-purpose, sifted into bowl
1 Tbl. baking powder
1/2 cup ground flax
1 cup walnuts, chopped, optional
1 1/2 Tbl. honey, melted, optional
Instructions
1. Preheat oven to 350.
In a large mixing bowl, blend very well together the bananas, eggs, yogurt, melted butter.
Sift in the flour and baking powder. Add the ground flax and blend into the batter.
Fold in the walnuts. Pour into a well greased baking dish. Drizzle on the honey on top.
Bake in a preheated 350 oven about 40 to 45 minutes. Please see my notes in the description about my baking this cake at high altitude.
Remove from oven to a cooling rack. Take a butter knife and gently go around the edges to release (some sticking can occur).
Cool completely then slice.
Notes
This cake can be easily frozen for enjoyment later.
Cover with wrap to keep moist.
You could substitute a GF flour. I would not suggest coconut flour. A one-to-one GF would be best.