Wicked Smokey Bacon Deviled Eggs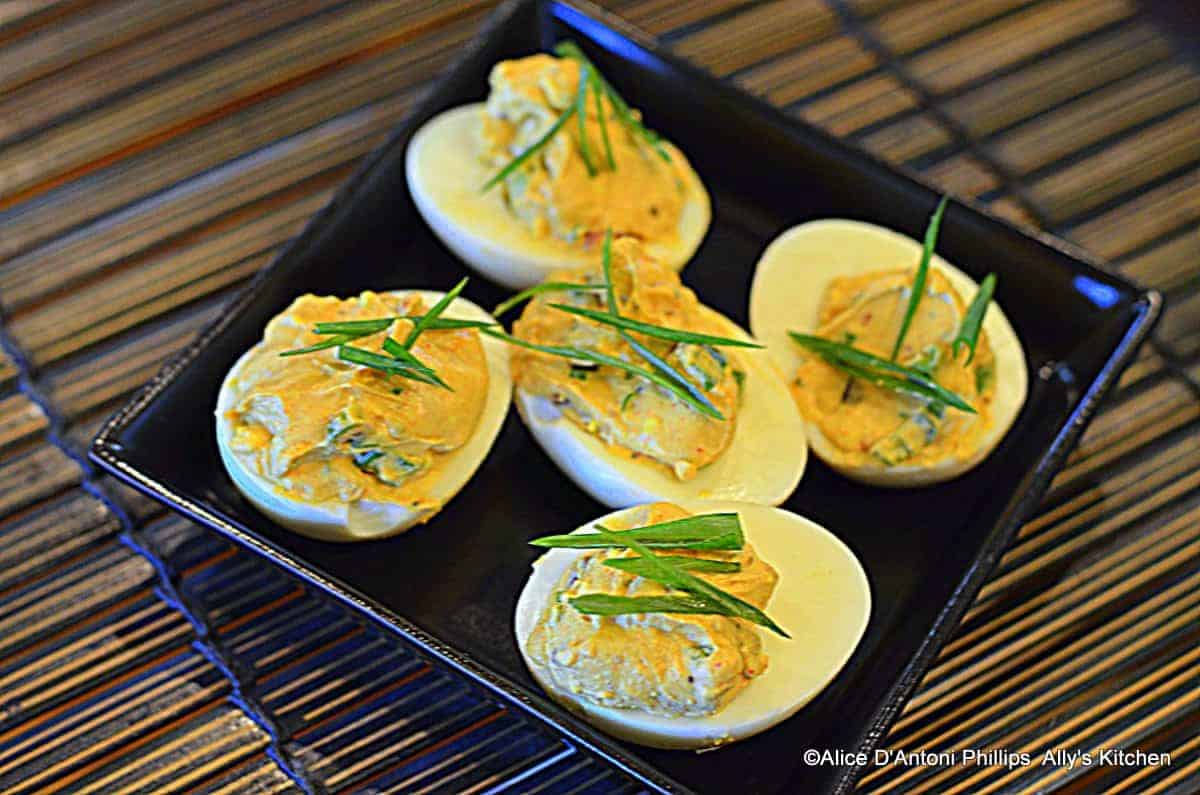 Smokey Bacon Wicked Deviled Eggs are the ultimate deviled egg recipe! They're a delicious spin on the classic recipe with a generous amount of bacon and chives.
Jalapeno Bacon Deviled Eggs
There is one caveat to making spicy Jalapeno deviled eggs during Passover: if your family follows kosher law to the letter, you'll need to find a kosher-for-Passover mayonnaise (Gefen makes one) or make your own mayonnaise.
Making mayonnaise is simple (here's a recipe from my book, Lefty Spoon). Leave out the Dijon mustard or use imitation mustard-like Haddar to make homemade mayo Passover-friendly.
Easy devil eggs in cooker
You can either steam the Bacon Bleu Littl' Devils on the stovetop or in a pressure cooker to hard boil them to ensure that the shells are easily removed. (You can cook your eggs the old-fashioned way by boiling them, but the results aren't always easy to peel.)
You can make this a few days ahead of time, and you can even peel the eggs ahead of time. To keep peeled eggs fresh, simply cover them with cold water in the fridge and refill the water every day.
Deviled eggs with cheese
The Pimento Cheese Deviled Eggs can be made up to one day ahead of time. Simply store them in the refrigerator, either loosely wrapped in plastic wrap (not too tightly or they'll smush) or in one of those convenient deviled egg storage containers.
Toss the paprika and dill on top of the eggs right before serving. The garnishes look better when inserted right before serving.
Shrimp and eggs
Many of you are already familiar with traditional Smokey Spicy Shrimp and Fresh Herbs made with mayonnaise and mustard. Have you ever tried deviled eggs with sour cream? They're fantastic!
Since I rarely have mayonnaise on hand, I decided to make a batch of sour cream instead. The full-fat sour cream adds a good creamy texture to the deviled eggs, and I like the faint sour taste.
I finished my development with a sprinkling of bacon and chives, which elevated the deviled eggs' flavors to new heights. Isn't bacon supposed to make things better?!
Honey and eggs
I use Ally's honey jalapeno baked chicken method of steaming the eggs in a pot to cook the eggs. Since the eggshells peel off quickly, it's one of my favorite ways to cook hard-boiled eggs.
Check out this step-by-step guide on how to make the perfect hard-boiled eggs if you prefer to cook hard-boiled eggs the conventional way.
Also, if you like mayo with your deviled eggs, you can replace half of the sour cream with mayo or some other quantity that fits your taste.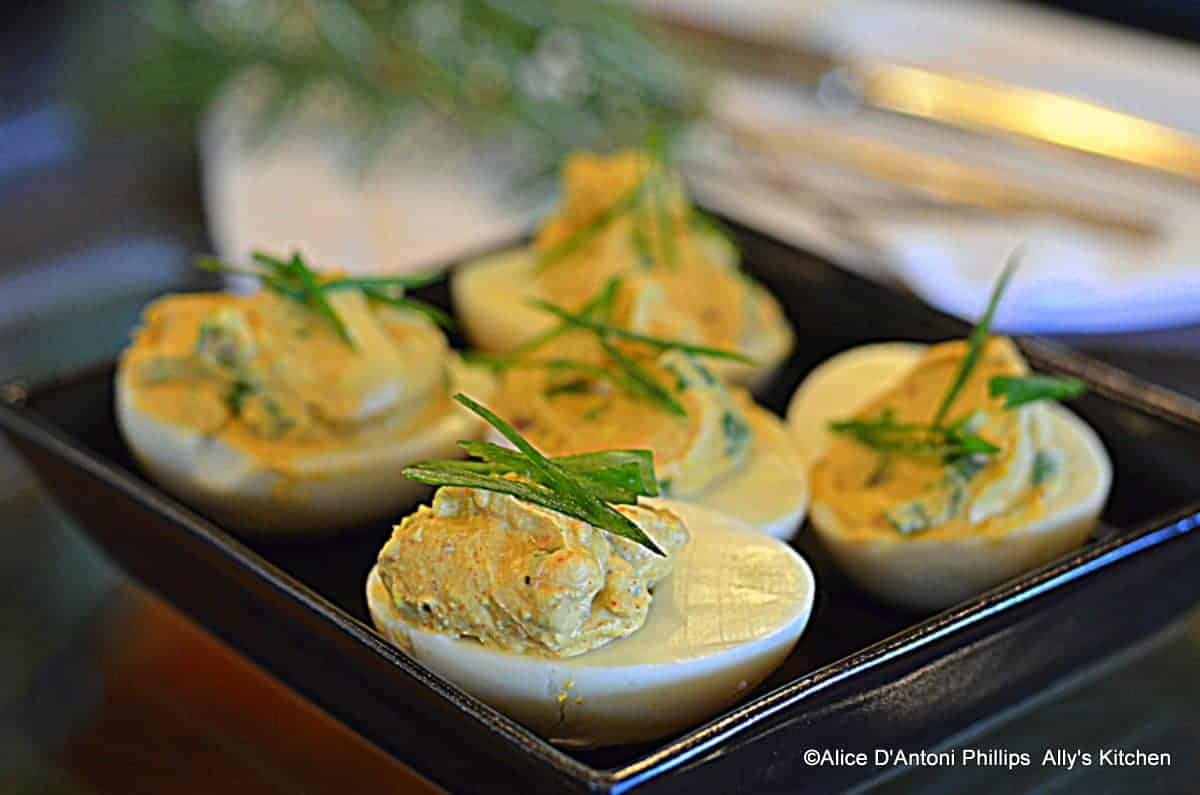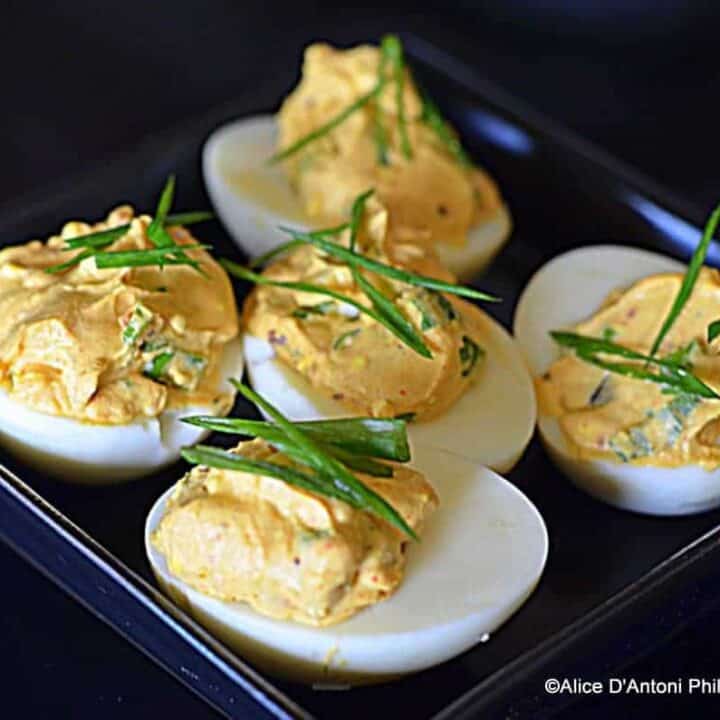 Wicked Smokey Bacon Deviled Eggs
Yield: Makes: 6 (half eggs) 

Smokey Bacon Wicked Deviled Eggs are the ultimate deviled egg recipe! They're a delicious spin on the classic recipe with a generous amount of bacon and chives.
Ingredients
3 hardboiled eggs cut in half with yolks removed & placed in a small mixing bowl
3 tbl mayonnaise
2 tbl sour cream
4 tbl bacon crumbles
1 diced green onion with tops
½ tsp smoked paprika
½ tsp sea salt
½ tsp coarse ground pepper
Instructions
Set egg white shells aside. In a small mixing bowl, put the yolks and crumble with a fork. Add the mayonnaise, sour cream, bacon crumbles, green onion, paprika, salt and pepper and blend well.

Put equal amounts of mixture in the egg shells. Garnish with green onion chiffonade slices.