caramelized warm pear strawberry & mascarpone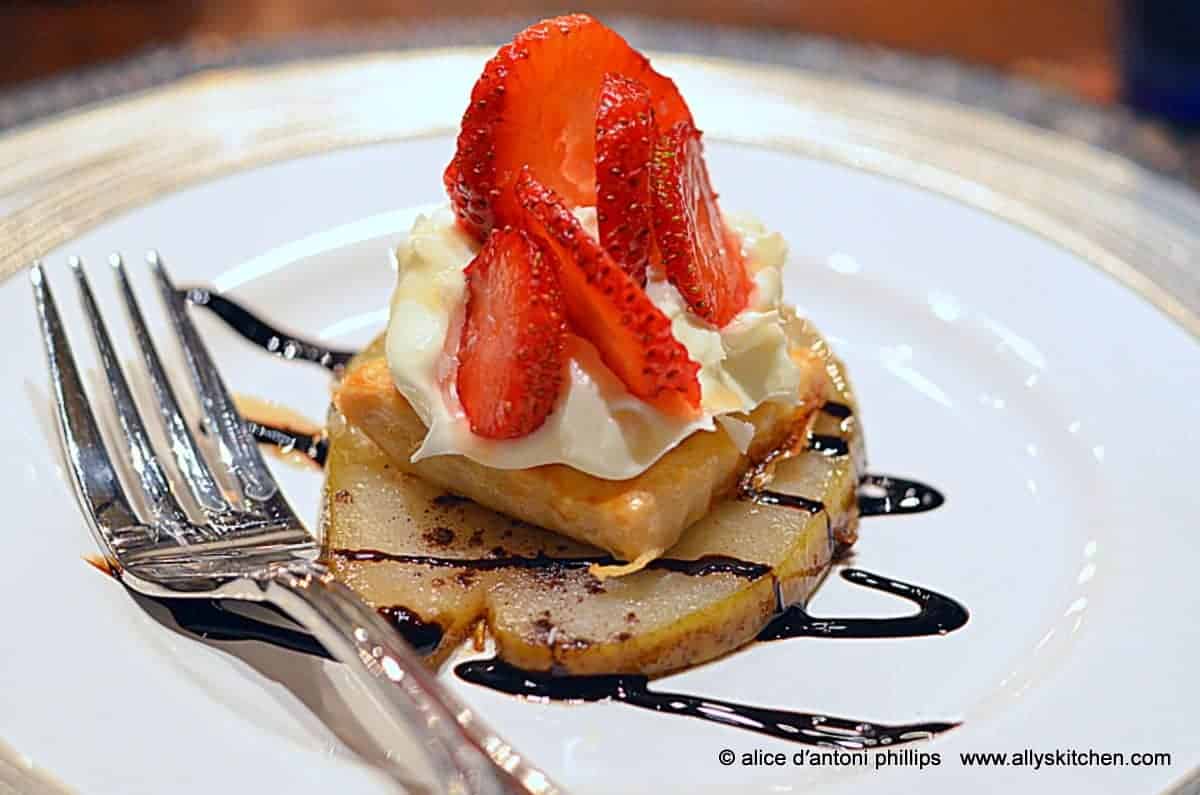 When you have company for dinner, you want to make sure you're not slaving in the kitchen, but enjoying the conversation and table eats. This dessert is one that can be prepped ahead of time, then assembled really easily for serving.
A combo of fresh fruits and flavors, you think you're eating a creamy ice cream or Italian gelato with the mascarpone.  Then the balsamic glaze offers a slightly tartness with the sweet and then, bingo, you get  a flavor burst of a savory sea salt finishing flake.  It's the perfect ending to a bohlicious evening!  Serve with a nice hot cuppah espresso, coffee or tea!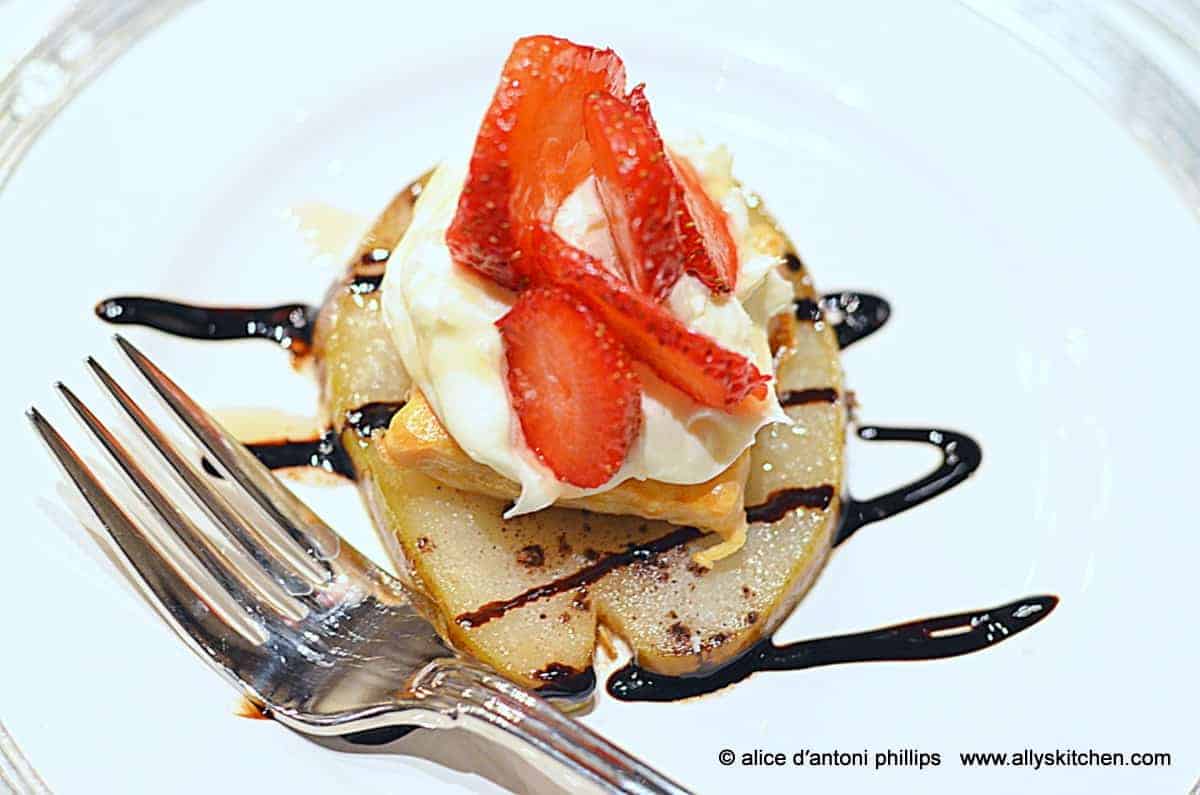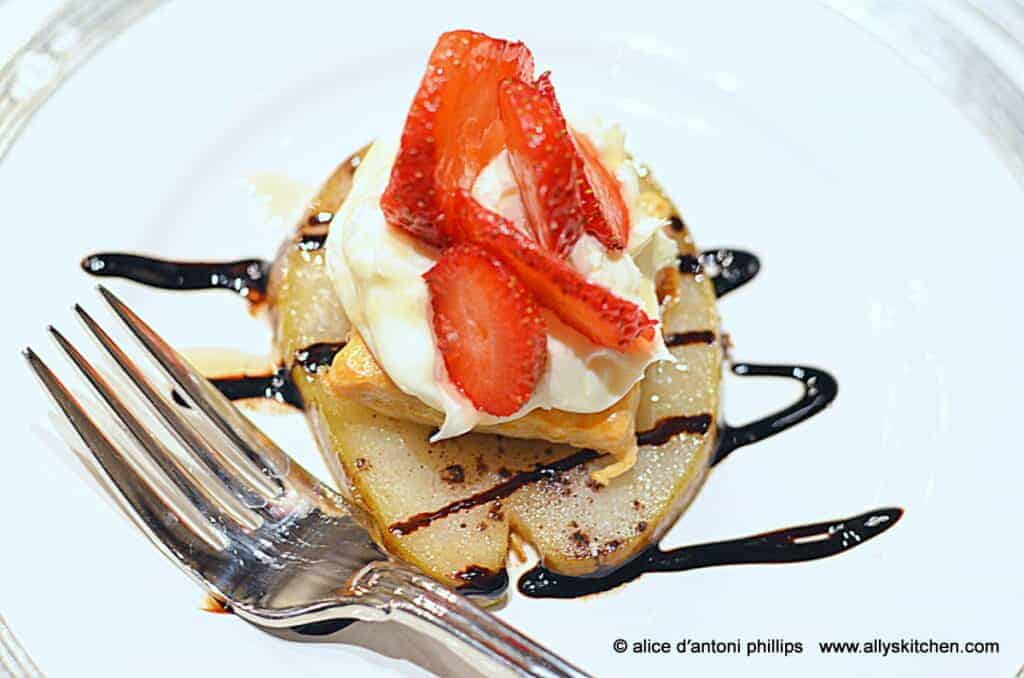 Serves:  4
Preheat oven to 350
What you need:
1 refrigerated roll-out pie crust cut into 3″ circles or squares
1 beaten egg
3/4 cup mascarpone
1/4 cup powdered sugar
1/2 cup heavy cream
1/2 tsp vanilla
1 large pear sliced lengthwise into 1/4″ thick slices (about 4-6)
2 tbl butter
2 tbl raw sugar (can sub regular sugar or brown sugar)
1 cup sliced strawberries
Balsamic Glaze (finishing drizzle)
Finishing sea salt (finishing garnish)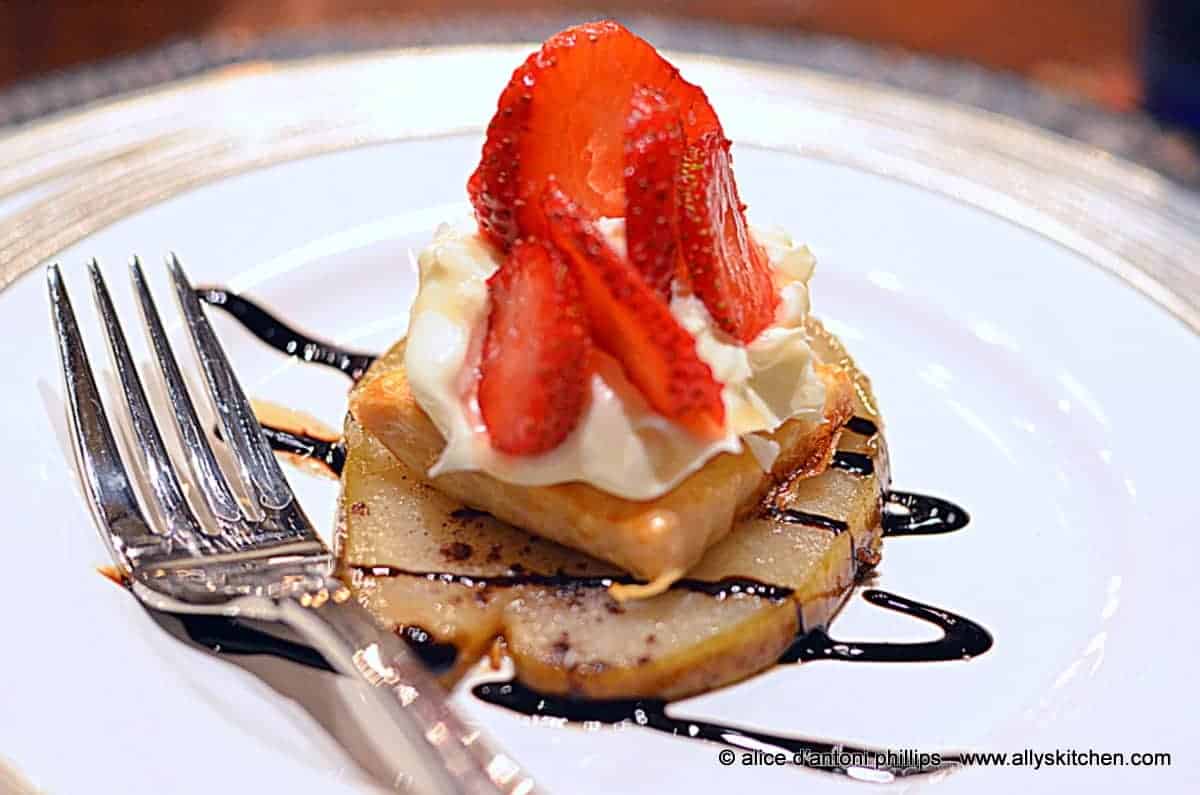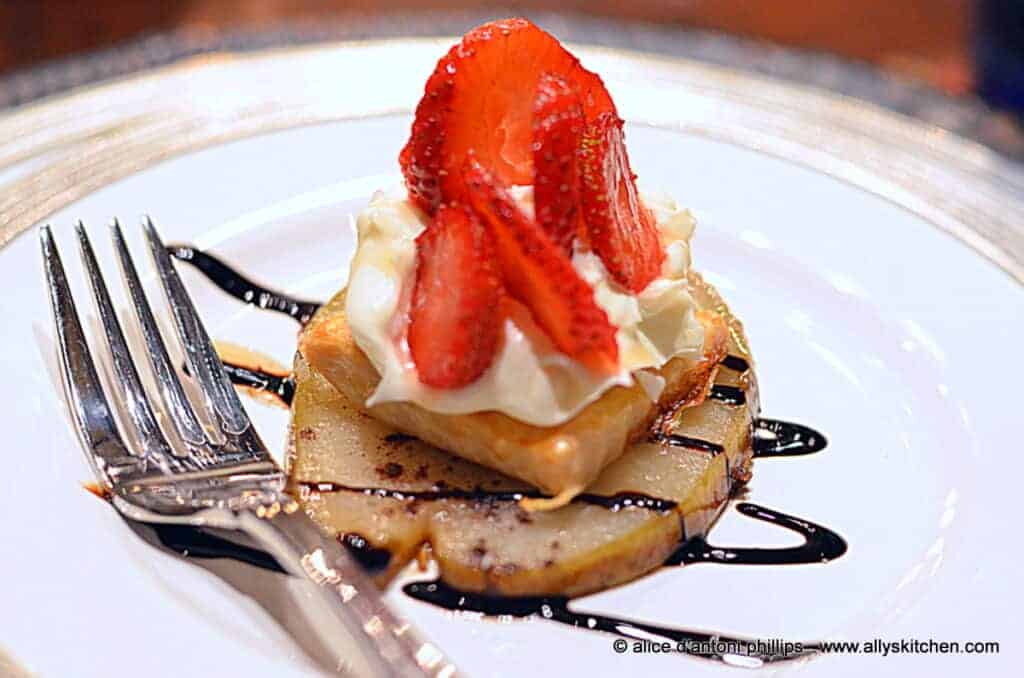 What you do:
Put the pie pieces on a parchment-paper lined cookie sheet.  Brush with egg wash.  Bake until golden brown in a preheated 350 oven.  Remove and set aside.
In a bowl, mix together the mascarpone, powdered sugar, heavy cream and vanilla and blend until smooth and creamy.  Refrigerate until ready to serve.
In a cast iron skillet over medium heat, melt the butter.  Put the pear slices in, sprinkle with sugar and cook about 2 minutes on each side.  Turn off heat and set aside until ready to plate/serve (can warm for serving).
When ready to serve, plate the dessert with a slice of the pear, drizzle with balsamic (I used a fig glaze), then the pie crust 'cookie', a dollop of the mascarpone, and strawberries perched in the mascarpone.  Drizzle with more balsamic~~I used a clear balsamic for the glaze over the strawberries. Sprinkle with finishing sea salt~~just a few flakes.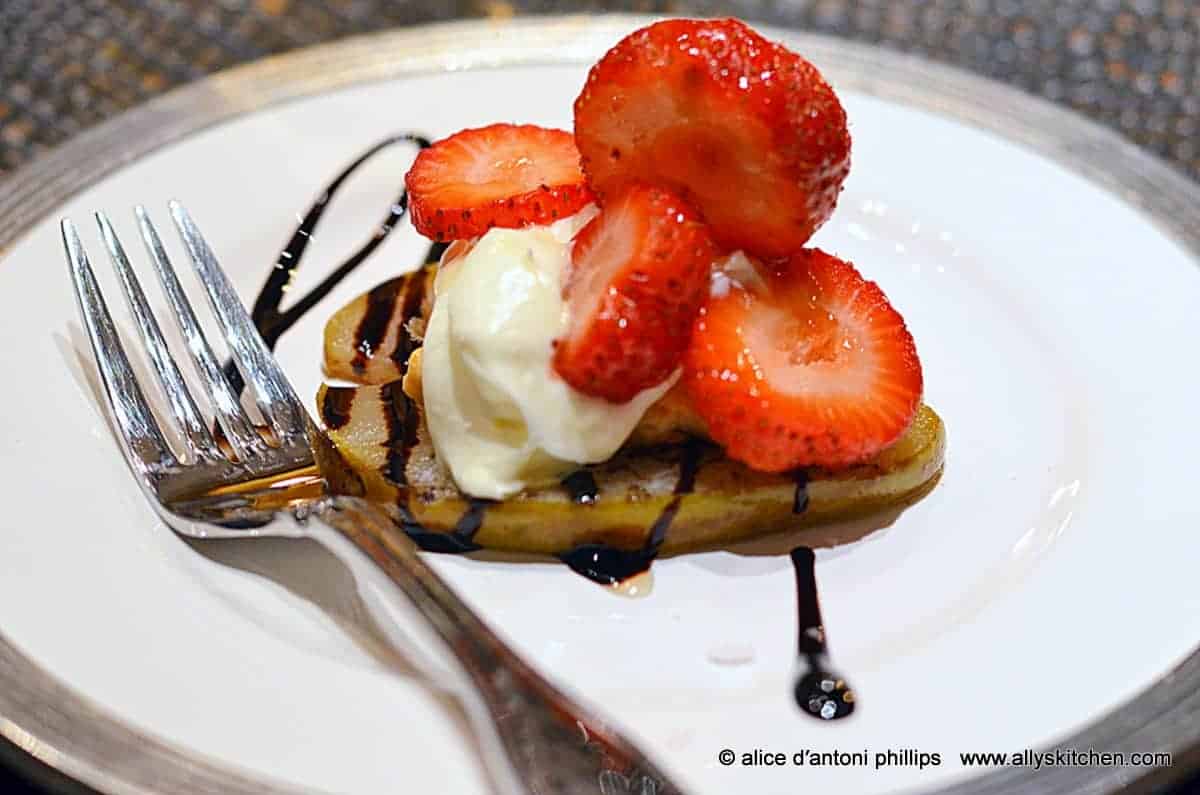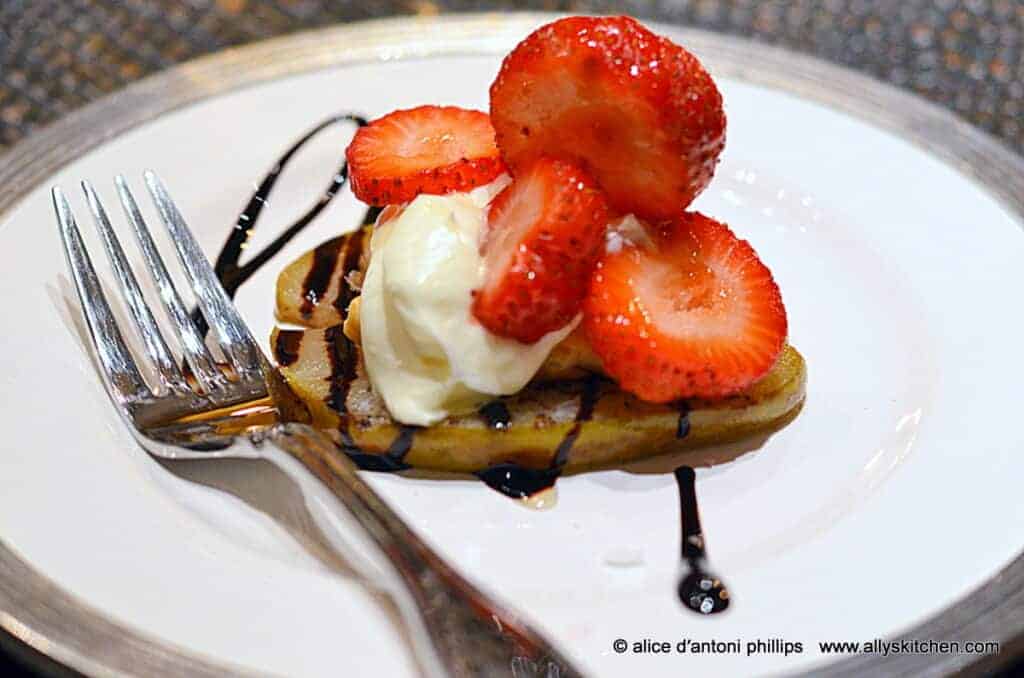 ©alice d'antoni phillips    www.allyskitchen.com