This dessert is actually my version of 'Mille Feuille'~~it's the easy quick version, and I can assure you it's gonna be a plate licker!  If you don't know what 'mille feuille' is, just go to the trusted source for knowing~~Wikopedia~~
The mille-feuille (French pronunciation: [mil fœj], "thousand leaves"),[1] vanilla slice, custard slice, also known as the Napoleon, is a pastry of French origin.
Traditionally, a mille-feuille is made up of three layers of puff pastry (pâte feuilletée), alternating with two layers of pastry cream (crème pâtissière), but sometimes whipped cream or jam are substituted. The top pastry layer is dusted with confectioner's sugar, and sometimes cocoa, or pulverized seeds (e.g. roasted almonds). Alternatively the top is glazed with icing or fondant in alternating white (icing) and brown (chocolate) stripes, and combed.
My rendition of 'Mille Feuille' is what I call the 'fake out'~~for the untrained pastry eye or culinary know-it-all, it'll be perceived as something really kweeel and fancy!  So, go ahead, add some dazzle into the end of the meal, and enjoy all the kudos you'll be getting!   I mean, in the end, it's all about the taste, right?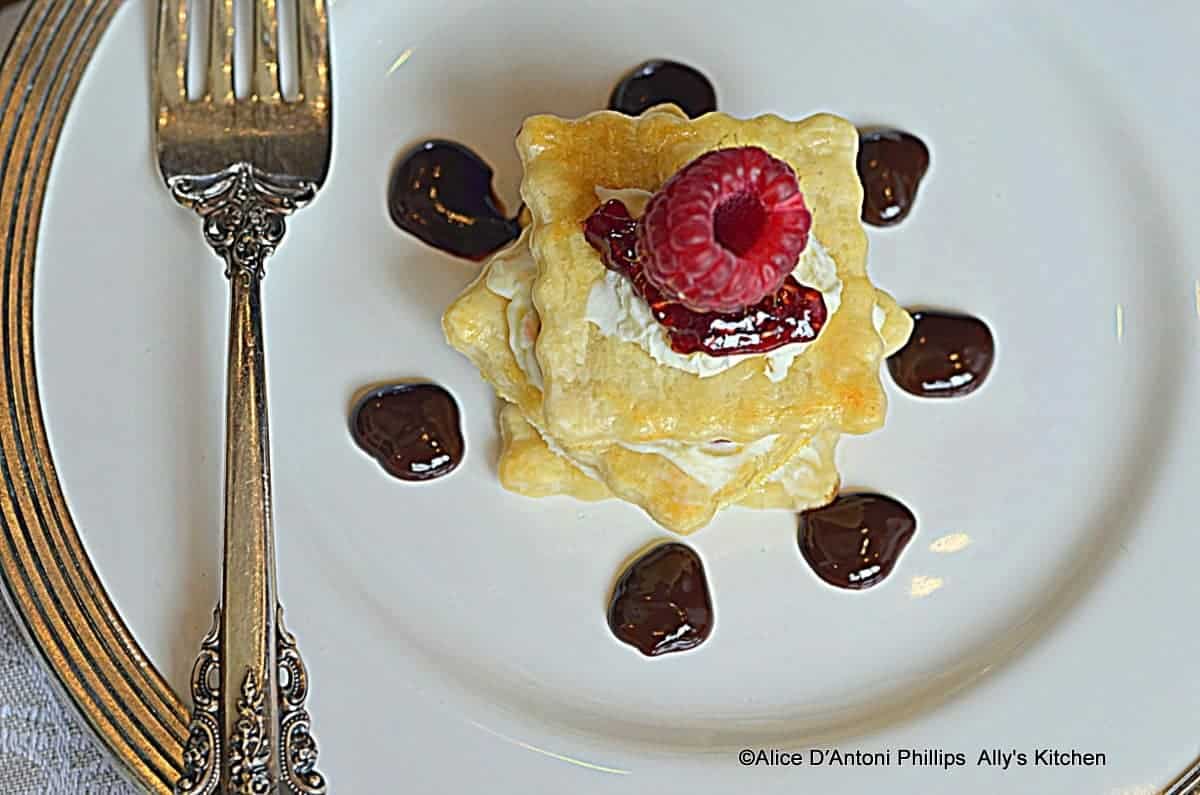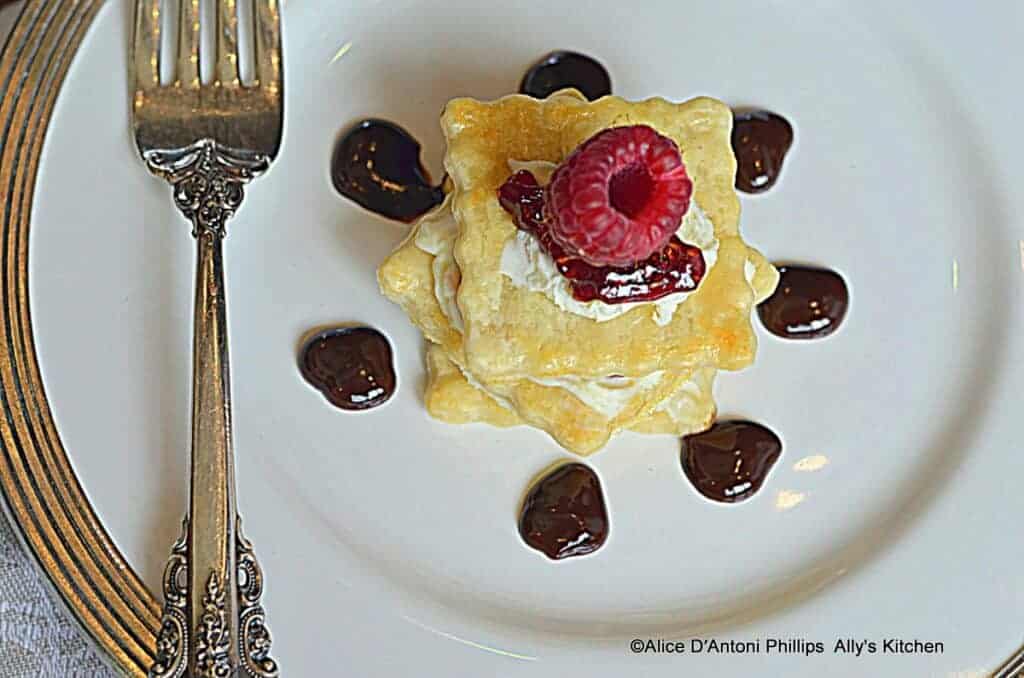 Raspberry Vanilla Mille Feuille
Ingredients
Preheat oven to 350
1  1/2 pre-packaged roll out pie crusts
1 beaten egg + splash of water (about 1 tsp.)
12 tsp.  raspberry preserves
3/4  cup mascarpone
1/4 cup heavy cream
1/4 cup powdered sugar
1 Vanilla Bean  (open and take a sharp knife to remove the bean paste)
16 large fresh raspberries (slice 8 in halves/leave 8 whole)
Balsamic Glaze (Squeeze bottle for garnish)
Fresh mint leaves (garnish)
Instructions
Roll out pie crust and using a 2-3" cookie cutter,  make 12 pieces.  Lay on a parchment-paper lined cookie sheet.  Brush each with the egg wash.  Bake in a preheated 350 oven about 8-10 minutes or until golden brown.  Remove and let cool completely.
Combine the mascarpone, heavy cream,  and powdered sugar and blend into a smooth consistency.  Add vanilla bean paste and blend.  Put in refrigerator for about 45 minutes to chill.
Each serving will have 3 rounds with raspberry preserves, mascarpone and berries in between and on top.  Garnish with balsamic glaze and mint leaves.
PS~~These pictures are of my 'first' version of this dessert~~I didn't put the raspberries in between the layers~~the later versions were better with the berries!
https://allyskitchen.com/raspberry-vanilla-mille-feuille/
©ally's kitchen intellectual property