za'atar garbanzo beans & heirloom tomatoes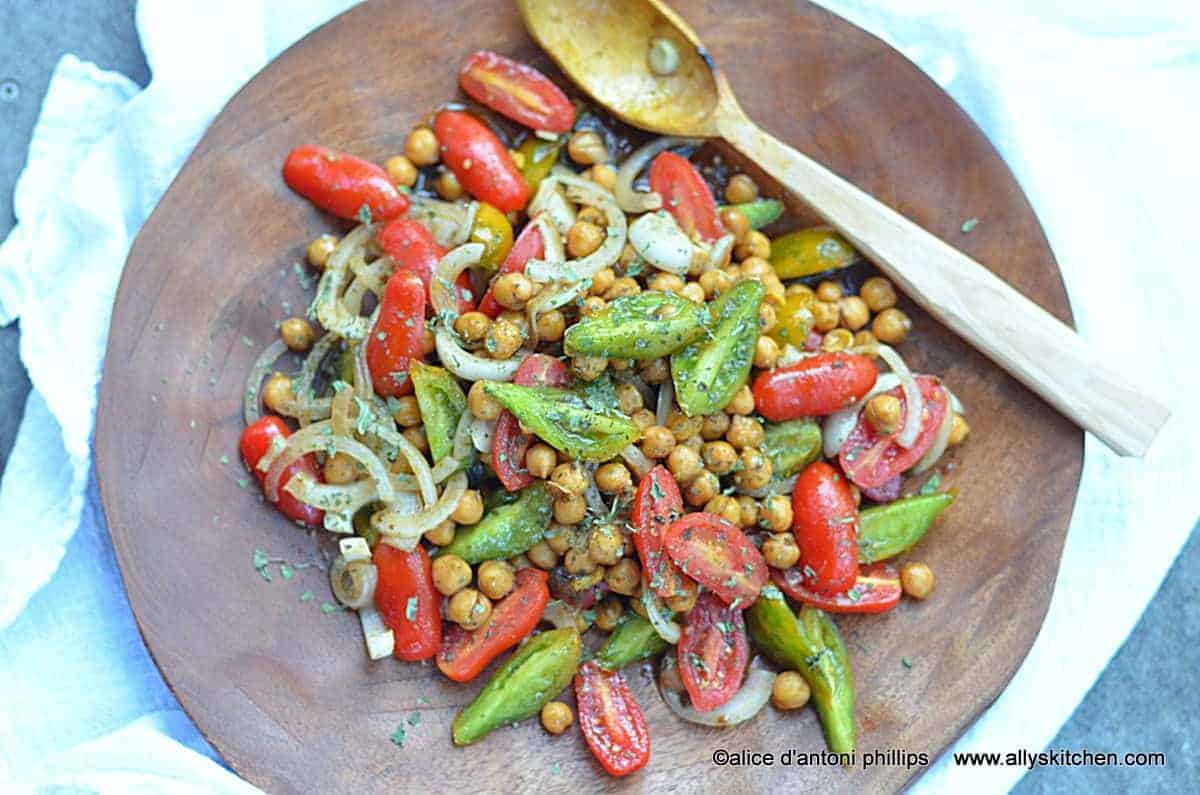 A wickedly delicious recipe! Za'atar garbanzo beans & heirloom tomatoes. Escape to a trendy cafe for lunch! Yes, your kitchen!
Za'atar Recipes Vegetarian
Sometimes I create things, and I just know they're gonna taste good. But, SOMETIMES I create things and don't realize they're gonna taste WICKED good!
Za'atar Recipes
That's the case with this recipe, za'atar garbanzo beans & heirloom tomatoes.
Wiki describes za'atar as, "…the name of a spice mixture that includes the herb along with toasted sesame seeds, dried sumac, often salt, as well as other spices.
I can assure you, this is one salad that your food seekers will rave about!
Recipe Garbanzo Beans
I think it's the simple fresh ingredients and also the sautéing of the garbanzo beans in the sultry and seducing za'atar and hot smoky paprika!
Zaatar Food Recipes
Sounds kinda sexxxy, huh? Well, food should be sexxxy, seductive and savored for what it is. Pure palatable pleasure!
Roasted Chickpeas
So, go ahead, entice yourself with this exotic spice mixture from that's so popular in the Middle East.
Garbanzo Beans Recipes
And, here's my recipe for making your own homemade Za'atar. Of course, you can also purchase it from the grocer or Amazon!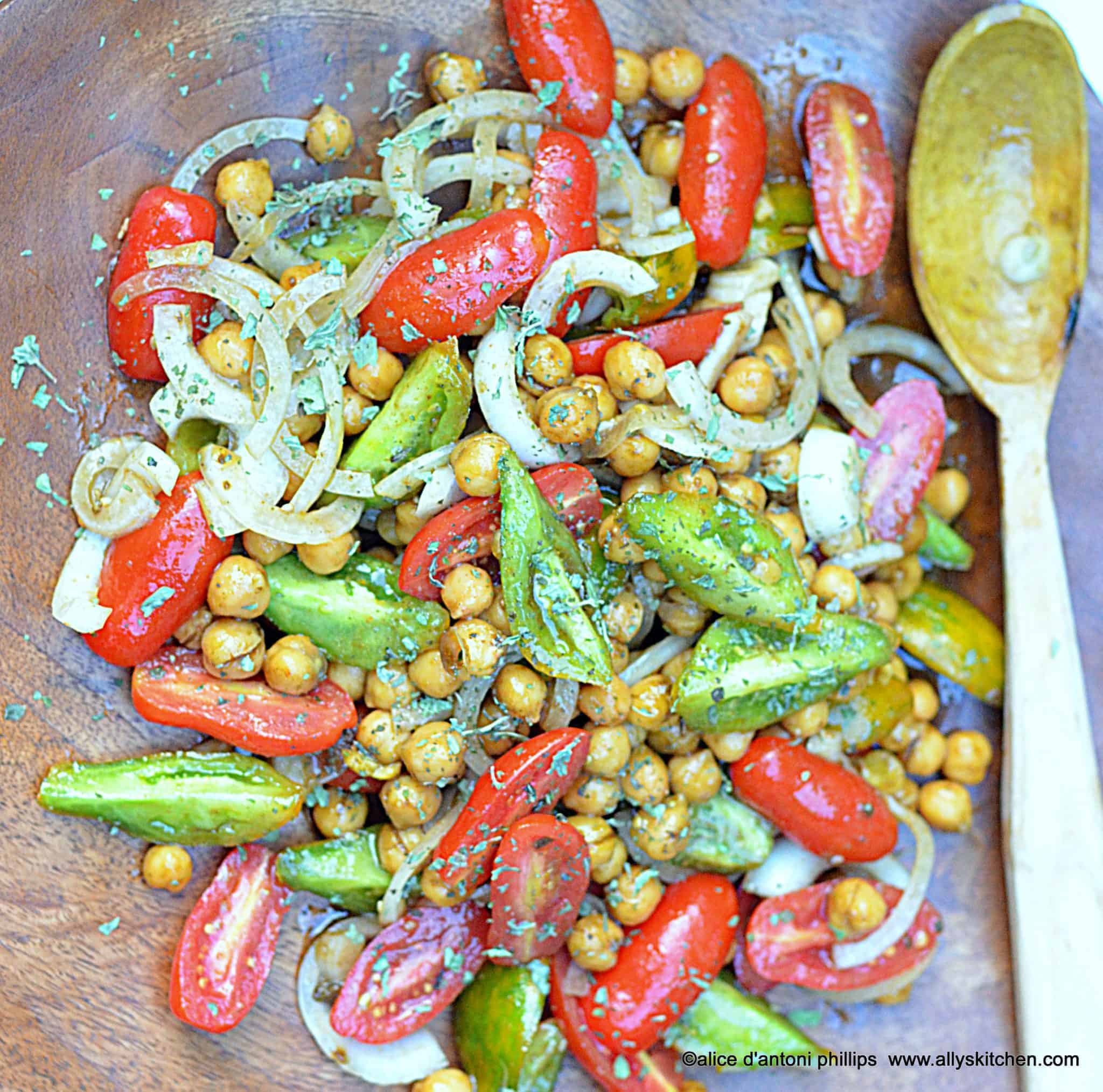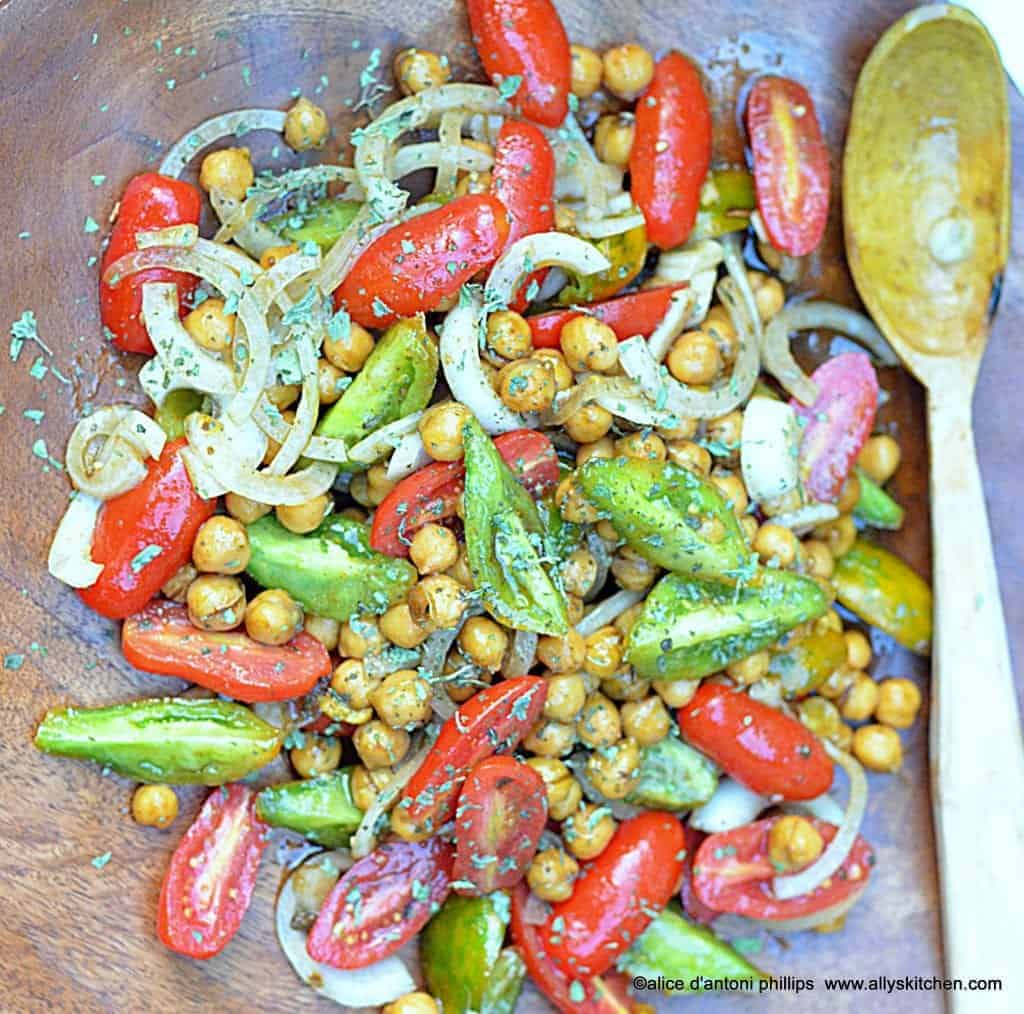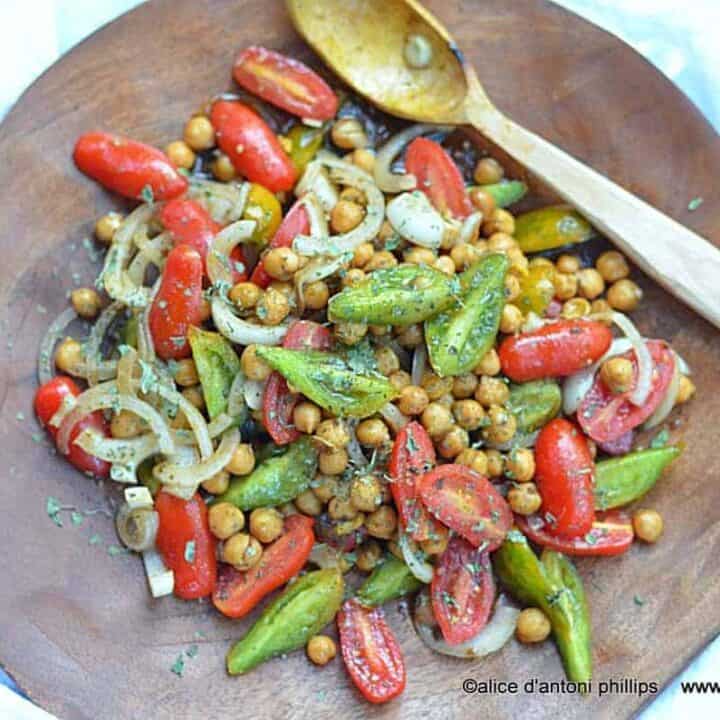 za'atar garbanzo beans & heirloom tomatoes
Ingredients
2 cups of green and red heirloom tomatoes cut into bites or halves (I had mini tomatoes so I sliced lengthwise in halves)
1 (15 ounce) garbanzo beans (chick peas), drained
4 Tbl extra virgin olive oil (divided)
1 1/2 tsp. sea salt (divided)
2 tsp. za'atar mixture
1 tsp. hot smoked paprika
1/2 small sweet onion sliced into very thin half moon slices
1 Tbl. balsamic vinegar
1/2 tsp dried mint, garnish
Instructions
Put the sliced tomatoes in a mixing bowl. Put 2 tablespoons of olive oil in a medium cast iron skillet over medium heat. Add the beans, one teaspoon of salt, za'tar, and paprika and toss and blend the beans. Cook the beans about 15 minutes.
Put the beans into the tomatoes. Be sure to use a rubber spatula to get out all the good olive oil and drippings. Add the onions and toss together. Drizzle on the remaining olive oil, salt and balsamic vinegar and toss.
Sprinkle with dried mint before serving.