I love entering contests, and when I came upon the "Legends from Europe Contest" I knew I wanted to give it whirl!   What is Legends from Europe?  They're makers of hams and cheeses, and here's what they say~~'These world-class hams and cheeses look and taste different, yet have a lot in common. Made for centuries with traditional methods, they belong to an elite group certified under the Protected Designation of Origin (PDO) system.'
The Legends contest is kind of  like one  of my favorite Food Network shows 'Chopped'~~you're assigned a certain product to use, and you go from there!  So, when I contacted them by email saying I wanted to enter, they sent back to me that my product, which raises awareness for them, would be Grana Padano.
Now just what is 'Grana Padano'?  Who better to describe it than the Legends website~~'Grana Padano is a naturally made cheese with a mild flavor so pleasing that it has become the world's best-selling European cheese in the elite PDO category. Produced in northern Italy's Po Valley, this raw milk cheese is rich in nutrients, very digestible and lower in fat than many other cheeses.'
I must say that as a lover of 'the other white meat' I've prepared pork chops lots of times, but none were as tasty as this pork chop, and it's all because of the unique twist I created for a slightly crunchy coating using the Grana Padano!
Great news~~this recipe won 1st place in the Legends from Europe Market Basket Contest for the Grana Padono category!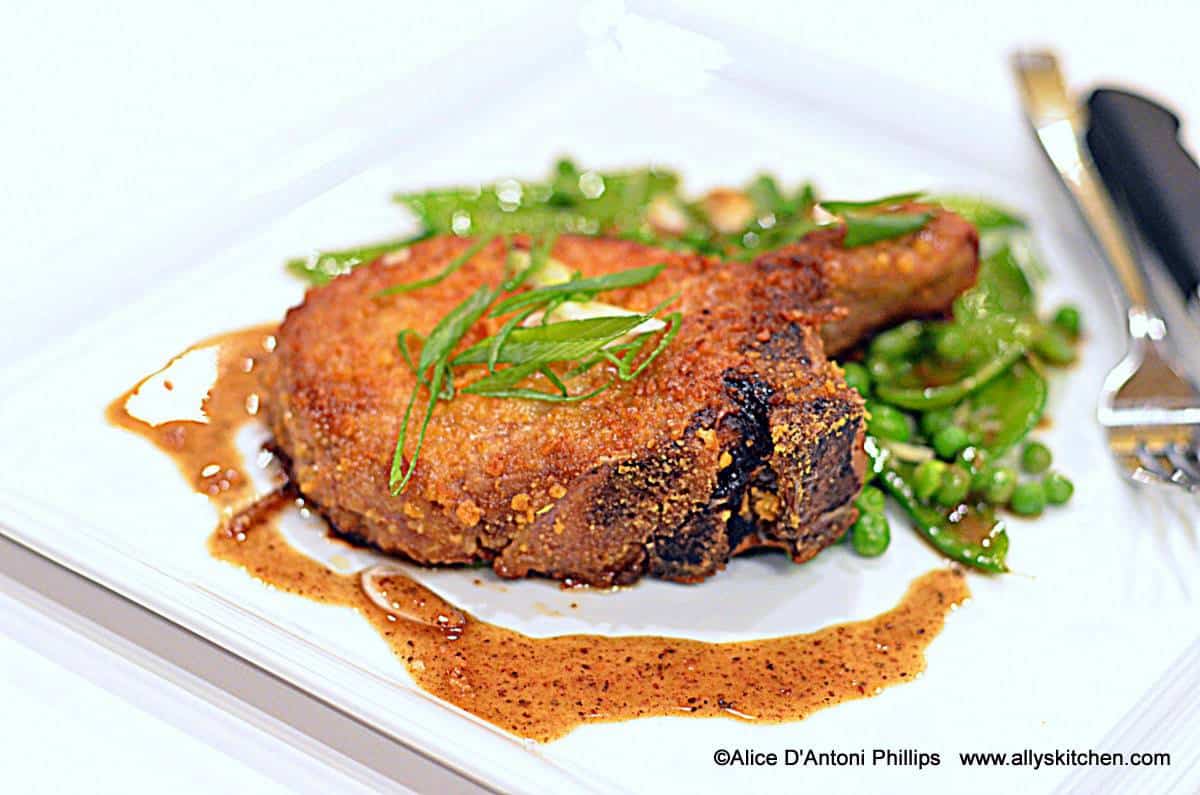 Serves:  2
Preheat oven to 350
What you need & What you do:
2 bone-in pork chops (about 1 ½" thick)
4 tbl butter divided
½ cup ground wheat thin crackers (grind in a food processor)
¾  cup Grana Padano cheese (divided)
1 ½ tsp sea salt (divided)
6 oz fresh snow peas
6 oz froze petite peas
2 green onions chiffonade cut
Cooking spray (canola)
¼ cup water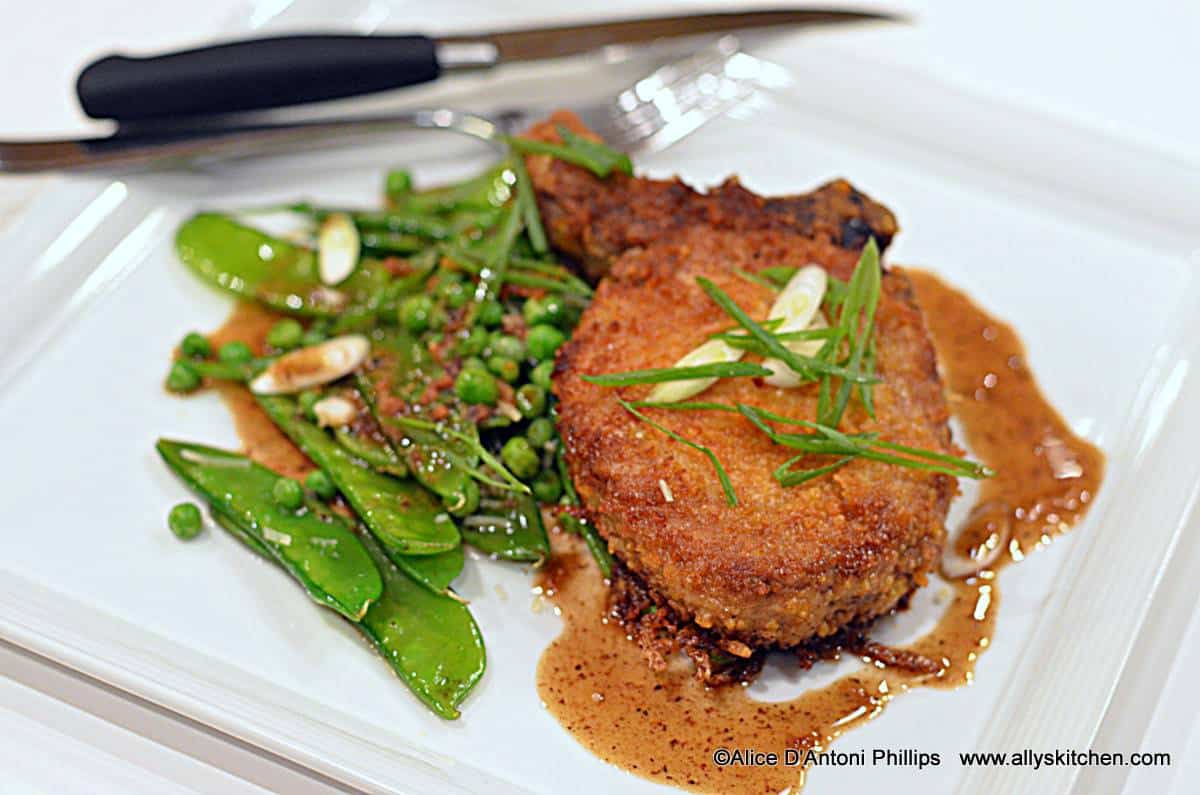 In a baking dish combine the ground whet thin crackers and ½ cup Grana Padano cheese and blend.  Salt (1 tsp) both sides of each of the pork chops.  Spray both sides with cooking spray then put in the cracker mixture and coat both sides of the chop.  Pat and press the mixture into the chop with your hands.
Over medium heat, melt 2 tbl of butter in a heavy large skillet (cast iron).  Place the pork chops in and let them sear for about 2 minutes.  Sprinkle on the remaining grated Grana Padano, then flip the chops and sear another 2 minutes.  Cover with a lid and put into a preheated 350 oven for about 18-20 minutes.
Meanwhile, prepare the snow peas.  Melt the remaining butter in a medium size pot over medium heat, put the snow peas in and add ½ tsp sea salt.  Toss and cook about 5 minutes.  Add the frozen peas and blend. Reduce heat to simmer. Before serving add the remaining Grana Padano and blend.
When done, remove the chops from the oven.  Put the chops on a plate and deglaze the pan with ¼ cup of water making a tasty 'gravy'.  Serve the chop(s) with snow peas and green onion garnish. Drizzle on the skillet gravy.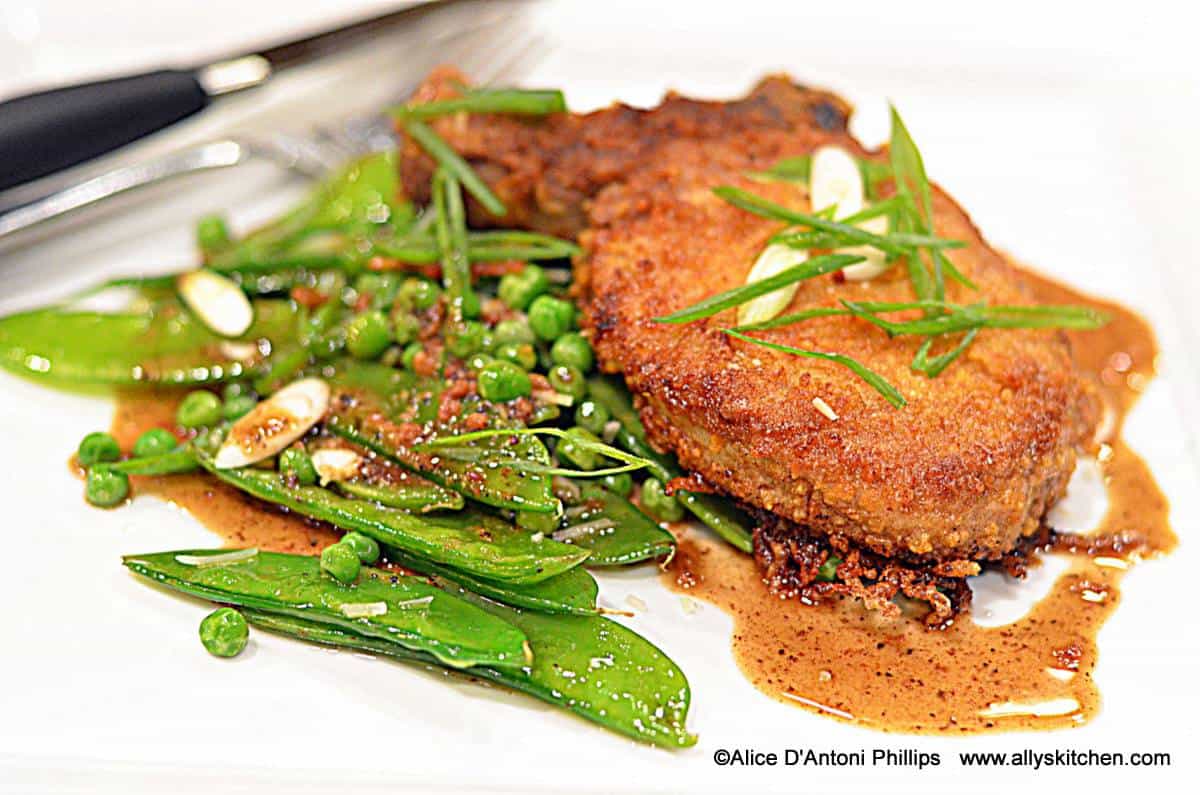 ©alice d'antoni phillips    www.allyskitchen.com